Market Outlook For 2018
By Raymond Leung, 23 July 2018
2522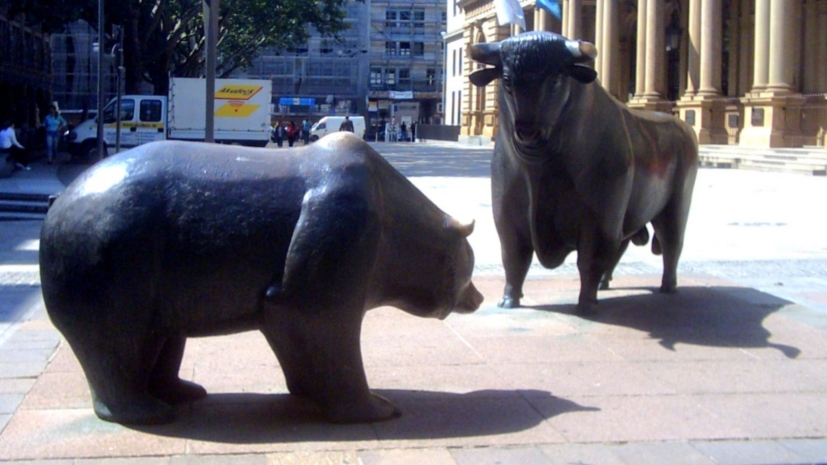 Image: By RudolfSimon (Own work) [CC BY-SA 3.0 (https://creativecommons.org/licenses/by-sa/3.0)], via Wikimedia Commons

As we end 2017 and step into 2018, we sought the view of Income's Chief Investment Officer, Mark Wang as well as Fund Managers from Schroders, Marcus Brookes and Robin McDonald. They gave investors insights to their review of 2017 and outlook for 2018 along with a couple of tips.

2017 Global Markets In Review

Image: Financial Times, MSCI World Index 1-Year Chart

2017 was a great year for investors as the global stock markets continued their strong performances and ended on a high note in December with MSCI World Index rising 22 percent. This comes on the back of a stabilising recovery in the economy of developed markets and improved fundamentals in emerging markets.

According to data from Bloomberg, Straits Times Index has increased in excess of 22 percent over the year as well. The US market has seen a strong year and the S&P500 has not posted a negative monthly total return since Donald Trump was elected in 2016.

Challenges For Investors In 2018

Looking forward to 2018, there are three main challenges that investors should take note of.

Firstly, structural issues in the economy are expected to come into play in 2018 and pose a significant challenges. As described by Mark, these structural issues include ageing demographics, low productivity growth and high debt levels, which will result in a strong downward pressure on the economy as they eat into the margins of the companies.

Marcus and Robin cited that the ageing workforce in major economies such as the US and China has led to low productivity and an increase in labour demand and wages. Coupled with the gradual recovery of energy prices, cost of production for companies is expected to increase.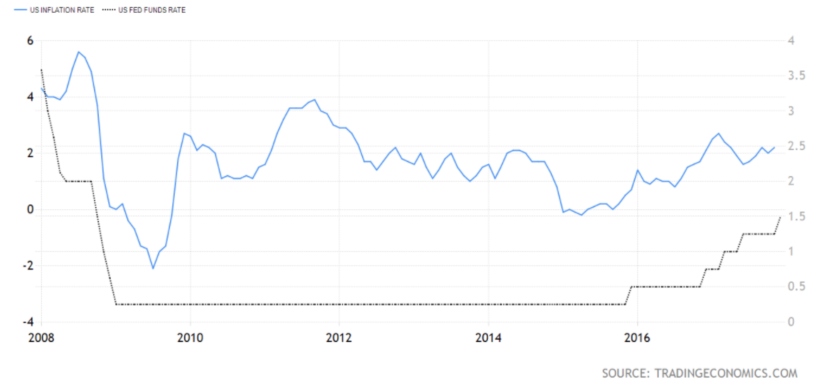 Image: Trading Economics - US Inflation Rate vs Federal Funds Rate (Interest Rate) 10 years Chart

Secondly, the low-interest rate environment in the past few years has caused asset prices to skyrocket. Stock prices rose to a high but corporate earnings have not picked up. Therefore, central banks will be careful before making the decision to raise interest rates. On the assumption of higher inflation and the conservative hike of interest rates by the central banks (that will probably continue to remain below historical average), it is questionable if the high asset prices are sustainable as these factors will further eat into the earnings of companies.

Lastly, the main challenge for investors in 2018 as said by Marcus and Robin will then be to preserve their capital. This view is supported by Mark's sentiment that investors will find it hard to achieve the same amount of risk-adjusted return similar to the previous years.

This will typically leave investors with 2 choices; reassess (lower) their return expectations or venture out to riskier investment products to meet their objectives.

Investor's Takeaway

In summary, there has been stabilising economic recovery in developed markets and improved fundamentals in emerging markets in 2017. Given the positive signals, the equity market momentum is supportive going into 2018 and investors would be better served taking an active approach to investments rather than the passive strategy of buying and holding.

Taking a page out of Mark's book, the majority of his investments are in unit trusts which relies on fund managers to make professional decisions rather than guessing which stock will go up and down. In addition, he recommends using dollar-cost averaging to diversify market-cycle risk and also mentioned that investing through regular premium products like Investment-Linked Products (ILP) is one way that the dollar cost averaging strategy can be executed.

VivaLink

If you lack of the time or expertise to monitor your portfolio and want to use dollar-cost averaging to diversify market-cycle risk, consider having investment professionals to manage your investments!

Through Income's VivaLink, you can gain access to a variety of funds across various asset classes managed by professional fund managers. It also provides the flexibility to make unlimited fund switches with no switching fee and allows you to top-up or withdraw on your policy.

Most importantly, VivaLink provides protection against unforeseeable events such as death and total and permanent disability before the age of 70. Its unique No-Lapse Guarantee benefit also allows the insured to remain protected regardless of cash value in the first 10 policy years.


Important Notes:
This article is meant purely for informational purposes and should not be relied upon as financial advice. The precise terms, conditions and exclusions of any Income products mentioned are specified in their respective policy contracts. For customised advice to suit your specific needs, consult an Income insurance advisor.

This advertisement has not been reviewed by the Monetary Authority of Singapore.
This article was based upon the viewpoints raised by Mark Wang, Income's Chief Investing Officer, as well as by Marcus Brookes and Robin McDonald, Fund Managers from Schroders.