Looking for the Right Health Insurance Policy? We can help.
By Jeff Cuellar, 15 March 2018
4519
Are you confident that you've got the right health insurance policy in place? Do you know which treatments and procedures your policy covers, and if it will provide enough protection to handle Singapore's annual healthcare inflation rate of 2.4%?
If these questions have you wondering whether your health insurance policy
really
fits your needs —
that's a good thing
. Why? Because it means that you're ready to take charge of protecting your most important asset —
your health.
With
Income's online portal for Health Insurance
, you can get the information you need to learn more about health insurance, select and purchase a suitable health insurance policy or explore the details of your existing Income health insurance policy.
If you haven't had a chance to visit Income's online portal for Health Insurance yet, here's what you can accomplish during your visit:
Understand Health Insurance
Everyone has different health insurance needs, but one thing we all have in common is
MediShield Life
— Singapore's basic health insurance plan administered by the Central Provision Fund (CPF) Board.
MediShield Life delivers some key coverage and benefits — but
private health insurance plans such as Integrated Shield Plans (IPs)
run by private insurers can provide additional coverage and control. In fact, according to the
Ministry of Health
, 60% of Singaporeans have private insurance in the form of IPs.
IPs are comprised of two components — MediShield Life and an additional private coverage component. With IPs, MediShield Life will cover you, but there is no double coverage. Premiums payable to insurers will also include payment for MediShield Life, so there is no double premium payment.
With IPs, you can enhance your MediShield Life coverage and benefits.
MediShield Life Benefits:
Automatically covers all Singapore citizens and permanent residents
Protects you for life
Premiums may be fully paid with Medisave
Helps pay for treatment at public hospital B2 and C wards with 6-9 patients
Benefits of a private hospital insurance plan (Shield Plan)
Better Control

Shorter waiting time for non-life threatening conditions
Choose your own doctor

Better Coverage

Add-ons to reduce deductible and co-insurance
As-charged cover for most benefits so you will not be restricted by MediShield Life limits
Cover for a period of consultation before and after hospitalisation

Greater Comfort

Provides coverage for private hospitals
Get air-conditioning
Get a single-bedded room for more privacy, space and comfort
Note: Income understands that some terminology can be confusing, which is why there's also a glossary of terms at the bottom of the Income Online for Health Insurance portal.

Find the Right Health Insurance Policy
Finding the right health insurance policy to supplement your MediShield Life coverage doesn't have to be a complicated affair. With Income's online portal, it's easy for you to find a policy that's suitable for your needs in as little as 1 minute. This portal is the
only online
place where you can buy a Shield Plan - Income's IP,
Enhanced IncomeShield (EIS).

To find the right health insurance policy, all you need to do is complete the following steps in the Income Online for Health Insurance portal:
1.
Click on TRY OUR 1 MINUTE GUIDE
2.
Fill in your name
3.
Click on who you want to insure (i.e. yourself, your daughter or son)
4.
Confirm that you do not an existing Shield Plan
5.
Confirm your age
6.
Confirm your residency status (i.e. citizen or permanent resident)
7.
Confirm your hospitalisation preferences
*To find out more about hospitalization options, read our article
here
.
Once you've completed these quick and easy steps, Income will provide you with three tiers of EIS policies for you to choose from, depending on your needs and affordability.
You can also choose to further enhance your hospitalisation coverage by purchasing IncomeShield Riders — read
here
for more information.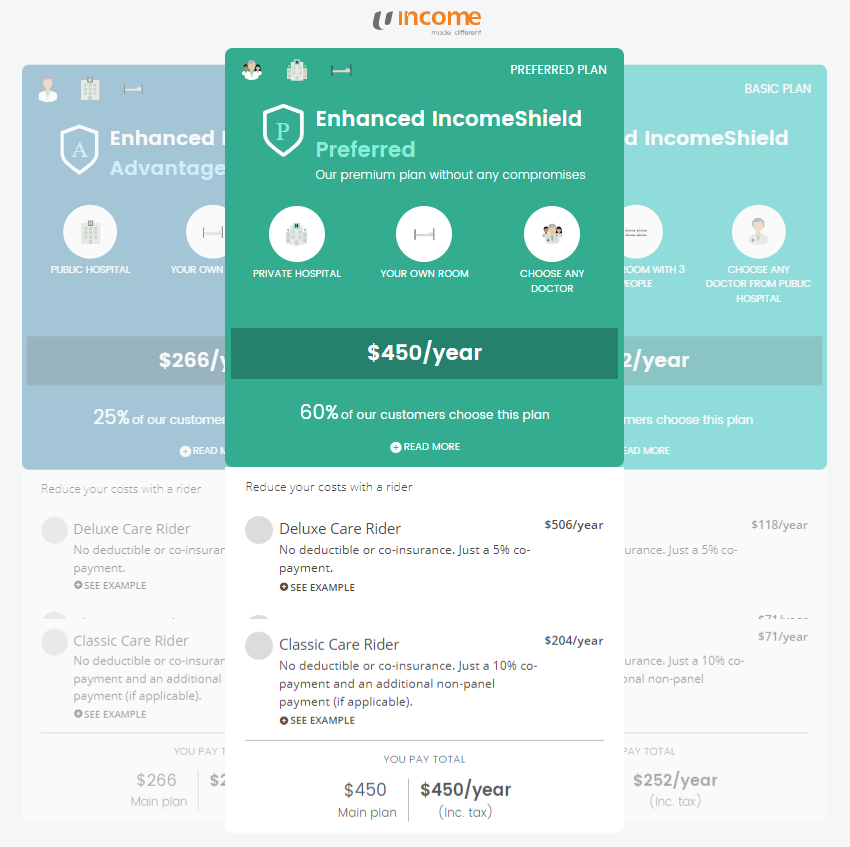 ​A Note for New Parents:
Did you know that if your child is born between 2016 and 2019, you get 1 year of complimentary health insurance coverage for your newborn (excluding MediShield Life premiums)? In partnership with the People's Association (PA), Income now provides the Good Start Bundle, which provides perks and essentials that benefit both you and your child. Click
here
to learn more about the NTUC Good Start Bundle.
Explore Your Health Insurance Policy
The Income Online for Health Insurance portal isn't just for searching for a new EIS policy to supplement your MediShield Life coverage — you can also use it to manage your existing policy once you make a purchase.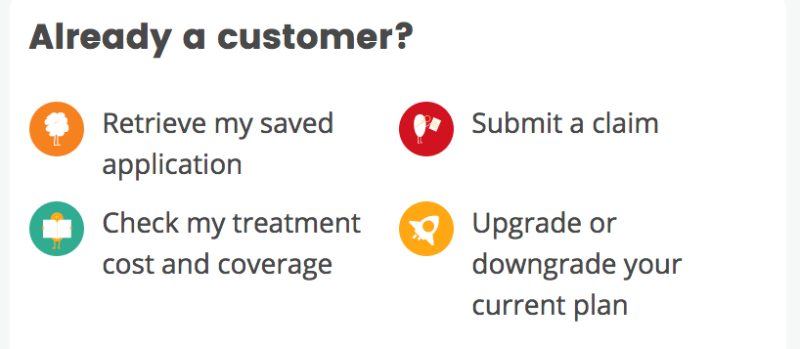 Here's what you can do as an existing customer:
1. Retrieve your saved application
Didn't have time to complete your past application? You can retrieve, edit and complete any saved applications by entering your NRIC number.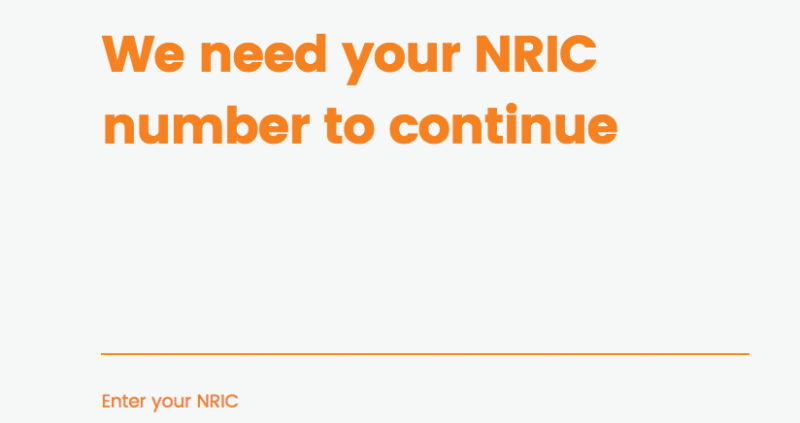 2. Check your treatment cost and out pocket expenses
It's often tedious to check treatment costs to see how much your insurance covers you for treatment. Now, you can check on the most common treatments easily online — just enter in the name of the treatment or click on the button to search by body areas.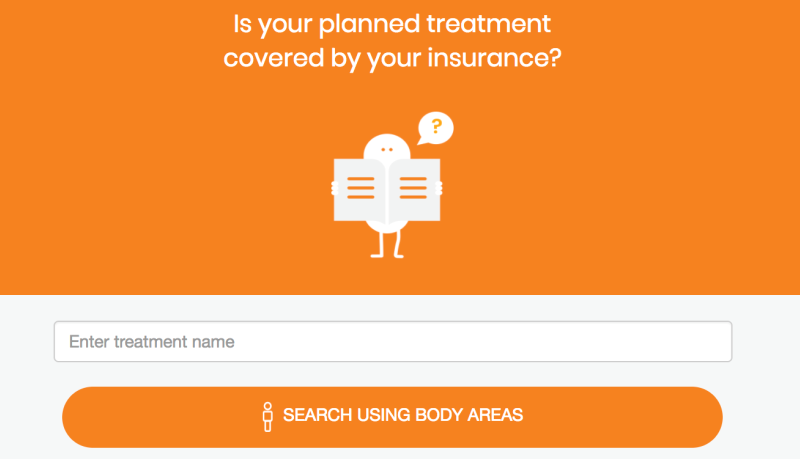 3. Submit a health insurance claim
You can quickly and easily submit a health insurance claim by submitting your pre- or post- hospitalisation bills online. Just log in with your NRIC to get started. Simply take a picture of your receipt and claim, and upload it. It's really simple!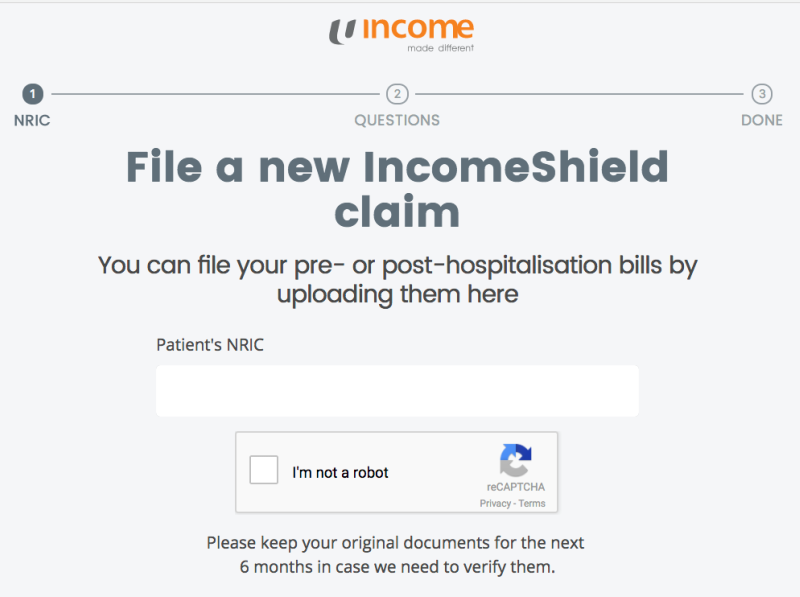 4. Upgrade or downgrade your current plan (Coming Soon)
In the near future, Income will enable you to adjust your EIS policy conveniently to a higher- or lower-tier plan, deepening on your needs, preferences and affordability.
Are You Ready to Find the Right Health Insurance Plan?
Remember, Singapore's average annual healthcare inflation rate is
2.4%
. So if you're unsure about whether or not you can manage the out-of-pocket costs of medical treatment, especially for high-cost procedures and treatments, you may want to think about purchasing an IP to give you greater peace of mind. If you want the additional health insurance protection that an EIS policy can provide, you can purchase it at Income's new online portal.
If you prefer a human touch, or some advice from Income's advisors, do hop over to
Advisor Connect
and talk to any of our advisors.

Important Notes:
This article is meant purely for informational purposes and should not be relied upon as financial advice. The precise terms, conditions and exclusions of any Income products mentioned are specified in their respective policy contracts. For customised advice to suit your specific needs, consult an Income insurance advisor.