Health Insurance 101: 4 Questions Singaporeans Should Be Asking
By Ming Feng Yeap, 30 August 2017
16916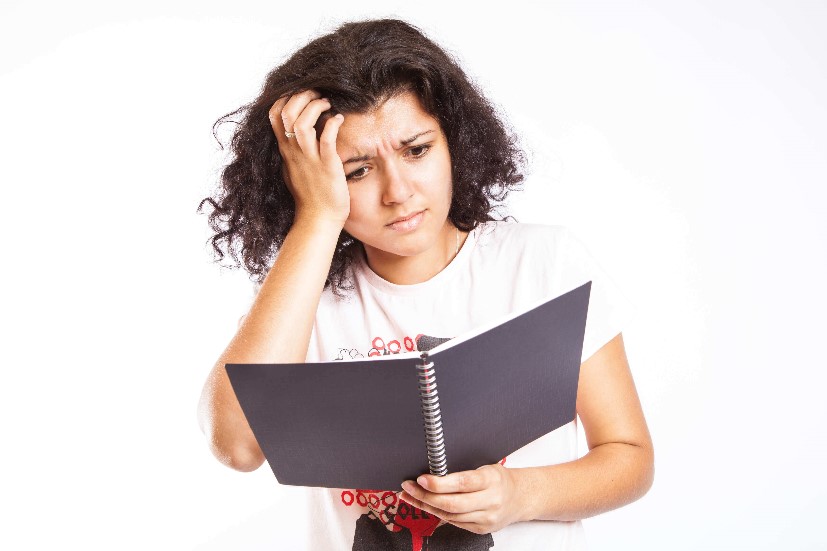 Insurance. Many people think of insurance as a bad omen and that you only need insurance when you are in trouble. However, did you know that insurance is actually a form of risk management that protects you from uncertain loss?
With so many policies and providers out there, how do you know which policy is most suitable for you? How can you be sure that you are getting the best deals when you are confused by the terms? In this multiple-part-series, we will attempt to clear the air and cover the 101s of Insurance.
We will be kicking off this series with Health Insurance 101. The cost of healthcare has always been something Singaporeans are concerned about. With
national health schemes
like MediSave, MediShield Life and Medifund, it seems that we are covered all round. If so, then why is there a need for Private Health Insurance? Here, we address 4 questions that will help you to understand this issue better.
Is MediSave Alone sufficient?
MediSave is a national medical savings scheme which helps individuals put aside part of their income into their MediSave Accounts to meet their future personal or immediate family's hospitalization, day surgery and certain outpatient expenses.
Most people confuse the sum of money we have in our MediSave with getting sufficient coverage. MediSave account is like a "piggy bank" that solely pays for our medical expenses. However, there are limitations to the use of this "piggy bank". There are limits imposed on how much one can withdraw daily according to the medical charges incurred. For example, there is a daily limit of S$450 for hospital charges for patients who got admitted. Also, one needs to be in the hospital for at least 8 hours before you are even able to claim hospitalisation fees.
Ultimately, the ability to pay through your MediSave is subjected to the amount of money you have in your account.
With MediShield Life, Do I Still Need To Purchase Private Health Insurance?
Since November 2015, Singaporeans and Permanent Residents are fortunate enough to enjoy lifelong coverage of MediShield Life, which provides the most basic form of health insurance.
A general misconception amongst Singaporeans and Permanent Residents is that with MediShield Life, they do not need Integrated Shield Plans anymore. They can't be more wrong. As much as MediShield Life is a great initiative, there are specific
limits on claims
for different treatments.
To enhance your coverage beyond MediShield Life, you can get an Integrated Shield Plan. An Integrated Shield Plan is made up of two components – MediShield Life component administered by the Central Provident Fund (CPF) Board, and additional private insurance coverage providing additional benefits and coverage that is run by private insurers.




Source: Income
MediShield Life has a daily claimable limit while some Integrated Shield Plans could compensate you "as charged". This means that you will be reimbursed for eligible hospitalisation cost you have incurred, subject to
terms and conditions
.
Ultimately, the decision to get an Integrated Shield Plan should depend on the type of coverage you prefer and your ability to afford the additional premiums for your private insurance. These additional premiums can be paid via MediSave, up to the withdrawal limits for your age group, with the rest topped up through cash payments. Here are a few questions you can ask to make that decision:
1) Do you want to be able to choose any doctor?
2) Would you prefer to recover in a private or public hospital should you need to be admitted?
2) Do you prefer a room to yourself or are you comfortable with a shared ward?
You can complete a simple 1 minute guide
here
, to understand and find out the best plan for you. Income's
Enhanced IncomeShield
even offers 3 different plans (Preferred, Advantage, Basic) to suit your individual needs.
An example will be:
1) 27 years old, Singaporean
2) Happy recovering in a public hospital and don't mind sharing a room
3) Happy to choose any doctor from public hospitals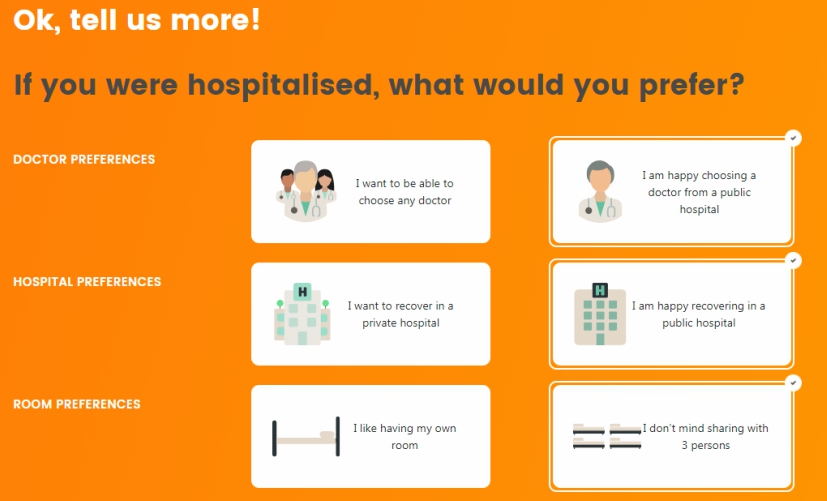 Source:
Income
In this case, an Enhanced IncomeShield Basic Plan will best suit his needs. Try out the
1 minute guide
to find out the best plan for you.
What Is The Difference Between Wards?
To allow better decision making when deciding on a possible Integrated Shield Plan, we take a look at the difference between ward classes.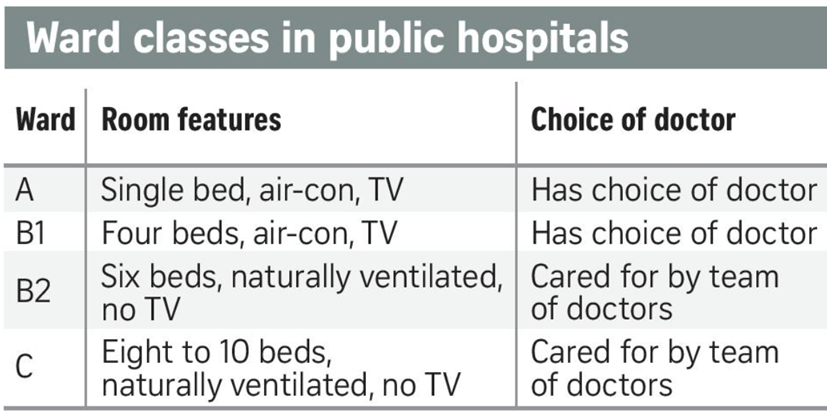 Source
:
The Straits Times
Private hospitals usually incur a higher cost when compared to public hospitals. There are, however, people who are more than happy to pay more for shorter waiting times and a more comfortable experience.
According to
Ministry of Health
, the average daily cost of a normal B1 ward ranges from $686 to $1094, while the payout for MediShield Life is capped at $700 per day. This means that one will still need to foot the additional cost for his hospitalisation bill should he choose to stay in Class A/B1 wards.
Anything Else I Should Know After I Apply For A Policy?
It is always a good habit to read up more on Integrated Shield Plans before the decision to upgrade or change any policy. Income has
4 different plans
, each with different benefits and coverage. Knowing your needs and policy details will help you make the best choice for yourself.
Should you see the need to make changes to your policy, all private Health Insurance policies come with a free-look period of 14 days which allows a policy buyer to evaluate his policy after he purchased them. If the policy is not suitable for your needs, your premiums paid will be refunded back to you during this period.
Knowing What You Need
Many times, we ask ourselves if such kind of coverage is necessary. We definitely hope not, but getting yourself insured adequately can allow you to have peace of mind knowing that your medical costs are taken care of.
Knowing what you need is important when it comes to insurance. Income has setup an
online portal
to help you find out the policy that suits you best through the simple 1 minute guide. If you just want to find out the costs for the various plans, just head on to Get a Quick Quote. Once you are insured under IncomeShield, you can also use this portal to submit claims or check your treatment cost and coverage!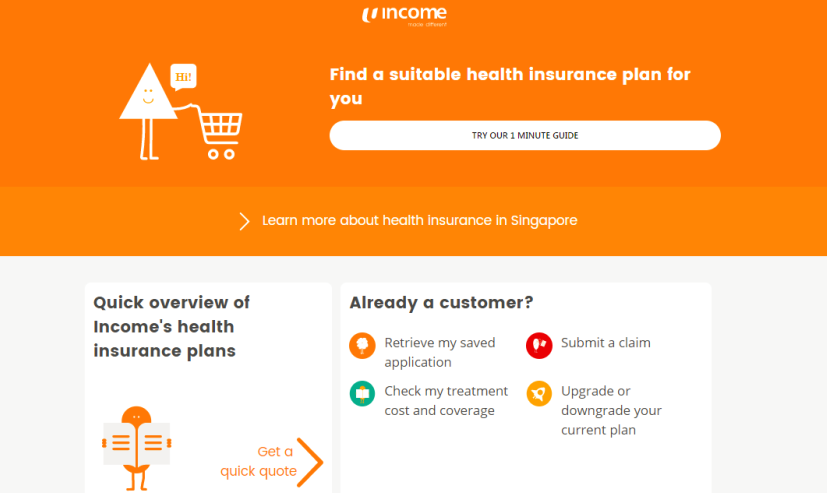 Source:
Income
Most Singaporeans belittle the impact of an accident or illness, taking into account the cost of medical bills only. Financial stress caused by accidents or illness can have a snowball effect on the finances. Health insurance helps support you by providing cash or offsetting certain cost from the medical bills which can be way beyond the means of our pay cheque.
While Integrated Shield Plans complements MediShield Life with additional benefits and coverage, such as the "as charged" benefit, there are several considerations that differ for every individual. Try our
1 minute guide
today and if you are keen to purchase, you cart out your plan in 10 minutes.
Important Notes:
This article is meant purely for informational purposes and should not be relied upon as financial advice. The precise terms, conditions and exclusions of any Income products mentioned are specified in their respective policy contracts. For customised advice to suit your specific needs, consult an Income insurance advisor.