Unusual Colourful Beaches Around The World
By Jaclynn Seah, 12 July 2018
1159
White sandy beaches make for that perfect postcard-worthy picture against blue skies and oceans, but the type of sand you end up with ultimately depends on what sediments can be found in the surrounding area. If you are looking for beaches with a bit more character, here is a rainbow-coloured list of some of the most unusual coloured sand beaches that you can find around the world.
Pink sand beaches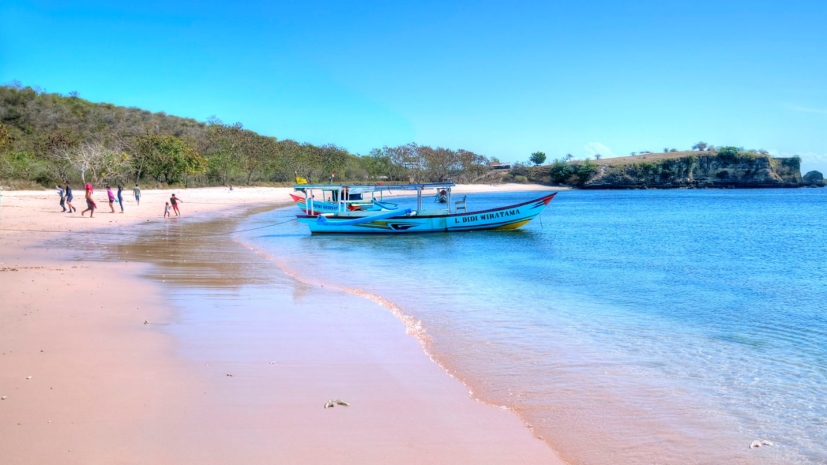 Tangsi Beach in Lombok, Indonesia. Photo by Schristia via Flickr

Pink sand beaches often feel like you are looking through a perfect rosy-hued Instagram filter, when in fact the pinkish colouring is often the result of tiny red sediments that come from pulverised red-coloured coral or shell creatures called Foraminifera in the water mixing with the fine white beach sand, which is why the pinkest areas are usually right along the waterline.

Here are some places to find pink beaches around the world:
Tangsi Beach – Lombok, Indonesia

Pink Beach – Komodo, Indonesia

Elafonisi Beach – Crete, Greece

Harbour Island – Bahamas

Crane Beach – Barbados
Green sand beaches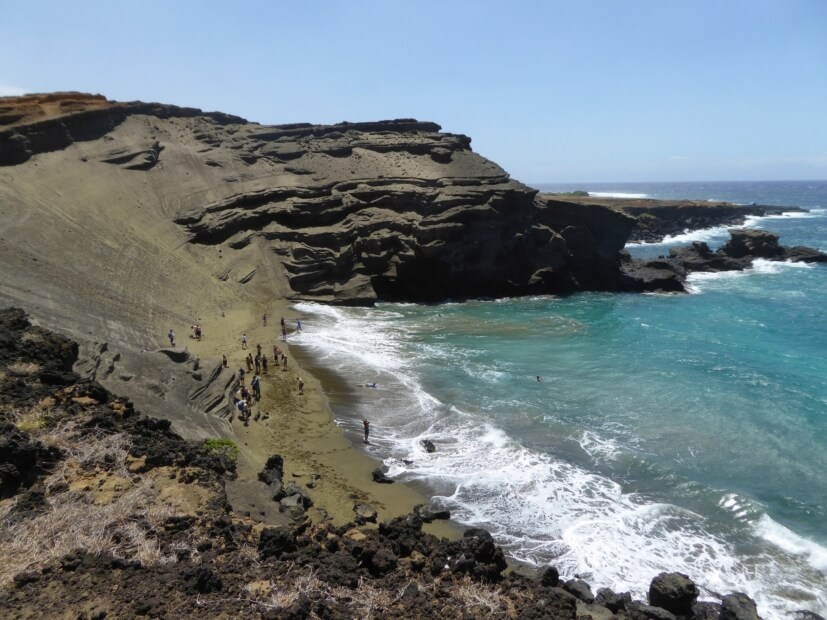 Papakōlea Beach near Ka Lea in Hawaii. Photo by Gael Varoquaux via Flickr.

There are very few green-sand beaches around the world, and while one might think the green comes from algae or seaweed, the greenish tint of the sand is actually caused by Olivine, a magnesium-iron deposit that comes from volcanic activity and ancient lava found in the rock structures of the surrounding area.

Green sand beaches around the world to check out:
Papakōlea Beach, Kau – Hawaii, United States

Talofofo Beach – Guam

Cormorant Beach, Floreana – Galapagos Islands, Ecuador

Hornindalsvatnet – Norway. The deepest lake in Norway and Europe.
Blue Beaches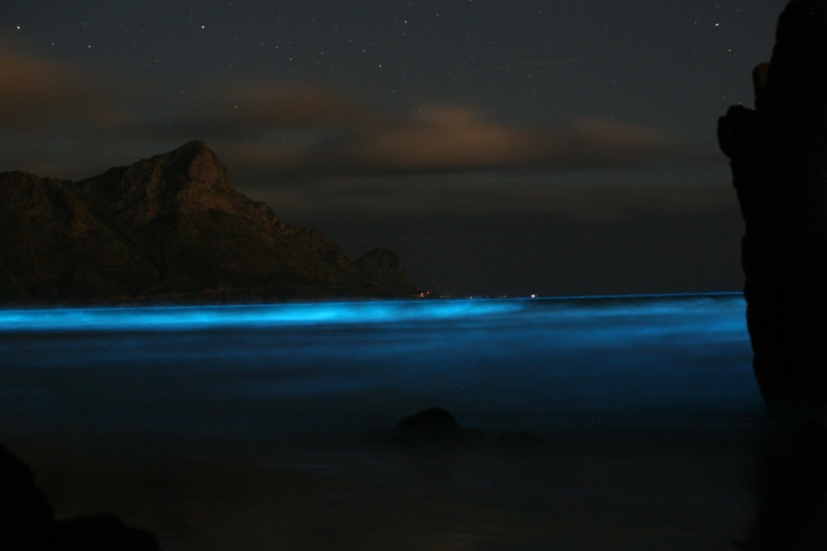 Blue Tide of Dinoflagelletes. Photo by Bruce Anderson via Flickr.

While there aren't any blue sand beaches, you can still find coastlines covered in an otherworldly bluish glow at night thanks to blooming phytoplankton, microorganisms that light up often due to agitation, whether by movement or crashing waves. This phenomenon is often called 'Red Tide' even though the bioluminescence is often seen as a neon blue and is best seen on a night with no moonlight.

Some bioluminescent beaches around the world include:
Matsu Island – Taiwan. The phenomenon is known as 'Blue Tears'

Toyama Bay – Japan. The bioluminescence here is not caused by plankton but a 3-inch long squid known as a firefly squid.
Mosquito Bay – Vieques, Puerto Rico

Luminous Lagoon – Trelawney, Jamaica

Torrey Pines Beach – San Diego, United States
Purple sand beaches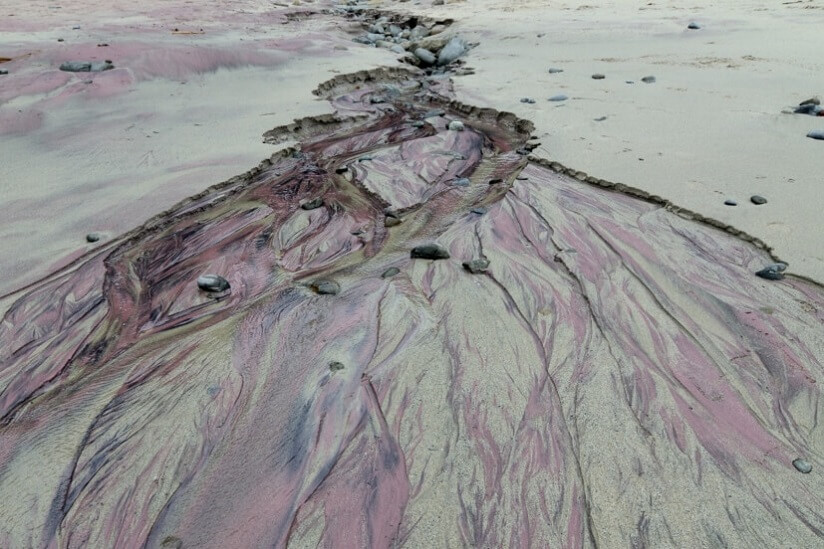 Pfeiffer Beach in Big Sur, California. Photo by Rosino via Flickr.

The purple colouring in the sand is caused by the presence of manganese garnet, mostly found in the rocks of the surrounding area that wash washed down by rain and deposited in brilliant purple patches onto the beach.

Where to find purple sand beaches around the world:
Pfeiffer Beach, Big Sur – California, United States

Crane and Plum Island Beaches, Ipswich – Massachusetts, United States
Bonus: Rainbow coloured beaches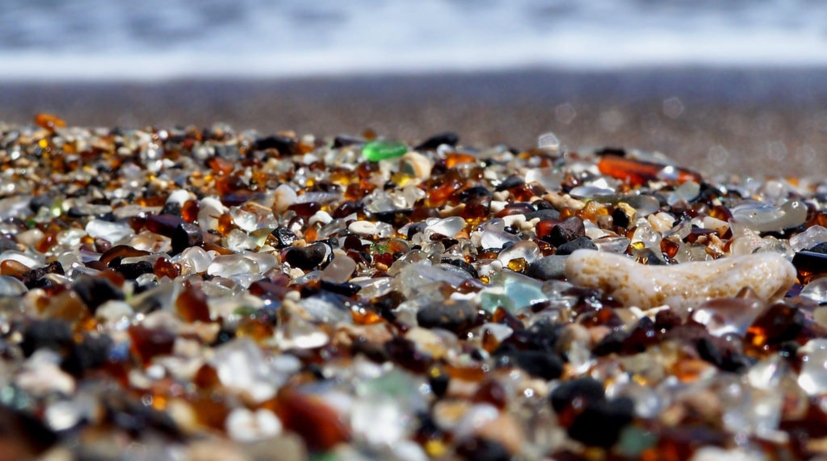 Glass Beach in Kauai, Hawaii. Photo by Makuahine Pa'i Ki'i via Flickr

Glass beaches are as their name suggests, made out of discarded glass waste thrown into the sea that have been eroded into smooth pebbles from the perpetual pounding of the waves. This 'sea glass' gets washed onto the shore and deposited on to the beach forming a multi-coloured pebble beach made out of glass. Be careful when visiting glass beaches and wear good shoes to protect your feet in case of any sharp debris mixed in with the sea glass.

Some famous glass beaches around the world:
Glass Beach, Fort Bragg – California, United States. The surrounding coast was known as 'the Dumps' as it was where residents discarded their waste.

Glass beach, Kauai – Hawaii, United States

Steklyashka ­– Ussuri Bay, Russia. This used to be a dumping ground for Vodka bottles.

Seaham ­– Durham, United Kingdom. There used to be a large bottle works factory that disposed its waste into the surrounding sea

Picking out your most picturesque beach for your next holiday? Some of these beaches might be a little more remote or hard to get to, but the experience of discovering such an unusual sight will surely be worth the effort. Don't forget to buy travel insurance before you travel so that you will be covered for unexpected incidents that might happen during your trip.
Important Notes:
This article is meant purely for informational purposes and should not be relied upon as financial advice. The precise terms, conditions and exclusions of any Income products mentioned are specified in their respective policy contracts. For customised advice to suit your specific needs, consult an Income insurance advisor.