Food Trail: 16 Johor Bahru Food Spots To Visit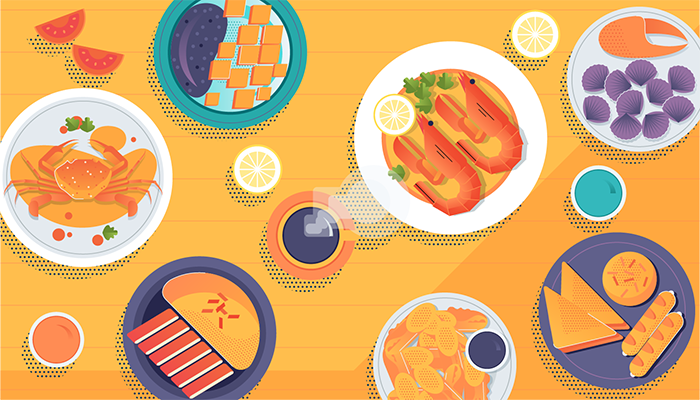 Johor Bahru, just across the Causeway, is a city that most Singaporeans are familiar with. Now that the border to Malaysia has reopened, it is time to fulfil a need most of us have: to feast! Food in the affectionately named JB, is a mix of cuisines from all over the world. Here are a few places to get your JB food fix, breakfast spots and of course, seafood galore!
Jalan Dhoby - Jalan Ibrahim
Jalan Dhoby is one of Johor Bahru's oldest streets, which should provide you with a hint of what to expect on a food hunt here- some of the city's oldest, all-time favourites. Jalan Dhoby, a reference to the Indian laundry wallahs who used to live and work in the area, is a mere 10-minute Grab ride away from the Malaysian checkpoint at the CIQ (Customs, Immigration and Quarantine) Complex.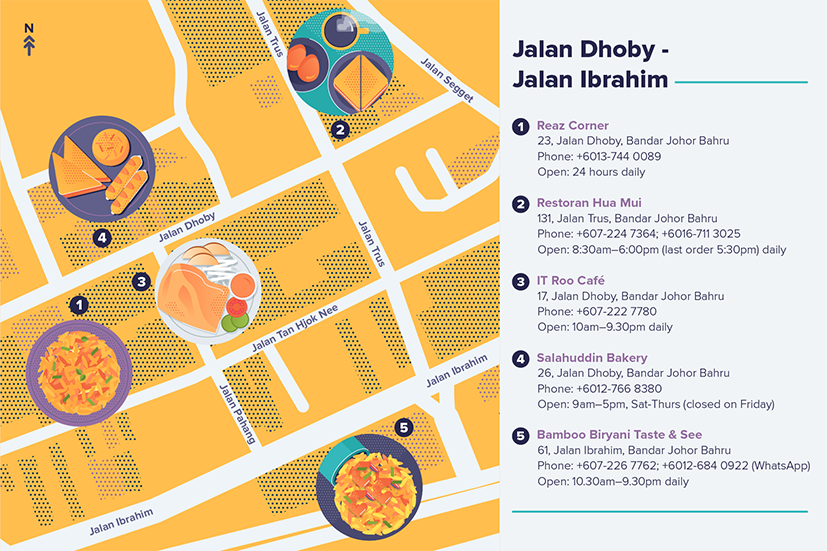 Breakfast
Just while you're here, ditch your intermittent fasting and head to Reaz Corner for a hearty Johor Bahru-style breakfast. This is where you go for Bombay-style food like roti canai (roti prata), chapatti, tosa, Indian-style fried noodles and Bombay biryani. If you like goat's milk, you're in luck because you can request to have it in your tea or coffee. Reaz's specialty is its beef fried rice (ask for 'Nasi Goreng Gearbox'), which is cooked with the most tender still-on-the-bone meat imaginable.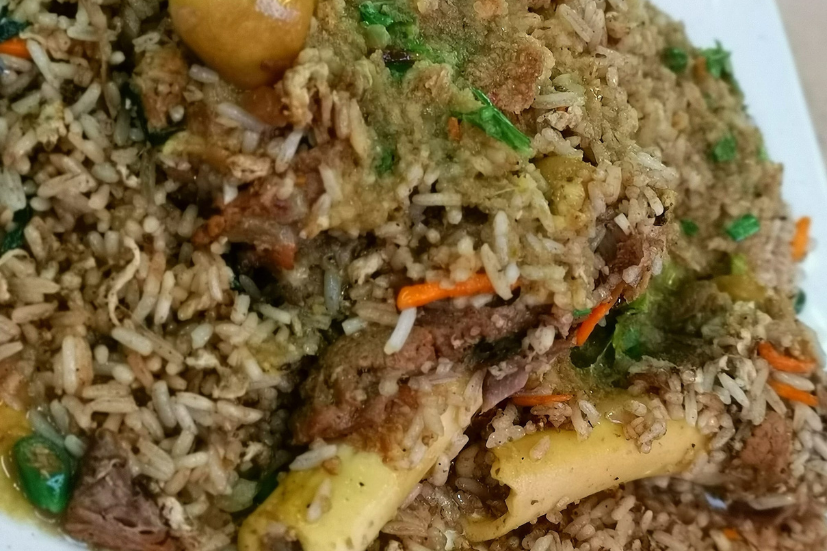 If you're not keen on such a heavy meal first thing in the morning, the good news is that Reaz is open 24 hours so you can drop by later in the day too.
Reaz Corner, 23, Jalan Dhoby, Bandar Johor Bahru
Phone: +6013-744 0089
Open: 24 hours daily
Another option for breakfast in JB is Restoran Hua Mui, an old favourite that has been around since 1946. Expect Hainanese-style brewed coffee and butter and kaya toast in an old-school environment.
If you enjoy the kopitiam vibes, why not stay for lunch? Hua Mui's signature dish is deep-fried chicken chop with peas and potato wedges drenched in a brown sauce. Also in the menu are fish and chips, sambal fried rice, black pepper fried udon, and various side dishes.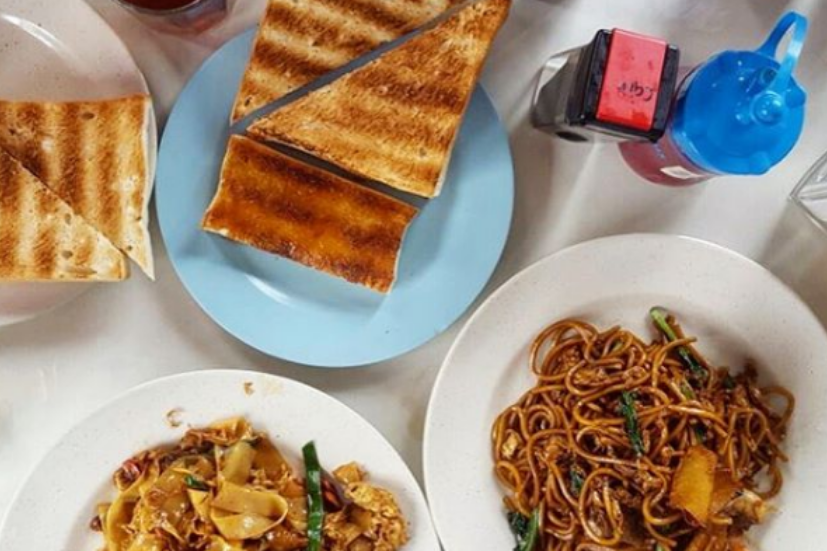 Restoran Hua Mui, 131, Jalan Trus, Bandar Johor Bahru
Phone: +607-224 7364, +6016-711 3025
Open: 8:30am–6:00pm (last order 5:30pm) daily
Lunch
We recommend the nearby IT Roo Café for lunch. Based on our map, from Reaz Corner turn right into Jalan Dhoby and at the corner of Jalan Pahang, you'll see IT Roo: this is a two-minute walk. If instead you chose Hua Mui for breakfast, walk straight on along Jalan Dhoby and you will see the café on your left. This should not take you more than five minutes.
IT Roo Café is another long-running favourite for Hainanese deep fried chicken chop, served with potato wedges and coleslaw. You have a choice of two gravies, either a brown mushroom gravy or black pepper; we are a bit partial to the former but the black pepper sauce is popular too. IT Roo also does Cantonese kuey teow and fried rice in both spicy and non-spicy versions.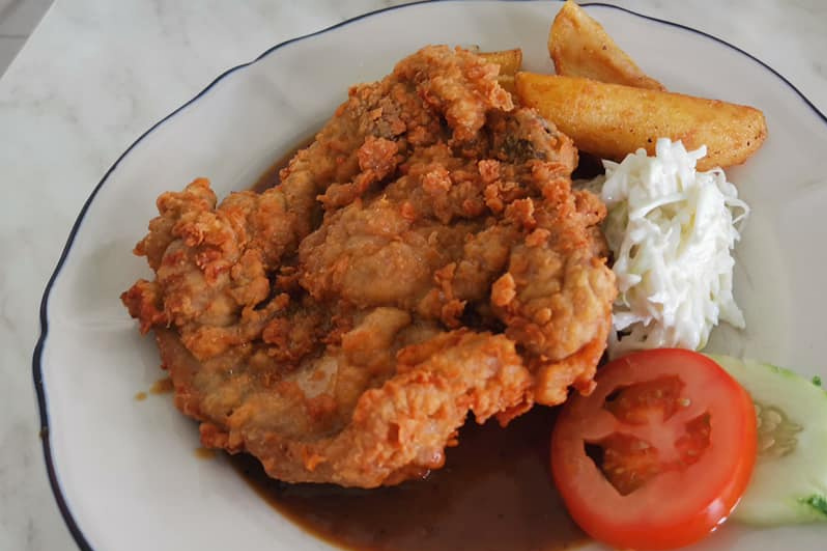 IT Roo Café, 17, Jalan Dhoby, Bandar Johor Bahru
Phone: +607-222 7780
Open: 10am–9.30pm daily
Teatime
It is teatime and rather than the usual hipster café food, let's head to an institution of JB that has fed generations. Right across IT Roo Café is Salahuddin Bakery, which has been around since 1937. We love it for its old-school ambience: everything including their bread, muffins, butter cakes and cream-filled pastries are baked in an oven that uses charcoal, pretty much how the bakery has done for decades. Special mention must go to their signature triangle-shaped Bengali curry puffs with a filling of either succulent beef, chicken or mutton. Prices are very reasonable, and the items are great for teatime munchies. Just remember that Salahuddin Bakery does not have seating, so you will need to take away your goodies.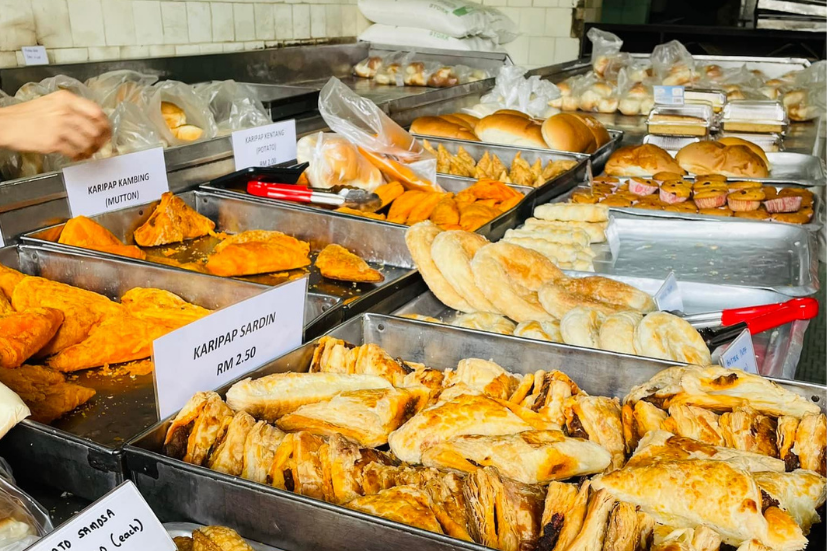 Salahuddin Bakery, 26, Jalan Dhoby, Bandar Johor Bahru.
Phone: +6012-7668380
Open: 9am–5pm Sat-Thurs (closed on Fri)
Dinner
To bring your Jalan Dhoby adventures to a close, round out today's JB food hunt with Bamboo Biryani Taste & See. Head south along Jalan Pahang then turn left at Jalan Ibrahim. You will see Bamboo Biryani Taste & See on your right. As the name suggests, this restaurant's specialty is biryani rice cooked in bamboo tubes, meat and all. Cooking it this way seals in all the juicy flavours so you can expect this to be one of the more unique biryanis you will ever taste. You will find beef, chicken, lamb and prawn biryanis, but the hot favourite here is their crab biryani which is a must have!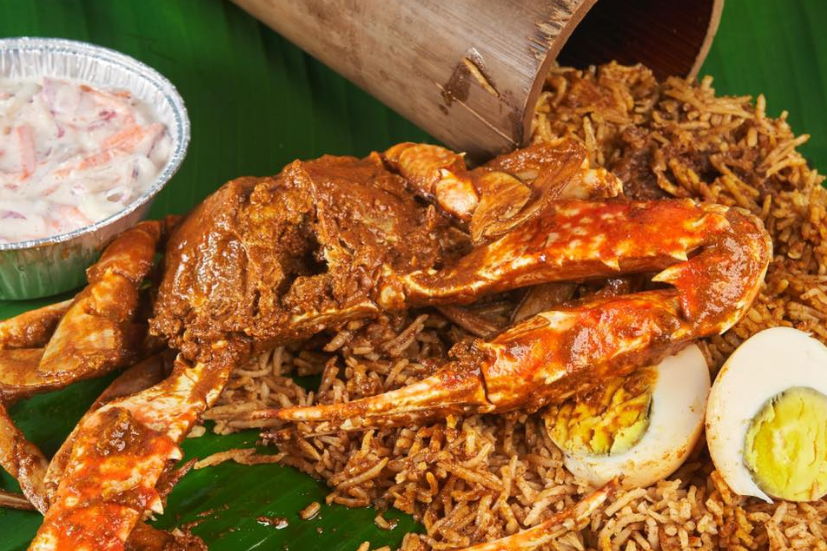 Bamboo Biryani Taste & See, 61, Jalan Ibrahim, Bandar Johor Bahru.
Phone: +607-226 7762, +6012-684 0922 (WhatsApp)
Open: 10.30am–9.30pm daily
Kampung Nong Chik- Jalan Sungai Chat
Nong Chik (see map) is a largely Malay area, so this a good neighbourhood to find traditional Malay dishes in JB. Grab-ing your way to Nong Chik is the best way to get there from anywhere in Johor Bahru. After that it will be easy to walk to the next stops in this itinerary.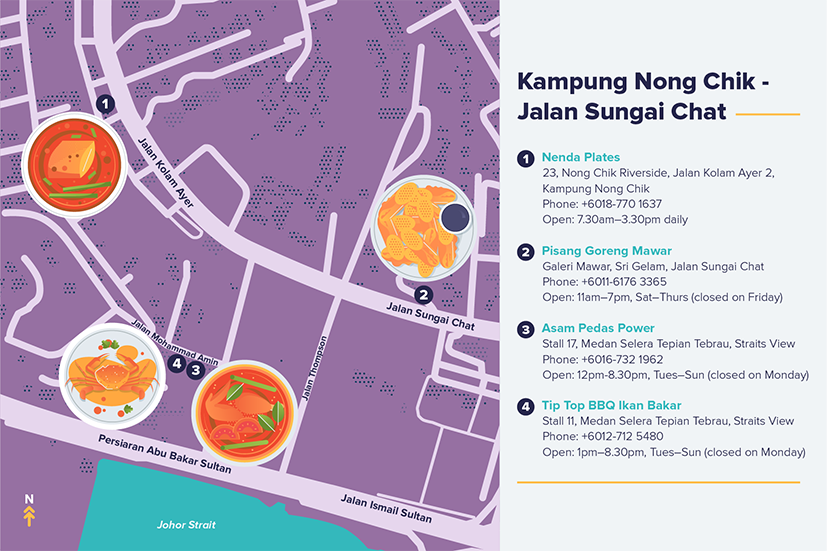 Breakfast
We discovered Nenda Plates quite by accident one day, and what a great day that turned out to be. This restaurant along Jalan Kolam Ayer 2 serves favourites like sambal goreng Jawa, soto ayam, nasi lemak and nasi dagang, perfect for breakfast. If you have not ventured beyond Johor, Nenda Plates is a good place for you to sample food from other Malaysian states. Look out for their fish head curry, prawn sambal and leafy greens, which you can try later for lunch.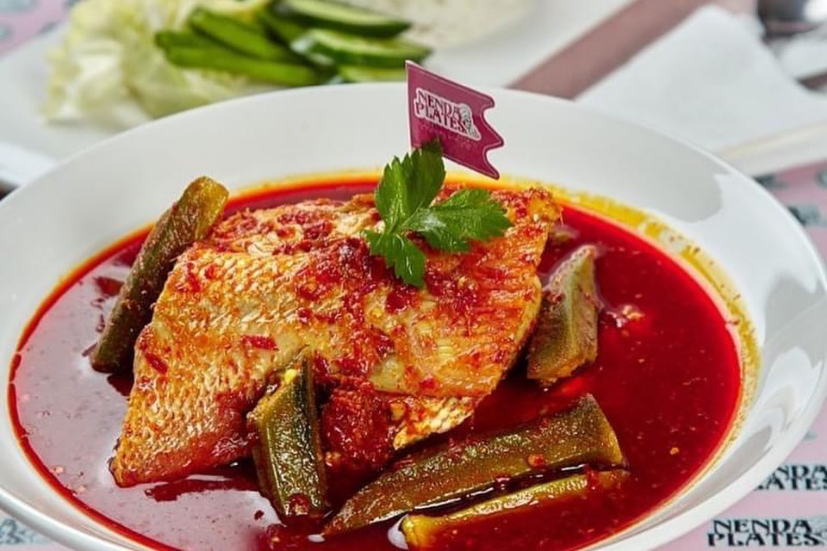 Nenda Plates, 23, Nong Chik Riverside, Jalan Kolam Ayer 2, Kampung Nong Chik
Phone: +6018-770 1637
Open: 7.30am–3.30pm daily
Lunch
Nenda Plates is also open for lunch, but if you would like to eat someplace else, turn right and walk eastwards along Jalan Kolam Ayer and you'll soon see Pisang Goreng Mawar on your left–this shouldn't take you more than 10 minutes. Look out for a low building with a blue signboard with the words 'Galeri Mawar' outside. This little open-air stall is known for its banana fritters (more on that below) but it also serves very good laksa Johor, nasi lemak and lontong, perfect for lunch. We suggest getting here before 12pm to make sure you get a table.
Tea
Stay put and hang on to your seat because Pisang Goreng Mawar serves yummy crispy banana fritters which are perfect for teatime. In Johor, banana fritters or pisang goreng is enjoyed with a spicy dipping sauce (sambal kicap). The combination of spicy, hot, and sweet is the principle behind many chutneys and dips anyway, so do try it! Pisang Goreng Mawar is the best place to try Johor-style pisang goreng. If you would rather not eat the banana fritters with the dip, that's all right because they're still delicious on their own. Apart from pisang goreng, Mawar sells traditional Malay sweets and kueh like kueh lapis, seri muka and meaty curry puffs.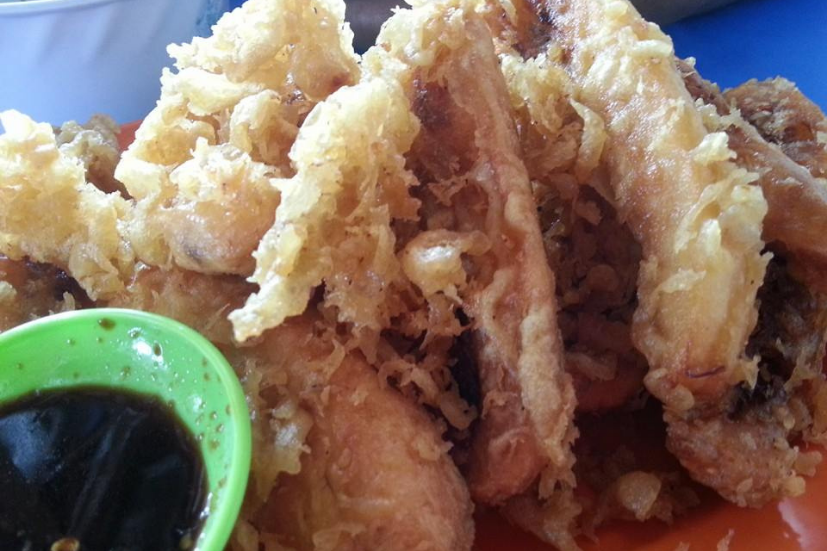 Pisang Goreng Mawar, Galeri Mawar, Sri Gelam, Jalan Sungai Chat
Phone: +6011-6176 3365
Open: 11am–7pm, Sat–Thurs (closed on Friday)
Dinner
After Pisang Goreng Mawar, guided by our map, head back where you came from along Jalan Sungai Chat, walk past Jalan Thompson and turn left at the next turning, which is also called Jalan Sungai Chat. Both our dinner suggestions, Asam Pedas Power and Tip Top BBQ Ikan Bakar (or dinner and supper, perhaps?) are at the Medan Selera Tepian Tebrau food court, which you'll see at the corner of Jalan Mohammad Amin. The brightly lit row of stalls is unmissable!
Asam Pedas Power
This stall serves authentic Johor asam pedas, or fish in a hot and sour broth. Asam pedas is meant to be chili-hot, so be prepared for it to be particularly fiery! One does not normally eat asam pedas on its own though. There is also steamed rice, fried rice, stir-fried vegetables and noodles to accompany your meal. Apart from its asam pedas, this stall has some particularly good seafood dishes too.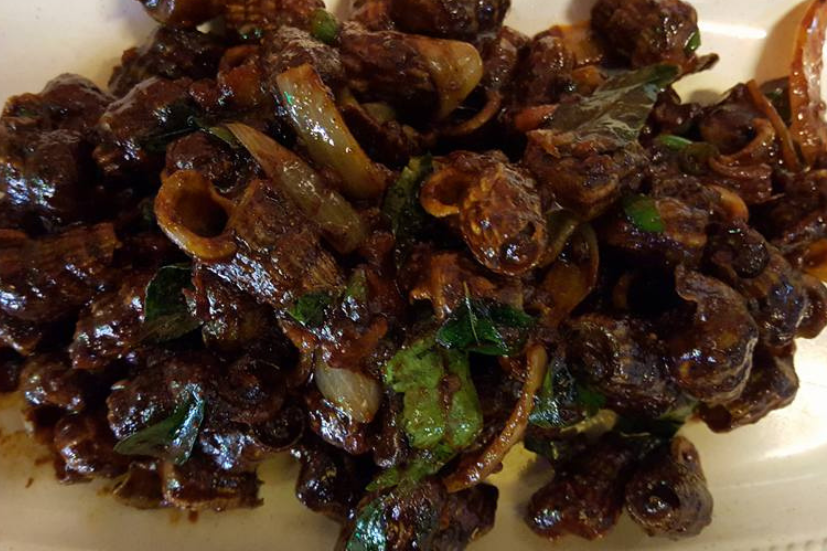 Asam Pedas Power, Stall 17, Medan Selera Tepian Tebrau, Straits View
Phone: +6016-732 1962
Open: 12pm-8.30pm, Tues–Sun (closed on Monday)
Tip Top BBQ Ikan Bakar
Hang on, don't leave yet, because there's plenty more to eat at Tepian Tebrau. Just a few steps away is Tip Top BBQ Ikan Bakar, which offers delicious, freshly grilled seafood, whether it's fish, crab, squid or prawns. Meals are very reasonably priced and all grilled seafood is served with a tangy, chili-hot dip called kuah asam. Their fried rice, oyster omelette and vegetables dishes are also very popular.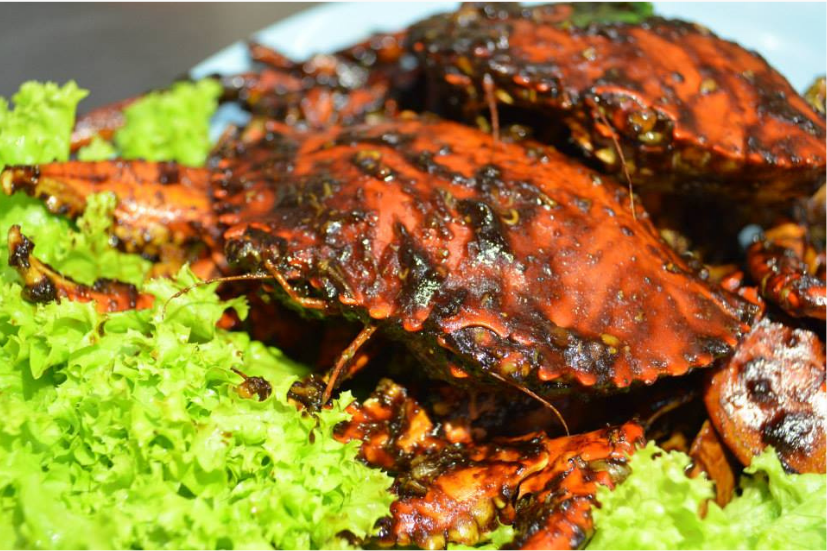 Tip Top BBQ Ikan Bakar, Stall 11, Medan Selera Tepian Tebrau, Straits View
Phone: +6012-712 5480
Open: 1pm–8.30pm, Tues–Sun (closed on Monday)
Danga Bay
This section of Johor Bahru, Danga Bay development, is best reached by Grab, and our breakfast recommendation is Hainam & Coffee.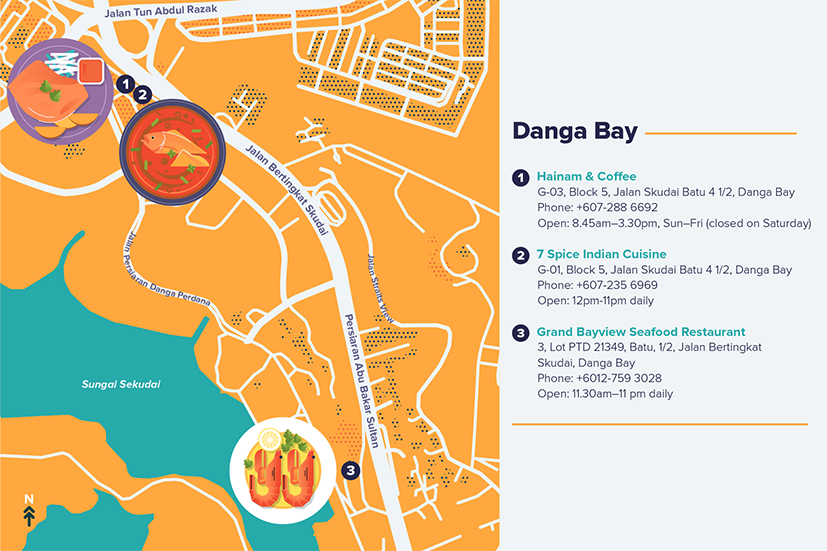 Breakfast
Hainam & Coffee is where you go for kopitiam-style breakfast of coffee and kaya toast in Johor Bahru. This café is a clean, cheery, well set-out and unpretentious establishment where you can relax and enjoy tasty fish and chips, nasi lemak, prawn noodles and kampung fried rice. This café also works really well as a hangout spot for meet-ups with your friends in JB!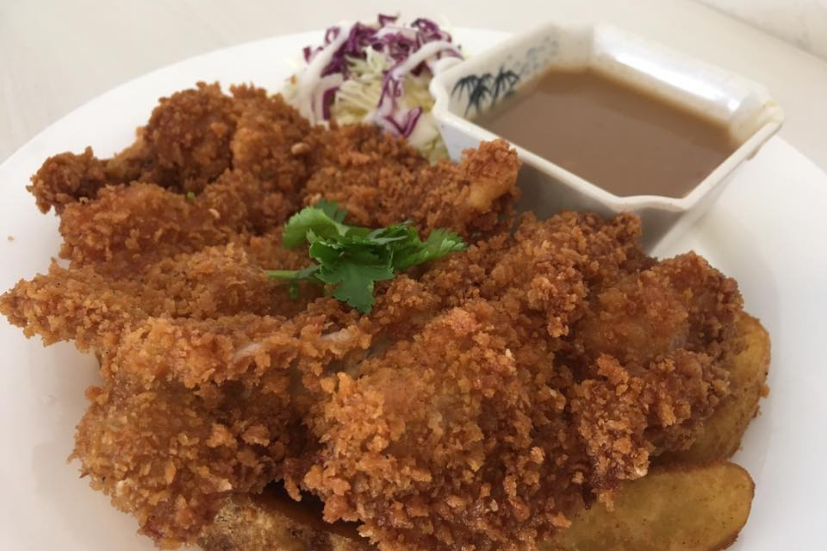 Hainam & Coffee, G-03, Block 5, Jalan Skudai Batu 4 1/2, Danga Bay
Phone: +607-288 6692
Open: 8.45am–3.30pm, Sun–Fri (closed on Saturday)
Lunch
A quick stroll (see map) from Hainam & Coffee is 7 Spice Indian Cuisine, our lunch recommendation. Since 2007, 7 Spice has created quite a name for itself for serving tasty Northern Indian cuisine in an attractive, well-presented and classy environment. Try the palak paneer, tandoori seabass and chicken masala–you will not be disappointed. This may very well be Johor Bahru's best Indian restaurant and certainly one of our favourites. Also, if you are looking for a good masala tea, this is the place!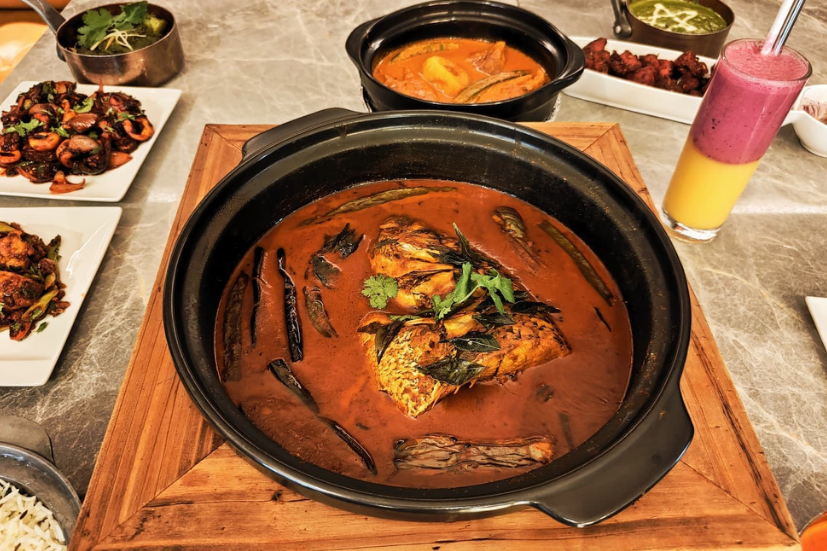 7 Spice Indian Cuisine, G-01, Block 5, Jalan Skudai Batu 4 1/2, Danga Bay
Phone: +607-235 6969
Open: 12pm-11pm daily
Dinner
For dinner, since it's near the sea, seafood is definitely on the menu this night, if not every night, in JB. We highly recommend Grand Bayview Seafood Restaurant, a 10-minute Grab ride away. You won't miss this restaurant because of the giant lobster fixture outside their restaurant–remember to take pictures with it! Make sure to have your fill of the freshest steamed fish, stir-fried vegetables and of course, your favourite crabs, prawns, squid, cockles and more!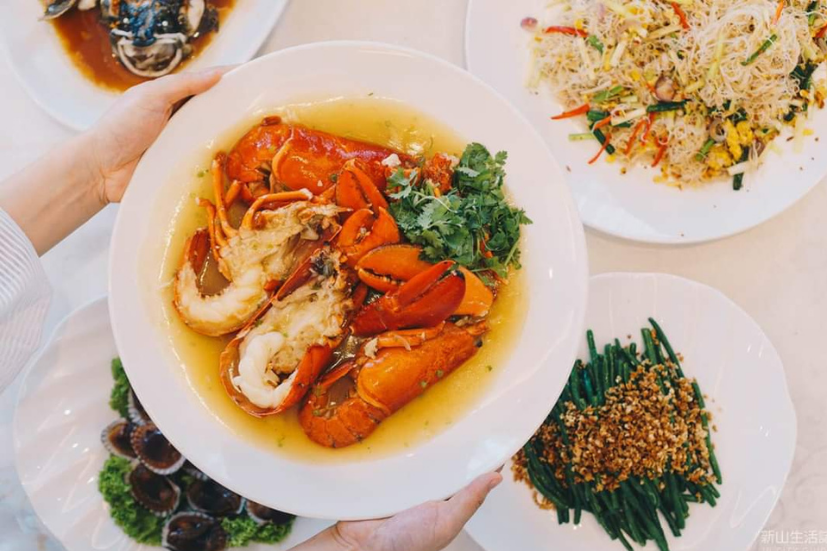 Grand Bayview Seafood Restaurant, 3, Lot PTD 21349, Batu, 1/2, Jalan Bertingkat Skudai, Danga Bay, 80200 Johor Bahru
Phone: +6012-759 3028
Open: 11.30am–11 pm daily
Permas Jaya
The Permas Jaya Old Street No. 2 night market at Bandar Baru Permas Jaya sounds a bit out of the way, being roughly half an hour's drive from the city centre, but we promise you that it will be worth it. As the name suggests, it opens in the evening so an overnight stay in Johor Bahru will be necessary for this itinerary and taking a Grab from the city would be the most convenient option. Here're our top picks of food in this night market that ranges from street food to Japanese and beyond!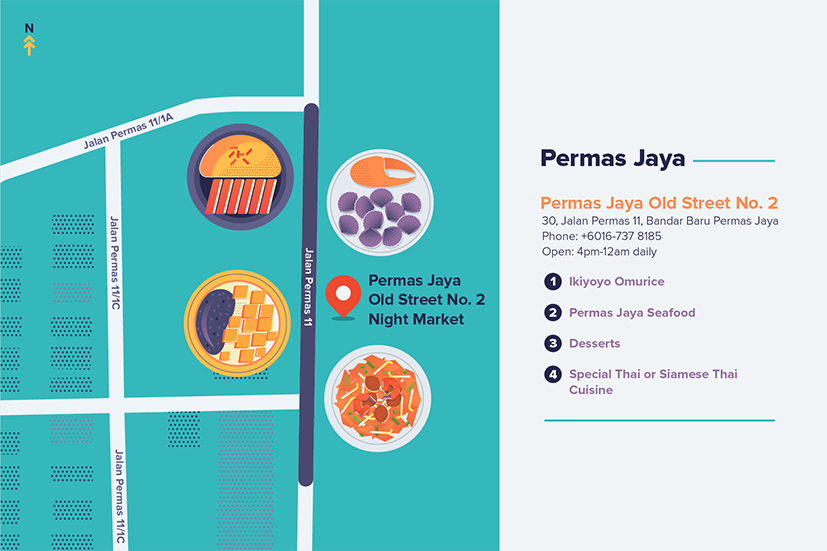 If you're looking for something filling, with the basic rice, protein and gravy combo plus a Japanese twist, look for Ikiyoyo Omurice. They serve up Japanese-style omurice (omelette on rice) with your choice of curry chicken katsu, teriyaki chicken, curry pumpkin croquettes and more!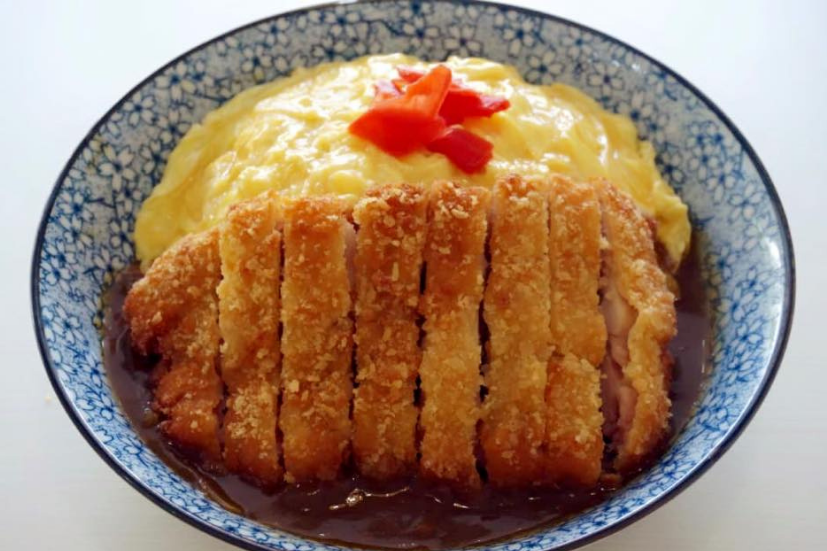 Permas Jaya Seafood: If you didn't get to try the grilled seafood at Tepian Tebrau and happen to find yourself at Permas Jaya, look out for this stall. You'll find seafood in all its forms: grilled fish, squid, cockles, prawns and stingray.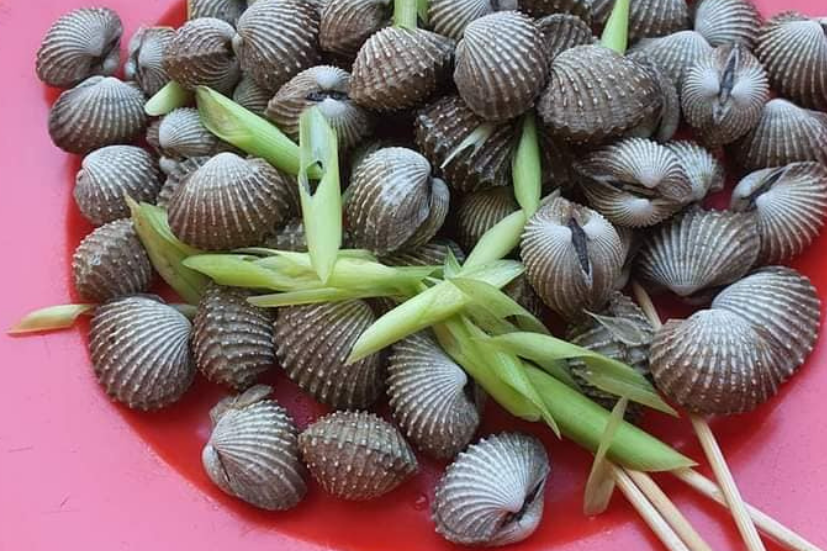 Desserts: You will find many stalls selling Korean-inspired colourful drinks and bubble tea, but why not try something different? Look out for dessert stalls selling treats like chendol, bubur pulut hitam with mango, and coconut ice cream.
Special Thai or Siamese Thai Cuisine: Both these stalls serve all-time Thai favourites like som tam, seafood tom yam and stir-fried beef with basil leaves.
Look out also for: claypot noodles, char kuey teow, chicken biryani, duck rice, ayam penyet, yong tau foo and more!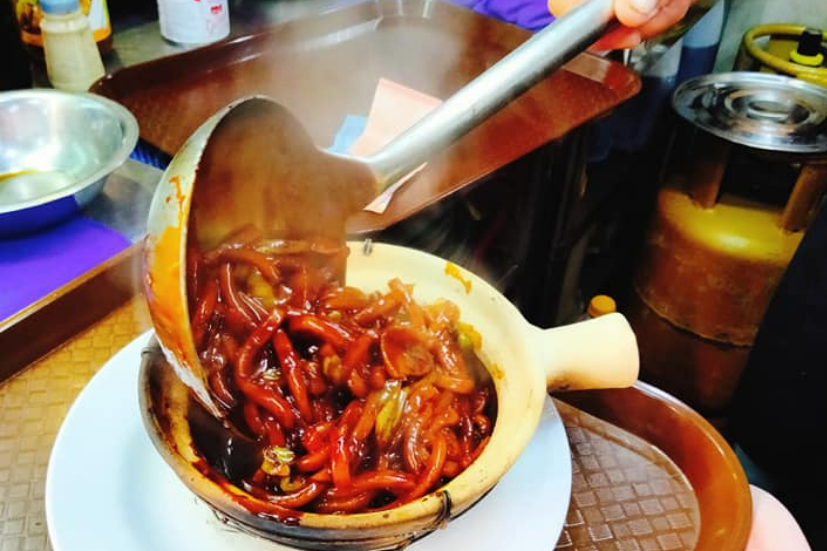 Permas Jaya Old Street No.2, 30, Jalan Permas 11, Bandar Baru Permas Jaya.
Phone: +6016-737 8185
Open: 4pm-12am daily
Before you leave
We hope you will be able to try at least a few of our restaurant and food suggestions on your next trip to Johor. Since your foodie needs are taken care of, all you need now is taking care of yourself!
For peace of mind, check out the FlexiTravel Hourly Insurance plan, where you can customise your insurance coverage down to the hour you arrive and leave your destination. If your trip is shortened, you will be able to shorten your coverage and the pro-rated premium will be refunded to you. Easy, completely flexible, and affordable FlexiTravel Hourly Insurance covers important matters such as personal accident and medical expenses (up to $50,000), loss or fraudulent use of credit or debit cards, and golfers are covered as well too!
Simply download the My Income mobile app (App Store and Google Play), complete the registration and you're ready to go! For more information on FlexiTravel Hourly Insurance plan, click here or download the My Income app.
Of course, don't forget to save emergency numbers on your phone – Income's DrivoTM Car Insurance has a 24/7 referral services hotline for road and medical assistance in West Malaysia1 in case your car breaks down, or if you are involved in an accident or require medical assistance.
With these taken care of, all that's left is to eat to your heart's content!
1 The 24-hour referral services for road and medical assistance are available within Peninsular Malaysia, which includes Penang and Langkawi but excludes the rest of the islands. This service is applicable for Income Private Car Policyholders only.
This article is meant purely for informational purposes and should not be relied upon as financial advice. The precise terms, conditions and exclusions of any Income products mentioned are specified in their respective policy contracts. For customised advice to suit your specific needs, consult an Income insurance advisor. This advertisement has not been reviewed by the Monetary Authority of Singapore. ​
These policies are protected under the Policy Owners' Protection Scheme which is administered by the Singapore Deposit Insurance Corporation (SDIC). Coverage for your policy is automatic and no further action is required from you. For more information on the types of benefits that are covered under the scheme as well as the limits of coverage, where applicable, please contact Income or visit the GIA/LIA or SDIC websites (www.gia.org.sg or www.lia.org.sg or www.sdic.org. sg).