Overnight train travel across the scenic highlands of Scotland
By Jaclynn Seah, 17 May 2018
4502
When I visited the United Kingdom in winter, one of the highlights I was looking forward to was my overnight train journey that would take me through the highlands of Scotland on the Caledonian Express.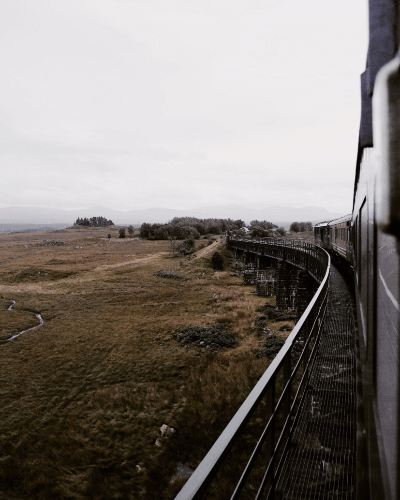 Caledonian Express on the tracks
Travelling by train is one of my favourite ways of exploring a country. Not only does it get you from point A to B without having to do much work or worry about getting lost if your GPS fails, there is also much more room on a train to walk about and stretch your legs, and you don't have to worry whether your liquids are in the right sized bottles.
The Caledonian Express through the Scottish Highlands is famous as one of the most scenic train routes in the world that starts at London's Euston Station in the evening. It goes up into the highland region of Scotland and finally ends at Fort William about 12 hours later.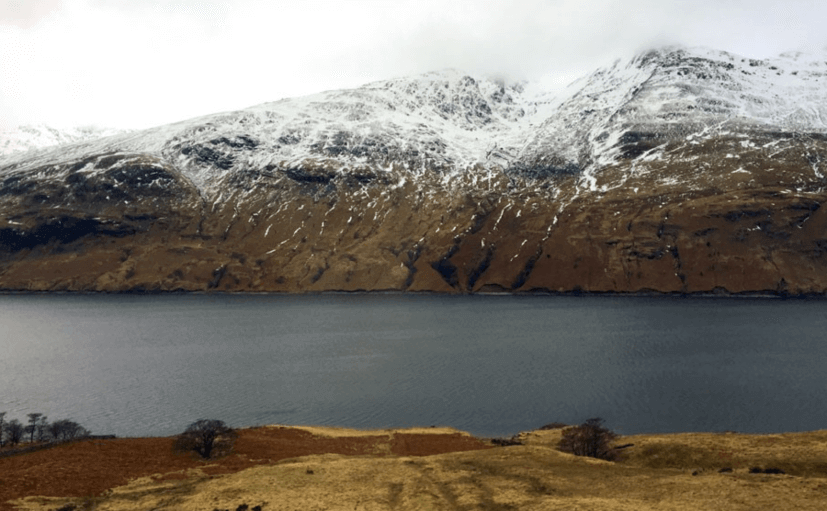 Mountains, lakes and greenery all in one window view. Photo by Jaclynn Seah via The Occasional Traveller
But my train adventure was not shaping up to a good start. The train we were supposed to be on was late to arrive due to train faults on the tracks, and it was only after about 2 chilly hours of waiting in the station that I could finally board the train and start my journey.
I had decided to splurge a little and instead of a standard seat, I booked a lower bunk ticket in the sleeper twin cabins so that I could lie down and have a good sleep. Perhaps it was the odd weekday timing, but there were few guests in my part of the train and I had the room all to myself, which turned out to be a good thing – the rooms on the Caledonian Sleeper are pretty tight, consisting a bunk bed and a sink that converts into a mini table, and of course, a little window to look out of. You have just enough floor space to stand and turn around.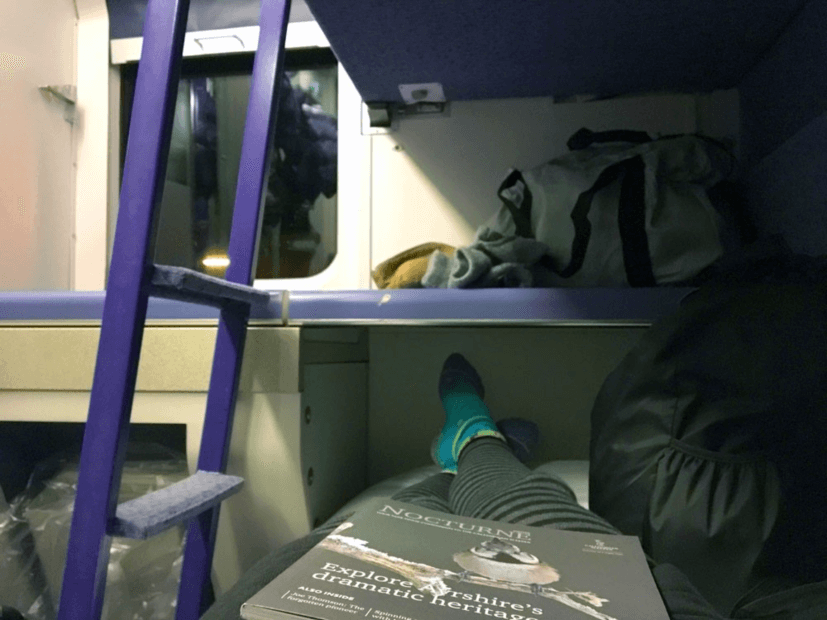 My view while laying on the lower bunk bed. The window is above a sink that doubles as a table. Photo by Jaclynn Seah via The Occasional Traveller
As the train set off, I eagerly looked out the window, but it was a pitch-dark winter's night, so there wasn't much to see other than the lamp lights of the stations we passed through. The bed and the small room reminded me of many hostels dormitories I've been in, but the mattress and comforter were very warm and soft, and I knew I was going to be very comfortable. There was a dining car where one could get a meal or a dram of Scottish whisky to warm up, but I decided to make full use of the bed I had paid for and laid down to rest while we trundled through the night.
I woke up the next morning at the faintest hint of light shining through my window. As I brushed my teeth over the tiny sink, I marvelled at the view through that tiny window. At some point we had climbed up into the Scottish Highlands with nary a building in sight, just stunning nature right outside my window.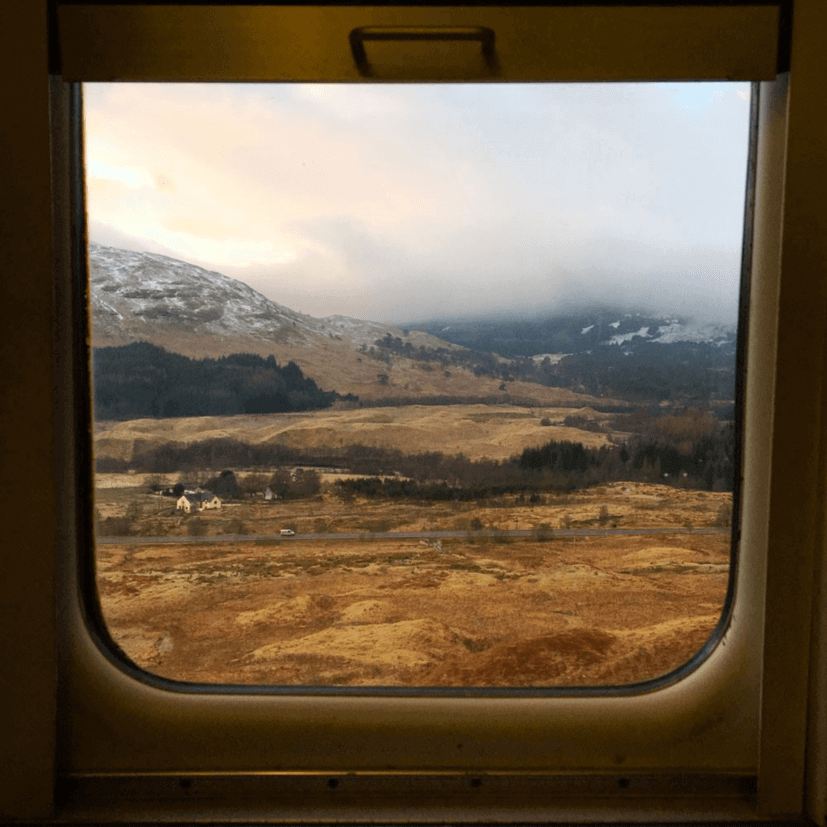 The view from my window. Photo by Jaclynn Seah via The Occasional Traveller
When you grow up in a city, vistas of mountains and lakes always seem a little unreal, like you've accidentally dropped into the middle of a movie set. A light layer of pure white snow covered the grass and trees next to the tracks, adding that perfect wintery touch to a postcard-worthy view. I could have gone into the dining car with its full length windows stretching on both sides of the carriage to properly admire the view, but there was something magical about taking it all in through my tiny window.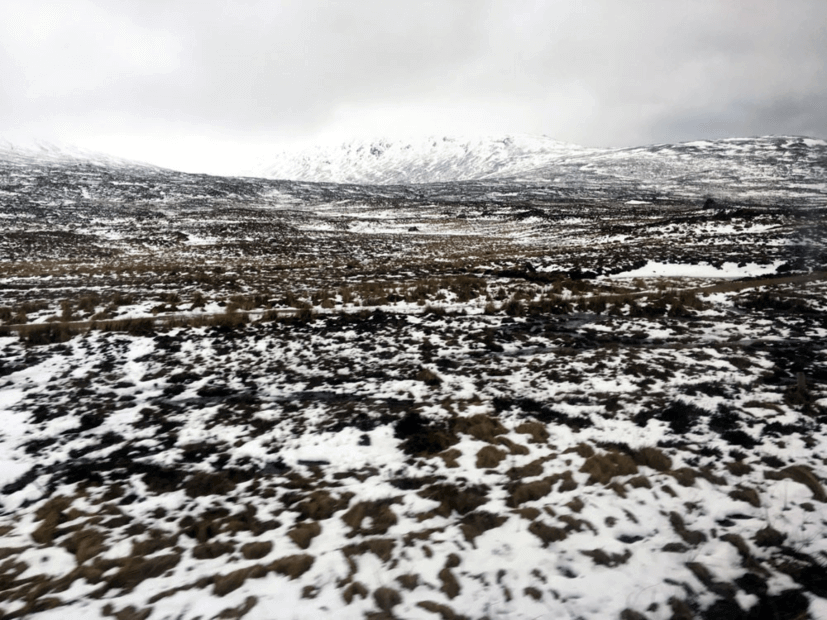 It snowed at some point during the night. The temperature was about -1ºC at this point
. Photo by Jaclynn Seah via The Occasional Traveller
About 13 hours after we set off, we pulled into the station at Fort William, an almost anticlimactic ending to a spectacular and comfortable train ride. I would continue to encounter more of Scotland's dramatic scenery in my week of travel, but none of the views were quite as memorable as those that silently flashed by on my train ride.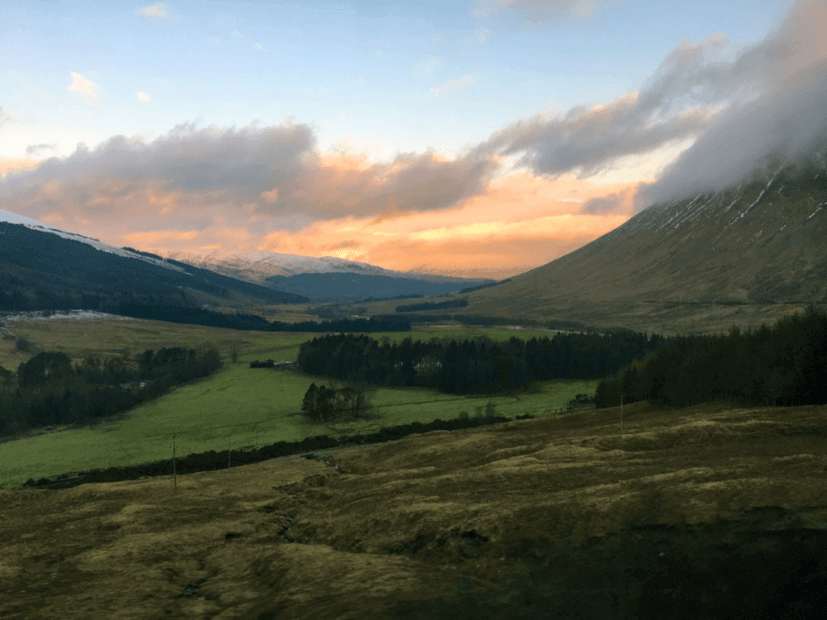 Sunrise from the train. Photo by Jaclynn Seah via The Occasional Traveller
The Caledonian Express itself is set to change in the near future, upgrading its cars to newer versions that promise a more 'hotel-like' experience. But one thing that I hope will never change is that marvellous view outside the train window of the Scottish Highlands and that magic of train travel no matter what class you are in.
Some tips for train travel
The great thing about train travel is not having to show up 2 hours early just to check in, but you should arrive at least half an hour before to locate the correct platform.
Train delayed? Make sure you know whether your ticket entitles you to any refunds or support. If you are faced with an unfortunate situation where your public transport has been delayed for more than six hours in a row, reach out to the company to check if there is any form of compensation. If the company doesn't provide compensation, check with your travel insurer if they provide cash benefit for your delay. For travellers who seek convenience in submitting travel claims like myself, opt for Income's Travel Insurance because you can even make the travel claims online after the trip as long as you have the right documents on hand. I was lucky that the Caledonian Express has a late-refund policy and ended up getting 50% off my original ticket price.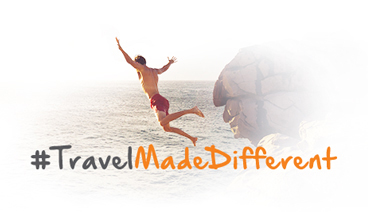 Important Notes:
This article is meant purely for informational purposes and should not be relied upon as financial advice. The precise terms, conditions and exclusions of any Income products mentioned are specified in their respective policy contracts. For customised advice to suit your specific needs, consult an Income insurance advisor.