Up Close With Whale Sharks and Manta Rays In The Maldives
By Jaclynn Seah, 24 July 2018
4394
A window seat is a must when you fly over the Islands of the Maldives – no Instagram filter does justice to the intensity of the blue waters spread out below you before you touch down at Male Airport. And beneath that blue ocean, I had some memorable encounters swimming with whale sharks and diving with manta rays that impacted the way I appreciated nature.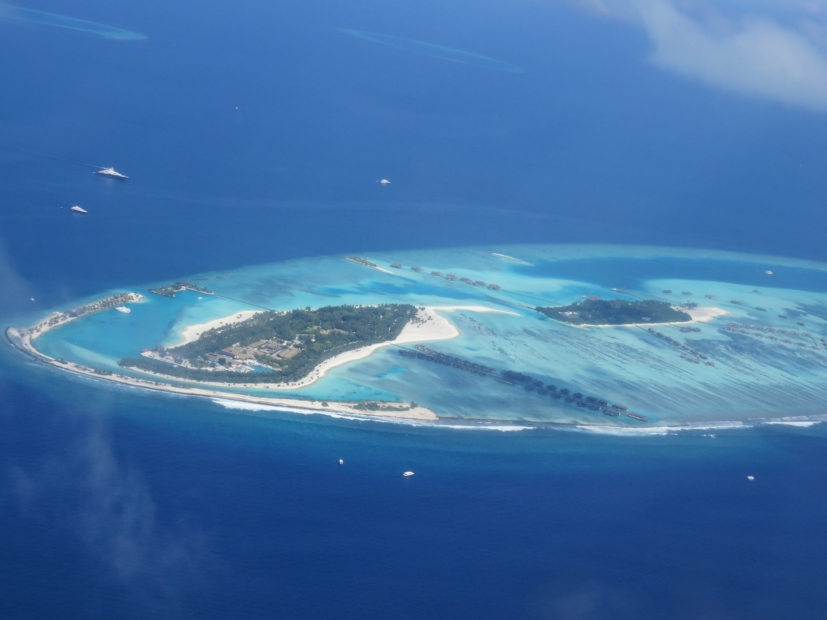 Maldives from above. Photo by
Suissgirl
via Pixabay
Paradise Islands
The Maldives are a perfect paradise destination, and most of the visitors tumbling off the plane in their floppy straw hats and linen shirts make a beeline to their chosen luxury island resort by boat transfer or by sea plane. I hefted my bags along to meet my family for the week – the dive crew that I would be spending a full week eating, sleeping and scuba diving on board a boat cruising through the South Ari Atoll.
The Maldives consists of a vast archipelago of islands that accounts for only 1% of its entire territory, so other than deserted islands and white sand beaches, most of the sights to see are underwater. Renowned as one of the top scuba diving destinations around the world, the Maldives is also known for its diverse marine life which I would encounter up close during my many dives that week.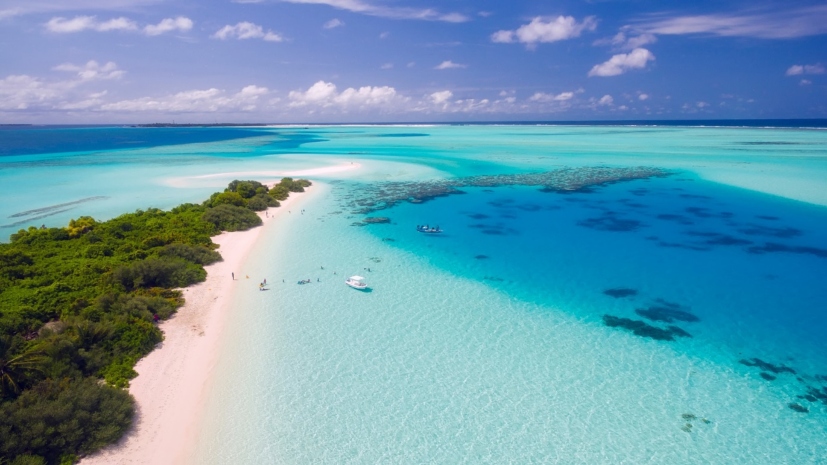 Photo by
12019
via Pixabay
Swimming with Whale Sharks
The whale shark is the largest species of fish in the sea, and these gentle giants can be found in the Maldives all throughout the year. An entire day was dedicated to seeking out whale sharks near the Maamigili Out Reef, as we piled into a smaller speed boat and trawled the popular channels where whale sharks are often spotted. Whale sharks can grow up to 10m long, and one would imagine that would make them easy to spot, but the whale sharks proved surprisingly elusive for my unseasoned eyes, squinting through the bright sunlight in hopes of spotting a looming shadow just beneath the water's surface.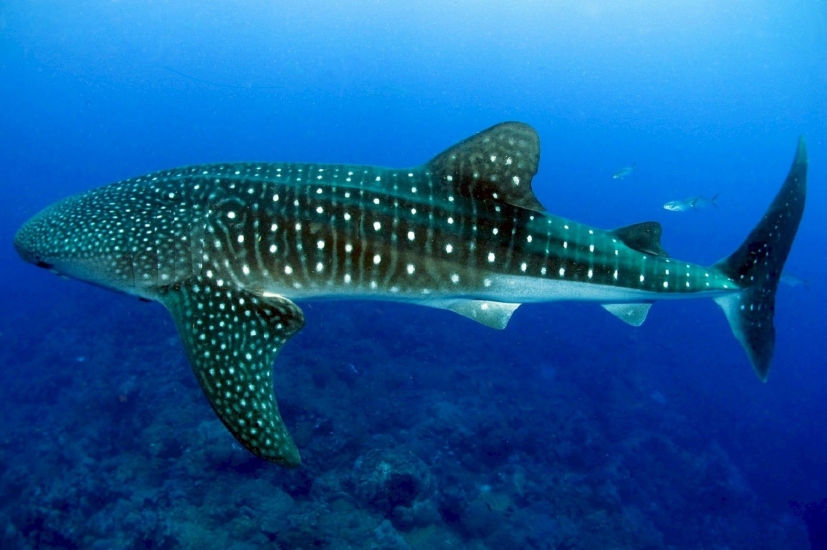 Each whale sharks has unique spots and patterns. Photo by
Skeeze
via Pixabay
There were several other boats on the water with the same agenda as us, and the moment any of the boatmen spotted the hint of a whale shark, all the little boats would quickly converge a short distance away while everyone on board made a mad scramble to don their gear – masks and snorkels to breathe with your face underwater, fins to swim more easily, and camera gear to record this epic moment. Once the boat stopped and the signal was given, everyone jumped into the water to try and catch a glimpse of the whale shark swimming by.
The first thing I realised when I saw my first whale shark swim by was how incredibly small and insignificant humans are. The whale shark looked like it was gliding slowly through the water, but I was paddling furiously just to keep up with it. Humans must seem like tiny fruit flies to these giants, noisily splashing around like buzzing annoyances as the whale sharks go about their business.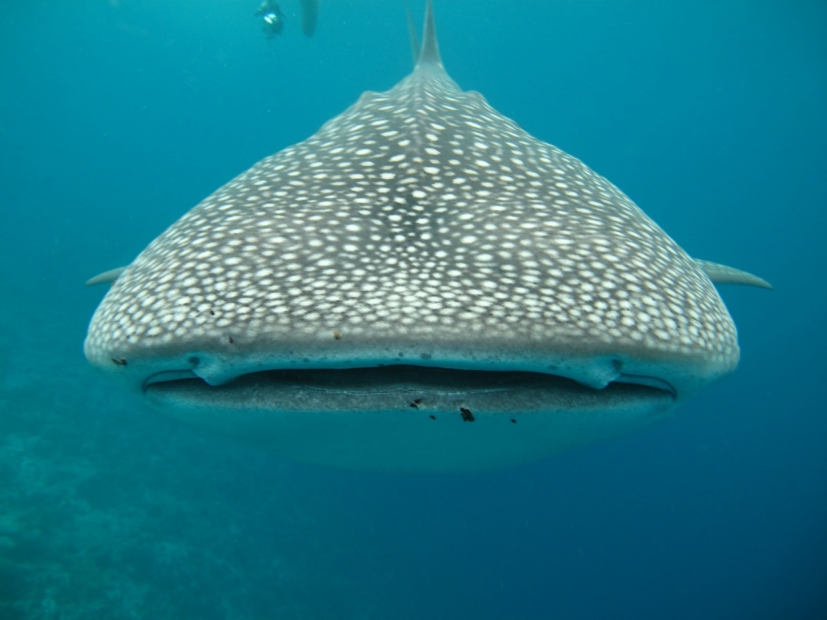 Face to face with a whale shark. Don't worry, they mostly eat krill. Photo by
Simonesaponetto
via Pixabay
When the whale shark inevitably swam away, we piled back onto the boat and went searching again. We managed to go swimming with whale sharks twice that day, and even broke out the scuba diving gear at the end for a deeper dive – as we descended into the watery depths, an 8m behemoth of a whale shark drifted by, regarded us with some curiousity and indulged a little of our photography before swimming away.

Scuba Diving with manta rays
Manta rays are the much larger diamond-shaped cousins of sting rays with wing-spans that reach up to 2m and without the killer barbs in their tails. While they are not unique to the Maldives, manta rays can often be found here in large concentrations, with schools of close to a hundred manta rays swimming together in a rather surreal sight. Hanifaru Bay in the Baa Atoll is famous for this sight, and scuba diving has been prohibited in that area to help preserve this natural wonder.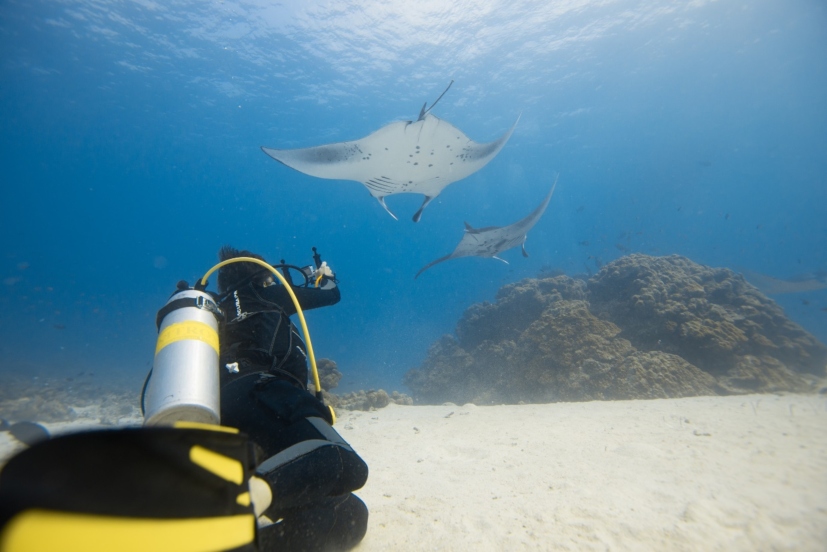 Photo by
Julia Wimmerlin
via Unsplash
We spotted a few manta rays throughout our time scuba diving, mostly near cleaning stations – spots where larger sea creatures frequent to let smaller fish 'clean' them by eating the organisms found on their skin – mostly alone or in pairs and only for a fleeting moment. But one night, our boat stopped over at Fesdu Lagoon and as the sun set against a pinkish orange sky, the boat men set up a bright light at the back of the boat that they shone in the water. Within minutes, we spotted familiar shapes twirling in the water, the distinctive black backs and white bellies of six manta rays illuminated by the spotlight, enjoying the feast of plankton that had been attracted by the bright lights.
We donned our diving gear and hopped into the water – it was very shallow, around 10m at most. The water shone an eerie green, only lit by that single spotlight, but enough for us to witness the graceful hypnotic dance of the manta rays above us as we quietly kneeled in the sand, circling overhead as they inhaled the plankton through their mouth filters. We were told not to touch the manta rays of course, but there was no stopping the mantas from touching us as they swooped overhead like silent watery ghosts, or inadvertently flicked a fin in your face as they glided past. We stayed underwater for more than an hour, and it was like nothing else I've experienced.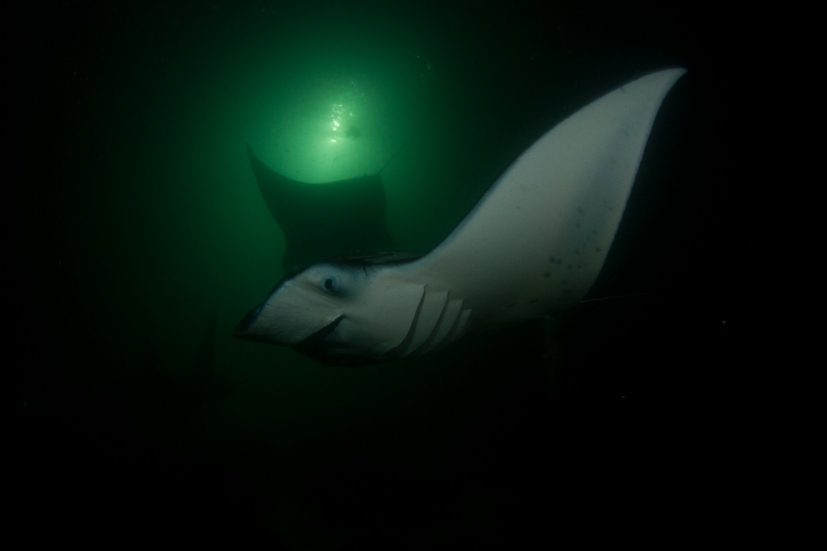 Mantas looming overhead. Photo by
Tchami
via Flickr
I have seen whale sharks and manta rays in various aquariums around the world before, and one could argue that I could have a similar experience with much less cost and uncertainty than specially flying to a foreign country and counting on luck to see these creatures in the wild. But that journey I took and the privilege I had to co-exist in the same place as these animals is one of the things I love about travel – how it continues to remind me to look beyond myself and take care of the environment around me. Take only photographs when you leave is the advice often given to tourists. I left Maldives with a ton of photos, a renewed awe of mother nature and a bunch of memories I'll remember for a long time to come.
Tips for first-time visitors to the Maldives
Travelling to the Maldives does not require a visa for 30 days, on condition that you have your return ticket and hotel reservation pre-booked or show proof that you can afford a minimum of US$150/day for the duration of your stay.
It is hot and sunny in the Maldives all year round, but December to April is considered the peak season as it is the dry season and sees a lot of tourists escaping winter in the northern hemisphere. While the monsoon season from May to November tends to be wetter, it does also see more plankton in the water, and thus better odds of wildlife creature sightings
Not all travel insurance plans cover scuba diving as it can be considered an extreme sport, so if you plan to scuba dive on your holiday, make sure your travel insurance covers recreational scuba diving like Income's.
I booked my scuba diving Live-On-Board with Singaporean dive group Scubaddiction and we chartered the Handy Cruise for our journey. If your resort is around the South Ari Atoll, there's a good chance that they may be able to organise the tours for you, if not there are plenty of tour operators offering half or full day tours to choose from.
Important Notes:
This article is meant purely for informational purposes and should not be relied upon as financial advice. The precise terms, conditions and exclusions of any Income products mentioned are specified in their respective policy contracts. For customised advice to suit your specific needs, consult an Income insurance advisor.