Home Feature: How Much Did I Spend On My Property?
By Juliet Huang, 04 July 2018
797
Walk into this three bedroom condominium unit in the quiet, lush neighbourhood of Hillview (near Bukit Batok and Upper Bukit Timah), and you'll feel at peace by the simplicity of the decor. Dark, rosewood furniture and beautiful paintings bear testament to the owner's taste for exceptional aesthetics. I spoke to the owner to find out the concept behind this house.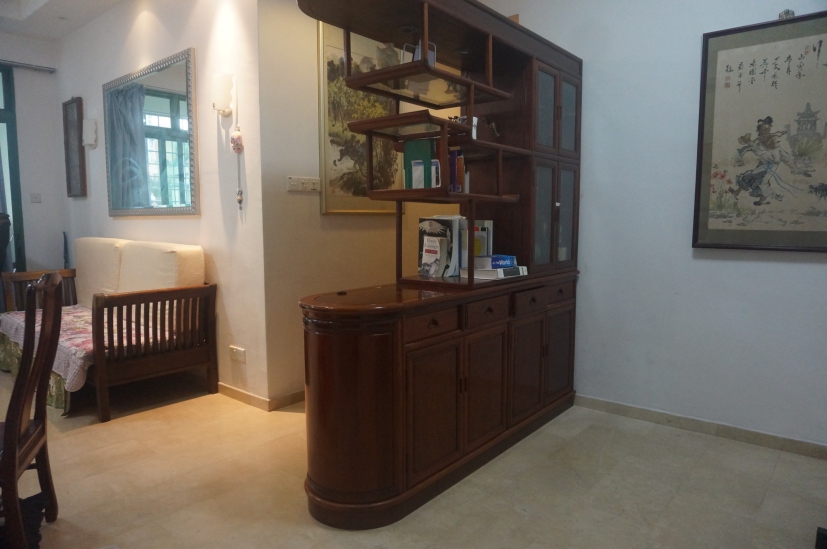 1. How much did the property cost?
Interestingly enough, this house was once featured as an award-winning interior design. The previous owner claims to have spent at least $1 million for the renovation, which was one of the reasons that attracted the current owner to purchase the property. Mrs E, the current owner, says, "We purchased the house for approximately $800,000 ten years ago - back then, we were looking for a unit near the National University of Singapore, where my daughter was a student." Other perks include proximity to nature trails, which is a plus, considering as the entire family loves hiking and the great outdoors!
2. How much did the renovation and property cost?
In case you were wondering if any additional renovation had to be done to the property, the answer is yes! The house was at least ten years old by the time Mrs E's family had moved in. While it was in excellent condition, the built-in cupboards and shelves had to be removed as they did not fit the taste of their new owners.
Mrs E shares: "We didn't just tear down the cupboards and shelves, we tore down the kitchen cabinets as well. We kept the huge mirror in the living room (a feature that made the room look bigger) and a fake glass wall which the previous owners had implemented for good fengshui!" They also left the cornices and false ceilings as well as the light fixtures attached. The entire renovation cost to remove the kitchen cabinets, as well as the built-in cupboards in the rooms, including painting the entire house, cost them about $15,000.
Mrs E and her family also have a penchant for rosewood furniture and beautiful artwork.
When asked about the amount that she had spent on art pieces, she laughed and replied: "I can't calculate the total amount. We buy these pieces as and when we see them. If I were forced to give an estimate, I would say that we've spent more than half a million - the art pieces appreciate in value! Not only that, my husband and daughter like collecting wine, so we have quite a few collector's edition wine bottles as well. "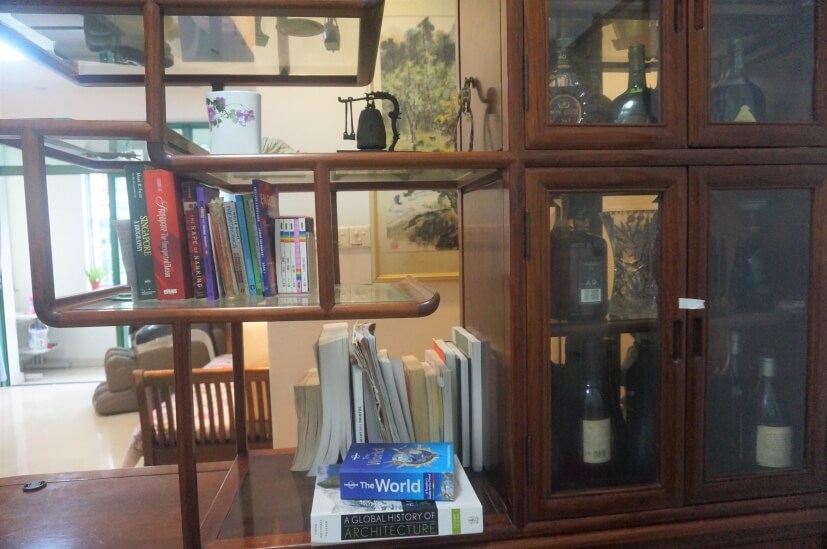 3. How much is house insurance for this unit?
With so many items of high value, purchasing insurance for the house and its property seems like a logical choice – after all, while it's unlikely the furniture can be stolen; fire and floods can damage the place. When asked about this, Mrs E agrees, saying, "If you've read the news, flooding is a big issue here in the West region, as convection rain happens often."
Another reason why Mrs E is particular about house insurance is that the property is part of an older condominium unit. Getting the building management to intervene when there are structural faults can take a while, and the inspection can be costly. According to Mrs E, this freehold estate is almost 20 years old now, and the structure of the building has endured some wear and tear, so disputes amongst neighbours about cost sharing do happen.
With all these in mind as well as plans to renovate again, she is considering Income's Enhanced Home Insurance, since the plans cover the value of the property, the contents of the house as well as renovation costs.
Income's Enhanced Home Insurance Flexible Plans
allow both HDB and private property owners to choose the coverage they want, which translates into the amount of the premiums they have to pay. This gives homeowners more flexibility in their expenses. Additionally, plans offer compensation for little emergencies you may not have thought of such as replacement of lock and key, deterioration of food in your refrigerator, accidental breakage of mirrors and glass, and coverage for temporary items.
As I thank Mrs E for her time, she shares an important tip: "It's important to consider not just the value of your property when you insure your house, but also the items inside! You want to find a plan that allows you to be flexible, so you don't over insure or underinsure your property."
But what exactly does it mean to overinsure or underinsure your house?
The folks at Income educated me on this – if you over insure your house by getting coverage that is worth more than your house (including its contents), the insurers will only pay the amount that your house is worth. Hence, you're paying unnecessary premiums on additional coverage that will not be claimable. On the other hand, if you underinsure your house, it means that even though your house is valued at $500,000, but you only get coverage of $250,000, in the event of any damage insurers will only pay out 50% of the assessed damage as the assumption made is you only want 50% insurance value.
For example, if we look at Mrs E's house, her last valuation report assessed her property at a little over $1 million, including the contents in the house, alongside with renovation. So for her to over insure, it will mean that if she opts for coverage of $2 million, insurers will only pay $1 million for the house. However, if she opts for coverage of only $500,000, then the payouts for damage will only be 50%. Well, that sure is a lot of information! In all, Mrs E spent $15,000 on renovation, and her contents of the house are around $100,000. With the property value on the market estimated at $1 million, she should opt for flexible coverage that suits her needs, just like Income's Enhanced House insurance plans. Find out more about Income's Enhanced House insurance plans for HDB flats and private properties
here
.
How long does it take to fulfill your house dream?
With the rising cost in houses, we understand that the financial aspect can be overwhelming. Let us help you to fulfill this house dream by crafting your personal financial masterpiece based on your needs.
Find a savings plan suited for your current financial capability to translate the vision of your financial goal into action. By staying committed to your financial goal, you can achieve your goal within your desired time frame.
Income offers savings plans that meets the protection and saving needs for all!
Chat instantly with an advisor today
to see which plans could help with your specific financial goals.
Important Notes:
This article is meant purely for informational purposes and should not be relied upon as financial advice. The precise terms, conditions and exclusions of any Income products mentioned are specified in their respective policy contracts. For customised advice to suit your specific needs, consult an Income insurance advisor.