Travel Insurance By The Hour: How Income's New Travel Plan Works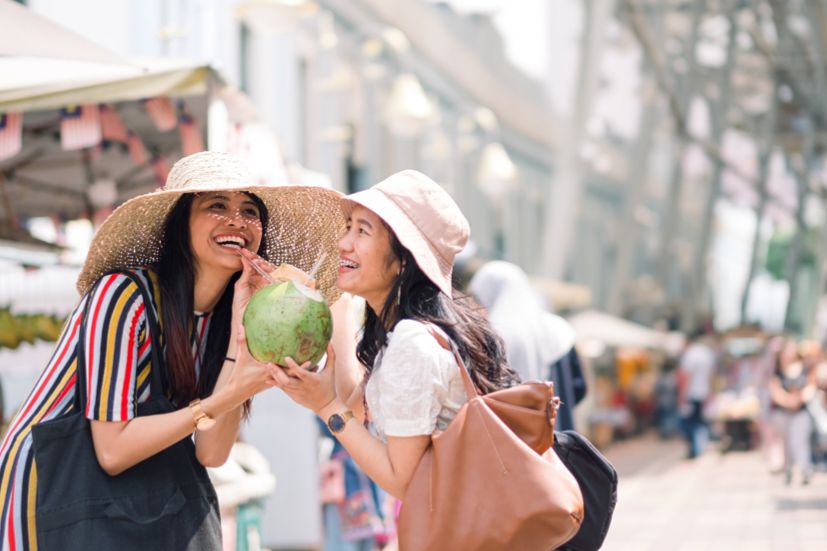 With borders opening, many are starting to plan for their next overseas trip. With passenger volume at Changi Airport approaching 40% of pre-pandemic levels, it's clear that there's much anticipation to board a plane after such a long time. Travel insurance is a must for any air travel these days because anything can happen. It's important to ensure that you and your loved ones are protected while travelling.
What about shorter trips, such as those to Malaysia, Bintan or Batam? While some are excited to finally travel via air, others may prefer to play it safe by heading to nearby destinations such as Malaysia, Batam, or Bintan by land and sea.
Based on a survey Income conducted with 500 people in Singapore, some reasons why travellers on short trips typically do not purchase insurance include the fact that they deem these trips as being less risky than air travel hence not needing travel insurance, or that existing travel insurance offerings are costly for short trips.
Land & Sea Travel vs Air Travel
While air travel is the default for destinations that are far from Singapore, for destinations near Singapore like Malaysia, Batam or Bintan, the common options are often land and sea travel.
For air travel, many travellers are already familiar with the potential risks – delayed flights, cancelled flights, lost luggage and more. Yet, certain situations do not seem to apply when it comes to land and sea travel. After all, there's no need to be insured for any flight delays or cancellations if you're not taking a flight.
However, other risks such as losing your valuables, falling ill, and more are present even for these short trips.
Furthermore, with the COVID-19 pandemic heightening awareness of the need for travel insurance to protect travellers from unexpected expenses that may arise from unforeseen circumstances before and during their travels, Income sees a need for a more flexible and affordable way of obtaining travel insurance for short trips to nearby destinations via land or sea.
For this, a flexible insurance plan is the key. This is especially so since the length of your trip could fluctuate for such trips. Perhaps traffic is better than usual and you arrive in Singapore ahead of time. Or perhaps you decide to extend your stay for another day. This is where Income's FlexiTravel Hourly Insurance is suitable for your short trips!
For longer trips, it's clear that traditional travel insurance would be your best bet but what about short trips like day trips or ones that last a day and a half? Wouldn't it be great if there was a travel insurance option that allows you to add or reduce your insurance coverage down to the hour? It's now possible with our new FlexiTravel Hourly Insurance plan!
FlexiTravel Hourly Insurance vs Travel Insurance: Key differences
If you're heading to Bintan, Batam or Malaysia for a short trip via land or sea travel, you can consider buying a FlexiTravel Hourly Insurance plan that protects you by the hour.
To illustrate the differences between FlexiTravel and Travel Insurance plans available via Income, here's a breakdown.
Plans
FlexiTravel Hourly Insurance
Travel Insurance
Special Features

Coverage is by the hour, minimum 6 hours
Activated via My Income mobile app which will notify you at Singapore customs. Simply share your location via the app
Much more affordable as less chance of trip disruption for land and sea travel compared to air travel
Cancel or shorten the coverage and the premium will be refunded
Golfer's coverage including theft of golf equipment, unused green fees and reimbursement of rental fees for golf equipment if own is stolen from accommodation or locked car.

Coverage is by the day or year via coverage plan options
Bought online or via My Income mobile app. Also available via income advisers, income branches and travel product hotline
Covers air travel issues like flight disruption, travel delay, missed connecting flight and baggage delay

Coverage

Up to $50,000 coverage for personal accident and medical expenses overseas
Up to $100,000 emergency medical evacuation
Up to $1,500 coverage for loss or damage of baggage and personal belongings
Up to $1,000 coverage for fraudulent use of bank card
Up to $200 reimbursement of unused entertainment ticket

Up to $1,000,000 coverage for medical expenses overseas
Up to $500,000 coverage for personal accident
Up to $8,000 coverage for loss or damage of baggage and personal belongings
Up to $15,000 coverage for trip cancellation
Up to $500 coverage for missed connections

Similarities

Covers medical expenses incurred overseas, accidental death/repatriation, and damage to personal belongings
24/7 Medical Emergency Hotline for assistance in the event an accident or emergency occurs,
COVID-19 coverage for medical expenses overseas, emergency medical evacuation and sending you home

Differences

FlexiTravel Hourly Insurance plan has a minimum coverage of $1.80 for 6 hours a day, add on coverage of 30 cents per additional hour, with a maximum charge of $3 per additional day.

Travel Insurance plan to ASEAN region would cost an estimated $27 per day and an estimated $5 per additional day*

*Benefits for FlexiTravel Hourly Insurance is different from traditional travel insurance, which provides more comprehensive coverage including for flights.

Covers fradulent use of debit/credit card, unused entertainment ticket, golfing equipment

Benefits for Travel Insurance is more comprehensive for air travel.

FlexiTravel Hourly Insurance plan can only be activated via My Income app

Travel Insurance can be bought online or via the My Income app, Income advisers, Income branches and travel product hotline

Highly flexible, can extend1 or shorten your coverage depending on when you make it back to Singapore.

Coverage can only be bought per day, no matter what time you leave and return back to Singapore.

FlexiTravel Hourly Insurance covers only Batam, Bintan and Malaysia at the moment

Travel Insurance covers all countries (Except Afghanistan, Iraq, Liberia, Sudan, and Syria)

FlexiTravel Hourly Insurance is perfect for short trips to nearby destinations via land and sea travel.

Travel Insurance is more advisable for longer trips via air travel.
Conclusion
Whether you're visiting family in Malaysia or just heading to the beach in Batam, it's now possible to be covered for short trips for as little as $1.80 with FlexiTravel Hourly Insurance. Download the My Income app from the App Store or Google Play to find out more. You can also connect with us to find out more about FlexiTravel Hourly Insurance.
1 The maximum period of insurance for FlexiTravel Hourly Insurance is 7 days.
This article is meant purely for informational purposes and should not be relied upon as financial advice. The precise terms, conditions and exclusions of any Income products mentioned are specified in their respective policy contracts. For customised advice to suit your specific needs, consult an Income insurance advisor.
This advertisement has not been reviewed by the Monetary Authority of Singapore.