Budget-friendly Kids Birthday Party Ideas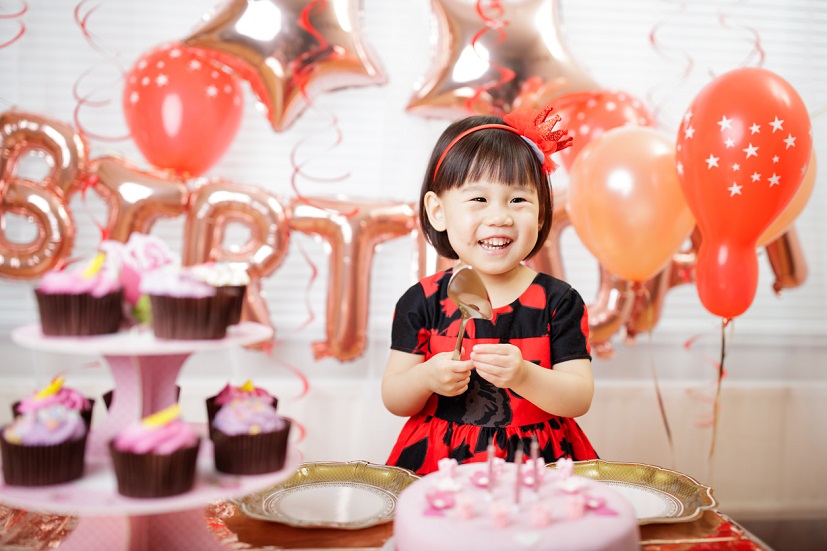 Gone are the days when kids' birthday parties meant celebrating over Mum's home cooked meals and competitively playing musical chairs at home.

Nowadays, a kid's birthday party includes bouncy castles, kiddie salons, on-theme dessert tables, food carts, and personalised goodie bags for every guest. With lots of pretty photos of kids' parties enticingly lingering on social media, there seems to be the unspoken pressure for parents to throw lavish parties that might break the bank. In fact, The Straits Times reported that Singaporean parents were spending up to $12,000 on their children's first birthday parties!


While there is nothing wrong with wanting the best for your little one's birthday party, there's also so much that can be gained from considering budget-friendly kids birthday party ideas.

Choose a venue based on your budget, number of guests and party theme

The venue of your kid's birthday party will usually depend on your budget, the theme that you want for the event and the number of guests you intend to have. Check the size or capacity of your preferred venue. Make sure the party place can accommodate all your guests without sacrificing space for fun activities.

Some of the popular kids party venue choices nowadays are function rooms or function halls of hotels, restaurants and cafés, resorts, indoor playgrounds, theme parks, zoos, farms, museums and science centers. Hours of birthday fun in these venues, of course, come with a price tag. For example, a birthday meal package at a restaurant will cost you $39.90 +per pax, for a minimum of 10 guests. If you want a more luxurious party venue like an indoor play space inside a posh hotel, be prepared to spend $1,888 for a party package with a maximum of 11 kid guests.

How to Save

If you decide not to spend a lot on your kid's birthday party, make sure to limit the number of your guests. With just a few guests, you don't have to get a big space to accommodate everyone. Some of the budget-friendly party venue options are:

• Your home
The ultimate way to have a budget-friendly venue is to hold your child's party in the comfort of your own home. Celebrating a kiddie party at home will not only save you money, but also make your little one's party intimate. A laidback pyjama party and a classic tea party are some good examples of birthday themes you can perfectly execute at home.

• Chalets
If you don't have much space at home to accommodate several guests, a chalet is a good alternative and perfect for gathering a big group. For around $100 per night, renting a chalet is definitely more affordable than renting a party venue like hotels, theme parks and indoor playgrounds. Plus, you have the option of turning your kid's birthday party into a staycation.

If you have relatives or friends who are NSMen, you can also opt to book a spacious chalet at the National Service Resort & Country Club.

• Void Decks and Open Spaces
If you want a venue with more space for play time, renting void decks and open spaces of Housing and Development Board (HDB) blocks is a budget-friendly option. For just around $50-100 per day, you can rent these open spaces and explore more adventurous outdoor birthday themes for your child's birthday.

While they may not be as nicely furnished as other party venues, void decks and open spaces will give you more room for creativity when it comes to theme-based DIY party decors. Likewise, kids aren't very particular with how a venue looks as long as they have enough safe space to play and have fun. To rent a void deck or open space, simply check your town council's website. Here is a full listing of town councils.

Prepare the food

Food is another major aspect of a kiddie party that you need to consider carefully. If meals aren't part of the venue package you've booked, there are catering services that offer meals for kids available. Hiring a caterer for a kids' party may cost around $22.36 per person, with a minimum of 40 pax.

How to Save

Preparing the party food on your own is a wise way to cut down on party costs. This may sound like a lot of work for some, so the trick is to host the party in the afternoon so all you'll need to prepare are snacks for teatime. Impress with the popular Martha Stewart's One Pot Pasta which only takes 10 minutes. This famous pasta recipe isn't just quick to prepare, but also budget-friendly, costing you around $8 for 4 servings. Add some chicken nuggets, pizza bread, ice cream and juice, and your little guests will surely have a good time!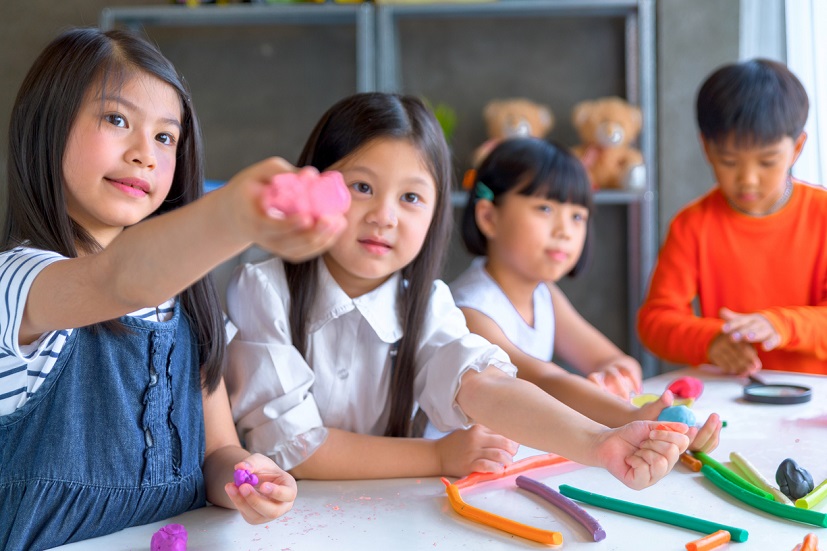 Choose entertainment and activities for the kids

Unlike children's celebrations from decades ago, birthday parties nowadays aren't complete without enchanting performances and exciting activities. Some of the usual party shows nowadays are magic shows, puppet shows, and balloon sculpting services. Other forms of entertainment during kids' birthday parties include face painting, kiddie salon, dessert table, inflatables, and mobile play areas. A kids party entertainment package for 30 kids consisting of magic show, puppet show, balloon twisting and kiddie games may cost you around $450.

How to Save

While magic shows and ball pits will surely make children jump with joy, children can still have fun with traditional birthday party games.

Cutting down on expenses doesn't have to mean settling for a boring birthday party. Breathe life into the good old kiddie party games like Musical Chairs, Pin the Tail on the Donkey, and Musical Statues. Bring out classic board games and create a party tournament for the kids. Let the kids entertain each other by hosting a talent portion where each guest can showcase their talent in exchange of a birthday prize. Print some online printable colouring or activity sheets for the kids to work on before the party starts. You'll be surprised at how affordable it can be to create fun for children!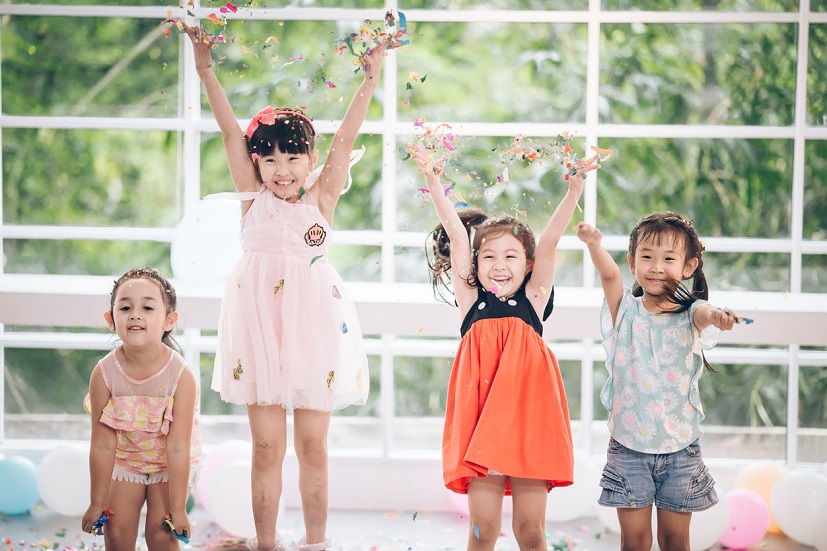 Spice up the party venue with eye candy decorations

With the advent of social media, event styling has earned a spot on the must-have check list of every kiddie birthday party. With the desire to get those perfect photos documented on social media and for memory's sake, it's not surprising that parents nowadays give special attention to the styling of their children's parties. Whether you're setting up a huge Unicorn backdrop or a Bohemian-inspired kiddie lounge, decorating a kiddie birthday party will also be a huge part of your expenses. A simple party decoration package including balloons and a simple backdrop is priced at $350, while a customised 3D birthday backdrop alone may already cost you a whopping $3,000.

How to Save

To save some cash, don't hire an event stylist or get a party decoration package. Instead, DIY decor to spice up the look of your child's celebration. Search online for birthday party ideas and you'll find a lot of sites offering DIY kids birthday decoration tutorials.

Stick to your chosen birthday party theme and decide on the DIY decorations that will best represent your party theme. Buy some colourful materials and use your creativity in designing tassel garlands, pompom crafts, paper pinwheels, and origami designs. Create your own balloon arch. Use your child's own set of toys to create a kiddie nook for guests inside your home.

It's also a good idea to let your child and loved ones help in preparing the party decorations. It will be a fun bonding activity for everyone.

Prepare your kid's birthday party e-invites

It's time to formally announce about your kid's big day! Thinking of sending out printed invites? That will be another item on your list of expenses. Design and printing of customised invitations nowadays cost around $2.50 per invite, depending on the design.

How to Save

Be a graphic artist for a day and design your child's birthday invites using photo editing programs like Adobe Photoshop or free online design platforms like Canva. Squeeze your creative juices out or follow birthday invitation templates available online. This will not just help you cut down on costs, but also give a personal touch to your child's invitation. Once you have a final invitation layout, you'll spend nothing by setting up a Facebook event invitation or by sending the birthday invite through email or WhatsApp.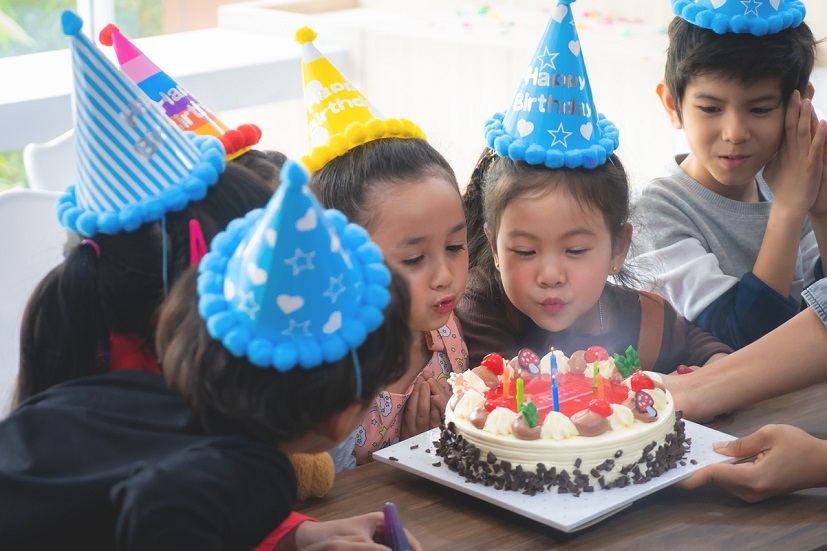 Prepare the party favours for kids

From customised character goodie bags to wooden kid stools, souvenirs for a kiddie birthday party are also a huge expense for parents, especially if there are a lot of party guests. Parents usually spend $1.50 to $5.50 per guest for party favours.

How to Save

If you think about it, party favours or giveaways are not a requirement for kiddie parties. It's just your way of thanking guests for making time to attend your child's celebration. However, if you feel compelled to give the kids something to bring home, turn your decorations, party food or party activities into party souvenirs. For example, the balloons you used to decorate your child's venue can be your party giveaways. Let every kid bring home a cupcake or two. Likewise, you can let the kids bring home the crayons and printed activity sheets they used during one of the party activities.


Secure your child's future with the money you save

So instead of splurging on a once-off birthday party, consider our saving tips above and use the extra cash to invest in a savings plan for your child's future instead.

Income's Gro Saver Flex Pro is one insurance savings plan you can consider. It gives you the flexibility to choose your premium and policy terms to best meet your financial needs for your child's education and receive protection all at the same time.

At the end of the day, you have to make a decision — are you going to splurge for a grand birthday bash or save some cash for more important future needs? Whether you splurge or save, check out these ideas on how to better plan your family's finances.

This article is meant purely for informational purposes and should not be relied upon as financial advice. The precise terms, conditions and exclusions of any Income products mentioned are specified in their respective policy contracts. For customised advice to suit your specific needs, consult an Income insurance advisor. This advertisement has not been reviewed by the Monetary Authority of Singapore. ​
These policies are protected under the Policy Owners' Protection Scheme which is administered by the Singapore Deposit Insurance Corporation (SDIC). Coverage for your policy is automatic and no further action is required from you. For more information on the types of benefits that are covered under the scheme as well as the limits of coverage, where applicable, please contact Income or visit the GIA/LIA or SDIC websites (www.gia.org.sg or www.lia.org.sg or www.sdic.org. sg).