Retreat and Treat Yourself
By Eldrida Yeong, 24 April 2017
3375
If the word "retreat" for you has become synonymous with checking your texts and emails while sitting next to an overly crowded pool, children screaming in your ear, it's time to take a step back and recalibrate. If you're anything like me, you might not exactly be the type who...
enjoys
marathons and spend 9 hours hiking up a mountain. Personally, a retreat for me basically means doing nothing and relaxing all day, be it by the pool, in a spa, or even at a bar. For the ladies and gents out there desperate for a break from the rat race, here are some locations for you to
nua
at.
1. Spa Resorts
To talk about pampering without mentioning a luxurious spa resort would be a travesty- everyone deserves a good scrub from time to time, and spa resorts provide that and many, many more.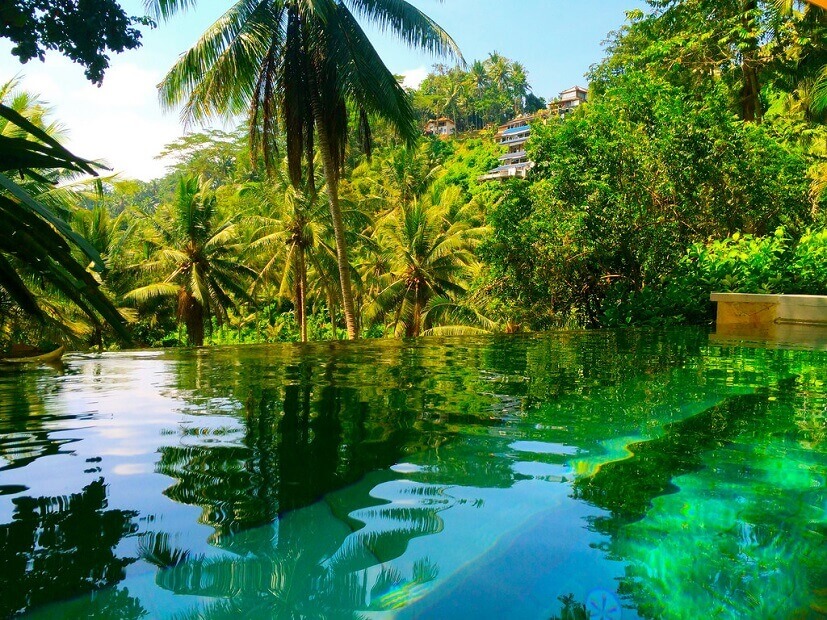 If your secret wish has always been to do some soul-searching amongst the comforts of a five-star resort, Four Seasons Resort Bali is the place for you. Settled amongst the gorgeous Ayung valley, you'll be treated to complimentary yoga classes, and get to experience Chakra ceremonies, Balinese healing rituals, and any number of body/facial treatments as your heart desires. This is the true retreat life- a deep cleansing inside out! After undergoing these rituals, you'll be rejuvenated spiritually and emotionally after countless days and nights spent worrying about work and school.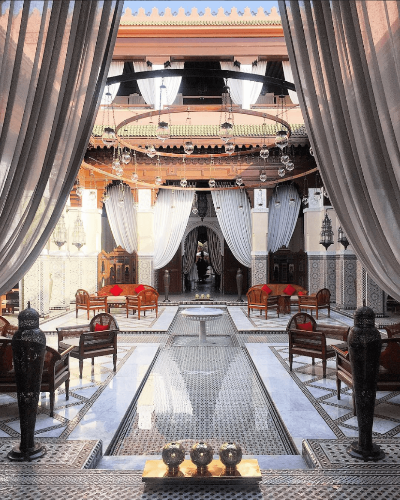 Photo by:
a.k.mcmxc
,
#travelmadedifferent community
I'm not going to lie, I was salivating and pinning pictures of this gorgeous spa resort in Morocco as I was doing research. The stately, majestic architecture of this resort will make you feel like true royalty as you undergo the Hammam, a traditional cleansing and beauty ritual. As compared to the Four Seasons, the Royal Mansour's spa rituals are more focused on an exquisite experience with precious minerals and a thorough purification. Of course, both are equally relaxing, but it depends on your needs!
---
2. Infinity pools

Marina Bay Sands
Everyone knows about the Marina Bay Sands (MBS) infinity pool, but its fame comes with a price- screaming children with water guns, and tourists (ok, and locals) galore. If you're looking for an infinity pool to relax in, check out the paths less trodden (or swam in).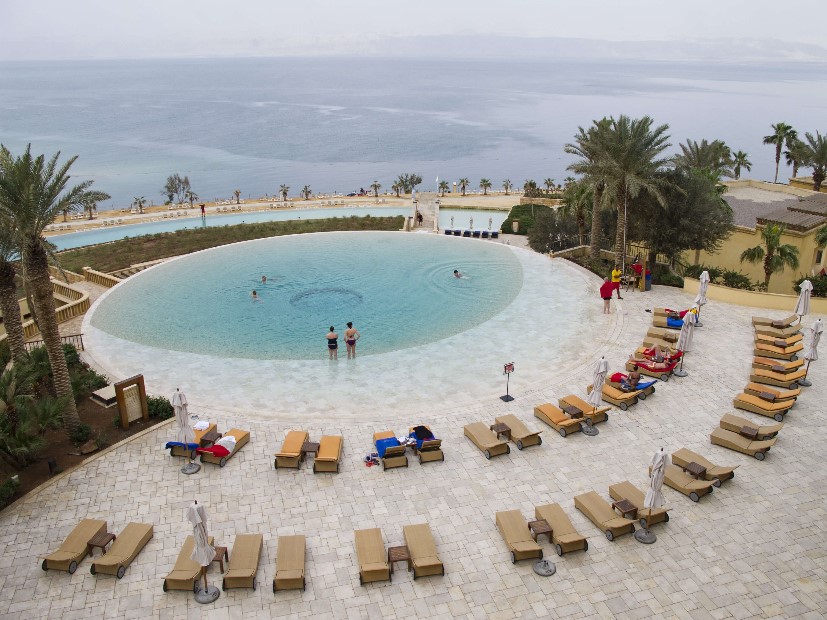 This is one infinity pool you'd be hard pressed to forget. While our own MBS infinity pool overlooks the cityscape, the Kempinski Hotel's Celestial Pool gives you a truly breathtaking view of the Dead Sea, aka the lowest known point on Earth. Honestly, I'm getting goosebumps just looking at this pool. This place is rich in heritage (and salt), making #saltbae an excellent caption for any Instagram photos here. Alright, I'm kidding, but just imagine relaxing with a view like this.
Wild Flower Hall, The Oberoi, Shimla
If you're more of a nature lover, this is the infinity pool for you. Wildflower Hall is the former residence of Lord Kitchener, and this beautiful residence offers an unique experience like no other with its panoramic views of the Himalayas. The hotel also offers yoga classes and other physical activities such as hiking and white water rafting, so for the restless at heart, you're killing two birds with one stone.
---
3. Bar
Bars usually conjure up images of slightly shady establishments, complete with sympathetic bartenders who will listen to your breakup troubles. However, these bars are quite the opposite, and will offer you a tranquil drinking experience.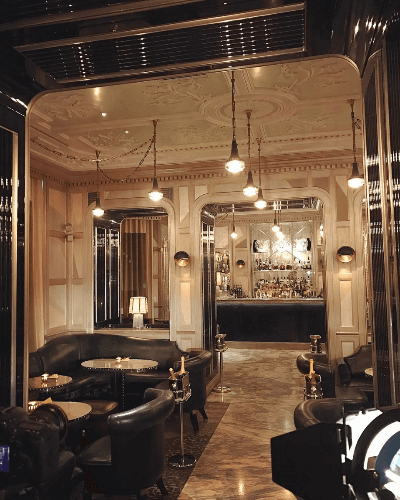 The Connaught
Photo by:
Deneemotion

Settled in The Connaught, the award-winning Connaught Bar is in a class of its own. With a smart casual dress code, the bar's martini trolleys are perhaps its most famous concoction. If you're all about that class, you'll definitely enjoy an evening here drinking the perfect martini. You can even channel your inner James Bond- remember, always stirred, and never shaken.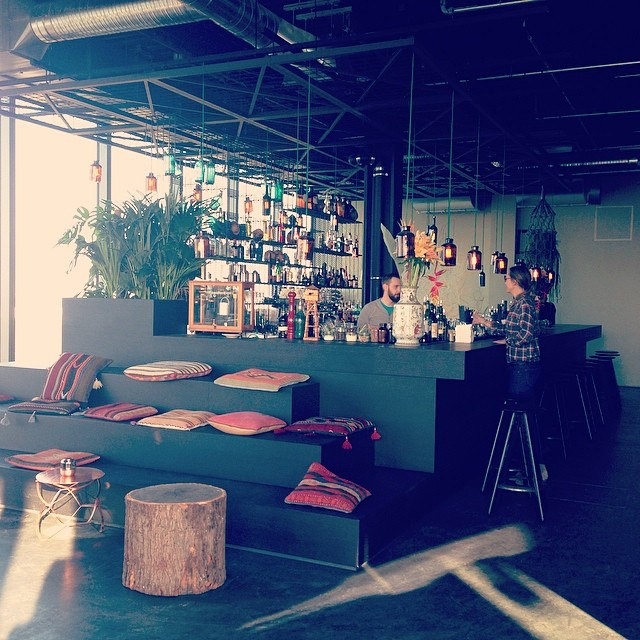 Monkey Bar, Rooftop bar at 25hours Hotel Bikini Berlin
Photo by:
Voyages
What's in a name? Monkeys, in this case, and for a good reason- the Monkey Bar in Hotel Bikini overlooks the Berlin Zoo, and offers a view of the monkey enclosure! With a wide range of cocktails, the terrace also has a terrific background come sunset. Take note though- this bar has been voted the best hotel bar in Europe, so it gets pretty crowded. Just don't get up to any
monkey business
there, and you'll have a good time.
---
With all these fantastic retreat locations spread out across the world, you can never quite tell what's gonna happen next. Income's insurance extends coverage for 14 days in case there are unforeseen delays at your destination, so you can travel with the peace of mind. Is it time to chill out with some Netflix yet?
Important Notes:
This article is meant purely for informational purposes and should not be relied upon as financial advice. The precise terms, conditions and exclusions of any Income products mentioned are specified in their respective policy contracts. For customised advice to suit your specific needs, consult an Income insurance advisor.