How Do I Get Back into the Workplace After Just Having a Kid
By Mandy Lim Beitler, 19 June 2018
3668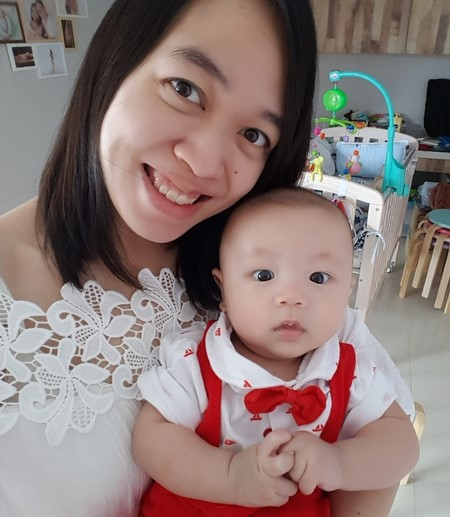 It feels like it was only yesterday when you delivered a little miracle, and already the dreaded end of maternity leave looms in the distance. It's never easy to say goodbye to your baby and return to work for the first time, but that's life for many new mothers in Singapore. 30-year-old new mum Joelyn Oh gave birth to Baby Sel in October last year and resumed her job as a public servant four months later. She shares her search for the ideal work-life balance keenly sought after by all new mums at work.
The Struggle is Real
Yet Joelyn considers herself quite blessed. "The first trimester was a tad unstable, so I was a little wary as my job sometimes requires me to make outdoor site visits. I had to be careful but didn't want to trouble my colleagues too much or appear like I wasn't pulling my weight. But they were all very supportive and helpful throughout, and I'm very thankful for that."

Many new mums – and babies – suffer from major separation anxiety issues after returning to work. "Luckily, we managed to get an infant care placement in a centre near my home, and my boy seems to have settled in beautifully. He's a curious baby, so I guess all the people and things going on at the centre feed his mind. He loves it there!" explains Joelyn.
As for herself, she says, "While I was initially reluctant to say goodbye to being by my baby's side all day, I actually found myself loving my job even more! Perhaps having a child has given me new perspective. Being away from him a few hours a day gives me time to grow as a person, a woman, an individual, not just as a mummy. It's surprisingly empowering and I think it makes me a better mother for my son."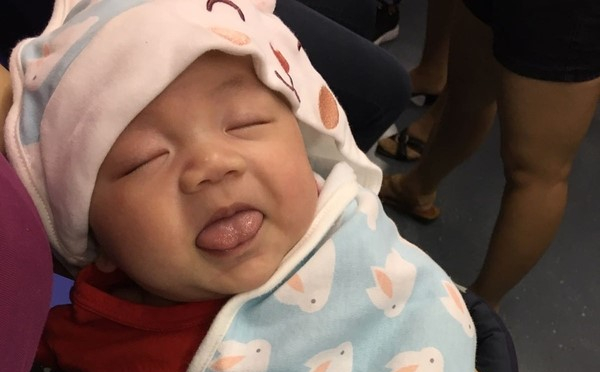 No sleep deprivation for Baby!
Her biggest struggle? "Sleep deprivation!" Joelyn exclaims without a moment's hesitation. "To begin with, I had a rather traumatic delivery – at 39 weeks, I was suddenly told that I needed an emergency C-section, something I wasn't mentally prepared for at all. I was also nursing a never-ending cough from pre-delivery to post-surgery recovery. Imagine coughing with a wound in your belly! Every cough brought tears to my eyes and I was very down – it felt like I was constantly in pain and that I would never get better. Coupled with night feeds and waking up to pump milk even after starting work, I wasn't able to get enough rest to recover properly and was ill for quite a long time."
Keeping It Together
It's been about three months since Joelyn's maternity leave ended, and even now, she still struggles with constant fatigue. "I don't know how I would've survived till now without my husband, who diligently washes the dishes, does the laundry and folds the clothes every night while I'm nursing our son, often even after I'm out cold for the night. Keeping our marriage fulfilling is a challenge too – sometimes I find myself neglecting him because I'm too caught up with mummy duties."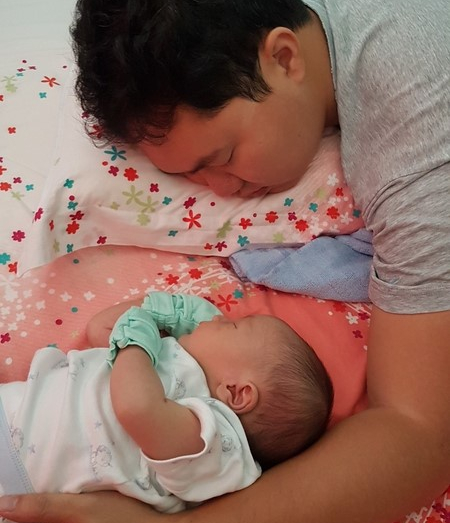 Daddy making sure Mummy gets a good night's rest.
Joelyn's husband, whose day job is also in the public sector, does 'overtime' in the middle of the night should Baby Sel wake up crying. "One morning, I woke up and saw my husband had fallen asleep still holding our boy. I couldn't help tearing up at the sight. I only found out later that the baby had been fussing through the night and every time he cried, my husband had rushed to carry him out of our bedroom for fear of waking me up," relates Joelyn with a smile.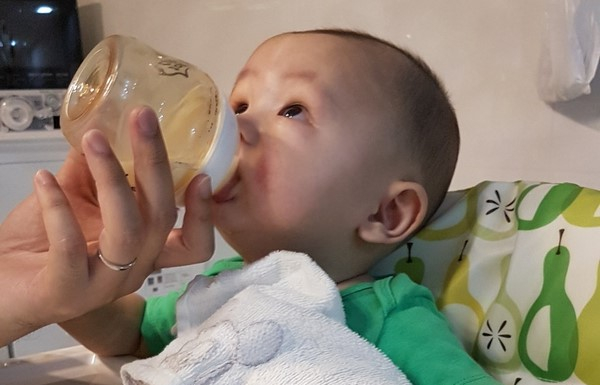 Baby Sel drinking up the goodness of mummy's milk!
As she is still nursing Baby Sel, part of Joelyn's work day includes pumping breast milk. "Pumping at work has its challenges. During extra busy times, I have to let my pump do its job under my nursing cover while I continue working at my desk and even having discussions with my co-workers! There was once when work involved being out of the office the whole day – with a few male colleagues, no less. Our team leader was very mindful and kept reminding me not to drag out my pumps, but to just let him know if I needed to go 'do my stuff' – I was really grateful for that."
Overcoming the Odds
When asked how she manages her work-life balance, the young mum declares, "I think I've found a decent balance. It isn't perfect, but knowing when to seek help is key. I ask for advice from fellow mummies at work on kitchen hacks to whip up a quick meal, and tricks to make my son sleep better at night – so my husband and I can sleep well too! Sometimes I turn to my parents if we are overwhelmed and need some help, so we can recharge a little."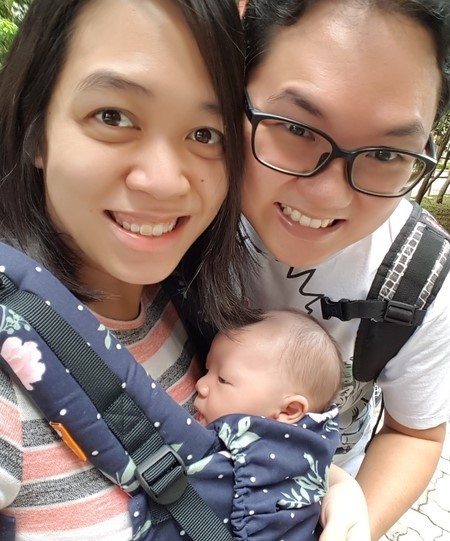 The young family taking a walk in the park.
"While motherhood has been amazing so far, it definitely isn't a walk in the park. While we'd like to have a second child, I think we'll wait till Baby Sel is slightly older. When he gains some independence and knows what it means to care for and share with his younger sibling – that would be ideal. Right now, I just hope that my career stays on track and my son grows up healthy and happy."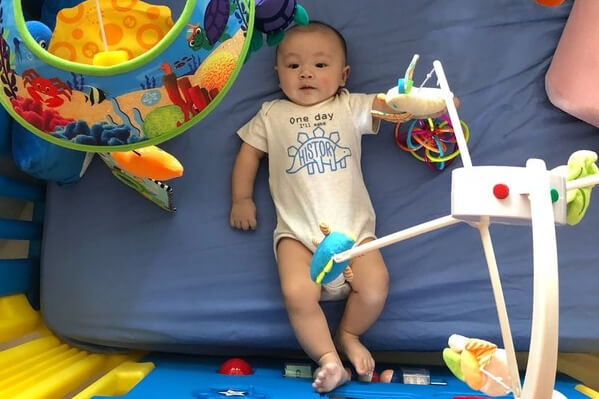 Baby Sel conquering new milestones and creating little bits of history every day!
Still, Joelyn sometimes wonders if she might miss a new milestone when she's at work. "I do miss my baby during the day and think about what he might be doing. To make up for it, I live for the weekends when I can spend more time with my son and watch him progress," she says wistfully. "Although it's true what they say," she continues, "that absence makes the heart grow fonder. Coming home every day to see his little face smiling at me is a wonderfully rejuvenating feeling after a long day at work. It keeps me going!"
Help for Mums at Work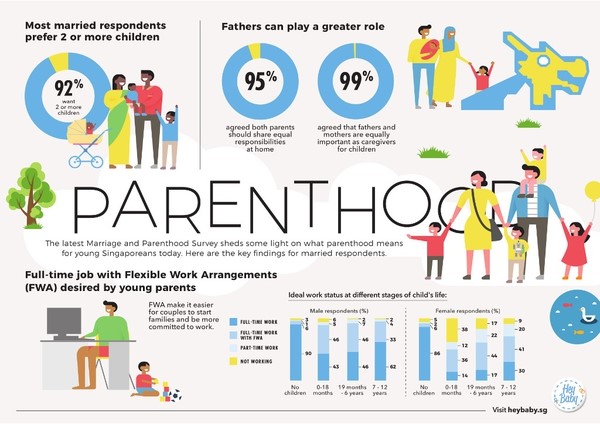 Just like Joelyn, most young married Singaporean couples prefer having two or more children. These were among
key findings
from the latest Marriage and Parenthood Survey in 2016. Many also agree that flexible work arrangements, at least till the child is at least 12 years old, would make them more inclined to start families.
Unfortunately, not every new working mum is as lucky as Joelyn to have such support from her workplace and family. Thankfully, the government does provide some assistance for new mums (and dads). For instance, while the default arrangement is to take all 16 weeks of maternity leave at one go, it's also possible to work out
flexible maternity leave
arrangements with your employer. This could mean returning to work earlier but having a shorter work week for the first few weeks instead. Furthermore, if you enrol your child in licensed childcare centres, you are eligible for
monthly subsidies
of up to $1,140 for infant care and up to $740 for child care programmes respectively.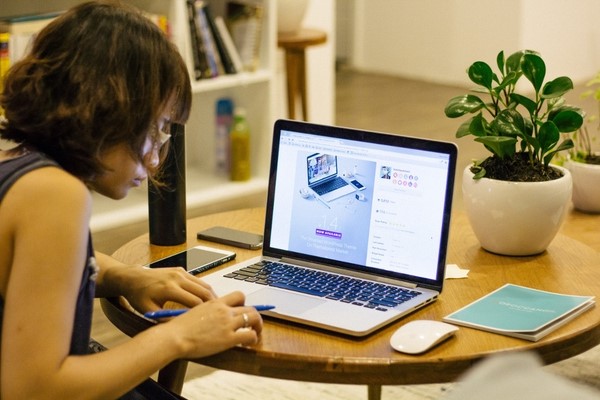 You can also turn to online portals such as
CareerMums
, if you're looking for alternative careers for mums that offer flexible hours, freelance opportunities and other non-traditional full-time employment options.
Mums@Work
offers much of the same, while also organising events for those seeking flexi-time jobs for mums, as well as providing support, assistance and advice to become a 'mumpreneur' with your own small business.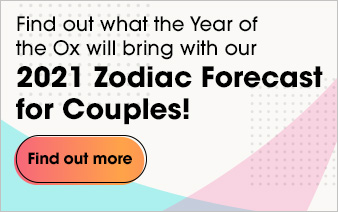 Important Notes:
This article is meant purely for informational purposes and should not be relied upon as financial advice. The precise terms, conditions and exclusions of any Income products mentioned are specified in their respective policy contracts. For customised advice to suit your specific needs, consult an Income insurance advisor.