9 Obligatory Stops in Bangkok Within 24 hours
By Derrick Tan, 26 October 2016
3079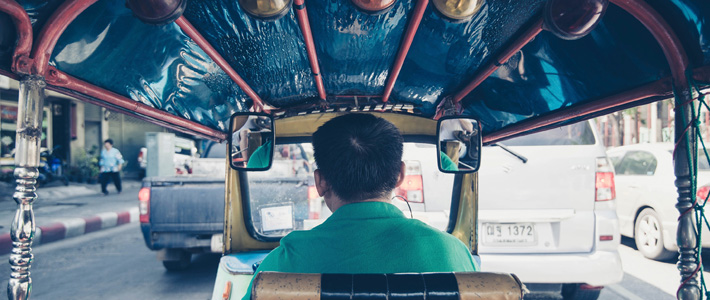 There's much to see and do in the Land of Smiles. Thailand's capital city is famed for its vibrant street life and affordable meals. Below are 9 suggestions to experience the best of what the city has to offer in compact time.
Touchdown (1200hrs)
Route yourself to an exclusive Thai experience at Taling Chan Floating Market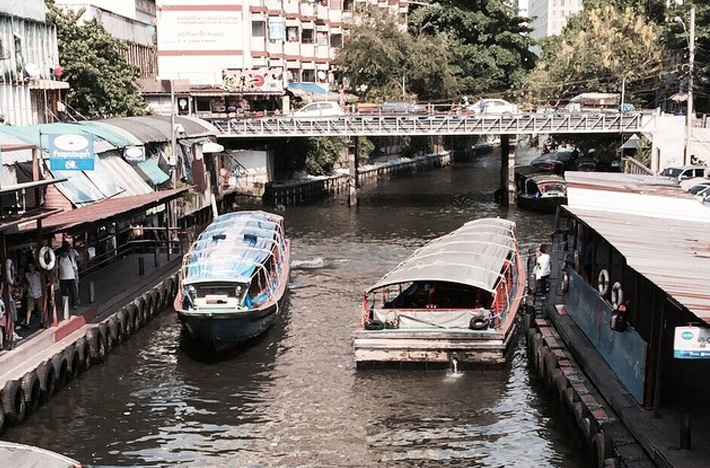 Boats - still considered a mode of transport in Bangkok
Source
Contributed by happyypigg
A visit to Bangkok is never complete without including a trip to the unprecedented floating market. Most are located at a considerable distance from the city centre, so Taling Chan Floating Market is my top pick. Only 12 kilometres away from downtown Bangkok, the third most-visited floating market is well stocked with local produce from the adjacent market and tasty street foods are cooked upon ordering.
Opened all day, the indispensable boats are the vitality of the floating market. Hitch a ride on the small longtail boats for a cruise around the neighbouring khlongs to catch a glimpse of the lives of the natives.
Operating hours:
Saturdays and Sundays, 7am to 4pm
Cost:
$-$$
Google Maps:
---
Cultural Jaunts (1430hrs)
Marvel at the opulence of The Grand Palace
Glistening lights of the Grand Palace
Source
Contributed by travelmadedifferent
Over at the banks of the famed Chao Phraya lies one of Bangkoks important landmarks, The Grand Palace. This majestic complex consists various buildings of great significance, one of which is the Temple of the Emerald Buddha. Appreciate classic Thai architecture while you navigate through the dignified corridors of the palace. The Grand Palace served as the official residence of Thai Kings until Year 1925.
Today, The Grand Palace is partially opened to the public as a museum and is used for a number of royal rituals, state banquets and other official functions as several royal offices are still situated inside. Do follow the decorum and dress appropriately to enter The Grand Palace.
Operating hours:
Daily, 8:30am to 3:30pm
Cost:
$$
Google Maps:
---
Refuel at a Chill Pit Stop (1600hrs)
Unwind at an atypical community mall in the hip Thonglor district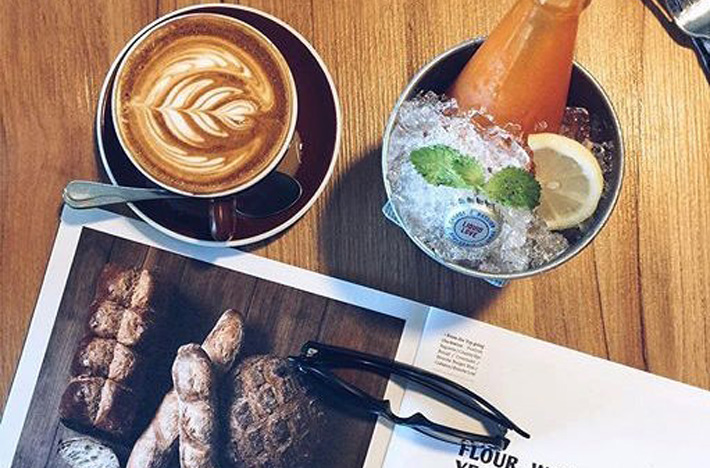 A good chance to hipsterify your Instagram profile
Source
Contributed by souperchefanna
No introduction is needed for one of Bangkoks most popular caf, Roast, the flagship shop of the mall. The building is four-storeys high and divided into zones, including one with a hangout area at the staircase that oozes an artistic loft vibe. Check out Market on the ground floor for quality produce at Sourced Grocers and the specialized food hall for some palatable gourmet fare.
Operating hours:
Daily, 8am to 12 Midnight
Cost:
$-$$
Google Maps:
---
Retail Therapy (1730hrs)
Its not traveling without some shopping!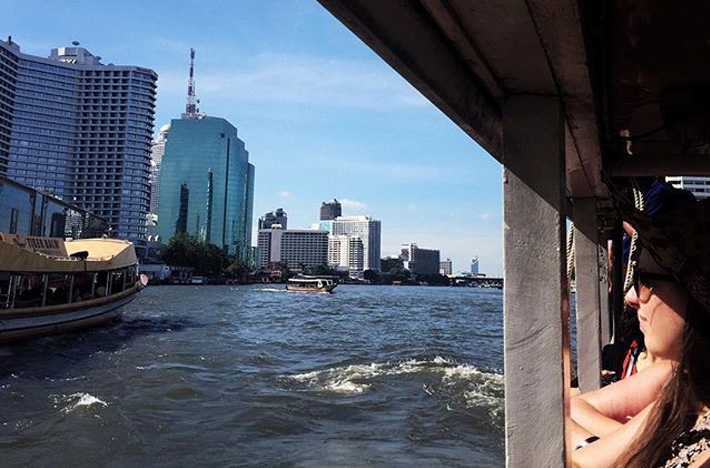 Take a break from the roads and hop on the Boat Express to Phrom Phong
Source
Contributed by hkpetersg
Opened in March 2015, EmQuartier, a ravishing luxury mall in the Sukhumvit hood, is part of the EM District project to morph Phrom Phong into one of the biggest retail hubs in Bangkok. Spanning across three buildings - Helix Quartier, Glass Quartier and Waterfall Quartier - there isnt anything you cant find in this remarkable lifestyle mall that goes beyond its extravagant faade. Shop for the unique threads of celebrated Thai designers at The Glass Quartier or indulge yourself with the delightful gastronomy bites at the spiral Helix Quartier.
Operating hours:
Daily, 10am to 10am
Cost:
$-$$$$
Google Maps:
---
Stuffed With Street Eats (1900hrs)
Slurp an authentic bowl of Tom Yum accompanied with the buzzing chatter of locals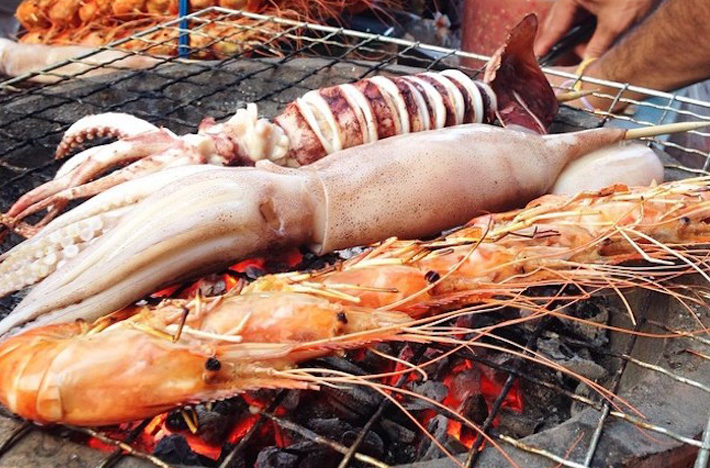 Sample the glorious street food of Bangkok
Source
Contributed by ellenxxxo
Sandwiched between the modern retail neighbourhood of Siam and Victory Monument is Petchaburi Soi 5, a stretch of delicious street food thats waiting to be savoured. The road comes alive in the evening, with Bangkokians picking up their well-deserved dinner after a productive day at work. Visit PAor for their renowned bowl of Tom Yum Kung. The perfect harmony of both sour and spicy elements is indescribable in words. You just have to taste it yourself!
Operating hours:
Daily, but most active in the evenings after 5pm
Cost:
$-$$
Google Maps:
---
Catch Em If You Can (2100hrs)
Blessings from lady luck is required to experience Bangkoks pop-up flea markets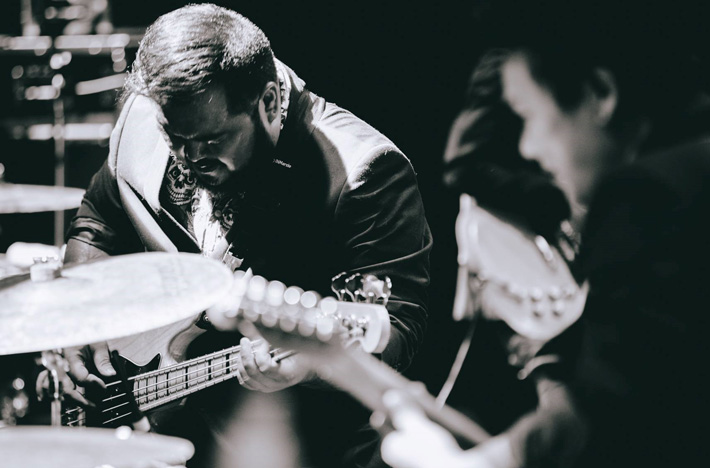 Jam to music from local artists like Tabasco's and TATOO COLOUR
Source
Located beside the popular Royal City Avenue area, Oasis Creative Market is one of Bangkoks largest pop-up markets with makeshift stalls operating from refurbished container blocks.
Live jams from popular local artists, imaginative food creations and refreshing beverages, makes the artistry at Oasis Creative Market unmatched to its peers.
Operating hours:
Fridays to Sundays, 5am to 12 Midnight
Cost:
$-$$
Google Maps:
---
Rise and Shine (0730hrs)
Have a sumptuous breakfast in the bustling streets of the central business district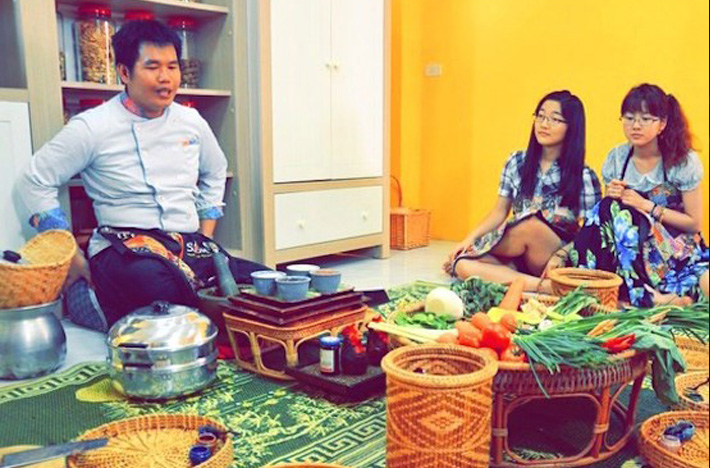 Silom Thai cooking school
Source
Contributed by wanderloves
A short walk from BTS Sala Daeng station, and in the heart of Silom, tons of street food awaits at Silom Soi 20. The throng of hungry Bangkokians verifies the authenticity of its nosh. The locale is vibrant in the morning, where the road is mostly closed to traffic and transforms into a fresh market with tons of takeaway food.
Operating hours:
Daily and all day, but preferably from 7am to 4pm
Cost:
$-$$
Google Maps:
---
Remarkable Market (0845hrs)
Dont overlook this acclaimed bazaar across the famous Chatuchak Weekend Market!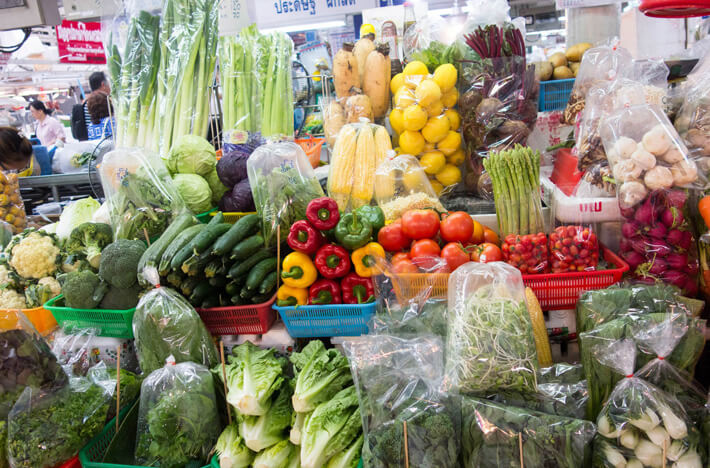 Tor Kor Market - Avenue for the best fresh foods
Source
(Flickr)
Securing a spot on CNNs list of 10 worlds best fresh market, Tor Kor Market goes beyond the usual elements associated with a conventional market. The products offered here are curated from the best wholesalers in the country. With an extensive range of fresh fruits, crisp vegetables, beautiful meats, and seafood, the neat Tor Kor is a haven for home chefs and patrons of farmers market. Purchase some edible souvenirs like dried goods or meat flosses.
Operating hours:
Daily, 6am to 6pm
Cost:
$-$$
Google Maps:
---
Discovering Hidden Treasures (1000hrs)
Be prepared for a unique shopping experience
Papaya vintage
Source
(Shutterstock)
We often scoff at pre-loved goods, in favour of brand-new products. This mentality will be altered upon stepping into Papaya Vintage. Inside the shabby suburban warehouse is home to a colossal assortment of prized vintage possessions, and some are not for sale! Both collectors and visitors will adore the phenomenal scale of genuine items on display. There isnt a price tag to the objects, so take a photo of the desired item with your mobile phone and show it to the owner at the centre of the shop for a price quote.
Operating hours:
Daily, 10am to 7pm
Cost:
$-$$$
Google Maps:
What are you waiting for? An unforgettable journey in Bangkok keenly awaits you. Book your weekend getaway now!
Important Notes:
This article is meant purely for informational purposes and should not be relied upon as financial advice. The precise terms, conditions and exclusions of any Income products mentioned are specified in their respective policy contracts. For customised advice to suit your specific needs, consult an Income insurance advisor.