10 of Germany's Most Beautiful Places to Visit & The Unique Things to Do There (2023)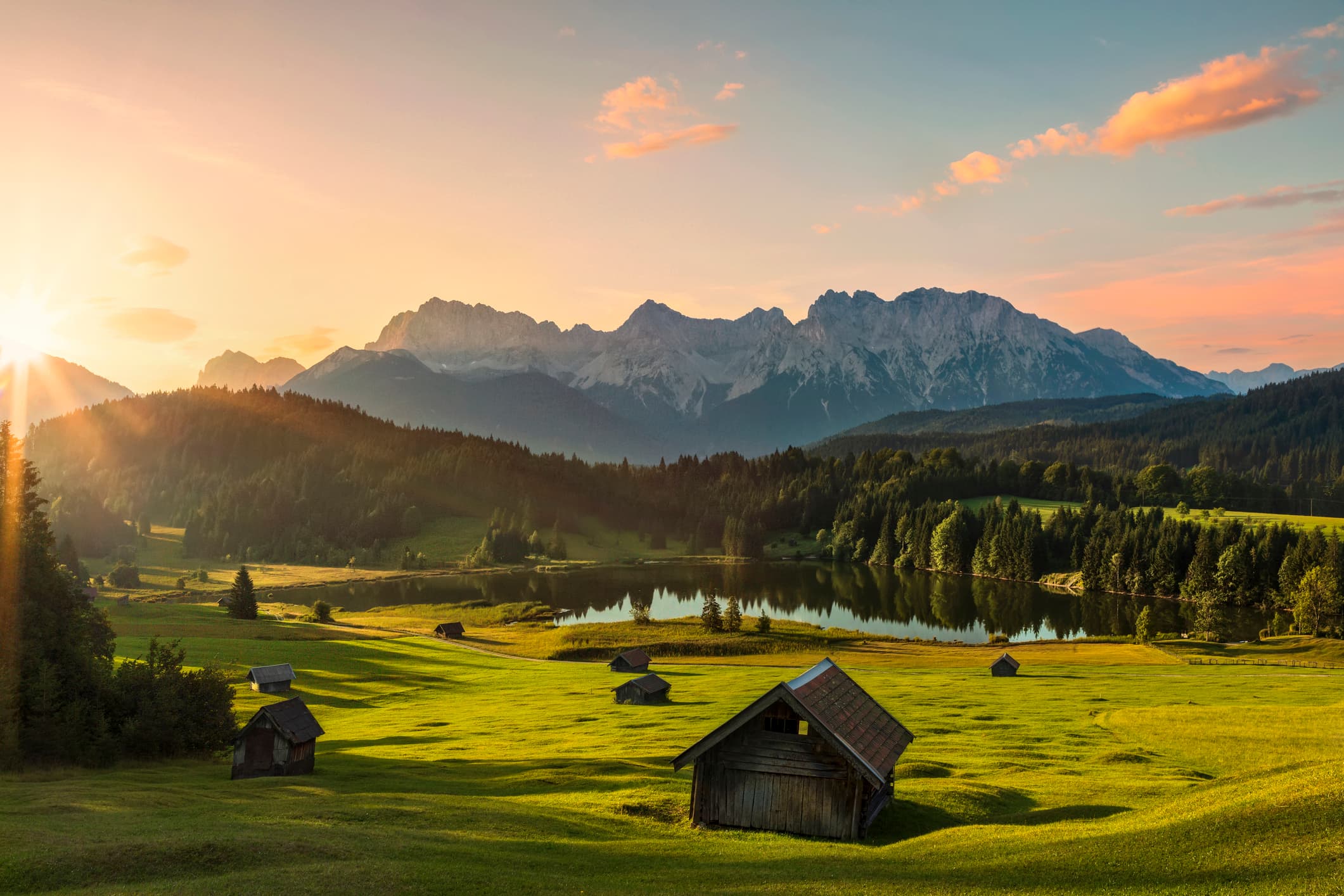 If you're already planning your itinerary to Germany, there's much more to the country than mural-hunting along the Berlin Wall and checking off the Cologne Cathedral off your bucket list.
Whether it's medieval fairy-tale castles or picturesque ski slopes, here are 10 of the most beautiful places to visit in Germany, including some hidden gems off the beaten path.
Travel tips before you visit Germany
Enjoy peace of mind while you travel to Germany by ensuring you have adequate Travel Insurance. Get extensive coverage for your holiday that's tailored to your needs, including protection against damage to personal belongings not caused by you and an additional Family cover if you're travelling with your spouse/partner and children.
1. Oktoberfest in Munich
Sure, you might have visited Munich, Germany's city of art and beer, but have you visited the Bavarian capital during its famed beer festival Oktoberfest?
Since 1810, Munich has played host to the madcap cheer of Oktoberfest, which first began as a series of horse races honouring a royal wedding. Today, the festival is a sprawling alcohol-fueled affair that's accompanied by carpark-sized beer tents, a mouthwatering variety of German wurst or sausages, and traditional Bavarian garb like the dirndl. Typically held betwen 16-18 days from end-September to early October, the festival's beating heart is at the Theresienwiese, which is easily accessible via its namesake U-bahn station. If you can, it's best to book a table to avoid the notoriously long lines. Apart from all that beer and food, you can also enjoy amusement rides, parades and traditional folk music performances.
2. Rothenburg ob der Tauber
With its web of cobblestone alleys, half-timbered houses and lofty medieval city walls, Rothenburg ob der Tauber looks straight out of a fairytale. Located two hours from central Munich, this medieval gem is popular among daytrippers from Munich, but to truly experience one of Germany's most picturesque cities, it's best to stay overnight and visit during the festive season in December.
Near Christmas, the walled city transforms into a magical wonderland with its acclaimed Reiterlesmarkt or Christmas market. A feast for the senses, Rothenburg comes to life with choral ensembles, delicious festive treats, and colourful decorations garlanding the windows of houses and shops. Don't miss the city's trademark Schneeball specialty, a snowball-shaped pastry that's deep-fried and dusted with sugar. After shopping, you can pop into St. Jakob's Church for a peek at its most treasured attraction: a 500-year-old altarpiece by Tilman Riemenschneider, one of the great sculptors of the late Middle Ages.
3. Black Forest
Escape into the depths of Germany's beautiful Black Forest (Schwarzwald), which is said to have inspired many a fairy tale by the Brothers Grimm. With its fantastical half-timbered villages, gorgeous wooded trails and the world's largest cuckoo clock, it's easy to fall in love with the region's charm.
As the Black Forest is spread out across 160km, it's made for slow touring on foot or via a long, relaxing road trip through its many windy roads. An ideal base is the spa town of Baden-Baden with its striking Belle Époque-era architecture, close proximity to the Black Forest National Park, and Roman-style thermal baths for you to indulge in. If you'd prefer someplace livelier, Freiburg sits at the southern foothills of the Black Forest and is endowed with a cheerful nightlife scene you can retire to after a long day of hikes.
4. Heidelberg
The lure of Heidelberg's dreamy, red-hued cityscape once drew 19th-century romantics like Goethe to it. As Germany's oldest university town, it's survived both World War I and II, and retains its raucous student atmosphere in its many cosy old taverns. Visitors usually flock straight to the city's stately highlight, Heidelberg Castle, which sits upon its hillside throne above the Neckar river. This impressive fortress dates back to the 13th century and is a first-rate example of German Renaissance architecture. Take a stroll through the city's Old Town, especially through the Marktplatz square, which houses elegant fountains, period houses, and many pretty cafes and shops. Once there, it's easy to find your way to the historic 18-century stone bridge, Old Bridge, which offers wonderful views of the city and its castle.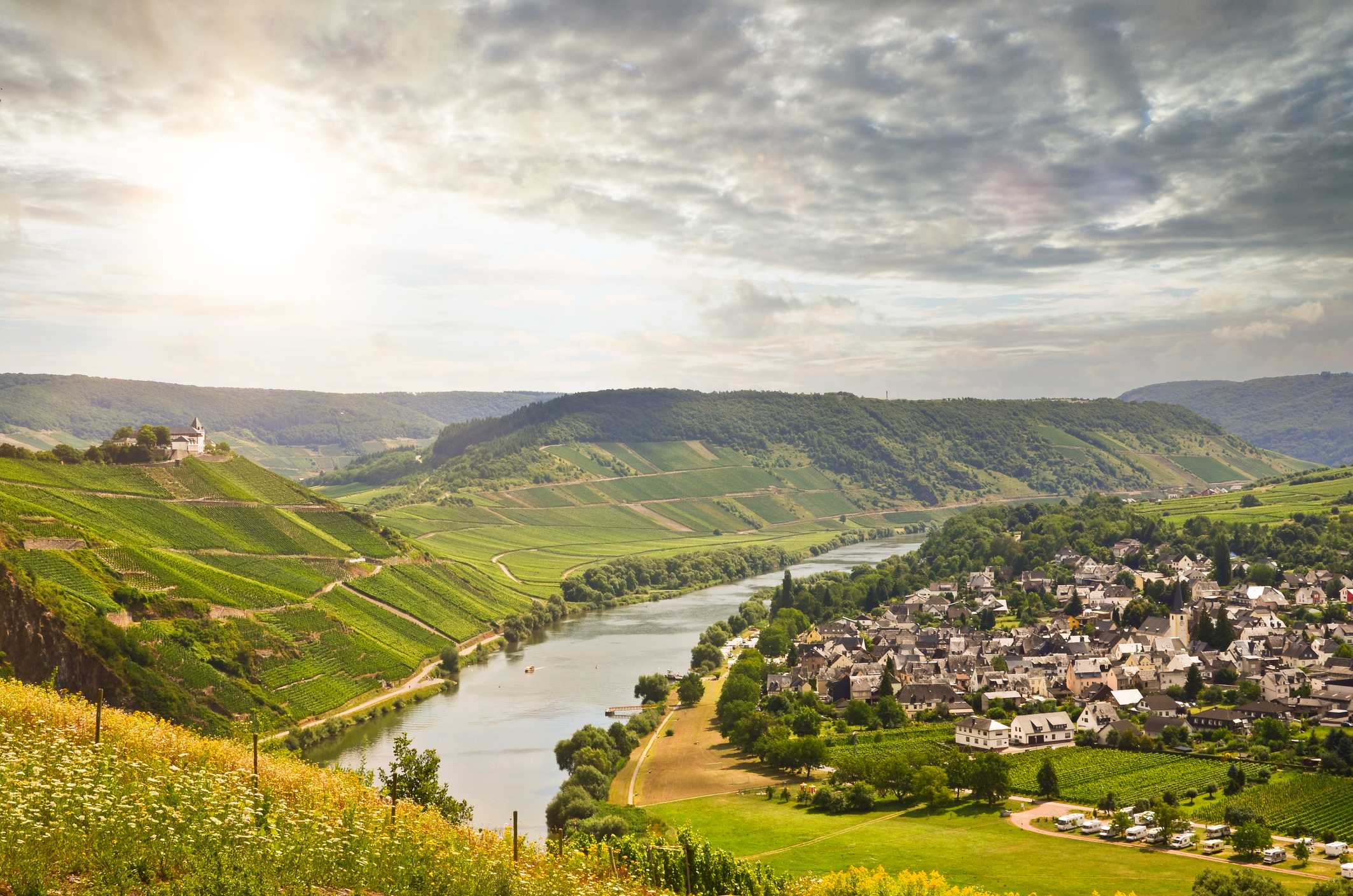 5. Rhine Valley
Flowing from the Swiss Alps to the North Sea through the Netherlands, the mighty Rhine is a confluence of European cultures and traditions. Its most famous section can be found in the "Romantic Rhine" in western Germany where you'll find the most castle-studded stretch of the river. Here, the river meanders through storybook riverside towns, terraced vineyards, and dramatic cliffs, where you'll find an ancient castle on just about every hilltop.
From Frankfurt, you can take a 90-minute train or car ride (if you're doing your own road trip) and start from Boppard. Here, you can slowly wend your way down the river through quaint villages like Bacharach, Oberwesel and St. Goar, before ending in Rüdesheim am Rhein - an enchanting wine region in Germany where you can sip local pinot noir in medieval settings. While not exactly off the beaten track, you can also choose a "Romantic Rhine" boat cruise which allows you to hop on and hop off.
6. Trier
Often overlooked by tourists, Trier is worth the trek for its whopping nine UNESCO World Heritage sites and palpable historic atmosphere. Germany's oldest city sits near the Luxembourg border and is known as the 'Rome of the north' from its brief time as the seat of the Roman Empire 2,000 years ago. Today, it's home to the country's finest variety of Roman monuments. The most distinctive of these is the Porta Nigra city gate, blackened over time since the 2nd AD and impressively built out of only sandstone blocks and iron clamps.
Elsewhere in Trier, explore its Roman legacy by visiting the Roman Emperor Constantine's throne room, imperial bathhouses, and an ancient amphitheatre. Inside the largely pedestrian-only city centre, you'll also find stunning Gothic or baroque buildings, now repurposed into cafes and restaurants.
7. Bavarian Alps
If you leave Munich and head south towards the Austrian border, you'll soon find yourself in Bavarian Alps territory. Dramatic fir-clad mountains tower over quaint frescoed towns, ski resorts and hidden lakes. The ski season lasts from December till April, though there are sporting opportunities like hiking, canoeing and paragliding year-round.
Base yourself in Garmisch-Partenkirchen, a perfect gateway to the rest of Bavaria. It's also where you'll find Zugspitze, the highest peak in Germany. Take a cogwheel train and cable car ride to the summit, where you'll have an unparalleled view of snow-dusted peaks stretching across four countries. In winter, the Zugspitze is also popular for skiing, tobogganing and hiking. If you'd prefer a charming mountain town as your base for the Alps, Berchtesgaden is close to hiking circuits into Berchtesgaden National Park.
8. Schloss Neuschwanstein
The crowning jewel of the Bavarian Alps is so iconic it deserves its own spot on the list. With its intricate layout of towers, turrets and frescoes, Schloss Neuschwanstein or Neuschwanstein Castle looks straight out of a bedtime-storybook illustration. Famously, it also inspired Disney's Sleeping Beauty castle.
To get here, most people take the train from Munich, followed by a short bus ride to Hohenschwangau where the castle's ticketing office is located. As Neuschwanstein is one of the world's most visited castles, it's strongly advised that you book your tickets in advance. If possible, schedule your castle tour in the off-season. You might want to avoid visiting during the peak summer months of July and August as well as any major holidays like Christmas.
9. Potsdam
Looking for a day trip from Berlin? Designated a World Heritage Site by UNESCO, Potsdam is a cultural and historical gem that's located just 24km from central Berlin. Once a Prussian royal seat, many flock to the city for its splendid palaces, elegant gardens and notable Cold War sites.
Often compared to the Palace of Versailles, the Sansoucci Palace is a good starting point and one of Potsdam's most popular landmarks. Perched atop vineyard terraces, this summer retreat offers a perfect window into 18th-century Rococo-style architecture. Its baroque splendour extends across the rest of Sanssouci Park, which surrounds the palace with other lush parklands and stately rose gardens.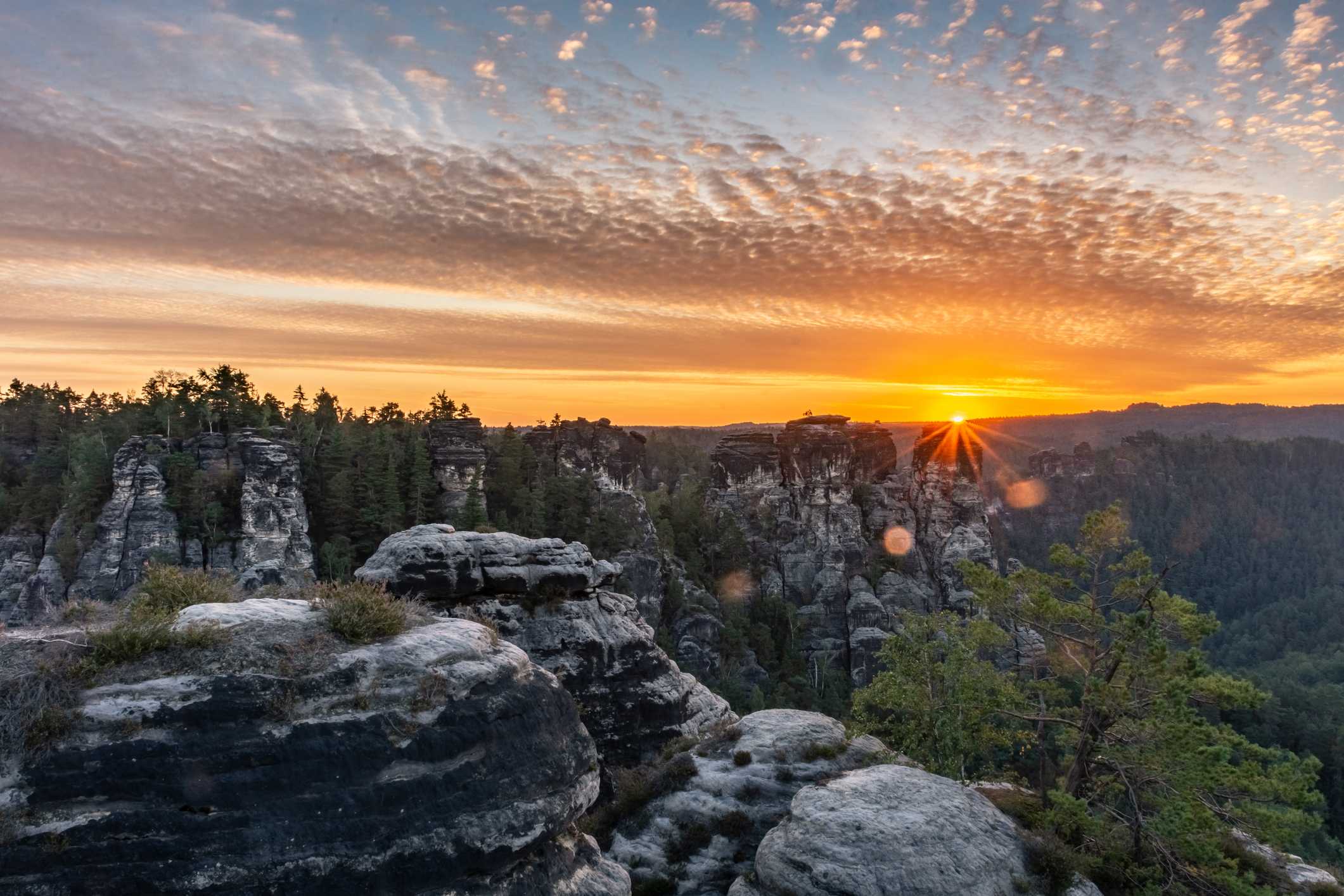 10. Saxon Switzerland
South of Dresden lies the spectacularly rugged landscapes of Saxon Switzerland. The national park's bizarre rock formations and towering sandstone cliffs might not be what you'd expect to see in Germany, but that's part of their magic. Get in touch with untamed nature by hiking in Saxon Switzerland National Park. Painters' Way, or Malerweg trail, courses through the Elbe Sandstone Mountains past steep gorges, enchanted villages and beautiful valleys, the likes of which have inspired 19th-century Romantic artists like Caspar David Friedrich.
Most visitors to the park are on a day trip from Dresden, which is enough time to tick off the area's major highlights on your list. But to truly experience its beauty, it's best to stay overnight and spend a few days going on long walks. Free climbers will enjoy the 15,000 routes available here, while avid cyclists will relish the challenge of the Elbe Cycle Route.
Wherever you go in Germany, you won't be short of romantic palaces or historic sites to explore. Make the most of your trip to Germany by ensuring that you're able to travel with confidence. Enjoy extensive coverage in your Travel Insurance plan against travel inconveniences and medical expenses (including pre-existing medical conditions and COVID-19). This way, you'll truly be able to immerse yourself in Germany's magical scenery and fascinating culture with peace of mind.
This article is meant purely for informational purposes and should not be relied upon as financial advice. The precise terms, conditions and exclusions of any Income products mentioned are specified in their respective policy contracts. For customised advice to suit your specific needs, consult an Income insurance advisor. This advertisement has not been reviewed by the Monetary Authority of Singapore. ​
These policies are protected under the Policy Owners' Protection Scheme which is administered by the Singapore Deposit Insurance Corporation (SDIC). Coverage for your policy is automatic and no further action is required from you. For more information on the types of benefits that are covered under the scheme as well as the limits of coverage, where applicable, please contact Income or visit the GIA/LIA or SDIC websites (www.gia.org.sg or www.lia.org.sg or www.sdic.org. sg).