Travel Guide to Thailand's Hidden Gems: 5 Places to Visit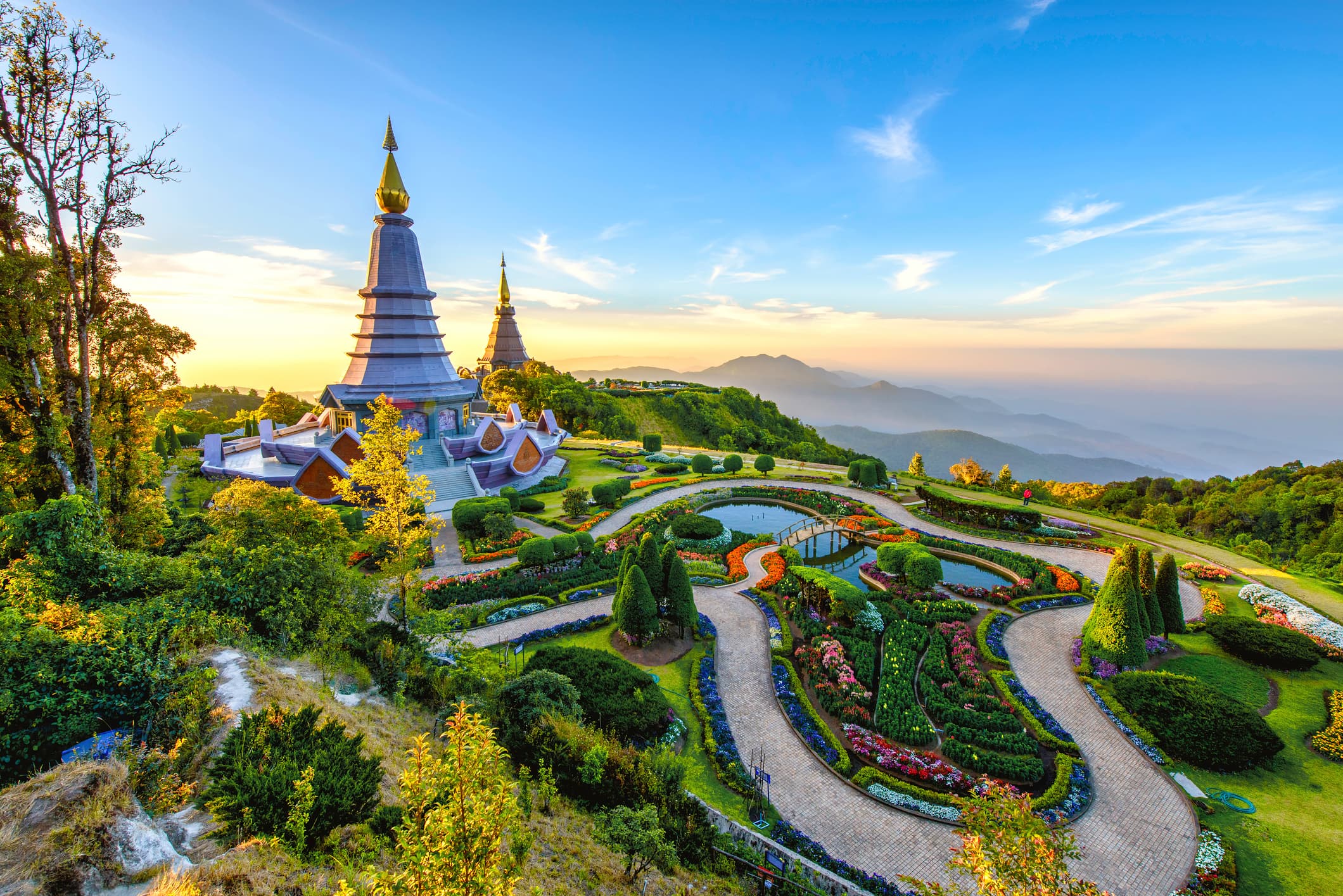 Bangkok, Phuket, Chiang Mai, and Krabi – When it comes to travelling to Thailand from Singapore for a holiday, there's a handful of destinations most Singaporeans are already familiar with. While these famous destinations are a convenient option for some who want to travel the country with minimal planning, the allure of venturing beyond the well-trodden path is undeniable to others.
Exploring hidden gems in Thailand is not only an opportunity to escape the stifling, sweaty tourist crowds, but a chance to immerse in authentic experiences and unique cultures. Thailand also boasts an array of lesser-known destinations that beckon the intrepid traveller. From untouched beaches to tranquil villages, our travel guide to Thailand offers unique insights into places you might never have considered but should not miss.
With endless opportunities for what to do in Thailand, let's embark on a journey to discover some of Thailand's hidden treasures!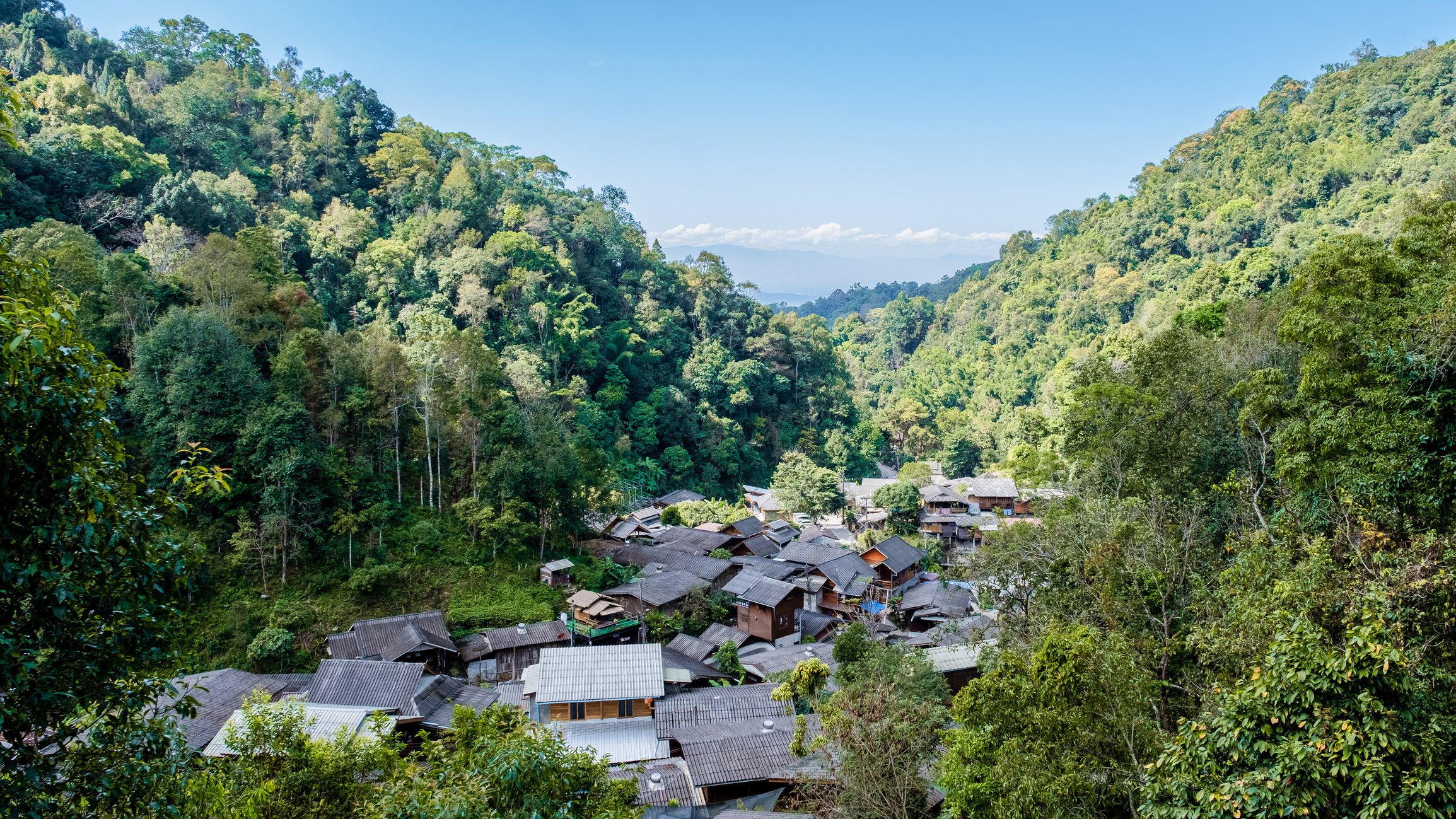 1. Mae Kampong
Located in the mountains of the Chiang Mai province, Mae Kampong offers a serene retreat away from the chaos of modern life. The village's charm isn't just in its serenity, but also in the warmth of its people. Their sustainable way of living is intertwined with an eco-friendly model where tourism is woven into daily life without exploitation of the environment or villagers. Traditional wooden houses line narrow paths, and with no major hotels in sight, the homestays offer an opportunity to immerse into the local culture. This picturesque village is a favourite among locals for its tea plantations, cafes, and local coffee, and is gradually catching the eye of international travellers for its eco-tourism options too. Cultural interactions, culinary delights prepared with fresh ingredients, and the local wisdom are additional reasons to explore this hidden treasure. This destination is a symbol of Thailand's push towards sustainable tourism, an aspiration that reflects in its hospitality and community-driven experiences.
What to do there
Spend the night in a homestay to fully immerse yourself in this unique mountain village culture. Embrace the local way of life by visiting tea and coffee plantations, where you can learn about traditional farming methods. Enjoy a traditional Thai massage, or hike through lush forests filled with exotic flora and fauna. You'll find yourself swept away by the village's slow-paced rhythm, accompanied by the sound of a bubbling creek. Explore beautiful waterfalls, dine with local families, and participate in community-based eco-tourism. For those seeking peace and tranquillity, Mae Kampong is the epitome of what to do in Thailand's untouched landscapes.
Best time to visit
Mae Kampong can be visited year-round, but it's recommended to visit during the dry season from June to January to avoid muddy roads and rainy weather. Of the dry months, the year-end period from December to January is seen as the best time to visit – making Mae Kampong an ideal and unique destination to celebrate the New Year!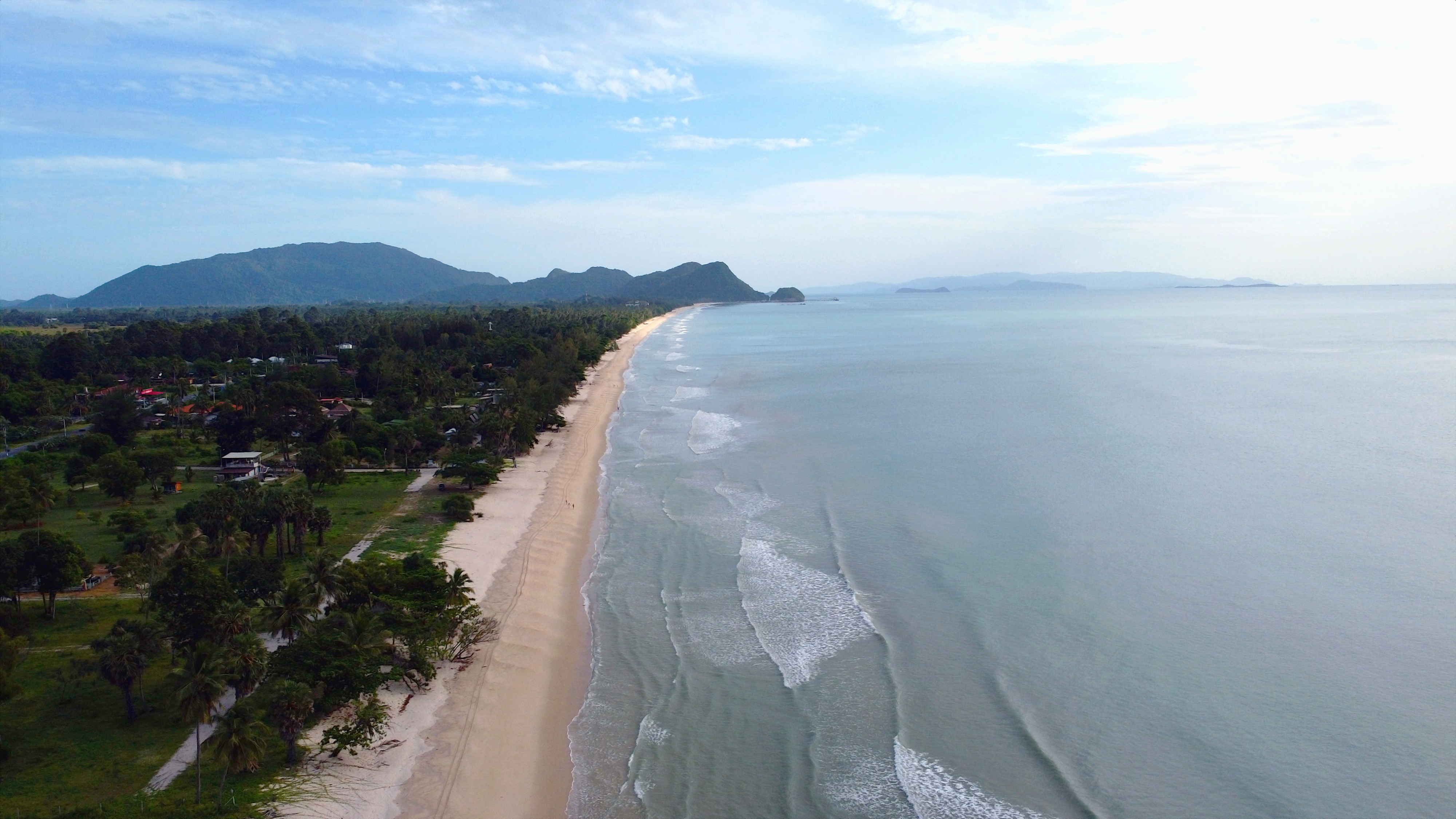 2. Khanom Beach
Situated along the Gulf of Thailand in the southern province of Nakhon Si Thammarat, Khanom Beach is a quiet coastal town known for its unspoiled white sand beaches and laid-back atmosphere. Stretching over 9 kilometres, there is ample space for a rare balance of tranquillity, adventure, and relaxation. Despite being just a ferry ride away from the ever-popular Koh Samui, Khanom Beach offers an authentic Thai beach experience without the tourist crowds. The juxtaposition of the quiet, serene beach and the bustling local life of the town creates a rich, multi-faceted experience that both relaxes and invigorates, making Khanom Beach a must-visit for those looking for an extraordinary Thai getaway.
What to do there
Relax on the pristine sandy shores, explore nearby caves filled with stunning stalactites, and keep an eye out for the famous pink dolphins that frolic off the coast. Engage in water activities like snorkelling and fishing, or simply take a leisurely boat ride to soak up the salty sea breeze. For those with a love for culinary exploration, Khanom's night markets offer delightful street food. Visit local markets, enjoy fresh seafood, and watch the sun melt into the horizon. When considering where to go in Thailand for an unspoiled beach experience, Khanom Beach stands as an undisputed choice.
Best time to visit
The dry season (December to April) is considered the optimal time to pay a visit to Khanom Beach. This is the period where the sun's at its highest and rainfall at its lowest, so you can go all out and enjoy what Khanom Beach has to offer. Travellers interested in catching a glimpse of the pink dolphins can plan a visit between February and April to coincide with their mating season, but as with all wild animal encounters, sightings are not guaranteed.
3. Koh Yao Noi
Nestled in the heart of Phang Nga Bay, Koh Yao Noi is an idyllic island escape that has retained its natural charm. With Phuket to its West and Krabi to its East, Koh Yao Noi is easily accessible from either popular destination via a short boat ride. The island's local community continues to live a traditional lifestyle, predominantly working as fishermen and rubber tree farmers. A lack of mass commercialisation has preserved the nature and culture of Koh Yao Noi, making it a paradise for those who want a slice of authentic island life.
What to do there
Engage in outdoor adventures like kayaking among limestone cliffs, snorkelling in turquoise waters, or scuba diving just off the coral-lined shores. Visit local Moken villages to gain insights into semi-nomadic hunter-gatherer island life, or take an island boat tour to marvel at the ample natural landmarks that surround you. Visitors can learn about rubber tapping, participate in local cooking classes, and be welcomed by the generosity of the islanders. Rent a bicycle to explore hidden beaches, and indulge in fresh local cuisine at beachfront restaurants. If island tranquillity tops your list of what to do in Thailand, Koh Yao Noi won't disappoint.
Best time to visit
The drier months from December to April are typically considered the best time to travel to Thailand, and Koh Yao Noi is no exception. This is the time when you can fully enjoy your outdoor activities without worrying about inclement weather. However, you'll want to book ahead of time to ensure you can secure your hotel rooms and activity slots. If visiting during the off-peak or shoulder seasons, do pack appropriately for potentially rainy weather and be sure to plan for things to do indoors!
4. Doi Inthanon National Park
Home to Thailand's highest peak, Doi Inthanon National Park lies in the northwestern Chiang Mai province. Often referred to as "The Roof of Thailand", here's where mist and greenery mingle to create an ethereal beauty that appeals to nature lovers, adventure seekers, and photographers alike. This natural wonderland features varied ecosystems, from lush jungles to cascading waterfalls to alpine landscapes. The park's high elevation guarantees cooler temperatures all year round, making it an ideal destination for those who want a break from Southeast Asia's typically hot and muggy climate.
What to do there
Explore majestic natural wonders like the famous Sirithan and Mae Klang Waterfalls, or view the sunrise from a mountain summit. A wide array of hiking trails cater to various difficulty levels, making it accessible to beginners as well as experienced hikers. Visit the Royal Twin Chedi Pagodas, which stand as a testament to Thai architecture, and visit local hill tribe villages to see a completely different way of life. Trek along the beginner-friendly Kew Mae Pan Nature Trail, which requires accompaniment by a Hmong Tribe guide. Bird enthusiasts will find a plethora of unique species awaiting in the canopies above, including some birds and wildlife that can only be found in Doi Inthanon or its surrounds. Photographers will be spoiled for choice by the stunning landscapes at every turn. This is the best place to go if you're wondering what to do in Thailand for awe-inspiring natural beauty.
Best time to visit
Doi Inthanon National Park is a popular destination amongst Thais all year round, thanks to its refreshingly cooler weather. The drier months between November and February are recommended for a first visit, as you won't have to worry about slippery and muddy trails. March to May are good shoulder months for those who want an off-peak experience, while travellers are advised to take appropriate precautions when visiting during the rainy season from May to October.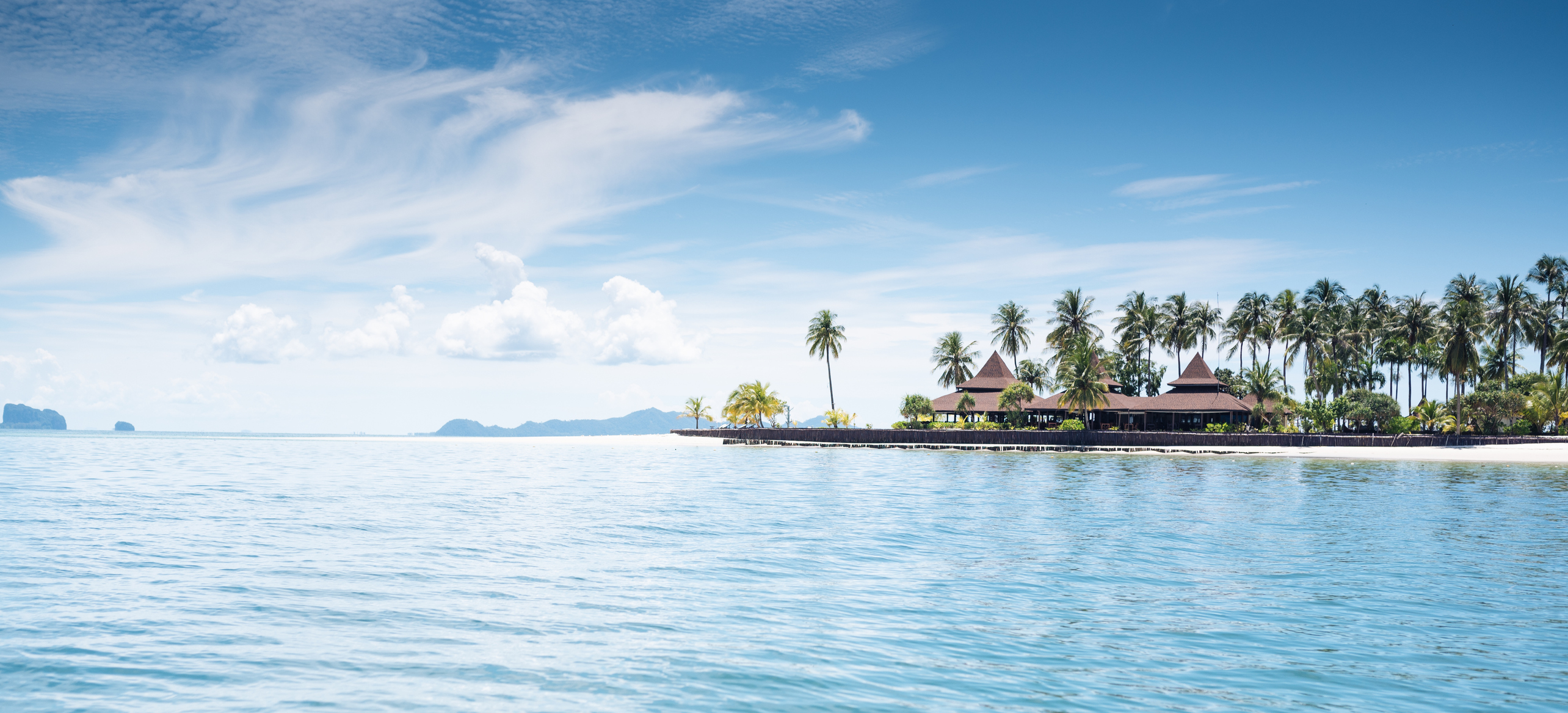 5. The Trang Islands
Located in Southern Thailand, the Trang Islands are a chain of stunning islands largely untouched by mass tourism. From limestone cliffs to mangroves, caves to hidden lagoons, each island has a unique characteristic that sets it apart. The islands are particularly renowned for their underwater caves, which are accessible by diving, but are overall a dazzling amalgamation of diverse geological features and ecosystems. The Trang Islands offer a serene retreat with crystal-clear waters, lush jungles, and abundant marine life, making them a great alternative to more popular island destinations like Koh Lipe.
What to do there
Dive into clear waters to explore vibrant coral reefs, sunbathe on secluded beaches, and explore hidden lagoons. Sea kayaking provides a unique perspective of the islands' intricate coastal geology, while hiking trails offer breathtaking viewpoints. Enjoy island hopping on traditional wooden longtail boats, and don't miss the opportunity to snorkel at night to witness the bioluminescent plankton. Sample local dishes, and consider staying in an eco-friendly resort to maintain the area's pristine condition. When planning where to go in Thailand for an unparalleled island experience, the Trang Islands are a top choice.
Best time to visit
As with almost all of Thailand's island destinations, the best time to visit the Trang Islands is during the dry season between November and April. In fact, during the rainy monsoon season from May to October, you might have difficulty finding accommodation, transportation, or attraction options open at all.
Bonus: Packing Guide
Thailand's climate and cultural customs require thoughtful packing before you jet off for your holiday. Be sure to bring lightweight clothing, sun protection, and a good pair of hiking shoes (or beach-friendly flip-flops!) for unexpected adventures in these off-the-beaten-path locations. Don't forget a reliable guidebook and local phrasebook, especially if you'll be travelling away from major cities and resorts.
And, of course, your adventure wouldn't be complete without the security of a travel insurance policy. Exploring unknown territories means taking risks, so why not ensure your peace of mind? Income's Travel Insurance covers you in unforeseen travel inconveniences that might arise, such as flight delays and misplaced baggage during your airport transits. It also provides coverage for outdoor activities like skydiving, ziplining, or scuba diving* perfect for the adventurous traveller. From medical emergency coverage to flight cancellation or delays, buying the right insurance policy before your flight is essential to protect you financially from unexpected expenses caused by travel inconveniences. .
Whether it's travelling with family, in a group, or individually, Income Insurance has a range of value-friendly travel insurance plans to cover the unique needs and concerns of you and/or your companions. Explore even more lifestyle and travel guides online, including five hidden gems for an unforgettable graduation trip and ten wellness retreats around the world for a much-needed recharge.
*Scuba diving for leisure purposes and: (A) you hold a PADI (or similar recognised qualification) and are diving with a buddy who holds a PADI certification (or similar recognised qualification); or (B) you are diving with a qualified instructor. The maximum depth covered is as shown under your PADI certification (or similar recognised qualification) but no deeper than 30 metres.
This article is meant purely for informational purposes and should not be relied upon as financial advice. The precise terms, conditions and exclusions of any Income products mentioned are specified in their respective policy contracts. For customised advice to suit your specific needs, consult an Income insurance advisor. This advertisement has not been reviewed by the Monetary Authority of Singapore. ​
These policies are protected under the Policy Owners' Protection Scheme which is administered by the Singapore Deposit Insurance Corporation (SDIC). Coverage for your policy is automatic and no further action is required from you. For more information on the types of benefits that are covered under the scheme as well as the limits of coverage, where applicable, please contact Income or visit the GIA/LIA or SDIC websites (www.gia.org.sg or www.lia.org.sg or www.sdic.org. sg).