8 Special Places to Visit in South Korea During Autumn (2023)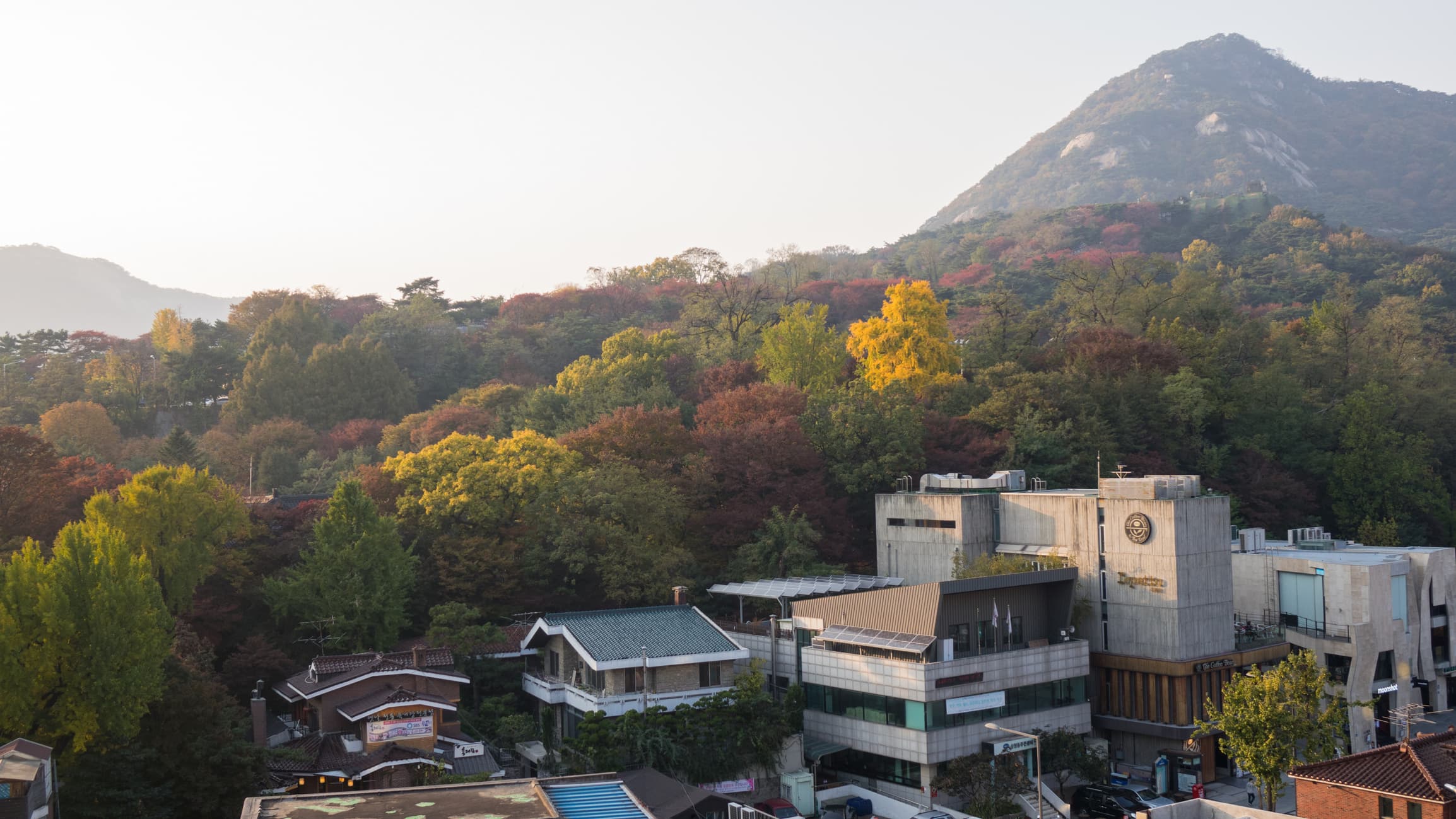 Any time is a good time to visit South Korea, where you'll find idyllic landscapes, tea plantations, and ancient temples scattered among trendy neighbourhoods all year round. But if you're looking to be inspired by spectacular fall foliage, then autumn in South Korea is easily one of the best times to travel the country.
Whether you're looking for foliage-viewing opportunities against the backdrop of a 17th century palace or atop a rugged mountain peak, we've got you covered. Here are 8 beautiful destinations to put on your list if you want to see the best of South Korea's autumn.
Travel tips for visiting South Korea
To ensure that you're well-protected against COVID-19 medical expenses or trip disruptions, a must-have for your trip to South Korea is adequate Travel Insurance coverage. Not only will travel insurance provide you with overseas quarantine allowance due to COVID-19, but you'll also be covered from common travel inconveniences such as loss of travel documents, baggage delays, or personal accident expenses.
What you need know about autumn in South Korea
When is autumn in Korea?
The changing autumn colours is highly anticipated in South Korea and usually takes place between mid-September and November, though this varies year to year.
What's the weather like?
Weather in September in South Korea

: September is generally sunny and clear with warmer afternoons. The temperature generally falls between 15°C and 26°C.

Weather in October in South Korea:

October is one of the best months to visit, when the weather is cooler but still comfortably warm, making it ideal for outdoor activities. Temperatures vary between 7°C and 19°C.
Weather in November in South Korea: This is the best time to see the bright fall colours as the autumn foliage usually reaches its peak at the beginning and middle of the month. Temperatures are pleasant and tend to fall between 9°C and 16°C, with cooler days towards the end of the month.
What should you bring?
During September to November, the weather tends towards crisp autumn mornings with warm afternoon highs, so you'll be able to stay comfortable without thick winter wear. It's recommended that you pack a lightweight jacket for September and October, and a cosier and thicker coat for November.
If you're travelling from mid-October to November, you might wish to pack a scarf or heat pads, especially if you're travelling to a mountainous region. A light umbrella can also come in handy for wet weather, though there is usually low rainfall during this period.
1. See the hip neighbourhood of Samcheong-dong, Seoul in a new light
In Seoul's most stylish neighbourhood, you'll find rustic hanok buildings converted into chic art galleries and European-style cafes, with small boutiques and trendy shops lining its quaint pathways. In autumn, the foliage offers a splendid backdrop of gold to explore the ancient Bukchon Hanok village, and it's the best season to indulge in any delicacy infused with chestnuts or chrysanthemum, which are in season during September.
Stop by Samcheong-dong Sujebi for its sujebi - hand-pulled dough in an umami anchovy broth - and The Second Best in Seoul for its sweet red-bean soup topped with chestnuts and gingko nuts. Afterwards, take a long stroll from the neighbourhood beneath the striking orange and amber gingko trees that line the stone wall of Gyeongbokgung Palace.
2. Visit the autumnal grounds of Changdeokgung Palace, Seoul
A UNESCO World Heritage Site, Changdeokgung is one of Korea's most historically significant attractions that perfectly embodies Korea's beauty and history. With its impressive royal structures in the south and an extensive "Secret Garden" in the north, the 17th-century palace stands as an exceptional example of palace architecture in the region, notable for the way it harmonises with its surrounding natural landscapes.
In autumn, you can trace the footsteps of erstwhile kings and queens from the Joseon Dynasty beneath the rustling canopy of more than 56,000 varieties of plants. If you're booking a palace tour in advance, make sure it includes the Secret Garden. From mid-October to mid-November, the garden puts on its most colourful garb and is transformed by the vibrant autumnal tones of its maple, gingko, walnut, plum trees and more.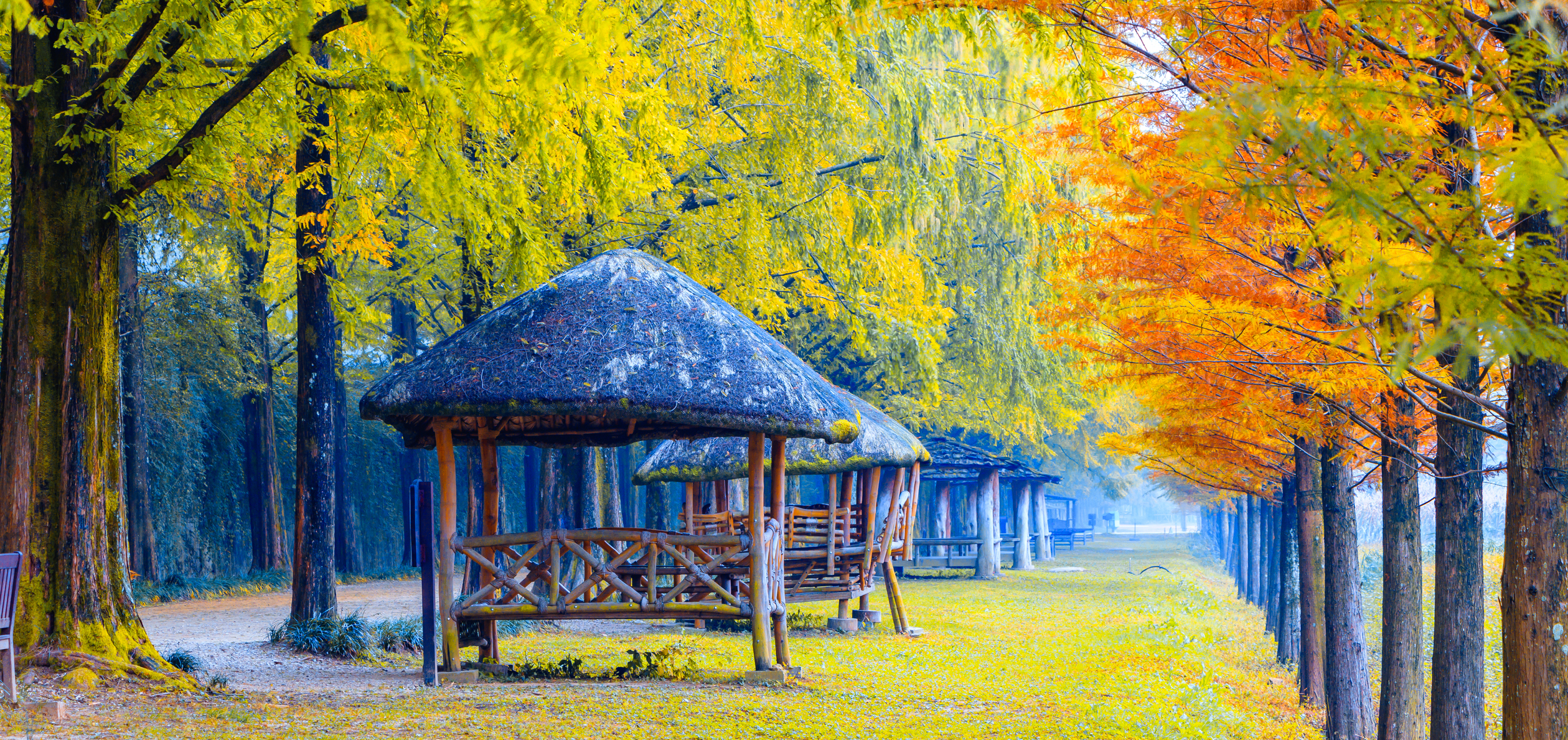 3. Step right into a K-drama at Nami Island
Nami Island is a half-moon shaped isle that's located two hours from central Seoul, making it perfect for a day trip. Apart from the ever-popular cherry blossom season in spring, tourists flock to this 5km-wide isle during mid-October and November when its metasequoia and maple trees explode into colour. So stunning is its scenery that it's famed for being the filming location for the hugely popular TV series "Winter Sonata".
Typically, exploring the tiny Nami Island will take you 3 hours, and visitors often make it a day trip to visit other attractions in nearby Gapyeong County, such as Petite France, an Instagram-worthy replica of a French village, and Garden of Morning Calm, a sprawling private garden and arboretum. You can get here via public transport, but the easiest option is to take a bus tour or once-a-day shuttle bus from central Seoul.
4. Conquer the trails of Seoraksan National Park
Seoraksan, which translates literally to 'Snowy Peak Mountain', is one of Korea's largest and most beautiful mountains, reaching a height of 1,708 metres at its highest point, Daecheongbong Peak. The surrounding Seoraksan National Park boasts some of the most scenic hiking trails in the country, most of which can be completed in a few hours.
Most visitors to Seoraksan are on a doable day tour from Seoul, which is 3 hours away by car. On your first visit, the Outer Seorak (Oeseorak) area offers a taste of the area's spectacular scenery, which is carpeted with reds and oranges in fall. It's home to the towering Ulsanbawi Rock and the steep slopes that lead to Geumganggul Cave, as well as some enormous waterfalls.
5. Find your slice of paradise at Jeju Island
Jeju Island is a place of natural beauty all year round, with its stunning trails, jagged coasts and lush countryside. But starting in late October, the gold rush transforms the iconic Mount Hallasan into shades of russet, brown and gold. During peak leaf-changing season, you'll also find the ridges of Jeju's volcanic cones, called oreum, blanketed in the swaying eulalia grass for a truly romantic sight.
To see the island's loveliest sights, a common option for travelling around Jeju is by renting a car. Tourist shuttle buses also run regularly every 30 minutes along eastern and western routes to popular attractions. If you're feeling adventurous, however, nothing beats renting a bike and riding along the entire coastline, which will take you 3 to 4 days.
6. Soak up heritage and tradition at Gyeongju
Gyeongju is best known for its thousand-year-old temples, folk villages, and rare artefacts dating back to the ancient Silla Kingdom. But come fall, it's also a great place to observe the changing of the seasons. At the impressive 17th-century Cheomsongdae Observatory, the fields unfurl into a bright pink from the colonies of muhly grass, while the ornate pagoda at the heart of Bulguksa Temple is surrounded by every fall hue imaginable.
While Gyeongju is easily accessible via a two-hour high-speed train ride from Seoul, there's far more you can see and do on an overnight stay compared to a day trip. To truly appreciate South Korea's hidden-gem city, it's worth it to linger for a few days.
7. Follow the Asan Gingko Tree Road for golden foliage
Move aside, cherry blossoms. Gingko trees are now the hottest seasonal attraction in town. For an incredibly photogenic spot, put the Asan Gingko Tree Road on your autumn bucket list in Korea. While there may be countless spots in the country with gingko trees, the sight of this long tree-lined avenue set alight in gorgeous ochre is not to be missed.
The Asan Gingko Tree Road is located in Asan city within walking distance to the historic site Hyeonchungsa Shrine, which you can use as a landmark when flagging a taxi here. Getting here by car from Seoul takes around 2.5 hours, but you can also take a high-speed train from Seoul to Asan, and then switch to a cab ride after that.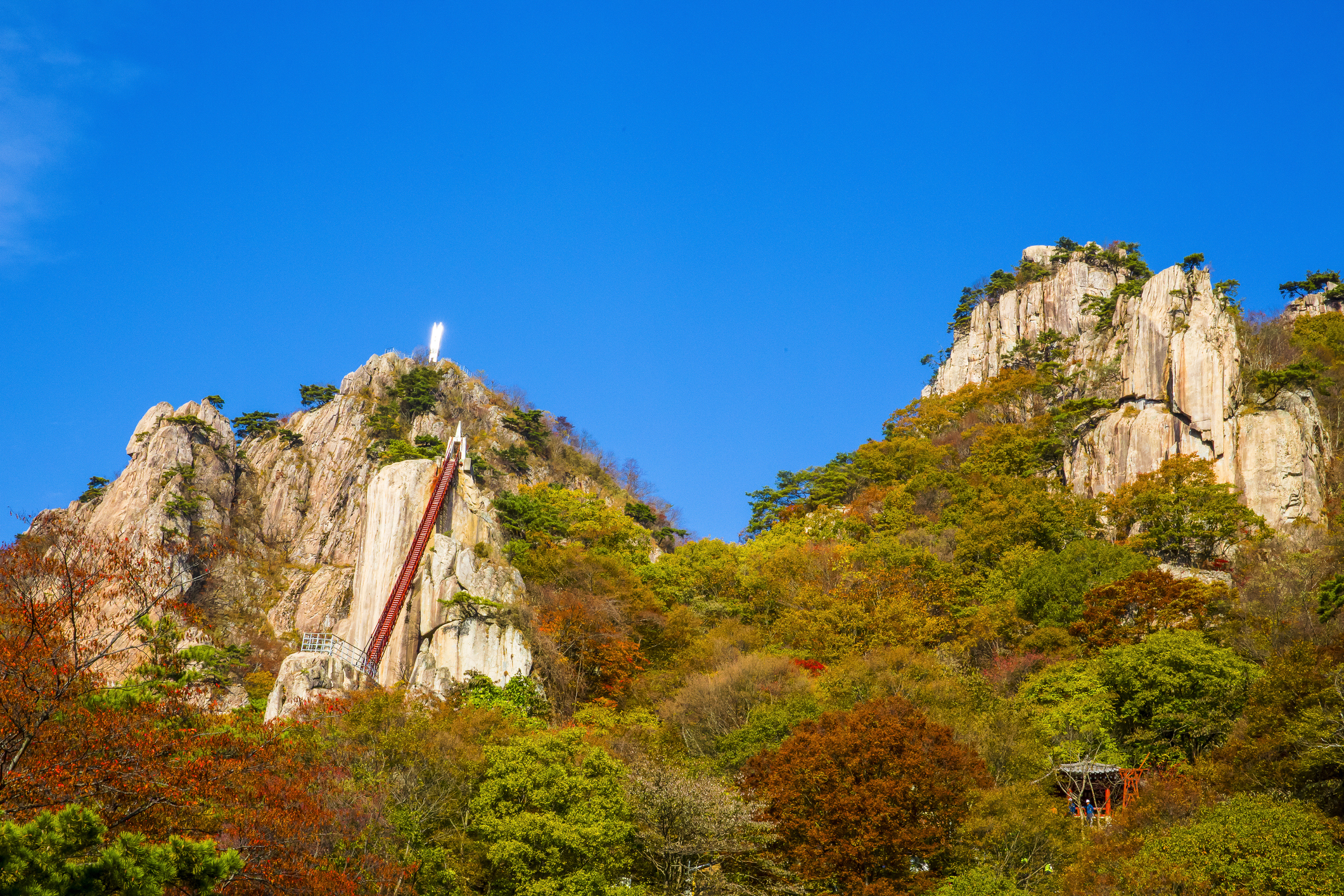 8. Scale the jagged landscape of Daedunsan Mountain
In South Korea, there's no shortage of fall foliage day tours you can choose from. But if you're looking for a stunning mountain top view, then Daedunsan Mountain with its blazing autumnal hues and technicolour landscapes is a standout. While you can scale the summit via a rather strenuous 2.1km hike, most visitors opt for the cable car ride, which includes hopping off to cross the mountain's famed suspension bridge. Even if you don't reach the peak, the surrounding views are no less stunning and unforgettable. Getting to Daedunsan takes three hours by car from central Seoul, which is why most people choose to visit the mountain as part of a longer day trip.
This autumn, venture beyond the most popular attractions in Seoul to explore a beautiful new side of South Korea and discover the romance of nature in fall. Stay immersed in your travel experiences without letting any trip disruptions affect your holiday. With an extensive Travel Insurance plan, ensure you're well-protected against common travel inconveniences such as travel delays not caused by you.
Now it's time to hop on the next plane to South Korea and enjoy!
This article is meant purely for informational purposes and should not be relied upon as financial advice. The precise terms, conditions and exclusions of any Income products mentioned are specified in their respective policy contracts. For customised advice to suit your specific needs, consult an Income insurance advisor. This advertisement has not been reviewed by the Monetary Authority of Singapore. ​
These policies are protected under the Policy Owners' Protection Scheme which is administered by the Singapore Deposit Insurance Corporation (SDIC). Coverage for your policy is automatic and no further action is required from you. For more information on the types of benefits that are covered under the scheme as well as the limits of coverage, where applicable, please contact Income or visit the GIA/LIA or SDIC websites (www.gia.org.sg or www.lia.org.sg or www.sdic.org. sg).