The Travel Lover's Guide to Buying Travel Insurance in Singapore
By Joanne Poh, 07 August 2020
1275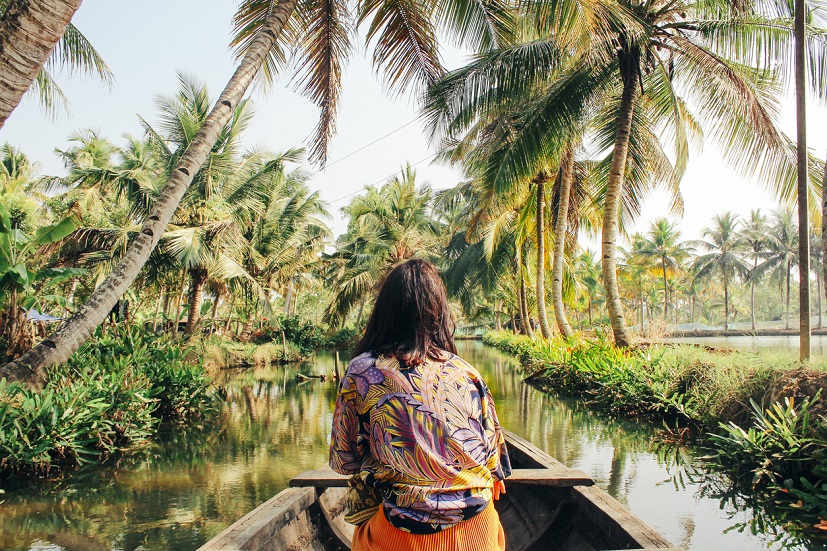 You've booked your travel tickets, reserved your annual leave and packed a tube of sunscreen into your suitcase.

But before you go forth and explore the world, there's one more thing you must do: protect yourself with travel insurance.

By the time you're done reading this guide, you'll have a much better idea of what travel insurance should cover you for and understand how to select the best policy for your needs. Let's start!


1) What does travel insurance cover?

Many of us have a hazy idea that travel insurance protects us from travel mishaps, but do we really know exactly what we are being covered for? Here's a rundown of what's covered, and what isn't.

a) What's covered?
The key benefits offered by comprehensive travel insurance policies can be summarised broadly in the following ways.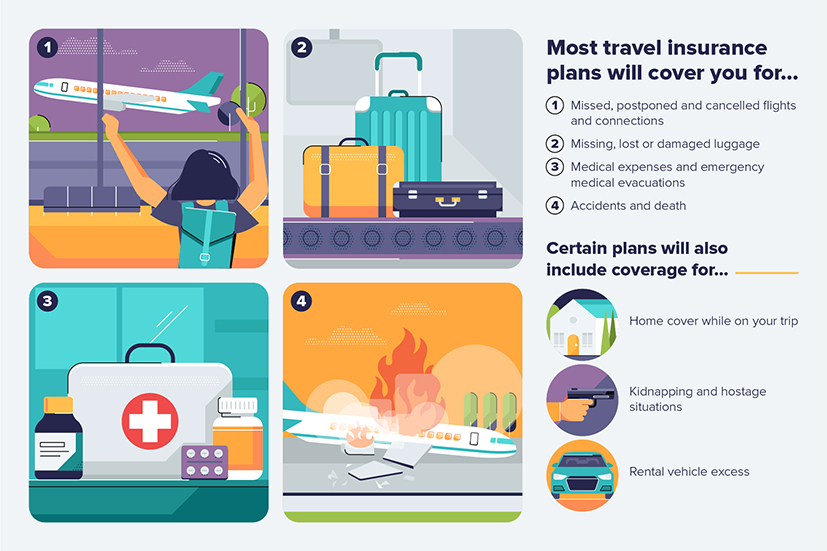 These essential categories of travel insurance coverage should be offered by most travel insurance policies, while extra perks vary depending on your plan.

Other than simply looking out for travel insurance coverage in the above areas, it's a good idea to have a closer look at the policy to see what exactly you are entitled to.

Here's how one such policy, Income's Travel Insurance Classic plan, would protect you.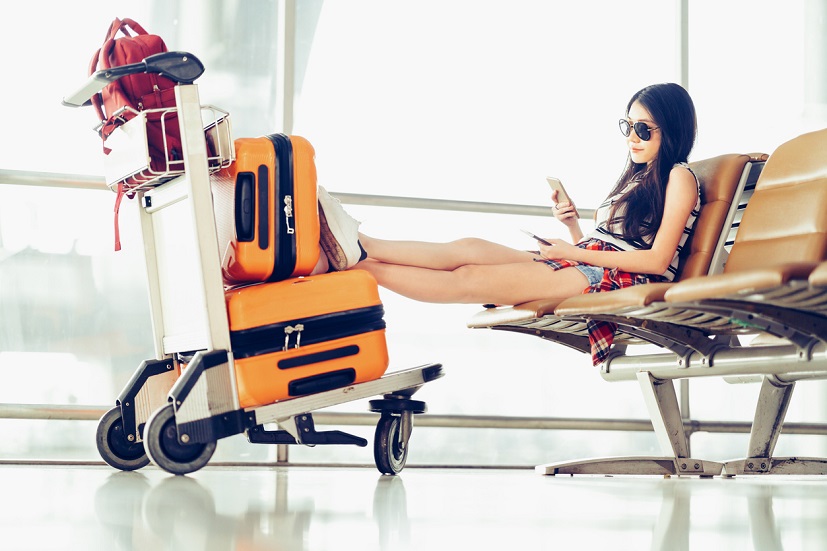 Delayed, postponed and cancelled flights

Travel delays including late plane arrival or departure and cancellation or postponement of a flight will entitle you to travel insurance coverage so long as they were not caused by you. You also receive coverage if your trip is cancelled due to unforseen circumstances like accidental death or accidental serious injury.

Income's Travel Insurance Classic plan offers up to $5,000 per person for trip cancellations. For travel delays, adults receive $100 for every 6 hours of delay while overseas and $150 after 6 hours of delay while in Singapore, up to a maximum of $1,000.

These are just some of the situations where you might receive cover. Find out more about how travel insurance protects you from travel cancellations, delays and postponement here.

Delayed or lost luggage

Have you been waiting by the baggage carousel for ages, only to realise your luggage has been lost or delayed? Receive $200 for every 6 hours of delay while overseas up to a maximum of $1,000 with Income's Travel Insurance Classic plan.

Medical expenses and emergency medical evacuations

Seek medical care without worrying about your bills if you fall sick or get injured on your trip. Income's Travel Insurance Classic plan covers up to $250,000 worth of your overseas medical expenses per adult. You also receive an overseas hospital allowance of $100 per day, up to a maximum of $10,000. In addition, adults below 70 years of age will receive up to $500,000 of coverage for emergency medical evacuation.
If you (an adult under 70 years old) fell sick overseas but were unable to visit a doctor, you may seek medical treatment in Singapore within 3 days of your return and claim up to $12,500. For treatment by a TCM practitioner or chiropractor, you can claim up to $50 per visit or a total of $300.

Accidents and death

Should you get into an accident resulting in death, permanent and total disability, loss of two or more limbs or loss of sight in both eyes, you are entitled to personal accident coverage of up to $150,000.

Home cover
Imagine returning from a family trip, where nobody was looking after your home, to find that your furniture or appliances have been damaged or lost due to a fire. Home cover allows you to claim up to $500 per item, set or pair of belongings lost or damaged, subject to a maximum of $3,000. It's worth noting that your HDB fire insurance does not cover damaged home contents due to a fire, hence without this home cover or a separate home insurance policy, you might not be able to claim for these losses.

Kidnapping and hostage

Receive $100 every 24 hours up to a maximum of $3,000 in a kidnapping or hostage situation.


Rental vehicle excess

When you rent a vehicle while overseas, Income offers coverage for up to $1,500 of your excess or deductible. That means that if you get into an accident, the excess you are supposed to pay will be covered by Income.

b) What's not covered

Here are some areas where you will not be covered.

Random changes of mind

Trip cancellation coverage is not offered if you randomly decide to cancel your trip.

Known events & travel advisories

You are not covered for events that are known at the time you purchase your travel insurance policy. For instance, if the Ministry of Foreign Affairs has advised against travel to a certain place due to dangerous or hazardous situations, you will be not be covered if you still decide to go ahead with your trip in spite of the government's advice.

Negligence

Carelessness or negligence on your part can make your claim invalid. For instance, if you miss a flight because you overslept or leave your belongings unattended in a public place, you won't be able to claim for the loss.

2) How much does travel insurance cost?

The price of travel insurance depends on where you are going and for how long.

For instance, a three-week trip to France would cost an adult $166 in travel insurance if they purchased the Income Travel Insurance Classic plan. On the other hand, the same plan would cost only $28 on a three-day trip to Thailand. You can easily generate a quote for yourself online here.

Other than destination and travel duration, the price of travel insurance varies according to the following factors: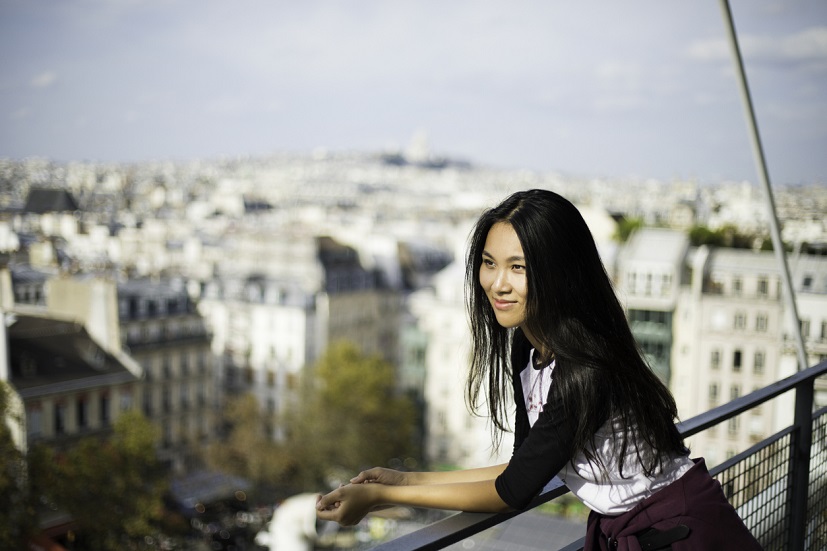 Single or annual trip cover

Single trip cover is purchased on a per-trip basis and covers you for the duration of that one round trip.

Annual trip cover, on the other hand, is valid for a whole year and protects you on all the trips you take during that year (where each trip lasts not more than 90 days). If you are a frequent traveller, purchasing annual trip cover can be more economical than purchasing multiple single-trip policies. It is also more convenient as you don't need to purchase travel insurance every single time you travel.

Individual or family trip

Individual trip plans cover only one person, while family trip plans cover you, your partner and any number of dependent children travelling together.

If you are traveling as a family, purchasing a family trip plan can work out to be cheaper than purchasing an individual plan for each member of the family.

Flexibility to make changes

The most flexible travel insurance plans give you the flexibility to cancel, shorten or postpone your travel insurance policy start and end dates as needed without incurring extra costs. For instance, Income enables you to make changes to your policies online.

Pre-existing conditions

Pre-existing conditions are not covered by the typical travel insurance policy, which means that your medical expenses will not be covered if they arise from a health condition that you already had prior to your departure. For coverage for these, you'll need to look for special plans designed with people with pre-existing conditions in mind.

Income's Enhanced PreX Travel Insurance plans are one such option that covers claims related to pre-existing conditions. It is recommended for those who are travelling with pre-existing conditions and want the assurance that any medical costs arising from these conditions will be covered when they are abroad. It costs a little more than the Standard Plan but offers much-needed peace of mind to those suffering from existing health issues.

3) When should you buy travel insurance?

As early as possible, once you have booked your tickets! Travel insurance does not just protect you while you are travelling, but also offers coverage for events that can occur before your trip.

For instance, suppose you book a trip to a destination that subsequently gets hit by a pandemic,, right before you're meant to travel there. You will be entitled to compensation for trip cancellation if you were already covered by travel insurance before the pandemic was declared by the World Health Organisation.

If you're worried about your travel plans changing before your trip, don't fret – you can simply notify your insurer about your change in plans and your policy will be adjusted accordingly. Income policyholders can do so online any time before their trip, or even during their trip, should it end up being extended.

4) How to choose the right travel plan

Here are some questions to think about when deciding what plan and what cover to purchase.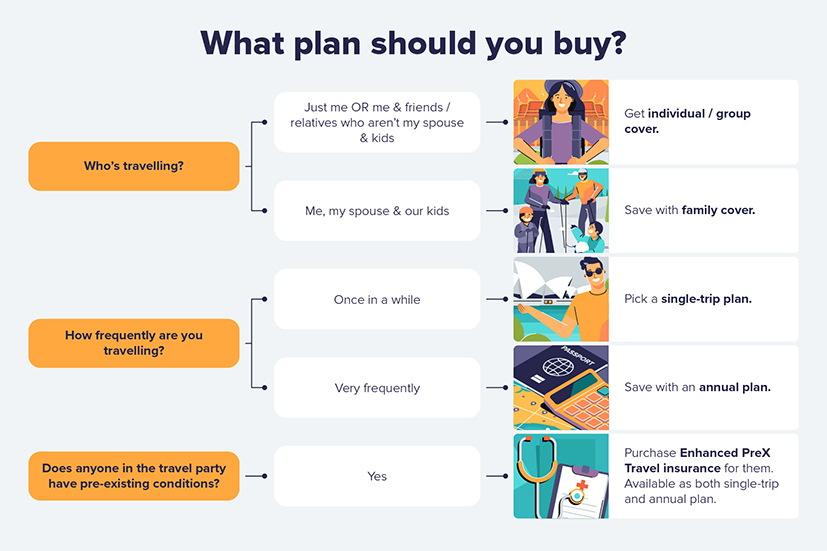 Find out more about Income's Travel Insurance plans and Enhanced PreX Travel Insurance plans.

5) How to make travel claims.
Always make a report to the relevant authorities if things go wrong

No matter what kind of claim you are making, you will have to submit proof. So when something goes wrong, make sure you approach the relevant authorities and have them issue the appropriate documentation for submission to your insurer.

For instance, if your luggage is missing or delayed, you should seek help at the airport and obtain a report from the airport or airline.

If your belongings go missing or get stolen, you should make a police report within 24 hours at your location (ie. the city or place you are visiting, in which you lose or have your items stolen) and submit that to your insurer.

Keep the receipts for valuable items you are travelling with

It's a good idea to make sure you hold on to the receipts for any expensive items you are travelling with, such as high-end luggage, camera equipment or laptops. If they get lost, stolen or damaged, you will need to submit your receipts together with other documentation such as police reports in order to make a claim.

Find out how to file your claim

It's important your insurer provides your support when you need to make a claim, allowing you to submit your claims easily and conveniently to avoid additional stress or missing deadlines. For instance, Income policyholders can submit claims quickly and easily online.

Protect yourself for ease of mind

Keeping yourself safe on your travels is essential to a fulfilling and enjoyable trip. When you know you've got comprehensive travel protection, you are better able to immerse yourself in your new surroundings without worrying about what would happen if mishaps occurred. Protect yourself with Income's Travel Insurance so you can explore the world with peace of mind.

For more info on the policy details and limits of Income's Travel Insurance plans, click here. And to get an instant quote for your next holiday, click here.




Important Notes:
This article is meant purely for informational purposes and should not be relied upon as financial advice. The precise terms, conditions and exclusions of any Income products mentioned are specified in their respective policy contracts. For customised advice to suit your specific needs, consult an Income insurance advisor.

This advertisement has not been reviewed by the Monetary Authority of Singapore.