Bintan & Batam's Most Beautiful Resorts & Villas for Families & Couples (2022)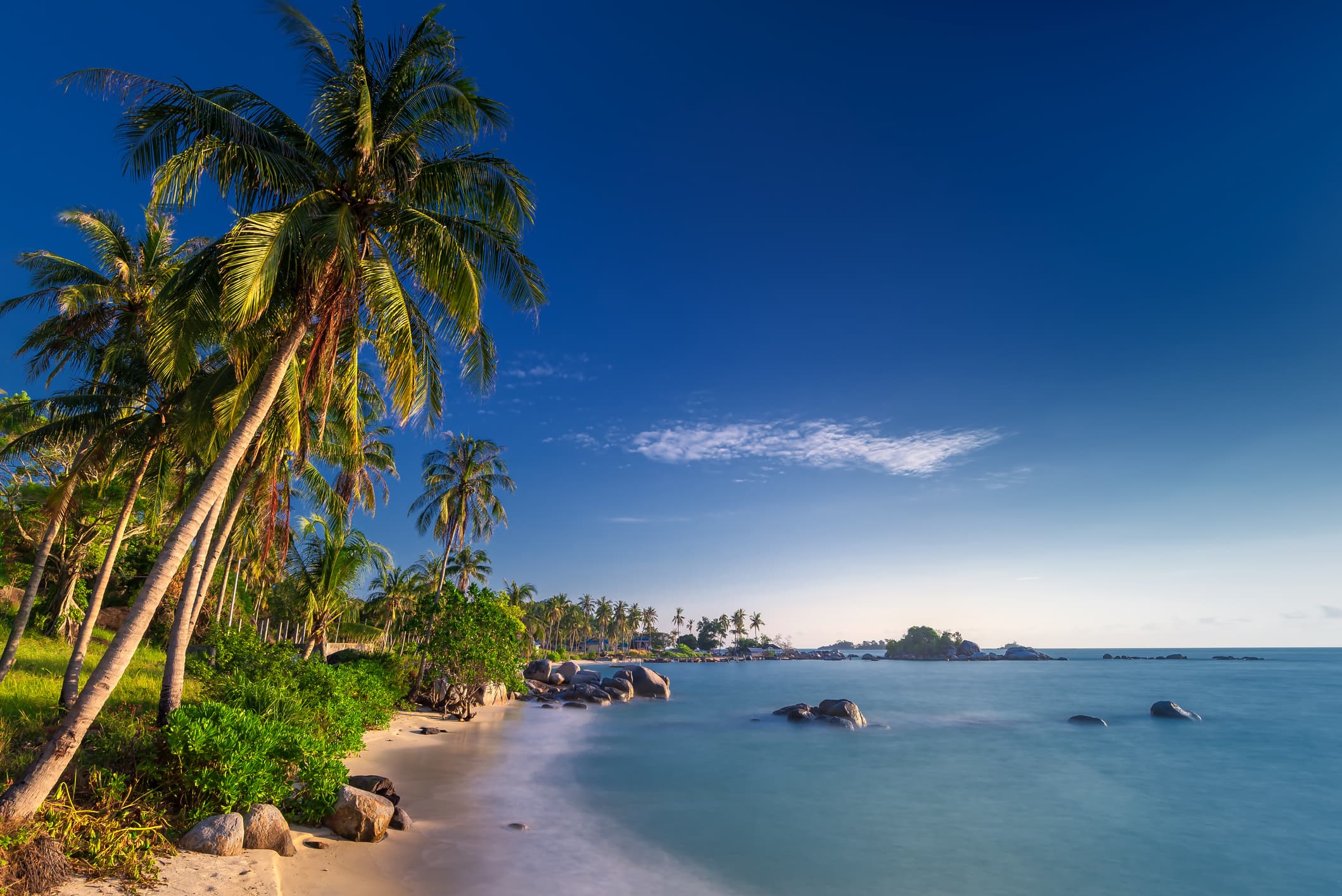 Planning to travel during Singapore's remaining long weekends in 2022? Now that Batam and Bintan Islands in Indonesia are welcoming tourists again, it's time to book your quick weekend getaway away from Singapore.
Hop aboard a one-hour ferry ride across the stunning South China Sea and you'll be transported to the pristine white sand beaches of Batam and Bintan Islands, where there's no shortage of plush resorts or villas for both families and couples. Whether you're looking for a luxury retreat with immediate access to a beach or a private pool, we've rounded up the best recommendations based on your preferences.
Requirements for Singaporeans visiting Bintan or Batam
Here's your travel checklist for travelling to Batam and Bintan Islands in Indonesia. Ensure that you have the following items:
Passport that is valid for at least six months
Present valid physical/digital vaccination certificate as proof of vaccination, with both doses of vaccination administered at least 14 days before departure
Return ticket or a one-way ticket to another country
Download the PeduliLindungi app, register a new profile and complete the Health Alert Card form before arriving at Bintan Ferry Terminal or Nongsapura and Batam Centre Ferry Terminal in Batam.
Enjoy "Visa Exemption for Leisure Purpose", which is valid for a maximum of 30 days without option to extend.
As the situation remains fluid due to COVID-19, ensure that you check in with the Indonesian Embassy in Singapore for further clarification on these measures.
Additionally, enjoy more flexibility on your weekend getaway with hourly travel insurance from FlexiTravel Hourly Insurance1. Stay covered against medical expenses incurred overseas due to COVID-19 or accidental injury, as well as loss of personal belongings due to robbery and snatch theft—including your golf equipment!
Bintan vs Batam: Which is better for you?
Can't decide if you should head to Bintan or Batam Island for your short vacation? While the two islands are synonymous with weekend breaks away from Singapore, they are not the same. We break down the difference between Bintan and Batam Islands and why there's no shortage of things to do at both islands.
Batam
As a part of the third largest city in the Sumatra region, Batam is a booming port city and a nascent transport hub. In recent years, it has grown into a big resort destination that's popular for its beaches, bargain-friendly factory outlets, and sumptuous Indonesian fare.
What to do: Batam is big on water sports and even has an inflatable water sports park at Sea Forest Adventure. If you're itching for your golf fix, tee off at one of the island's first-class golf courses. Don't overlook Nagoya Hill Mall, the city's one-stop shopping destination for a spot of duty-free shopping. Go on a local food hunt by feasting on fresh seafood at Barelang Seafood, the island's largest seafood restaurant, or delving into authentic street food culture at A2 Food Court. Venturing off the beaten track? Plan a visit to neighbouring islands in the south, Ranoh Island and Abang Island, for pristine snorkelling spots.
Getting there: Batam Fast services 45 to 60-minute ferry rides from Tanah Merah Ferry Terminal to Nongsapura - a port in Batam - or Batam Harbour Bay. A round trip ticket costs S$92.
Bintan
Once the epicentre of the Malay Riau-Lingga empire, Bintan has long flourished as an important port along the India-China sea route. Today, it's one of the most popular tourism destinations in Indonesia.
What to do: While there are a lot of activities you can choose from, such as spa treatments, trekking, water sports and cycling, Bintan is also equally rich with heritage and culture. Visit the heritage sites scattered around the capital, Tanjung Pinang. The prominent Chinese villages, Senggarang and Sebung, are must-visits for a glimpse into the local way of life. The striking 200-year-old Banyan Tree Temple and nearby Chinese temple with colourful paintings are worth the trip. Penyengat Island, a stone's throw away from Bintan, is well-known for its unique Javanese-Dutch architecture. The yellow Masjid Raya Sultan Riau contains a beautifully preserved 150-year-old Quran illustrated by hand.
Getting there: A trip to Bintan Island takes 55 minutes from Tanah Merah Ferry Terminal in Singapore via the Bintan Resorts Ferries services (S$95 for a round-trip ticket).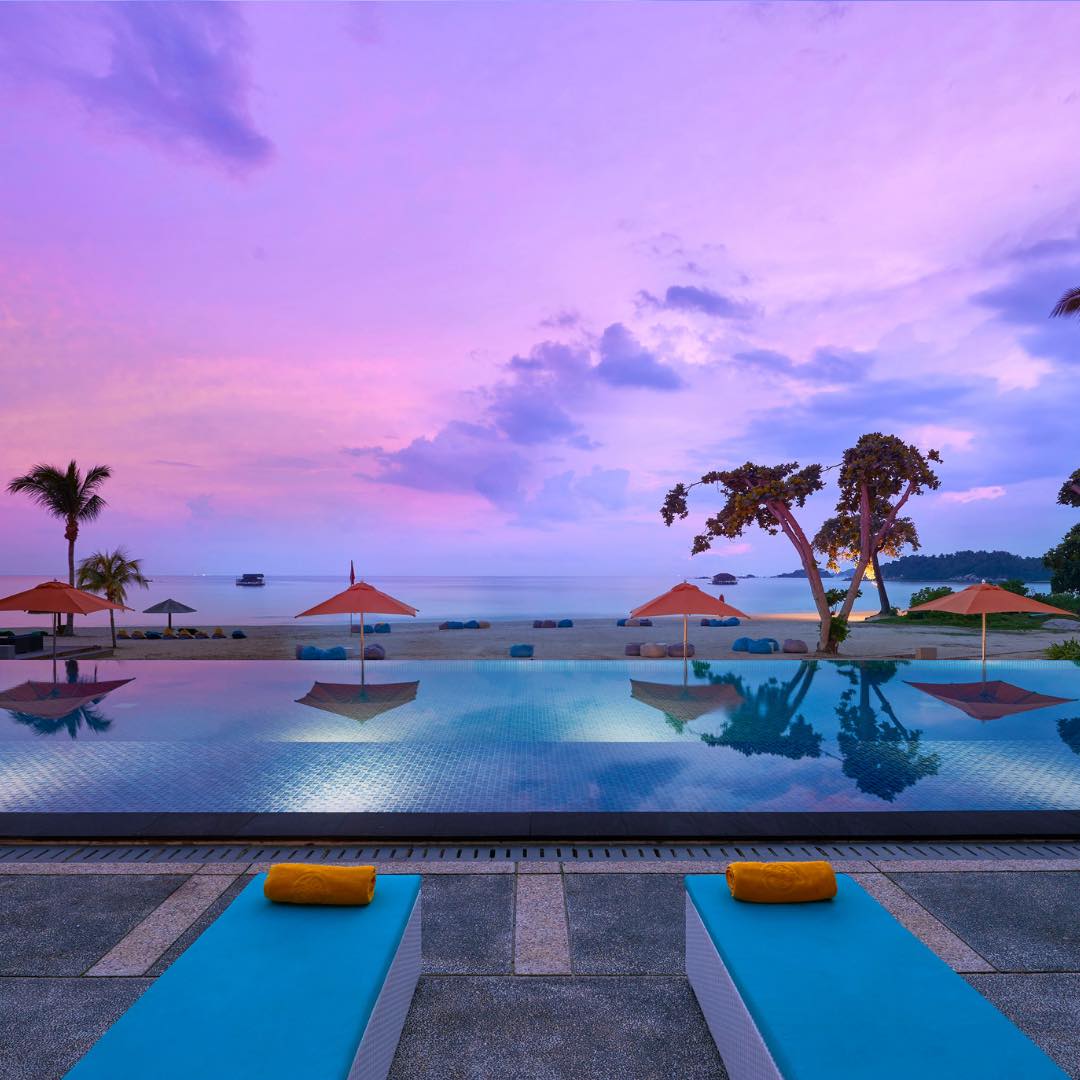 Source: Cassia Bintan Facebook
Bintan and Batam Resorts for Families or Friends
1. Deluxe Glamping Tents at The ANMON Resort Bintan
If you're heading to Bintan with friends and families, get ready for a glamping experience like no other.
With luxurious teepees that are equipped with Wifi, air conditioning, en-suite bathrooms and comfortable single or king-sized beds, everyone in your crew can spread out and truly relax. The icing on the cake is the option for a tentside BBQ.
Of course, with the resort's wide range of group-friendly activities, you won't be spending too much time in your room. You can choose to play in the indoor swimming pool, pump up your adrenaline at the water park, or unwind with a delightful massage. You'll also love the resort's outdoor cinema, which is great for chilling after a long day of activities.
Address: Jln. Raja Haji KM 01 No.88 Kawasan Pariwisata, Teluk Sebong Lagoi, Bintan, Kepulauan Riau 29155 Indonesia
Price: From S$360 / night
Hotel: Website | Facebook | Instagram
2. Trendy integrated beachfront living at Cassia Bintan
Cassia Bintan stands out for being the island's only integrated apartment-style resort, with colourful and uber-chic pads that include ocean-facing loft units and a fully equipped kitchenette for every unit. Choose to cook up a storm in your own private space with fresh ingredients from Market 23 or dine poolside at XANA Beach Club with groovy beats as the sun goes down.
Seamlessly weaving together beachfront living and holidaying, Cassia Bintan is one of three Banyan Tree brands at Bintan. It offers easy connections to the other facilities at Angsana Bintan and Banyan Tree Bintan, which include fun outdoor activities like ATV discovery tours, sunrise yoga, beach soccer and volleyball, jetski safari, and kids' movie nights.
Address: Jalan Teluk Berembang, Laguna Bintan Resort, Lagoi Bintan Resorts, Indonesia 29155
Price: From S$125 / night
Hotel: Website | Facebook | Instagram
3. All-inclusive fun for everyone at Club Med Bintan Island
Enjoy a rejuvenating break and treat your loved ones to a stay at the award-winning resort Club Med Bintan Island. With an all-inclusive fee, you'll get complete access to a myriad of activities and food options, which lets you build spontaneity and flexibility into your Bintan itinerary - especially when you're travelling in a large group or with your little ones in tow.
The resort has an emphasis on holistic wellness, so you'll find fresh pressed juices and healthy culinary options alongside aerial yoga sessions by the beach and deep tissue massages at Club Med Spa by CSpa. For adrenaline junkies, aim for the skies by signing up for a flying trapeze lesson or choose from one of many sports activities you can participate in either solo or with friends.
Address: Jalan Teluk Berembang, Laguna Bintan Resort, Lagoi Bintan Resorts, Indonesia 29155
Price: From S$842 / night
Hotel: Website | Facebook | Instagram
4. Immerse yourself in nature at Telunas Beach Resort & Private Island in Batam
Escape the hustle and bustle of city living and discover barefoot luxury at Telunas Private Island and Telunas Beach Resort. Located off Batam's coast via a short Malay fishing boat ride, the resorts' overwater bungalows and villas take inspiration from traditional Malay attap houses on stilts.
Telunas Beach Resort is your go-to option for an affordable yet authentic experience. The largest overwater bungalow has 3 bedrooms and a loft with four twin beds, making it an ideal pick for a large family gathering. The natural surroundings, combined with distinctive beach and outdoor activities such as raft building and Malay kompang lessons, turn the private island into a playground for the entire family. For a more exclusive experience, stay at one of the plush overwater villas at Telunas Private Island, which has spectacular views of the azure sea and the rugged terrain of Sugi Island.
Address: Pulau Sugi, Mentangun, Moro, Kabupaten Karimun, Kepulauan Riau 29462, Indonesia
Price: From S$85 / night at Telunas Beach Resort, and from S$400 / night at Telunas Private Island
Hotel: Website | Facebook | Instagram
5. Test your adrenaline at Turi Beach Resort in Batam
Savour some of Batam's most stunning scenery at Turi Beach Resort. Sprawling across 7.7 hectares of lush tropical greenery, the resort's village-style accommodation features over 140 modern rooms and suites with idyllic sea views. For ultimate luxury, the Riani Suite Beachfront has a private balcony for you and your loved ones to lounge on, along with a lavish jacuzzi for you to kick back and relax.
Well-known for its heart-thumping water sports, the resort is a perfect fit for thrill-seekers or kids with boundless energy. Embrace the sun and sea and try your hand at flyboarding, wakeboarding or parasailing. If you prefer to stay dry, an entire host of land activities await with paintball, archery, kids' flying fox and a child-friendly Kid's Club. Not to be missed is the resort's private 220 metre long jetty that stretches into the South China Sea, a scenic spot that's ideal for your Instagram shot.
Address: Jl. Hang Lekiu, Nongsa, Batam 29465 Indonesia
Price: From S$109 / night
Hotel: Website | Facebook | Instagram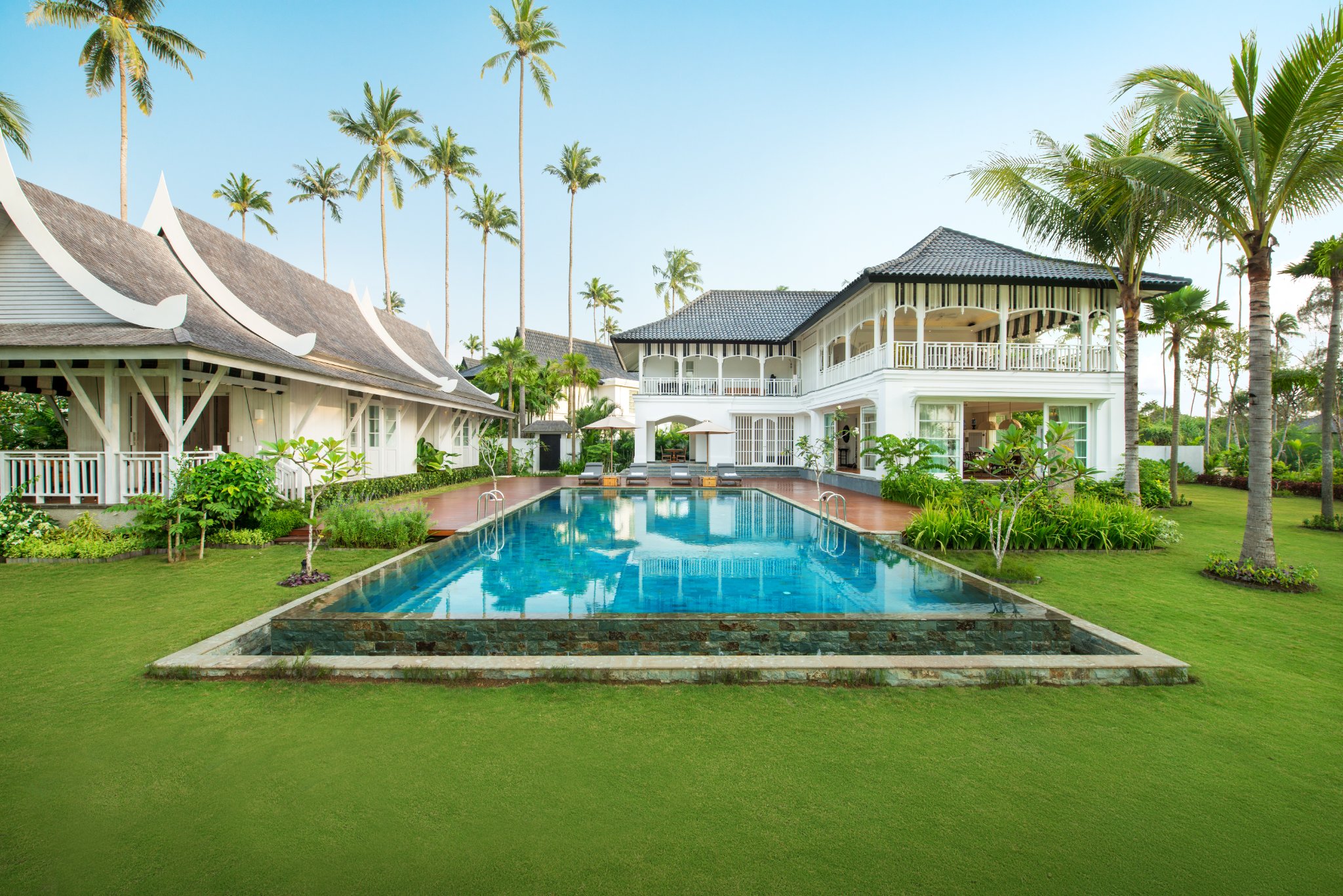 Source: The Sanchaya Facebook
Romantic Resorts in Bintan and Batam for Couples
1. Enjoy unparalleled luxury at The Sanchaya in Bintan
Make it a vacation to remember at The Sanchaya, Bintan's premier luxury resort with distinctive colonial-style architecture and dramatic, dark-wood furnishing. Think gentlemen's club meets tropical resort, where you'll be whisked into the VIP lounge immediately upon arrival. The estate's 29 villas and suites evoke unrivalled glamour, each fronted by a private veranda and a tranquil sea view. For grown-up luxury, the one-bedroom Lawan Thai Villa exudes romance and offers respite for couples seeking privacy.
If you ever get tired of lounging by the pool or the private beach, pamper yourself with a wine-tasting session for two in the resort's cellar or take an open-cockpit seaplane ride that'll make for the height of romance at dusk. If you'd prefer to take things private, retreat to your suite and luxuriate in a claw-foot bath tub with a romantic candle-lit bath ritual.
Address: Jalan Gurindam Duabelas, Plot 5, Lagoi Bay, P. Bintan, Kep. Riau 29155 Indonesia
Price: From S$605 / night
Hotel: Website | Facebook | Instagram
2. Plan an idyllic glamping retreat at Natra Bintan
Enjoy a romantic glamping experience at Natra Bintan, which plays host to over 100 fully air-conditioned safari-inspired tents with private patios boasting lagoon or garden views. The resort is set within Chill Cove @ Treasure Bay Bintan, a 90-hectare one-stop recreation hub that's also home to the extravagant Crystal Lagoon - Southeast Asia's first and largest manmade seawater lagoon. Here, you'll be spoilt for choice with a wide range of water activities around the lagoon, as well as adventurous treks into the nearby private mangrove nature park.
Up the romance by staying in the deluxe resort glamping tents that feature spacious living spaces, canopy beds and irresistible whirlpool tubs. You'll find luxurious outdoor rainforest showers, private barbecue dinners on your patio (upon request), and relaxing couple massages that aim to pamper you and your partner from head to toe.
Address: Jalan Raya Haji Km 01 Kawasan Pariwisata, Teluk Sebong Lagoi, Bintan Island, Indonesia, 29152
Price: From S$242 / night
Hotel: Website | Facebook | Instagram
3. Say 'I do' at HARRIS Resort Barelang Batam
Set against Batam's architectural icon, the Barelang Bridge, HARRIS Resort Barelang Batam boasts magnificent sea views in a locale that's set apart from other resorts in Batam. Among its 174 rooms and suites, the spacious Seaview rooms overlook the picturesque bay of Barelang while the two-storey HARRIS Villa is worth the splurge for its exclusive pool, airy balcony and private setting.
Most impressive is the Bay House, a glass cube situated along the coast beneath a sloping architectural landmark that's the perfect spot for a wedding proposal. Whether you decide to exchange vows or not, make the trip extra special with a romantic outdoor dinner at the laid-back Rocksalt Beach Club or a luxuriant treatment for two at Lawana Spa & Massage.
Address: Jl. Trans Barelang, Batam, Indonesia 29439
Price: From S$86 / night
Hotel: Website | Facebook | Instagram
4. Take a Mediterranean-style vacation at Montigo Resorts Nongsa in Batam
With its minimalistic whitewashed terraces overlooking the azure waters of the South China Sea, Montigo Resorts Nongsa is reminiscent of the famed Greek isle of Santorini. This tropical haven boasts over 100 modern villas, nestled on the crest of the hill or surrounded by lush landscaped gardens. Each well-appointed villa has a guaranteed view of the sea, impeccable amenities and a private infinity pool where you can master the art of doing nothing with your significant other.
Located along Batam's northeastern coast, the laid-back district of Nongsa is ideal for couples seeking privacy and romance. Go on a cycling tour to a nearby village with a Montigo guide or take a romantic ride around Nongsa's Heritage Village in Montigo's vintage Volkswagen. After spending a day in the sun, cool off in the Montigo Spa with one of their Javanese and Balinese treatments - a specialty here.
Address: Jl. Hang Lekir Nongsa Batam, Indonesia
Price: From S$239 / night
Hotel: Website | Facebook | Instagram
5. Escape to a hidden oasis in Batam at Tempat Senang Boutique Hotel & Spa
Disconnect from the outside world and spend quality time with your partner at Tempat Senang Boutique Hotel & Spa. Nestled in a verdant hill, you'll be surrounded by the sounds of nature and nothing else. Pick from one of their 12 uniquely themed rooms and villas, which include a standalone Javanese Joglo with artfully constructed teak furnishing and a Tree House built around a majestic coconut tree. Begin your romantic weekend with a milk bath in your room's couples jacuzzi along with a candlelight dinner.
The resort's spa is the beating heart of their boutique retreat, and they take their spa menu very seriously. The fresh plant-based and eco-friendly spa products are handmade in their very own laboratory and available for purchase. Start your wellness journey in their specially designed couples room with a rejuvenating Half-Day (3-hour) or Full-Day (6-hour) spa.
Address: Jalan KK Indah Puri No. 15, Patam Lestari, Sekupang, Patam Lestari, Kec. Sekupang, Kota Batam, Kepulauan Riau 29400, Indonesia
Price: From S$531 / night
Hotel: Website | Facebook | Instagram
Now that you have the best Bintan and Batam resorts at your fingertips, it's time to start making your travel plans! No matter if you're a couple on a romantic getaway or a family on the hunt for a kid-friendly vacation, you'll be spoilt for choice with a wide variety of infinity pools, beachfront villas and tailor-made services.
For peace of mind on your trip, ensure that you stay protected for your trip by purchasing adequate travel insurance. FlexiTravel Hourly Insurance1 lets travellers purchase insurance coverage as needed by the hour2 with prices as low as $0.30/hour and capped at $3/day, making this an affordable option for short or spontaneous trips. Learn more about what you should look out for before setting off on your next getaway to Bintan or Batam.
Simply download the 'My Income' mobile app to purchase FlexiTravel Hourly Insurance.
1 Premiums will be charged on an hourly basis subject to a minimum premium payable that is equivalent to 6 hours of coverage.
2 You must sign up for the coverage prior to leaving Singapore and end your coverage upon arrival in Singapore through My Income app.
This article is meant purely for informational purposes and should not be relied upon as financial advice. The precise terms, conditions and exclusions of any Income products mentioned are specified in their respective policy contracts. For customised advice to suit your specific needs, consult an Income insurance advisor. This advertisement has not been reviewed by the Monetary Authority of Singapore. ​
These policies are protected under the Policy Owners' Protection Scheme which is administered by the Singapore Deposit Insurance Corporation (SDIC). Coverage for your policy is automatic and no further action is required from you. For more information on the types of benefits that are covered under the scheme as well as the limits of coverage, where applicable, please contact Income or visit the GIA/LIA or SDIC websites (www.gia.org.sg or www.lia.org.sg or www.sdic.org. sg).