Best Budget-Friendly Countries to Visit in Asia for Multi-Gen Families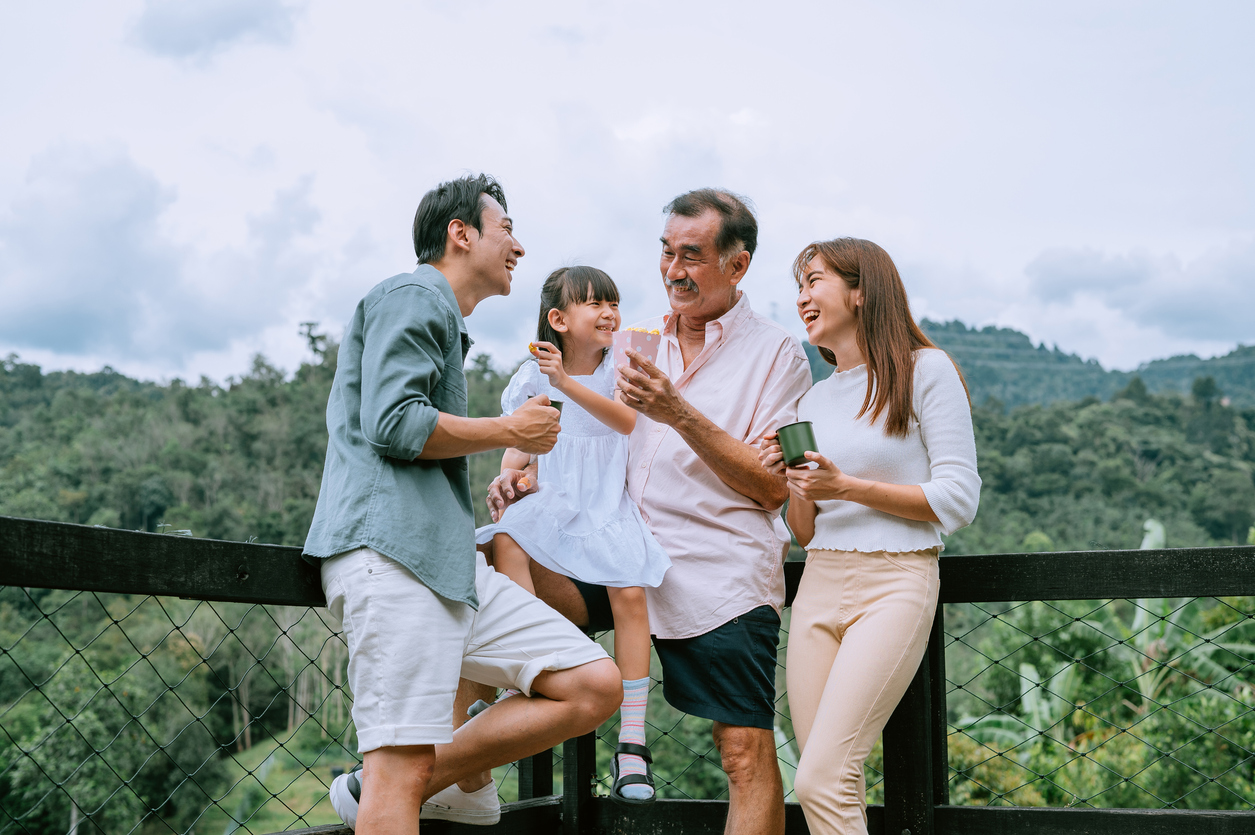 After months or even years of postponing vacation plans due to the COVID-19 pandemic, multi-generation families are now more eager than ever to embark on memorable journeys together. If you're seeking affordable and underrated travel destinations in Asia, there are some great-value spots where Singaporeans can take their entire family while sticking to their holiday budgets. Just because you're travelling with multiple generations doesn't mean you have to pay a premium. From bustling cities full of culture and cuisine to tranquil beach retreats laced with natural attractions, there are plenty of cheap destinations in Asia that offer something special for kids and adults alike.
In this blog, we will highlight some of the best budget-friendly countries in Asia where families can explore unique cultures and experience all this continent has to offer. In addition, we will provide valuable tips for travelling as a multi-gen family, ensuring an enjoyable vacation for everyone involved.
Going on a family vacation is an opportunity to create unforgettable memories and strengthen the bonds between generations. While popular tourist destinations offer excitement, there's something truly special about discovering hidden gems that remain off the beaten path.
For your convenience, we have curated a list of five extraordinary holiday destinations to visit in Asia, perfect for a family vacation from Singapore. These hidden gems will not only captivate your senses but also provide unique and cheap experiences that cater to the diverse interests and ages of every family member. Get ready to explore these countries that will leave a lasting impression on your multi-gen family.
Destination #1: Yogyakarta
Yogyakarta, situated on the captivating island of Java in Indonesia, beckons multi-gen families with its enticing blend of adventure, cultural heritage, and natural beauty. This enchanting city offers an unforgettable family vacation where you can create cherished memories and immerse yourselves in a world of thrilling activities. Here are some delightful experiences that await you in Yogyakarta:
Family-friendly activities that will entertain everyone:
Embark on an off-road adventure to Merapi Mountain: Get ready for an exhilarating journey as you hop into a Jeep and traverse the rugged terrains surrounding the majestic Mount Merapi. Marvel at the awe-inspiring landscapes, breathe in the fresh mountain air and witness nature's raw beauty up close.
Witness mesmerising sunsets at Wediombo Beach: Take a leisurely stroll along the golden shores of Wediombo Beach and let the stunning sunset cast its magical spell upon you. The vibrant hues painting the sky will leave you in awe, creating a picture-perfect moment to be treasured forever.
Indulge in culinary delights along Jalan Kaliurang: Embark on a delectable culinary adventure with your loved ones along the bustling Jalan Kaliurang. Explore the vibrant street food scene, tantalising your taste buds with a diverse array of local delicacies. From savoury snacks to mouthwatering desserts, Yogyakarta's street food scene promises to satisfy every palate.
Exciting activities that cater to the younger generation:
Fun-filled water adventures at Jogja Bay: Dive into a world of aquatic excitement at Jogja Bay Waterpark, where a multitude of thrilling water slides, pools, and attractions await. Watch the laughter and smiles of your children as they splash their way through the water wonderland, creating joyful memories that will last a lifetime.
Discover the underwater wonders through snorkelling: Immerse yourselves in the enchanting marine world of Yogyakarta by embarking on a snorkelling adventure. Explore the nearby marine spots teeming with vibrant coral reefs and an abundance of colourful marine life. Witness the awe-inspiring beauty beneath the waves, creating special moments of discovery together.
Yogyakarta's rich cultural heritage and adventurous spirit make it a perfect destination for multi-gen families seeking thrilling experiences and meaningful connections. From adrenaline-pumping adventures to delightful culinary explorations, this hidden gem of Asia offers something for everyone in your family. So pack your bags, embark on an exciting family vacation, and let Yogyakarta's charm captivate your hearts as you create cherished memories that will be treasured for years to come.
Destination #2: Khao Kho
If your family shares a deep appreciation for nature's wonders and seeks to immerse yourselves in picturesque landscapes, look no further than Khao Kho, a hidden gem nestled in the heart of Thailand. Tucked away amidst majestic mountains, this serene destination offers breathtaking views and a tranquil ambience that will captivate your senses. Embark on a remarkable vacation with your loved ones and indulge in the following activities that Khao Kho has to offer:
Family-friendly activities that will excite every member of your clan:
Catch the majestic sunrise or stargaze at Phu Thap Berk: Ascend to the stunning viewpoint atop Phu Thap Berk and witness nature's grandeur unfold before your eyes. Start your day with a dazzling sunrise that bathes the landscape in golden hues, or spend a serene evening marvelling at the twinkling stars that illuminate the night sky.
Be inspired by religious art and sculpture at Wat Pha Son Kaew: Step into a world of divine beauty as you explore Wat Pha Son Kaew, a temple adorned with intricate architectural details and awe-inspiring religious art. Let the intricate craftsmanship and spiritual ambience leave an indelible impression on you.
Pose amidst pretty blooms at Tanrak Talaymok Cafe/Blue Sky Gardens and Mua Lek Sunflower Fields: Immerse yourselves in a vibrant sea of blooming flowers at Tanrak Talaymok Cafe or Blue Sky Gardens. Strike a pose amidst nature's colourful canvas and capture precious family moments that will be cherished forever. Additionally, venture to Mua Lek Sunflower Fields, where endless fields of sunflowers create a beautiful backdrop for photos.
Engage in strawberry picking: Embark on a delightful adventure of strawberry picking at local farms, where you can pluck the ripest, juiciest strawberries and indulge in their delectable sweetness. This hands-on activity allows you to connect with nature and savour the flavours of the land.
Travel back in time to the Victorian era at Golden Hill Village: Step into a bygone era as you explore Golden Hill Village, a charming enclave that transports you to the enchanting Victorian era. Wander through the village's quaint streets lined with picturesque, Victorian-style buildings, and feel the nostalgia seep into your soul. Take a moment to visit the cosy coffee shops dotted around the village, where you can sip on aromatic brews and savour delectable pastries while basking in the serene atmosphere.
Khao Kho's natural beauty and peaceful surroundings provide the perfect retreat for nature-loving multi-gen families seeking an escape from the hustle and bustle of city life. The lush mountains, sprawling valleys, and refreshing breezes provide an idyllic backdrop for creating lasting memories together. Whether you venture out on an early morning hike to witness the sun's first rays painting the horizon or spend evenings marvelling at the star-studded sky, Khao Kho offers a serene setting for quality family time on vacation.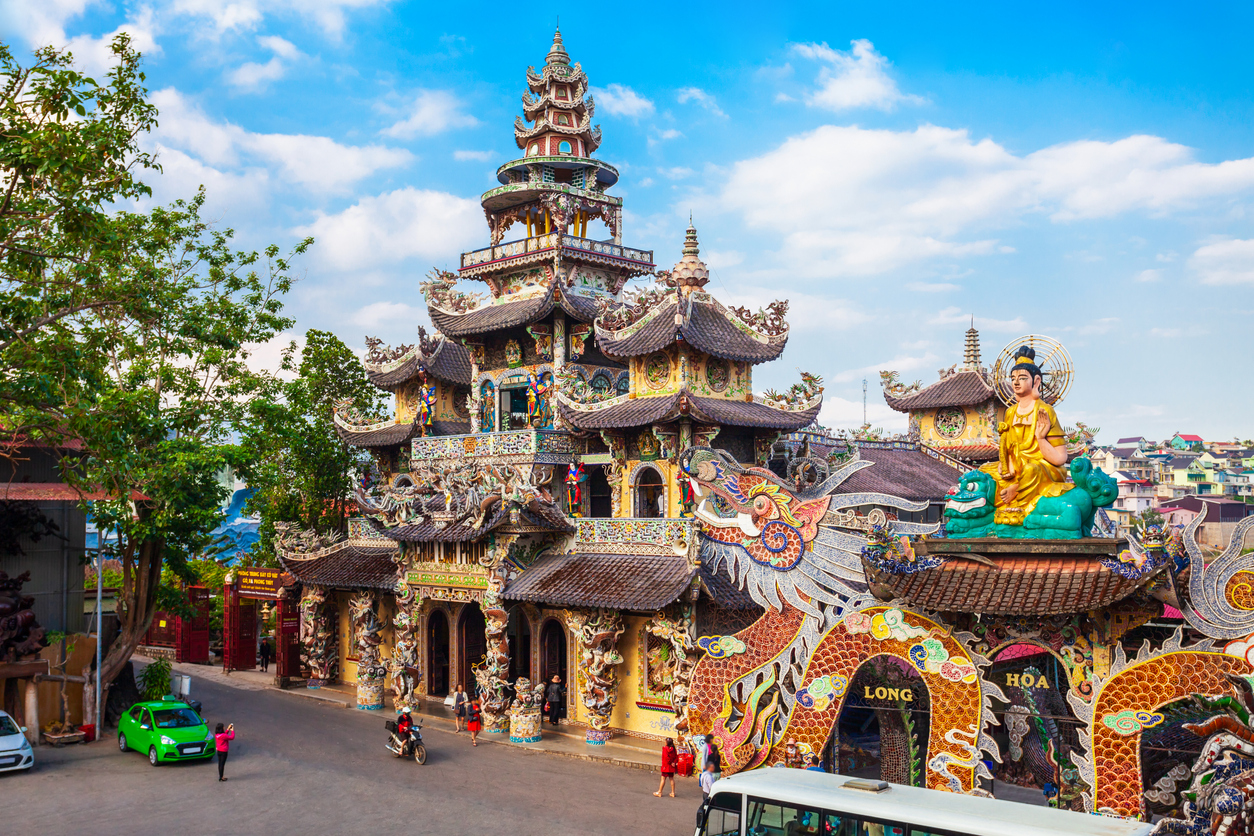 Destination #3: Dalat
Planning a short family vacation and searching for a hidden gem that combines natural beauty, a laid-back atmosphere, and a variety of activities for all ages? Look no further than Dalat in the Central Highlands of Vietnam. This charming destination offers a perfect retreat for families seeking a relaxing and picturesque getaway from Singapore. Here are some recommendations for activities in Dalat that will make your family vacation truly special:
Family-friendly activities that cater to everyone's interests:
Visit the Crazy House: Step into a whimsical fairytale at the Crazy House, where you can explore its fascinating and unconventional architectural wonders. Marvel at the imaginative design and let your imagination run wild in this unique guesthouse.
Discover the Linh Phuoc Pagoda and French Quarter: Immerse yourselves in Dalat's rich cultural heritage by visiting the intricate Linh Phuoc Pagoda and wandering through the enchanting French Quarter. Admire the temple's beautiful architecture and explore the quaint streets lined with colonial-era buildings.
Picnic at the Valley of Love: Enjoy quality time with your loved ones amidst the breathtaking landscapes of the Valley of Love. Set up a picnic blanket, savour some delicious snacks, and soak in the serene surroundings while creating lasting memories together.
Explore local bites at the Central Market: Take your taste buds on an adventure at the vibrant Central Market, where you can indulge in a gastronomic journey. Sample a plethora of local delicacies, try fresh produce, and discover the flavours of Dalat's culinary scene.
Activities that will thrill the younger generation:
Explore Datanla Waterfalls: Embark on an exciting adventure with the little ones at Datanla Waterfalls. Take an electrifying ride on the alpine coaster, zipline through the amazing greenery, or hike to the mesmerising waterfalls.
Trek to the Elephant Falls: Engage in a family-friendly trek to the magnificent Elephant Falls, where you'll be greeted by the sight of cascading water and lush green forests. Capture stunning photos, admire the natural wonders, and enjoy the tranquillity of this picturesque spot.
Dalat's tranquil atmosphere, family-friendly attractions, and breathtaking landscapes make it an ideal holiday destination for multi-gen families seeking a cheap and enjoyable vacation away from Singapore. Create cherished memories and embark on unforgettable adventures in this hidden gem.
Destination #4: Chiang Mai
Chiang Mai, situated in northern Thailand, is a hidden gem renowned for its vibrant arts and cultural scene. It offers a perfect blend of tradition and modernity, making it a captivating destination for art and culture-loving multi-gen families. Here are some recommendations for activities in Chiang Mai to treat your family during your short getaway from Singapore:
Family-friendly activities that celebrate art and culture:
Have fun taking photos in the Art in Paradise 3D Museum: Step into a world of optical illusions and interactive art installations at the Art in Paradise 3D museum. Pose with incredible 3D paintings that will trick the eye and capture hilarious and memorable family photos.
Learn about sustainability and paper making at Elephant Poo Poo Paper Park: Go on an educational adventure at the Elephant Poo Poo Paper Park, where you can discover the unique process of making paper from elephant dung. Engage in hands-on activities, learn about sustainability, and create your own eco-friendly souvenirs.
Activities that will captivate the younger generation:
Visit the breathtaking Doi Inthanon National Park: Explore the natural beauty of Doi Inthanon National Park, home to the highest peak in Thailand. Take nature walks through lush forests, be amazed at stunning waterfalls, and admire the diverse flora and fauna. Engage in birdwatching and discover the wonders of this enchanting national park.
Chiang Mai's vibrant arts scene, cultural richness, and natural beauty make it an ideal destination for multi-gen families seeking immersive experiences and artistic inspiration.
Destination #5: Hanoi
Families searching for a captivating destination that combines history, culture, and natural beauty, are in luck. Hanoi, the capital city of Vietnam, could be the perfect place for your next family vacation. This hidden gem offers a plethora of attractions that will delight art and culture-loving multi-gen families. Immerse yourself in the vibrant energy of Hanoi and explore the following activities that the city has to offer:
Family-friendly activities that showcase Hanoi's unique charm:
Explore the quaint Train Street: Witness a remarkable spectacle as trains pass through narrow residential streets, creating a truly unique experience. Watch as the city seamlessly intertwines its daily life with the railway system, capturing a glimpse of Hanoi's rich history and local culture.
Visit a night market in the Old Quarter: Dive into the bustling atmosphere of Hanoi's night markets located in the vibrant Old Quarter. Immerse yourself in the sights, sounds, and aromas as you navigate a maze of stalls offering a wide range of local products, street food, and captivating cultural performances.
Rent a swan boat and wander around Tran Quoc Pagoda: Indulge in a serene boat ride on the picturesque West Lake, surrounded by breathtaking views. Admire the tranquillity of Tran Quoc Pagoda, one of Vietnam's oldest Buddhist temples, nestled on a small island. Explore its intricate architecture, soak in the spiritual ambience, and spend precious quality time with your family.
Learn about history and culture at the Vietnam Military History Museum: Embark on a captivating journey through Vietnam's rich history and gain a deeper understanding of its military past. Explore exhibits and artefacts that highlight the struggles, victories, and resilience of the Vietnamese people. This educational experience provides an opportunity for multi-gen families to connect with the country's heritage.
Hanoi's blend of history, culture, and bustling energy makes it an excellent option for multi-gen families seeking to immerse themselves in art, culture, and heritage on their family vacation.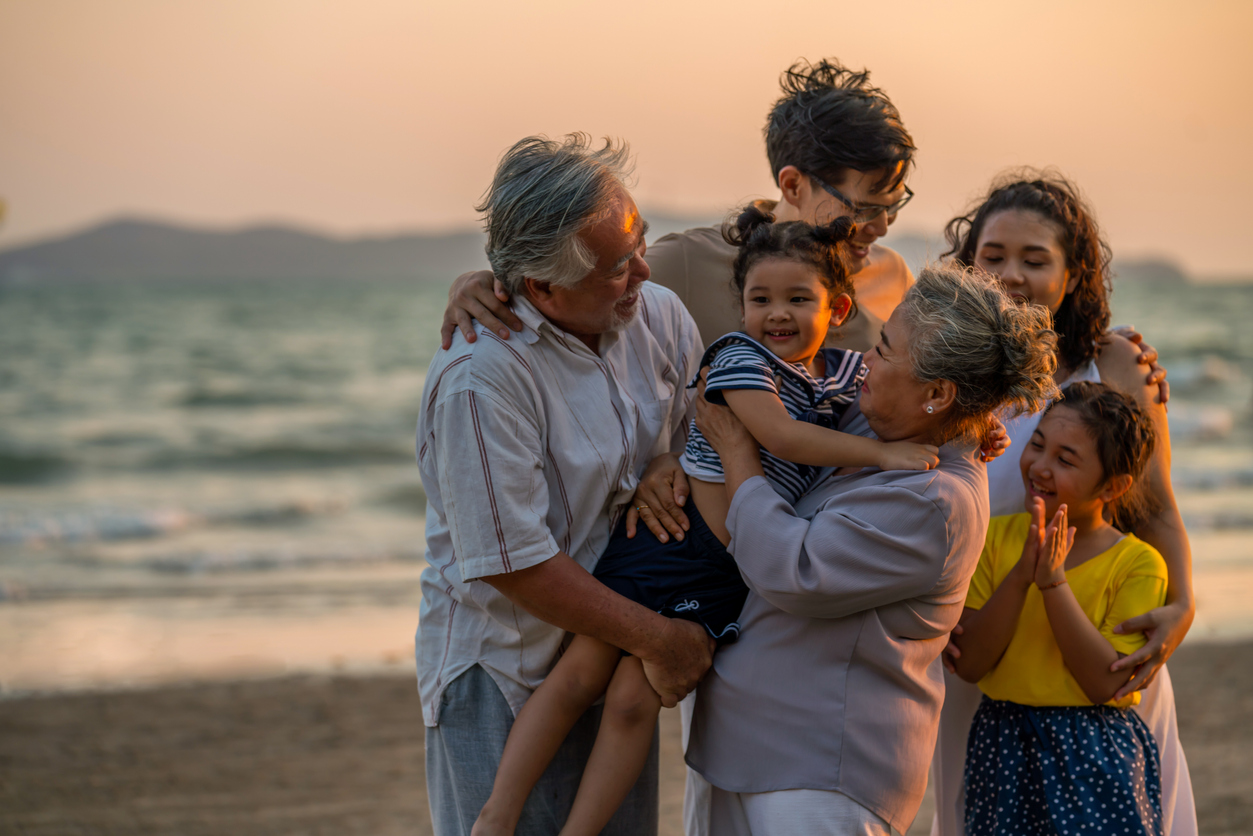 Travel Tips for a Stress-Free Family Vacation
Whether it's your first or fifth time travelling with kids or the elderly, planning a family vacation is always challenging. However, with some helpful travel hacks, you can create a smooth-sailing and stress-free experience while enjoying your short getaway from Singapore.
1. Acquire Travel Insurance in Singapore
When planning your family vacation, don't forget the importance of travel insurance, as it allows you to travel with peace of mind. Income Insurance offers a range of comprehensive plans to provide you with the coverage you need. With our per-trip plans, you can enjoy:
Two times more COVID-19 coverage for overseas transport and accommodation expenses1.
Coverage for overseas medical expenses2, unexpected trip cancellations and travel inconveniences such as damage or loss of luggage.
Meanwhile, families that travel frequently can opt for our yearly travel insurance plan to take advantage of year-round coverage, with convenient one-off activation for all of your trips within the year. Through this, you can travel with confidence, whether for a short weekend getaway or an extended vacation from Singapore.
For individuals with pre-existing conditions, fret not, for the Enhanced PreX Travel Insurance can also provide coverage to meet your needs. This policy covers emergency medical expenses, pre-existing condition-related medical treatments, and even claims arising from the shortening of your trip due to the pre-existing medical conditions3.
With this plan, not only seniors but individuals of all ages can travel with confidence, knowing they are protected in case of any unforeseen circumstances. Investing in travel insurance with coverage for pre-existing conditions is essential to ensure you receive the necessary support and assistance when you need it the most. Don't overlook this crucial aspect of your trip, and enjoy your journey with added reassurance.
2. Manage Your Expectations
Managing expectations and fostering open communication are key to ensuring a memorable experience for all involved when planning a family vacation. Whether you're seeking travel tips or deciding on countries to visit, taking into account the needs and interests of your multi-generational family is vital. Engage in meaningful conversations with all family members to discuss your travel goals and preferences. By considering the unique needs and limitations of each generation, creating an itinerary that caters to everyone's desires can be a breeze. Not to mention, finding a balance between activities that appeal to different age groups will help you make the most of your vacation.
3. Come Up with Safety Plans
Prioritising safety is paramount when embarking on a family vacation. As you prepare for your short getaway from Singapore, take the necessary steps to create a safety plan that addresses the specific needs of your multi-generational group. Start by providing children with emergency contact information, including local authorities and the contact details of your accommodation. In case of any unforeseen circumstances, it's vital that children know whom to reach out to for help. Encourage open discussions about safety protocols and educate them on the importance of following guidelines.
Establishing meeting points is another critical aspect of your safety plan. Designate easily identifiable spots where family members can regroup in case anyone gets separated. This is particularly important when exploring busy tourist attractions or crowded areas. By having predetermined meeting points, you can minimise stress and ensure a quick reunion if anyone wanders off on the family vacation.
In addition to meeting points, establish clear guidelines for your family's safety. Discuss topics such as staying together in public places, avoiding unsafe areas, and practising caution while swimming or engaging in adventurous activities. Initiate regular check-ins and reinforce the importance of looking out for one another throughout the trip. By setting these guidelines, you create a secure environment that allows everyone to enjoy the vacation without unnecessary worries.
Travel Insurance in Singapore: Enjoy a Worry-Free Journey with Income Insurance
When leaving for a family vacation from Singapore, ensuring the safety and well-being of your loved ones is of utmost importance. That's why it's essential to ensure your chosen travel insurance offers adequate coverage. With Income's travel insurance plans, you can easily enjoy a stress-free journey and protect your family against unforeseen circumstances that may arise during your travels.
While choosing the right plan is challenging, fret not as our dedicated team is ready to assist you in choosing the best travel insurance plan for your family. Whether you seek an affordable, basic policy for a short getaway with your multi-gen family or one with comprehensive coverage, our team is here to provide professional advice and recommendations based on your requirements. We understand the unique needs and concerns of families travelling together, and our goal is to ensure that you have a smooth and enjoyable vacation from start to finish.

Don't miss out on the opportunity to make your family vacation a reality in the remarkable corners of Asia. With Income Insurance, you can focus on making the most of your holiday, knowing that you are protected should any unexpected situations occur. Purchase your travel insurance today or contact us to learn more about our plans.
1 Based on comparison of benefit limits for an insured person under Income's Travel Insurance Preferred Plan and Enhanced PreX Prestige Plan for trip cancellation and trip shortening against similar plans in Singapore.
2 For Enhanced PreX Basic, Superior and Prestige plans, we will not pay the first $100 for each visit of your outpatient medical treatment received overseas as well as overseas outpatient medical treatment by a Chinese medicine practitioner or a chiropractor arising from your pre-existing medical condition or any sickness you knew about. Please refer to the policy conditions for the sub-limit per visit to a Chinese medicine practitioner or a chiropractor.
3 We do not cover claims arising from a pre-existing medical condition where you have been given a terminal prognosis with a life expectancy of under 12 months. Please refer to policy conditions for the precise definition of pre-existing medical conditions.
This article is meant purely for informational purposes and should not be relied upon as financial advice. The precise terms, conditions and exclusions of any Income products mentioned are specified in their respective policy contracts. For customised advice to suit your specific needs, consult an Income insurance advisor. This advertisement has not been reviewed by the Monetary Authority of Singapore. ​
These policies are protected under the Policy Owners' Protection Scheme which is administered by the Singapore Deposit Insurance Corporation (SDIC). Coverage for your policy is automatic and no further action is required from you. For more information on the types of benefits that are covered under the scheme as well as the limits of coverage, where applicable, please contact Income or visit the GIA/LIA or SDIC websites (www.gia.org.sg or www.lia.org.sg or www.sdic.org. sg).