How Much Does a Private Nurse For Elderly Care Really Cost?
When it comes to your family, you'll do whatever it takes to ensure their continued health and well-being. After all, your parents did the same for you during your growing up years by providing you with shelter, security and stability. Now, as your parents get older and begin to experience health-related issues that come with age, you'll need to think about how to give them the best care in their golden years.

Unfortunately, there may come a time when they won't have the strength and mobility to do everyday tasks due to age or illness. This includes activities like going up and down the stairs, household chores, taking medication, and even taking care of their own personal hygiene. If this is the case, you'll need to consider providing your parent(s) with elderly care support. This can be a touchy subject, so involving your siblings or other close family members into the conversation with your parents will help.

Nursing homes and elderly day care are options, especially if you've found yourself having difficulty in the role change from child to caregiver. But there are many factors to consider such as vacancy, cost and location. Alternatively, there are two other options that enable your parents to continue living with you or at their own home — hiring a private nurse or a live-in caregiver.
Hiring a Private Nurse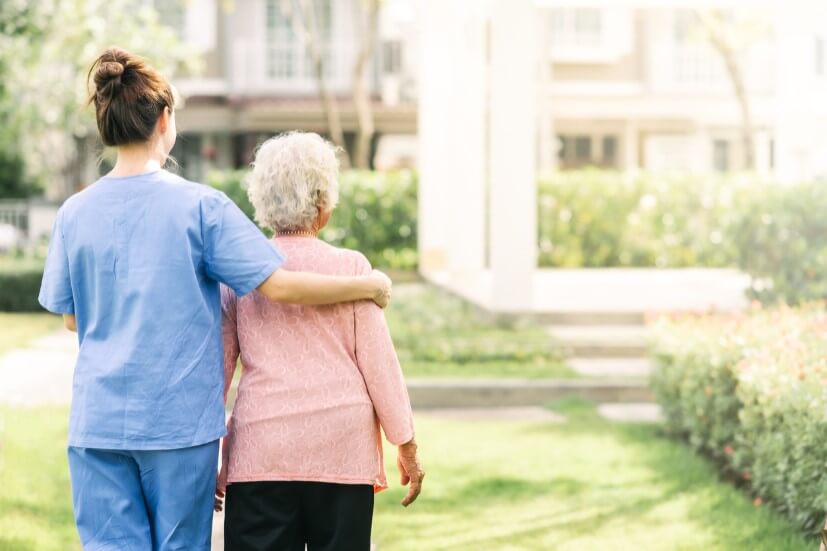 Private nurses are trained and licensed health care professionals with experience in providing patient medical care. This includes home nursing care procedures like administering medication, changing feeding tubes and urinary catheters, removing staples/stitches, wound dressing and monitoring the general health condition of patients. Unlike live-in caretakers, private nurses typically only provide care on an hourly, half-day or full-day basis during "normal" workday hours (i.e. between 8am and 6pm).

Hiring a private nurse is easy with online resources like the Agency for Integrated Care's (AIC) online E-care locator, enabling you to search for home nursing care providers by region (among other elderly care services) so you can find a reputable agency that's closer to where your parents live.
How much does it cost to hire a private nurse? 
The cost of hiring a private nurse primarily depends on how much elderly care support they need (i.e. hourly, half-day or full-day) and whether they qualify for any government-funded subsidies, which can reduce the cost substantially.

Although the cost of hiring a private nurse varies by agency, the average cost typically ranges from around $25+ an hour at the highest subsidised rate to $125+ an hour at the unsubsidised rate — such is the case with NTUC Health's rates for home nursing care. However, this rate is only for "normal" working hours from 8am to 6pm. The rate for "after hours" or night shift care can easily double from $50+ an hour at the highest subsidised rate to $230+ an hour at the unsubsidised rate.

As for the Ministry of Health's (MOH) means-based subsidy — here's a table showing the subsidies for both Singapore Citizens (SCs) and Permanent Residents (PRs):
Current Subsidy Levels for Residential LTC Services
Monthly Capita Per Household (PCHI)1
SCs
PRs
No PCHI
Annual Value2≤ $13,000: 75%
Annual Value > $13,000: 0%
Annual Value≤ $13,000: 50%
Annual Value > $13,000: 0%
$800 and below
75%
50%
$801 to $1,200
60%
40%
$1,201 to $1,900
50%
30%
$1,901 to $2,000
40%
20%
$2,001 to $2,800
20%
10%
$2,801 and above
0%
0%
Source: MOH
Hiring a Live-in Caregiver
Live-in caregivers aren't trained and licensed nurses, but they may have nurse aid training or certifications related to nursing and/or caregiving either from their home countries or through their agency. Live-in caregivers shouldn't be confused with domestic helpers. While they are capable of doing some housekeeping tasks, their primary responsibility is to monitor the health of those in their care. In addition to monitoring the health medical condition of those under their care, live-in caregivers also perform home personal care duties such as helping with daily hygiene tasks, housekeeping, medication assistance, and providing social and emotional engagement. Another key difference between a private nurse and a live-in caregiver is that nurses may be harder to find and have higher hourly rates for "after hours" or night shift care — while live-in caregivers can provide 24/7 care and support.

Hiring a live-in caregiver is also easier with the help of online resources like AIC's aforementioned online E-care locater.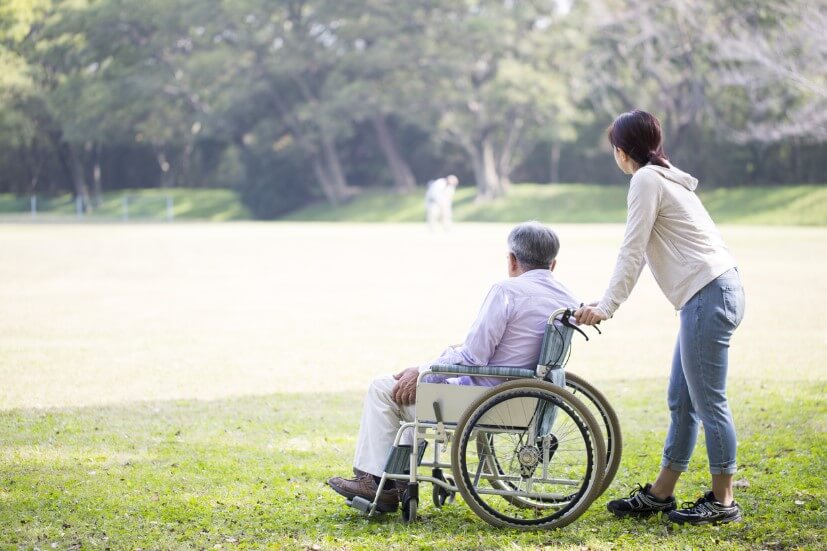 How much does it cost to hire a live-in caregiver?
The cost of hiring a live-in caregiver may vary based on the agency and the experience of the live-in caregiver requested, but in general, the monthly salary you can expect to pay a live-in caregiver will range from $600+ to $1,000+. There's also a Foreign Domestic Worker (FDW) levy that needs to be paid, but it's possible to pay the concessionary rate of $60 per month if you qualify. You can apply for the concessionary rate on the Ministry of Manpower website here. If your parents have disabilities that prevent them for performing daily living activities such as eating, showering and walking, you can apply through the AIC website here.

In addition, you'll also need to pay an agency fee, which can range from $1,000+ to $2,500+ that covers any work permit applications, medical check-ups, consultations, follow-up observations.

To help with the cost of hiring a live-in caregiver, MOH offers the Home Caregiving Grant (HCG), which provides a monthly cash payout of up to $200 to defray the monthly cost of home caregiving. You can apply for grant on the AIC website's HCG application page.
Ready to Learn More About How You Can Protect Your Parents?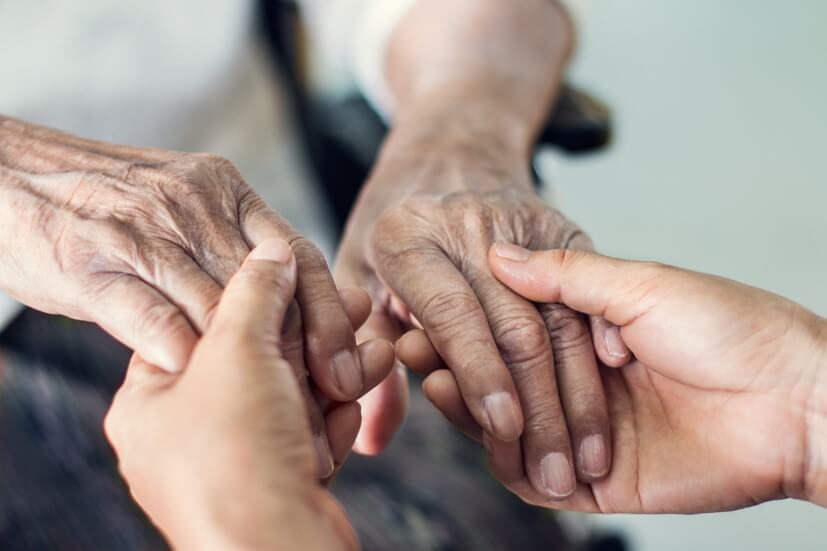 An unfortunate part of ageing is that as we get older, our bodies become more susceptible to injury due to simple accidents — like tripping over something or losing your balance. In addition, recovery periods will also take longer. This is the reality that your parents will face as they get older. That's why it's important to protect your parents with an elderly-focused personal accident plan like Income's SilverCare. This policy aims to provide your parent's silver years and includes benefits for home care, mobility aids, physiotherapy and home modification among other benefits.

To learn more about how Income's SilverCare can help protect your ageing parents against unforeseen accidents, speak to an advisor today.
1 Monthly PCHI is computed as the total gross household monthly income divided by the total number of family members living together in the household. Gross monthly household income includes basic employment income, trade/self-employed income, overtime pay, allowances, cash awards, commissions, and bonuses.
2Annual Value is the estimated gross annual rent of a property if it were to be rented out, excluding furnishings and maintenance fees. It is determined by IRAS, and may be checked via mytax.iras.gov.sg.
This article is meant purely for informational purposes and should not be relied upon as financial advice. The precise terms, conditions and exclusions of any Income products mentioned are specified in their respective policy contracts. For customised advice to suit your specific needs, consult an Income insurance advisor. This advertisement has not been reviewed by the Monetary Authority of Singapore. ​
These policies are protected under the Policy Owners' Protection Scheme which is administered by the Singapore Deposit Insurance Corporation (SDIC). Coverage for your policy is automatic and no further action is required from you. For more information on the types of benefits that are covered under the scheme as well as the limits of coverage, where applicable, please contact Income or visit the GIA/LIA or SDIC websites (www.gia.org.sg or www.lia.org.sg or www.sdic.org. sg).