Essential Guide to Working From Home and Staying Sane
Not so long ago, our work-from-home setup was considered a make-do arrangement for what seemed like an unprecedented time due to Covid-19. By now the novelty of using the word unprecedented has long worn off, but what remains is our desire for flexible working arrangements to continue.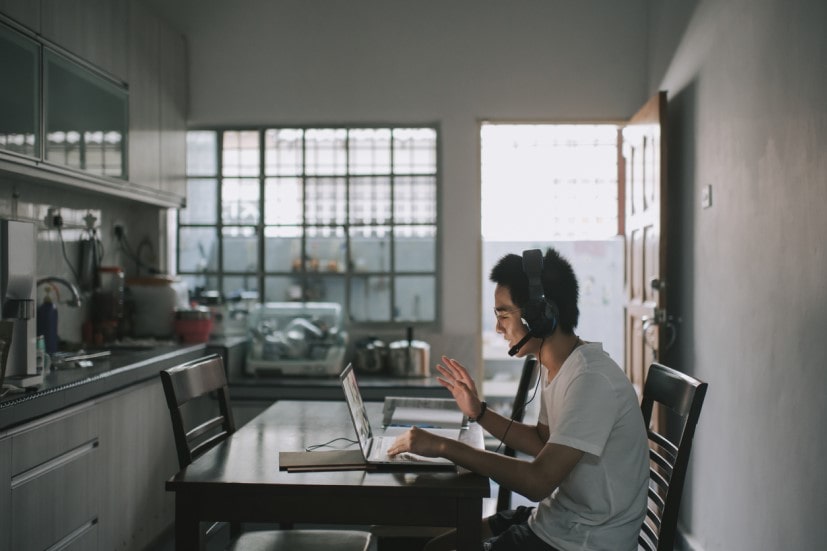 An estimated 8 out of 10 workers in Singapore now prefer to work from home or conduct flexible working arrangements, according to a survey by The Straits Times. Undeniably, the future of work is changing.

But how well is your home office setup poised for such a drastic transition? Here are a few handy tips to optimise your living (and working) space for work-from-home productivity, so you can stay sane for the long term.
Get into your work routine.
If you haven't already, set boundaries between work and life. Real offices are designed to do this: a cubicle, a desk, the office pantry, meeting rooms. Though you might not be redesigning your home any time soon, you can make small tweaks to your work-from-home setup to draw clear delineations within the limited space of your home.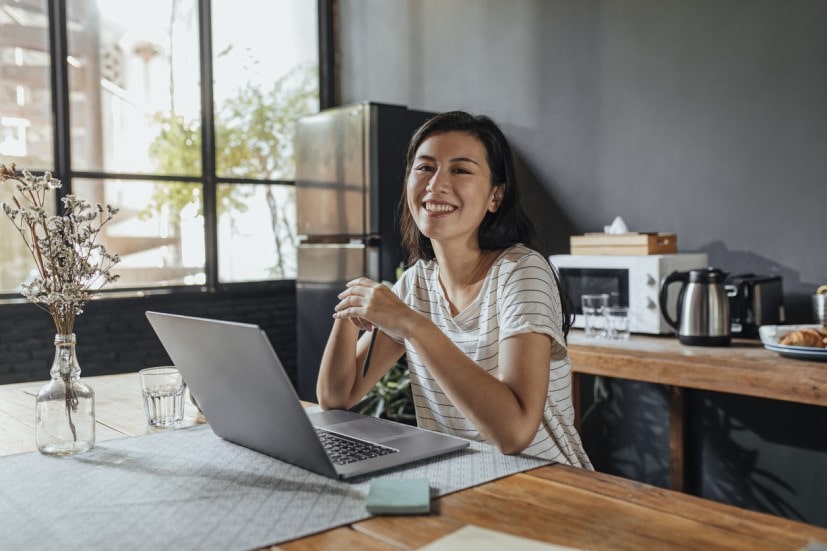 Conduct your day the way you would at a regular office. For example, wake up at a regular time and make your usual cup of coffee in the morning if that helps you get into 'work mode'.

Put in place what are called "transition rituals", like taking a walk when your brain gets fogged or simply disengaging for a short break, when you need to switch tasks or dive into work. Pick rituals that stimulate your senses away from the desk, like spraying a light fragrance to signal the end of the day.

The inverse is also true. Find a truly work-free space in your home, such as your bed or your couch, and keep it that way. This way, there will be a clearer line between the stresses related to work and the stresses of everyday living.
Schedule your time.
The best work habits apply regardless of your work arrangements. Before you even start working, make sure you know what your priorities are for the day, how long you think it will take you to get everything done, and what you will work on if you have extra time. It's an effective way to structure your time, no matter if you're working from a regular office or from home.

If you need to, monitor your own activity and make a mental note of when your attention wanes during the day. Do you find your mind wandering away from work immediately after lunch? Do you do your most effective work in the early hours of the day? Time tracking apps like Toggl or RescueTime can be useful for this purpose.

Once you begin to notice how you're spending your time, you can better map out your schedule and reprioritise your tasks. For example, you might choose to work on more menial tasks like replying emails during your off-peak hours.
Declutter your workspace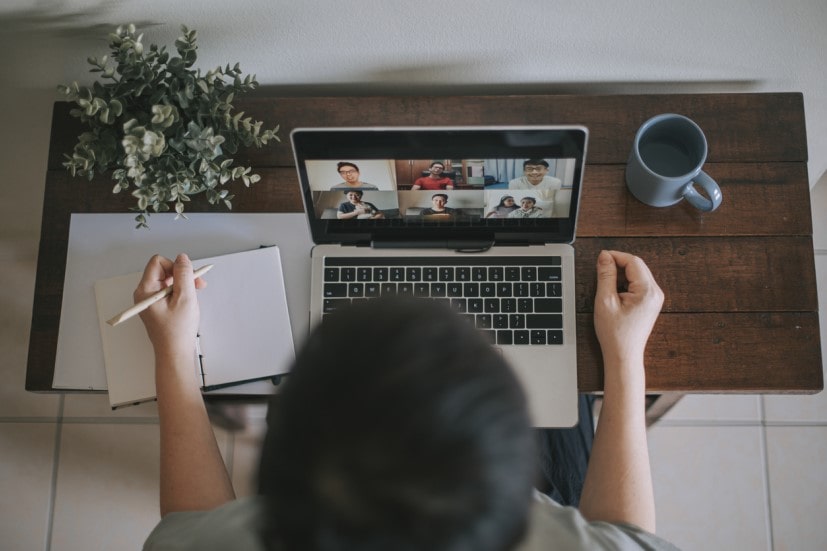 For most of us, working from home means sharing a confined space with our partner, family or housemates. To make the physical space more functional, you may need to declutter your workspace so that it will spark both joy and productivity.

Keep your desk well-organised and clear off everything except for what you need for the project you're working on. If you're facing a lot of paper-based clutter, go digital with cloud storage or apps like Dropbox.

Set aside time to commit to regular decluttering, whether it's five minutes at the end of every day or an hour a week. This can help to draw boundaries between work and life as well.

Another way to do that? Store your laptop and other essential work tools such as your mouse, charger, etc., into a designated tray or drawer so you can transition more clearly into home life when you're done with work.

Decluttering your workspace paves the way for decluttering your mind. If you're feeling overwhelmed, consider sharing your non-work related load with those living with you. Make space for downtime to recharge and recalibrate your focus for your tasks ahead.
Invest in a decent home office
Now that remote work will continue even after the pandemic recedes, it's time to set up a decent home office for the long term.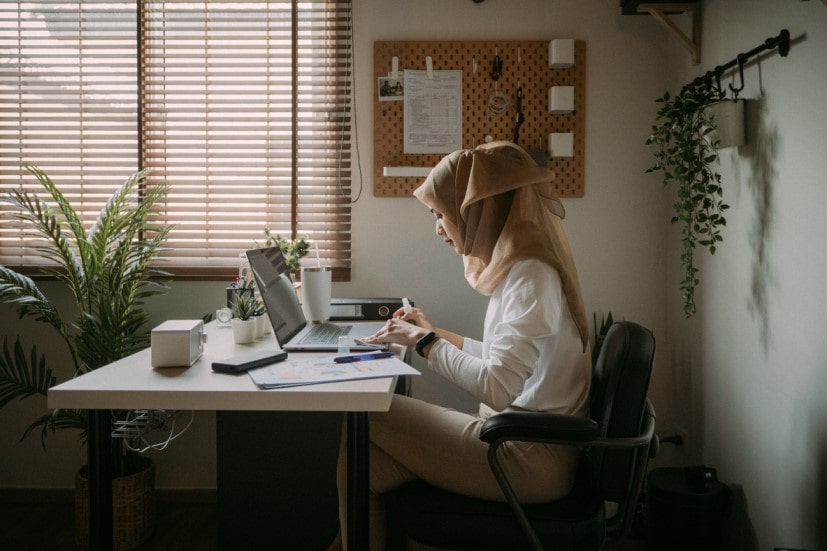 Ideally, you should have a dedicated workspace where you can close the door. If not, carve out a niche space where you can get out of the way from the rest of the household as much as possible. You don't have to splurge for a fancy work desk; it simply has to be sturdy, minimalist, and positioned at the right height for you so your wrists are not bent when you type.

When deciding on a permanent work-from-home setup, focus on posture. Almost any office chair is likely to be an improvement over your stiff dining-table chair. For additional back support, consider getting a lumbar support pillow.

If you regularly have to keep in touch with your colleagues via Zoom, you might want to get a dedicated webcam for better clarity. Or, at the very least, ensure you have good lighting in your workspace by repositioning your desk to face natural light, or by having a good desk lamp. The last thing you want to do is to appear as a shadowy figure against the backlight.
Protect your work haven.
You heard that right. Now that you've got everything set up, it's time to safeguard your workspace. This can be as simple as ensuring you have a good cyber security or antivirus plan to protect your PC against online threats - if your company doesn't already offer this.

But if you've recently invested in an expensive ergonomic office chair or bought a new laptop, you should ensure that your home is well-protected. To ensure peace of mind, Enhanced Home Insurance offers home-owners the flexibility to decide how much coverage you want for your home.

Protect the contents of your home and workspace, such as important legal documents, electronic devices like laptops and screens, against fire, burst pipes, theft and more. And if you should run into an unexpected home emergency, Income's Emergency Home Assistance provides 24/7 assistance for plumbing, locksmith,pest control and more via a convenient hotline.

Now, you can sit back into your cushy office chair and focus wholly on being productive.
This article is meant purely for informational purposes and should not be relied upon as financial advice. The precise terms, conditions and exclusions of any Income products mentioned are specified in their respective policy contracts. For customised advice to suit your specific needs, consult an Income insurance advisor. This advertisement has not been reviewed by the Monetary Authority of Singapore. ​
These policies are protected under the Policy Owners' Protection Scheme which is administered by the Singapore Deposit Insurance Corporation (SDIC). Coverage for your policy is automatic and no further action is required from you. For more information on the types of benefits that are covered under the scheme as well as the limits of coverage, where applicable, please contact Income or visit the GIA/LIA or SDIC websites (www.gia.org.sg or www.lia.org.sg or www.sdic.org. sg).