5 Romantic Couple Getaways in Southeast Asia that do not Break the Bank
By Income, 11 January 2018
11826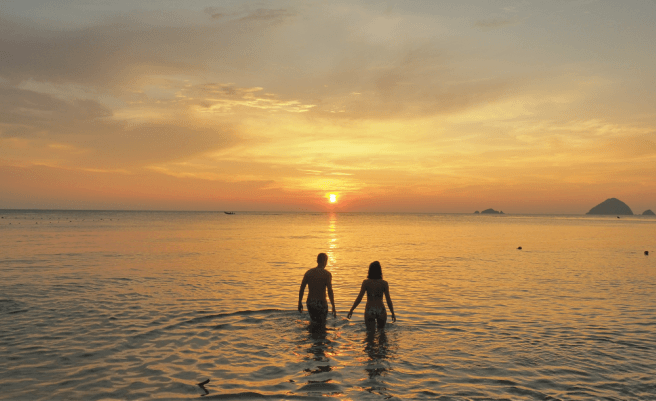 Southeast Asia has tons of places, both well-known and hidden. From trekking and diving to catching sunsets and temple-hopping, Southeast Asia has a location for every couple. What's more, compared to farther destinations such as Europe, these destinations would provide the most value – in terms of time and money. Here are the top 5 most romantic places around the region for you to spend a romantic vacation with your loved one!
---
Sapa: Hiking around the beautiful rice terrace of Vietnam
Located near China's border, Sapa is known for its massive hilly rice terraces. If you and your loved one are nature-lovers, spend some quality time together trekking around the rice terraces while enjoying the cooling weather. If you are up to it, you can also consider hiking at Fansipan, the tallest mountain in Vietnam, standing at 3,143 metres. The hike itself will take around 2 to 4 days with no technical climbing skills required, although it can be wet and muddy.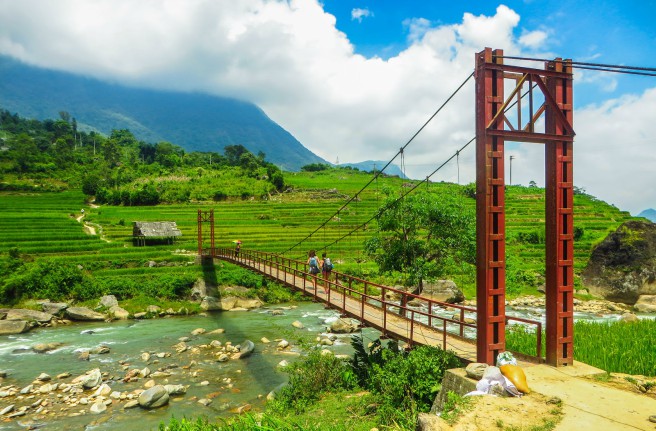 Once you are tired of hiking, spend some time in Sapa town and travel back in time amidst the French colonial buildings. If you're not one for hiking, don't fret! You can still enjoy the views atop Fansipan by taking a 20-minute cable car service from Sapa, which has started operations since Feb 2016.


The main square of Sapa town

Getting here
Best time to visit
March to May and September to November. You get to enjoy the relatively pleasant weather, with sunny days and cool nights, and also avoid the crowds during the peak period of June to August.
Average day temperature ranges from 14-20oC, perfect for trekking in the day, although at night it can be well below 10oC.
Estimated Budget
Total 3D2N: from S$400 per person.
Round trip ticket per person: S$200 by airplane.
Accommodation per room: S$30 per night (VND 510,000). You can consider Thai Binh Sapa Hotel which is located in a quiet street near the main square. The rooms are spacious, clean and comfortable.
Food per person: S$15 per day (VND 255,000).
---
Perhentian Island: Exploring the secret underwater heaven of Peninsular Malaysia
Consisting of two islands -- Big Perhentian and Small Perhentian Island -- the Big Island offers a more peaceful and romantic ambience for lovers to spend their nights in a variety of resorts, while the Small Island has an atmosphere more suited for party goers.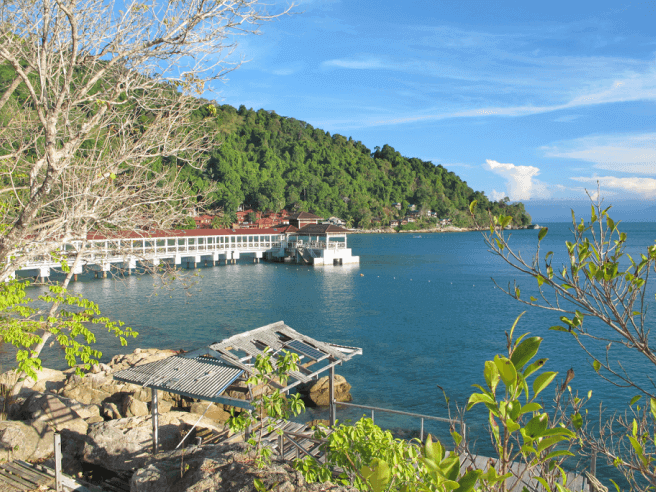 Sea view from one of the resorts on Perhentian Kecil Island.

If you are looking for a more adventurous honeymoon destination with your partner, consider going for a leisure dive (or taking up the PADI course if you are not certified) here. The cost of diving in Perhentian Island is one of the most affordable in Malaysia, and it's finally time to find that Nemo (and Dory).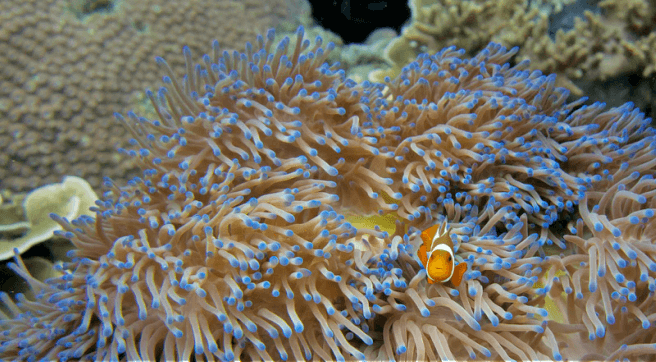 Look, I found Nemo!

Beware of the sea creatures you may encounter, as some can be aggressive. In the event of injury due to unforeseen circumstances during your dive, be sure you are well protected for by Income's Travel Insurance plan, which covers your medical expenses in such circumstances.

Getting here
Overnight bus from Singapore or Johor (10-11 hours), or fly to Kota Bharu and then take a bus/taxi (1 hour) to Kuala Besut Jetty.
From the Jetty, take a 45-minute speedboat to either of the two islands (boat operates from 7AM until 4PM).
Best time to visit
March to October. This is a popular period so remember to reserve ahead.
November to February is the monsoon season where all the shops, resorts and boat services cease to operate.
Estimated Budget
Total 3D2N: from S$250 per person.
Round trip ticket per person: S$100 by bus from Singapore. If there is no available bus from Singapore, another option is to take bus from Larkin, Johor.
Accommodation per room: S$40 per night (MYR 120) on a budget chalet (Panorama Diver, Perhentian Kecil) or S$150 per night (MYR 450) on a resort at Perhentian Besar. Rooms are simple and clean but more importantly, they are near to open water great for diving!
Food per person: S$20 per day (MYR 60).
---
Chiang Mai: Getting lost in the mountainous region of northern Thailand
Get to the peak of Thailand -- Doi Inthanon -- to enjoy a scenic view with the two King and Queen pagodas as backdrop. The peak is reachable by car from town, so there is no need to carry those heavy backpacks up the mountain for hours.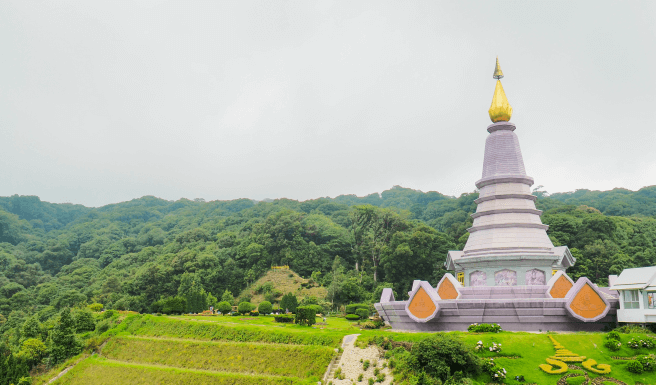 One of the two pagodas rising on top of Thailand's highest peak

Chiang Mai is also a paradise of temples where you will enjoy strolling around the town with your partner, visiting old intricate stone temples or lavish golden ones. At the end of the day, there is also a night market where you can unwind, shop for souvenirs and try the local delicacies such as Khao Soi, a rich and savoury traditional curry noodle soup.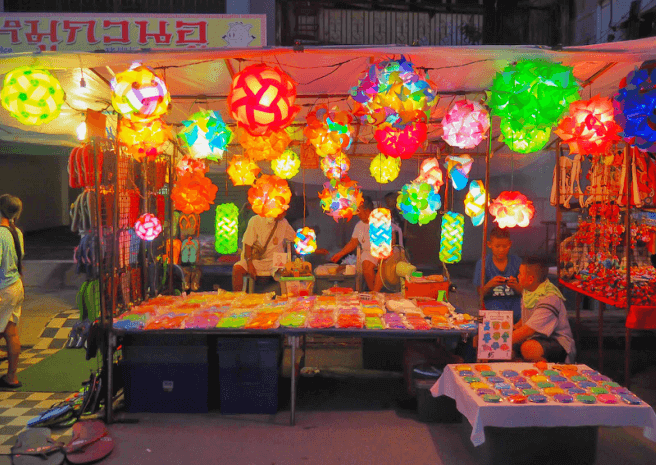 Alternatively, Chiang Rai is only 3 hours away if you feel like exploring Wat Rong Khun, the famous white temple of Thailand! This temple is designed and privately owned by a local artist, who dreams to spread Buddhist teachings to others.

Getting here
Direct flights from Singapore to Chiang Mai are available.
Best time to visit
October to April.
Weather during this period is relatively cooling and pleasant with slight breeze. Although the day temperature ranges from 20-26oC, rain is minimal during this period.
Estimated Budget
Total 3D2N: from S$400 per person.
Round trip ticket per person: S$250 by airplane.
Accommodation per room: S$40 per night (THB 1,000). You can consider Thongran's House, a local guesthouse located at the centre of the old city. A lot of customers have provided very positive reviews on the service, cleanliness and location of the hotel!
Food per person: S$15 per day (THB 400).
---
Lombok: Romantic moments for two on a lesser-known paradise in Indonesia
Lombok is the ideal honeymoon getaway in Indonesia (not Bali!), with its beautiful pink-hued sunset sky, raw landscape, amazing underwater world and the mighty Rinjani volcano. No matter where in Lombok you decide to go, you CANNOT miss the most sought-after swing at Gili Trawangan, a tiny island just off Lombok's coast.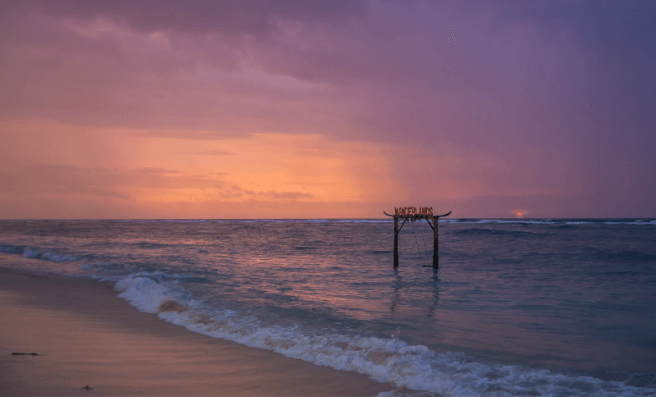 After having fun on the beach, head to Bukit Merese to walk about this hilly grass field complete with grazing cows, local kids running around and a breathtaking sunset. For a more adventurous journey with your loved one, you can also try to brave the 2nd highest volcano in Indonesia - Mount Rinjani! Standing at 3,727m, you need to be physically fit to conquer this mountain. As this exposes you to greater uncertainties, it would be wise to get comprehensive insurance coverage for your climb to Mount Rinjani's top!

Getting here
Take a flight from Singapore to Lombok with a transit in Jakarta or Bali. Else, you can fly to Bali and continue by speedboat to Gili Trawangan islands.
Best time to visit
May to September.
The dry season runs through this period although it can get pretty hot (29oC ) during the day. This is the best time to visit Lombok especially if you are thinking of doing outdoor activities.
Budget
Total 3D2N: from S$550 per person.
Round trip ticket per person: S$350 by airplane.
Accommodation per room: S$45 per night (IDR 450,000). I stayed at Deep House Bungalows, a local guesthouse at Gili Trawangan with a traditional-style room made of bamboo (but with air-conditioning). Expect to spend S$100 for a lovely resort with a sea view.
Food per person: S$20 per day (IDR 200,000).
---
Bagan: Catching the most breathtaking sunrise over thousands of temples in Myanmar
Make sure you hire a horse cart to get around Bagan the romantic way. And to make this moment even more extraordinary, watch the sun rise over the city from a hot air balloon! Though the price is rather steep (around US$300), most travelers claim that it's one of the best experiences they have ever had.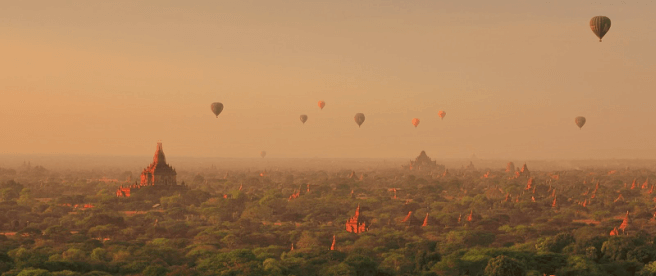 The gorgeous view from the balloon ride. Credits to: Marcela Tokatjian

Located on the banks of Irrawaddy River, Bagan boasts the world's densest concentration of temples/pagodas. There are at least two thousand temples standing there right now!

Getting here
Fly from Singapore to Bagan with a transit in Yangon, or fly to Yangon and continue on an overnight bus to Bagan.
Best time to visit
November to February.
Best to visit is during the winter, although it can be a bit crowded. Myanmar is generally hotter than other parts of Southeast Asia, and Bagan's winter is relatively cool at around 23oC.
Budget
Total 3D2N: from S$500 per person.
Round trip ticket per person: S$300 by airplane.
Accommodation per room: S$50 per night (MMK 50,000) for a local guesthouse or hotel. For example Yar Kinn Tha Hotel, which has clean rooms and facilities such as a swimming pool to cool yourselves from Bagan's scorching heat.
Food per person: S$20 per day (MMK 20,000).
---
Going on a honeymoon or a romantic getaway with your loved one is a special occasion to be cherished. To fully enjoy the holiday without worries, getting a comprehensive travel insurance is a must - especially if you or your partner already has a pre-existing medical condition such as asthma. While most travel insurers in Singapore do not cover claims due to pre-existing medical conditions,
Income's Enhanced PreX
plans provide you and your loved ones with comprehensive coverage because we care about every traveler's wellbeing. – Coverage extends past the typical plans to include overseas medical expenses and trip cancellation that result from your pre-existing medical conditions.
Step toward that romantic vacation knowing that you are covered for your adventures!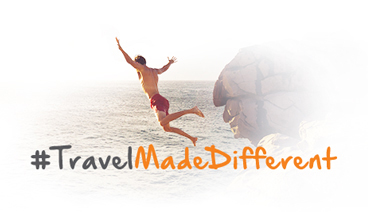 Important Notes:
This article is meant purely for informational purposes and should not be relied upon as financial advice. The precise terms, conditions and exclusions of any Income products mentioned are specified in their respective policy contracts. For customised advice to suit your specific needs, consult an Income insurance advisor.