10 Top Rated Things to Do & Eat in Bintan & Batam (2022)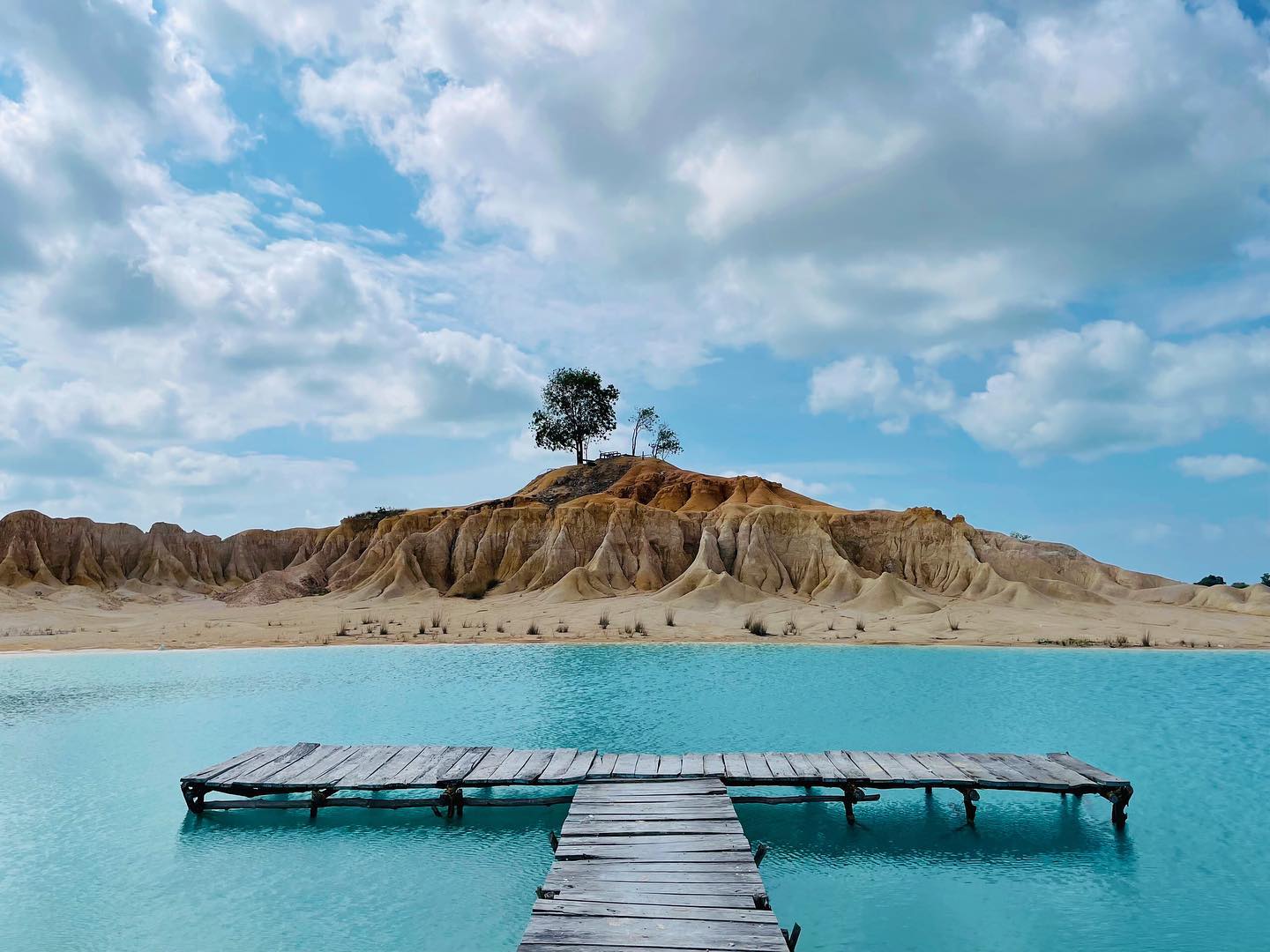 Natra Bintan, a Tribute Portfolio Resort Facebook
The sunny beachfronts of Bintan and Batam have always mesmerised Singapore, coupled with its fresh, decadent seafood and luxurious massages, all for a fraction of regular costs. What with Indonesia recently opening the islands to international travel (with Visa on Arrival for Singapore citizens), it's high time to hop onto a ferry and get that beach vacation soak in!
What are the requirements for Singaporeans travelling to Bintan and Batam?
Visa Requirements
As we mentioned above, the Indonesian Government has included a number of countries and special entities that can now enter via Riau Islands with Visa Exemption and Visa On Arrival, if you're traveling for leisure.
Nine countries are entitled to the Visa Exemption Arrangement - Singapore, Malaysia, Brunei, Cambodia, Laos, Myanmar, the Philippines, Thailand and Vietnam.
There are certain requirements you'd have to adhere to if you'd like to qualify for the Visa on Arrival for Leisure Purposes or Visa Exemption Agreement:
A passport with a minimum validity of 6 months
A return ticket to the next country you're travelling to/back to Singapore
IDR500,000 (about S$47) as proof of your payment for the PNBP Visa on Arrival (this is if you're entering via the Visa on Arrival for Leisure Purpose)
Proof that you have health insurance that covers for COVID-19 and also medical purposes to a referral hospital
Now, when it comes to short trips like a weekend getaway to Batam or Bintan, chances are that you'd want to avoid splurging on costly one-off travel insurance premiums.
Thankfully, FlexiTravel Hourly Insurance provides you with the peace of mind for all things travel and is affordable to boot.
FlexiTravel Hourly Insurance is a travel insurance plan that gives you coverage by the hour, with easy and instant activation through the My Income App. You can opt to shorten your trip coverage if you return to Singapore early1 (and extend your coverage if need be, too!). On top of that, you could get reimbursements for unused entertainment tickets purchased for your trip2.
The travel insurance coverage is inclusive of loss of baggage and personal belongings due to theft and unauthorised charges made to your bank card while you're abroad. You're also protected against medical expenses (including of COVID-19 )incurred overseas, food poisoning, accidental injury and more. Minimum hours of coverage apply3.
Further details on key benefits, eligibility requirements and more are right here.
Top-rated things to do and eat in Bintan
Why you should have Bintan on your travel bucket list
You could opt for Bintan as a resort destination, with luxurious hotels and incredible pools giving you the ideal breakaway from the bustle of the city. Picture savouring that icy cold drink while your hours tick away, and you're already halfway there.
Yet, there's a bunch of things you could do while in Bintan, from checking out the arresting blue waters of Danau Biru to dropping by a turtle conservatory.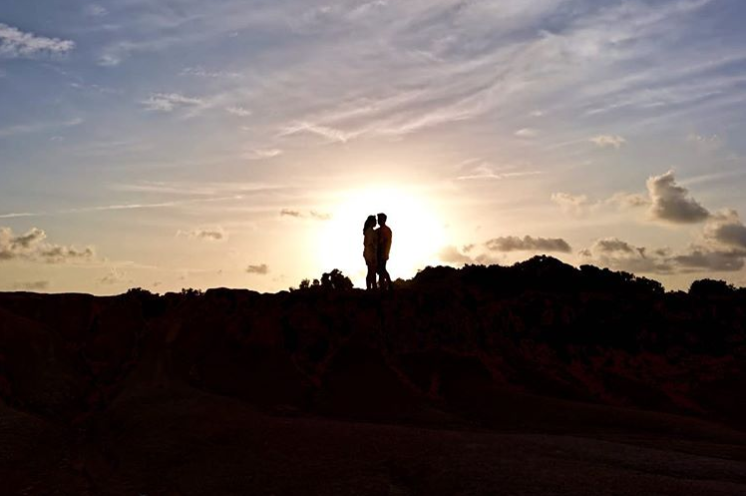 1. Explore the Gunung Bintan Adventure Trek
If trekking and all things adventurous excite you, tick Bintan's highest mountain off your list. At the top, you'd be able to soak in the entire island's view.
It'd take about 2-4 hours to hike up, and there's many killler view shots, from a mesmerizing waterfall to giant trees that reach 40 metres in height!
You could opt to go with a tour guide via Bintan Resorts, which offers you a two-way land transfer, a personalised fully guided tour and bottled drinking water.
Be sure to wear or bring along solid trekking boots or sneakers (and avoid slippers as it has less grip and durability), sunblock, mosquito repellent, long-sleeved clothing and a raincoat and hat.
2. Visit Bintan's desert at Gurun Pasir Busung
Who'd have thought you'd find a desert so close to home? Situated close to Tanjung Uban, this is probably one of the most clicked spots on the island (after the beaches, that is!). This low-key tourist destination is still low-key, making it a hidden gem.
There's no public transport to reach Gurun Pasir Busung, so you might need to rely on private transport instead.
Address: Busung, Seri Kuala Lobam, Kabupaten Bintan, Kepulauan Riau 29152, Indonesia
3. Shop your heart out at Plaza Lagoi
With the difference in currency exchange, it makes perfect sense to shop while you're in Bintan, and Plaza Lagoi is the ideal place to do just that!
You'd be able to get small souvenirs as you walk around local shops. But if you'd rather shop for everything under one roof (especially for wooden craft items and batik gonggong, featuring motives of gonggong snails) and unwind at a spa after (and even grab a decadent Indonesian meal post that), Plaza Lagoi is the place to go.
Some resorts offer complimentary shuttle services to the plaza, so check that out with the hotel's front desk staff.
Address: Jl. Gurindam Duabelas, Teluk Sebong Lagoi Bintan Utara, 29155, Kepulauan Riau – Indonesia (open Monday - Sunday)
4. Watch fireflies dance at night with the Bintan Fireflies Discovery Tour
Why leave the night to rest when you can explore the mangrove waters of Bintan by boat, navigating the waters of Sebong River for a magical ride just after you catch sights of the sunset?
Bintan Holiday, one of the tour providers charges S$38 for adults and S$25 for children. This includes two-way land transfers (from either BBT Terminal or Lagoi Hotel), a guided tour and an option for dinner too (extra cost applies).
You'll not only see fireflies amid the darkness of the night, but get to know the mangrove ecosystem, and maybe see other animals like monitor lizards, kingfishers and monkeys in their natural habitat!
Address: Sebung River, Sungai Sebong, 29152 Lagoi, Sebong Lagoi, Tlk. Sebong, Kabupaten Bintan, Kepulauan Riau, Indonesia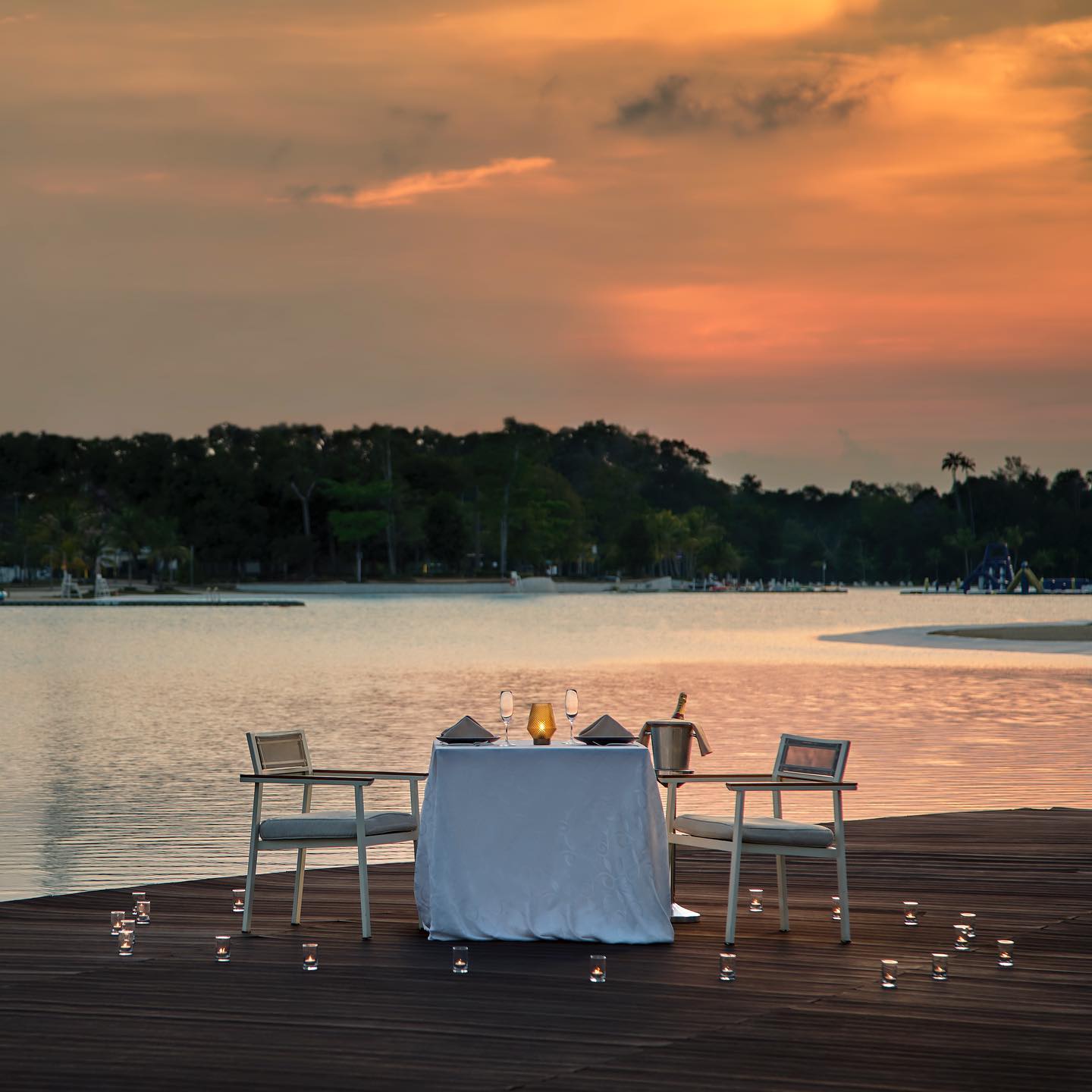 Natra Bintan, a Tribute Portfolio Resort Facebook
5. Soak in the sun at Natra Bintan, Treasure Bay
Imagine chilling at the biggest swimming pool Southeast Asia has to offer, and being able to snorkel or surf to boot. Natra Bintan by Marriott offers more than just an idyllic glamping spot.
Have a barbeque with friends and family at night, and enjoy the views of the stars. Explore its private mangrove nature trail during the day, or just dip your toes into the mammoth sized Crystal Lagoon, which spans 6.3 hectares.
For parents with kids, there's oodles of fun activities, including the Pirate's Adventure Indoor Playground and Robot Rides.
Address: Jln. Raya Haji KM 01 Kawasan Pariwisata, Teluk Sebong Lagoi, Bintan, 29152 Kepulauan Riau, Indonesia
6. Bintan's Blue Lagoon is a sight for sore eyes - Danau Biru
A quiet lagoon that's tucked away and amidst white sand. That's what Danau Biru is. Oddly enough, it's not a natural occurrence, but more a by-product of mining activities.
A must-tick off your Bintan travel itinerary, but as there are no shops nearby, you might want to pack a snack or two when you head out!
Address: Gn. Kijang, Kec. Gn. Kijang, Kabupaten Bintan, Kepulauan Riau 29151, Indonesia
7. Check out the Turtle Hatchery Program at Nirwana Gardens
While this activity is part of the resort itself, Nirwana Gardens undertakes conserving the surrounding environment with the local community. In this particular hatchery program, Green and Hawksbill Turtles eggs are collected and buried in an enclosed hatchery for 60 days and released into the waters when the time is right.
The resort also offers diving activities at the Nirwana Dive Centre, with a 2D1N Leisure Dive Adventure available (covering breakfast for two, two tank dives on day 1, and dive insurance, among other things).
Address: Jalan Panglima Pantar, Lagoi , 29155, Indonesia
8. Drop by the 500 Lohan Temple
Indonesia's religious heritage is rich and has strong roots in Buddhism, Hinduism, Christianity and Islam.
In this particular tourist location, there are 500 statues of arahats (beings who have achieved perfection and enlightenment) dedicated to Ksitigarbha Bodhisattva.
Stroll through the maze of sculptures and admire each statue, unique and somewhat brimming with lifelike features, despite being set in stone.
Address: Kijiang, Riau Islands Province, Indonesia (Open Tues-Sun, 9am - 5pm)
9. Grab some drinks at the Calypso Floating Bar
The greatest views of the sunset in Bintan come from one location in particular, and that's Calypso Floating Bar. Walk down its woody pier and you'll reach the bar that's in the midst of the seas. It gives out Caribbean-esque vibes, and is the best spot to chill and unwind after a long day riddled with tourist spot trips!
Address: Jalan Panglima Pantar | Nirwana Gardens, Lagoi, Bintan Resorts, Indonesia (4pm-10.30pm, every day)
10. Check out Trikora Beach for a laid-back beach holiday
Located on the island's northeast coast, Trikora beach is an awesome place for snorkeling and soaking up the sun. The beach is split into four parts, aptly named Satu, Dua, Tiga dan Empat in Indonesian. An ideal place for a quiet, romantic getaway.
Address: Kawal Trikora, Kabupaten Bintan, Kepulauan Riau 29151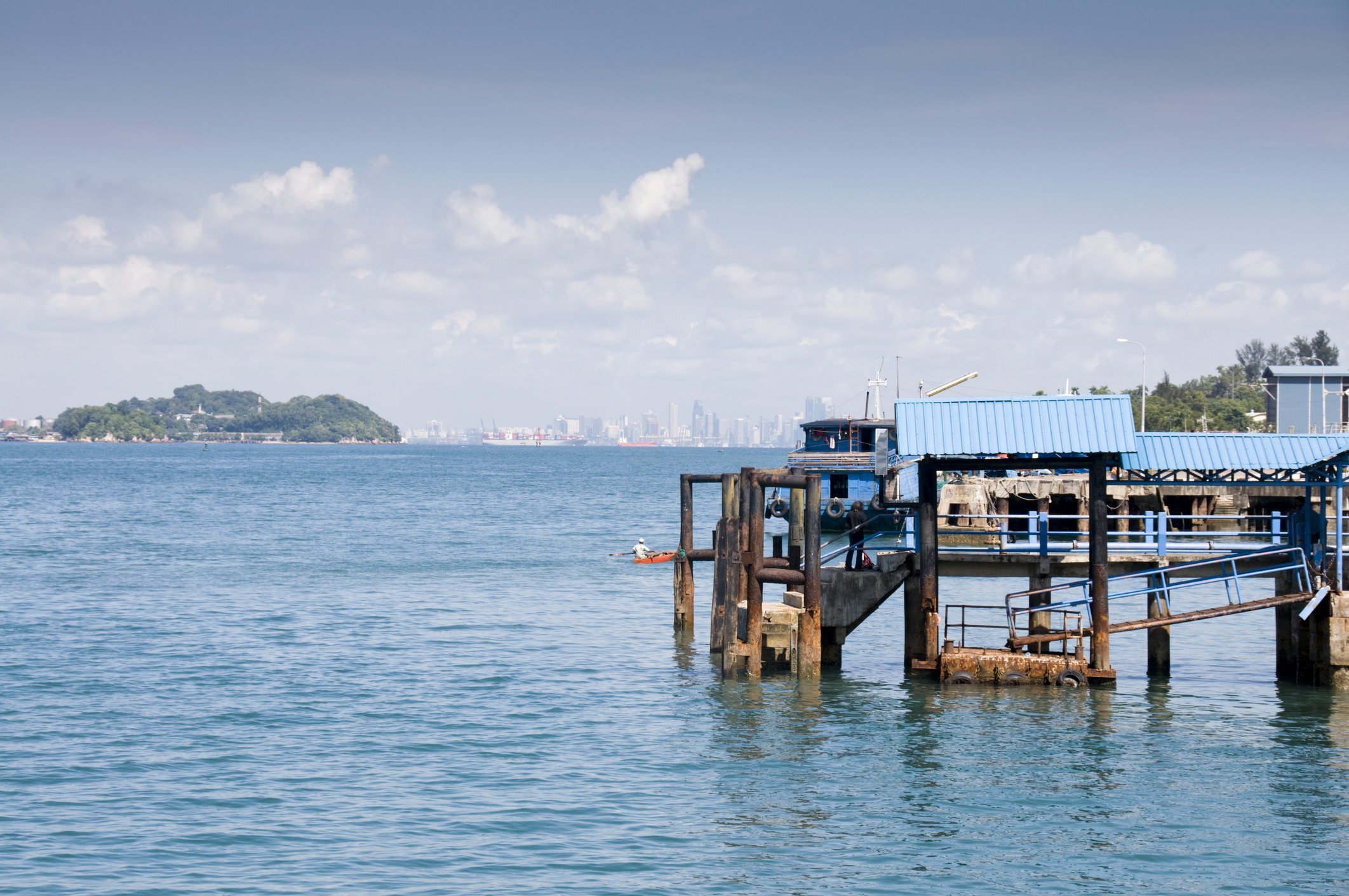 Top-rated things to do and eat in Batam
Why you should have Batam on your travel bucket list
Sure, you've probably known Batam from the vacation stories your buddies shared with you. But what really makes it a favourite holiday pick?
The biggest city in Riau's province has water adventures, high-end golf courses, and iconic tourist spots like Barelang Bridge, which is six bridges connecting three islands to each other.
Here's 10 things you can do while on the island:
1. Drop by the Maha Vihara Duta Maitreya Temple
This Buddhist temple is one of the top picks for travelers to visit, with various Buddha statues on display (the Laughing Buddhas are a favourite). When you're done soaking in the sights, you can head over to a vegetarian restaurant within its premise, which is reasonably priced too.
Address: Komplek Maha Vihara Duta Maitreya Bukit Beruntung, Sungai Panas, Kec. Batam Kota, Kota Batam, Kepulauan Riau 29432, Indonesia
2. The Amazing Barelang Bridge
Barelang Bridge is an Indonesian architectural work of art, and connects Batam islands to a number of smaller islands, including Galang, Rempang, Tonton and Nipah. The perks of dropping by this particular spot is that you'd be able to end your visit by savouring Indonesian seafood, from the seas to the table. Take your pick from the freshest sea items, ranging from lobsters, crabs, prawns, clams and other shellfish and they'll be cooked in a jiffy!
Address: Jl. Trans Barelang, Sembulang, Galang, Kota Batam, Kepulauan Riau 29481, Indonesia
3. Explore Nongsa Beach
If all you wanna do during your break is laze by a beach and little else, head on to Nongsa Beach. Go for a slow swim and then have a bite to eat at one of many eateries along the beachside.
Address: Batam City, Riau Islands, Indonesia
4. Get certified as a scuba-diver on Nikoi Island
If you've always been itching to become a PADI-certified diver, you can opt for the PADI Open Water Diver Course (Batam LOB), which starts from S$589. You'd be able to explore the exclusive Nikoi Island with a small group of up to 5 students per course class.
Address: Nikoi Islands, Riau
5. Visit the stilt houses at Tanjung Uma
Batam is a marriage of the old and the new, with modern architecture prevalent in some parts, and in the others, historical places and old-age charm.
At Tanjung Uma, you'd be able to see first-hand stilt houses just above the sea waters, where fishermen and their families live.
Address: Lubuk Baja, Batam City, Riau Islands, Indonesia
6. Bring the kids out to Ocarina Park
Kids deserve some fun spells too, and Ocarina Park offers just that. There are tons of fun waiting, from a gigantic Ferris wheel to a 3D movie theater and a whole range of water slides and rides.
According to ticketspromo, adult tickets are IDR25,000 (S$2.35) while for kids between 2-12 years, tickets are at IDR15,000 (S$1,41).
Address: Sadai, Bengkong, Batam City, Riau Islands 29444, Indonesia (daily 8am-10pm)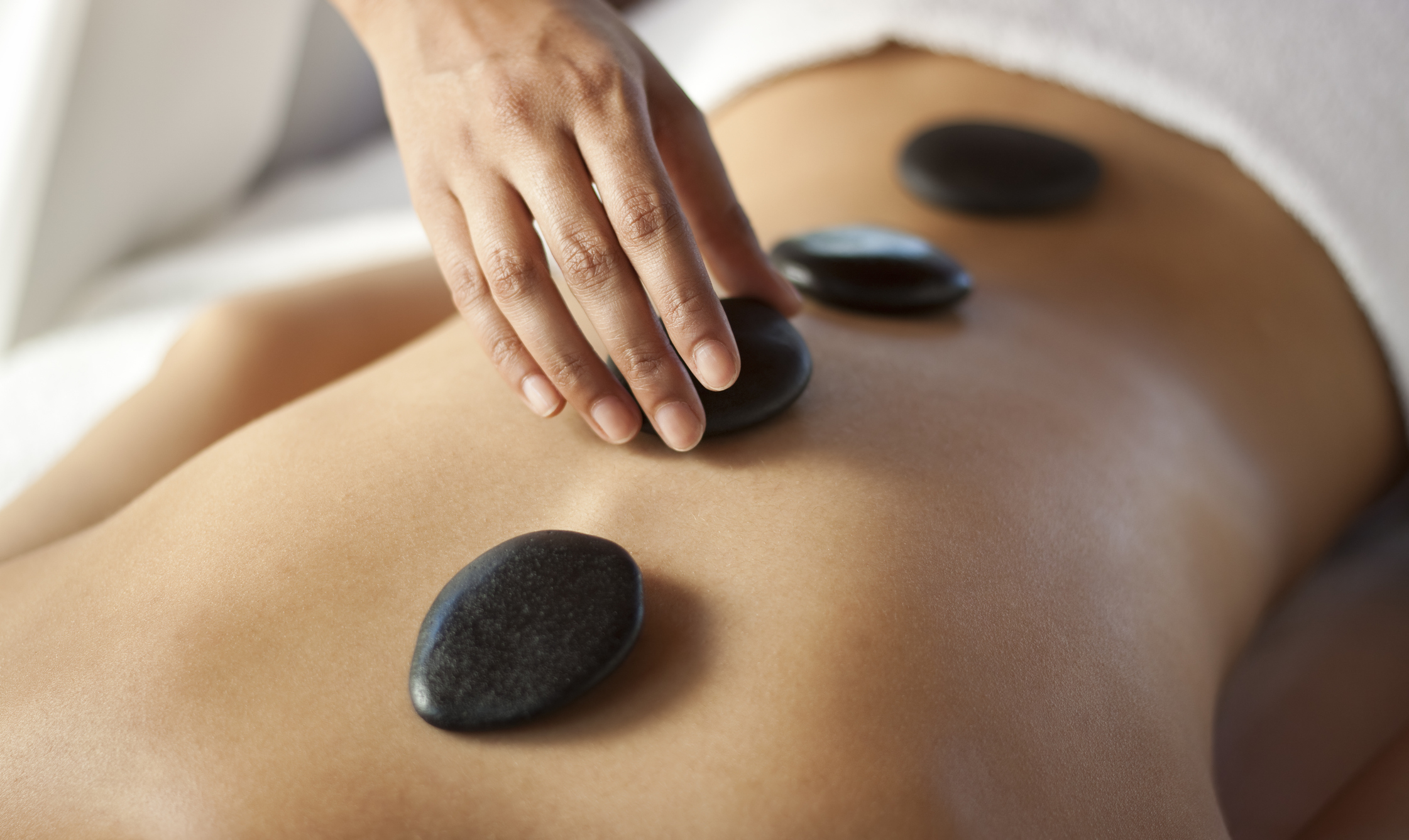 7. Get a break and go for a massage
Batam has many places for you to get massages, ranging from simple setups to luxurious spas. Top names that pop up for massages there include Martha Tilaar Spa Express Gideon, GO! Massage and Kalea SPA Batam.
Marta Tilaar Spa is well-regarded for its Javanese massages that are traditional Indonesian massages with herbal products, while Go! Massage specialises in beauty treatments and modern day wellness. Kalea SPA is a great pick simply because it's 5 minutes from the Batam Centre Ferry Terminal - you'd be able to get your massage fix right after you step into Batam!
All spas mentioned here operate from 10am to 10pm, every day. Check out more options on this spa and wellness list by Tripcetera.
Marta Tilaar Spa: Komp. Penuin Center Block AA no. 1, Batu Selicin, Kec. Lubuk Baja, Kota Batam, Kepulauan Riau 29444
GO! Massage: Komplek Nagoya Centre Block B No.1,2&3, Jodoh, Jodoh River, Batu Ampar, Batam City, Riau Islands
Kalea SPA Batam: Ruko Palm Spring A2 no. 6&7 Batam Center, Indonesia
8. Go on a golfing spree
Batam is a golfer's paradise, with seven different golf ranges on the island. Padang Golf Sukajadi, for instance, is an 18-hole championship golf course, measuring 6,340 meters that suit golfers of all expertise levels.
As far as green fees go, Padang Golf Sukajadi charges Guest Members IDR 475,000 (S$44.70) for weekday 9-hole golfing, and IDR 650,000 (S$61.17) for weekends and public holidays.
Other golf courses that are top picks are the Palm Springs Golf and Beach Resort and the Batam Hills Golf Resort.
Address: Padang Golf Sukajadi, Club House Sukajadi, Jl. Sudirman, Sukajadi, Batam Kota, Sukajadi, Kec. Batam Kota, Kota Batam, Kepulauan Riau 29432, Indonesia.
9. Hop onto Penyengat Island
Known for its stunning waterfront views, Penyengat Island is also famous for the Sultan's Mosque. According to local tales, a major part of the mosque was built using eggs, hence it is also known as Masjid Kuning. The Sultan's palace showcases a unique blend of Dutch-Indonesian workmanship. The island is also home to the legendary Bugis historian Raja Ali Haji.
Address: Penyengat Island, Riau Islands
10. Tua Pek Long Temple beckons tourists to drop by
This is the oldest Buddhist temple Batam has to offer, and was inaugurated in 1986. Compared to other temples in Batam, Tua Pek Long Temple has prominent Chinese architectural features, with bright red lanterns dangling from its rooves. Visitors from around the world drop by the temple with prayers and offerings, including from Japan, Malaysia and India.
Address: Vihara Budhi Bhakti, Jl. Pembangunan, Lubuk Baja Kota, Kec. Lubuk Baja, Kota Batam, Kepulauan Riau 29432, Indonesia
Why it's great to travel from Singapore to Bintan and Batam today
With the recent 12th Singapore-Indonesia Six Bilateral Economic Working Groups Ministerial Meeting on Tuesday (Aug 30), Singapore and Indonesia are continuously at work to simplify travel processes.
Why, at the latest Bilateral Meeting, business visa requirements will also be waived, specifically for ASEAN citizens on short working trips to Bintan, Batam and Karimun (BBK). This will definitely make traveling for work an easier feat among Singapore and the three Indonesian islands.
Perhaps it's time to plan a workcation to Bintan and Batam next?
1 You must sign up for the coverage prior to leaving Singapore and end your coverage upon arrival in Singapore through My Income app
2 We will only pay for the unused entertainment ticket expenses if you are prevented from using it due to reasons like serious sickness or serious injury resulting in your hospitalisation, if it happens on the day of the entertainment event or on the date of expiry of the entertainment ticket, whichever is later. Please refer to Section 7 of FlexiTravel Hourly Insurance's policy terms and conditions for more details
3 Premiums will be charged on an hourly basis subject to a minimum premium payable that is equivalent to 6 hours of coverage
This article is meant purely for informational purposes and should not be relied upon as financial advice. The precise terms, conditions and exclusions of any Income products mentioned are specified in their respective policy contracts. For customised advice to suit your specific needs, consult an Income insurance advisor. This advertisement has not been reviewed by the Monetary Authority of Singapore. ​
These policies are protected under the Policy Owners' Protection Scheme which is administered by the Singapore Deposit Insurance Corporation (SDIC). Coverage for your policy is automatic and no further action is required from you. For more information on the types of benefits that are covered under the scheme as well as the limits of coverage, where applicable, please contact Income or visit the GIA/LIA or SDIC websites (www.gia.org.sg or www.lia.org.sg or www.sdic.org. sg).