The Ultimate Guide to Driving Up To Malaysia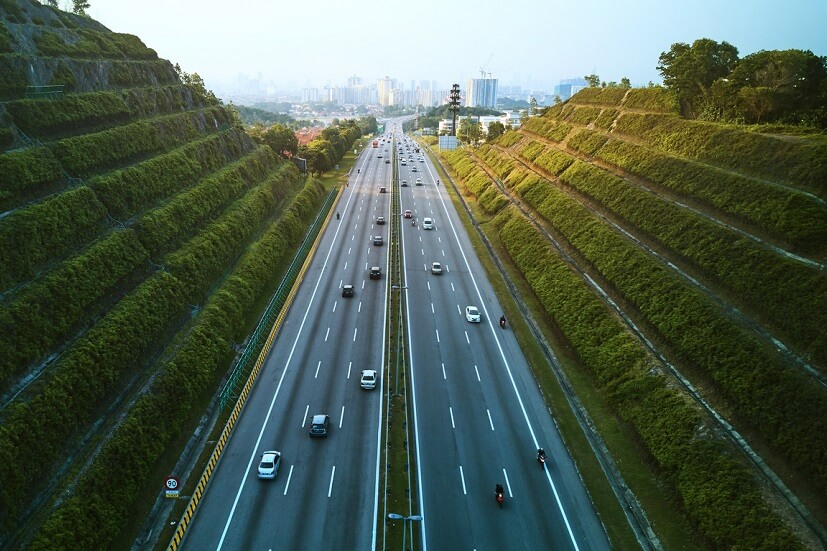 View of the highway leading in to Kuala Lumpur.

That first road trip to JB has become a time honoured rite of passage for many Singaporeans, but it's important to be abreast of the ever changing rules, regulations and roads. Here's what you need to take note of on your driving adventure.
Where to go?
There are two main arteries that cut through the length of Malaysia: the North South Highway (NSH) is more popular and leads to Malacca and KL, while the Eastern Coastal Route offers some idyllic views of the South China Sea.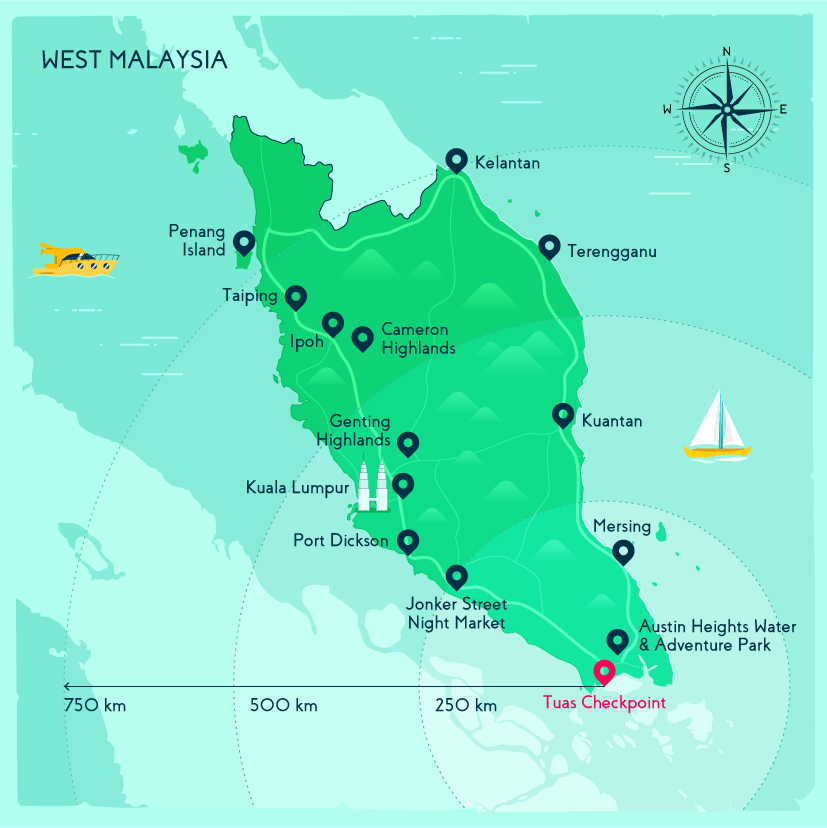 Here are some of the interesting places each route presents:
North South Highway
Johor – Perhaps the most well-known destination for Singaporeans, Singapore is connected to the state of Johor via two bridges. Known as a shopping and food haven for many, the city centre can get pretty congested especially on weekends.

Malacca – A seaside town made up of a mostly Chinese community, Malacca is a popular tourist destination. Jonker Street is where much of the tourism is centred as it forms a nexus for food and souvenir hunters.

Kuala Lumpur – The capital of Malaysia and home of the Petronas Twin Towers, for those looking for some fine dining and night life, the capital is where it's at.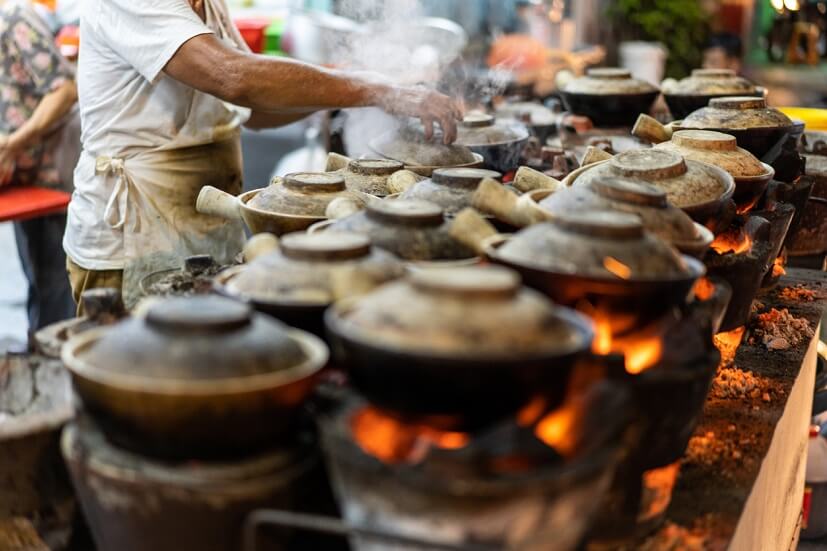 Kuala Lumpur's food culture is diverse and a must-try.​

Ipoh – What used to be a tin mining town, this city has become another epicentre of Malaysian food culture after Penang. There are cave temples as well as colonial architecture for the hobby photographer's delight. And did we mention the food?

Penang – This island is served by the E28 bridge that stretches 24km over the water from the main peninsula and offers incredible views when entering (or leaving) the island at sunrise and sunset. Having personally done this trip myself, I can attest to the beauty of the island and its rich diverse heritage. And yes, the food is excellent as well.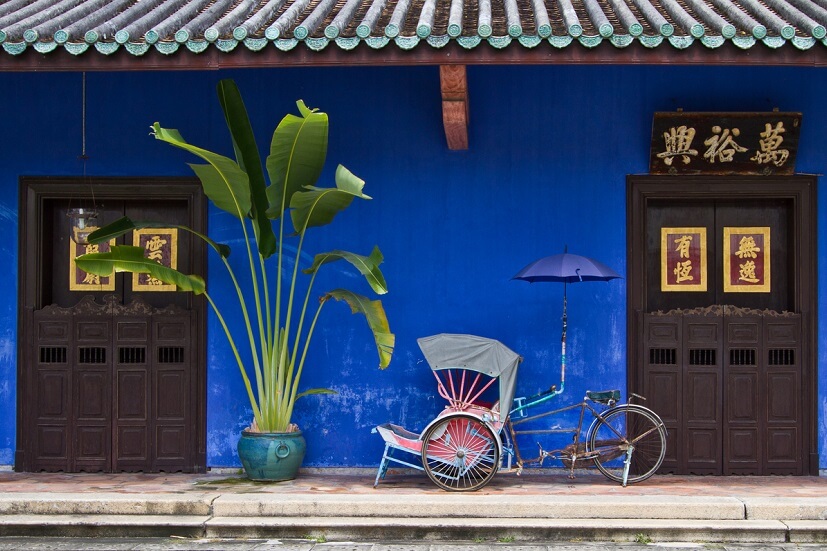 Penang impresses with it's culture and beauty.
Eastern Coastal Route
Kota Tinggi – Situated relatively close to Singapore, this small town in the state of Johor offers a quick day trip getaway. Drive to Desaru beach for an unobstructed view of the South China Sea or visit the nearby waterfall.

Tioman Island –Tioman Island holds some of the best diving sites in Malaysia. Parking is available at the jetty in Mersing (on the mainland) with 24 hours security so your wheels will be reasonably safe. If you're a navy buff and diving enthusiast, you'll be pleased to know that you can explore the remains of Britain's most powerful WW2 battleships, HMS Repulse and HMS Prince of Wales, here in Tioman's beautiful tranquil waters.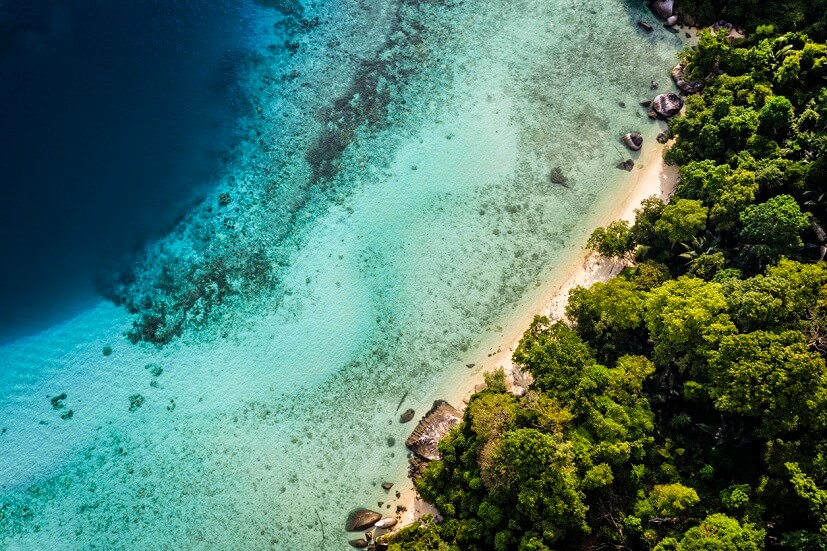 Tioman Island offers natural beauty and great diving.

Perhentian Islands – Like Tioman Island, the main attraction of this place is its beautiful beaches and poster sunsets. Due to the monsoon seasons, this heavenly destination is only open between April to October so you will need to plan accordingly.

Pahang – Further up from the last destination on the list, the state of Pahang offers many attractions along the Eastern route. Balok is a popular seaside destination where several seafood restaurants reside.

Terengganu – Like Pahang, this state offers numerous attractions and activities that are difficult to sum up in this short description. All along this route, there are several camping sites next to unspoilt beaches where you can stop, pitch a tent and have a barbeque by the sea with your family as you wind down with some sundowners with the cool sea breeze as a backdrop.
Preparing for your trip
Making the right preparations before embarking on a road trip will lessen the impact of any hiccups that might occur on your trip, so here's a short list of things to prep before your trip.
VEP (Vehicle Entry Permit) – The hot topic on the minds of every Singaporean tourist driving into Malaysia is the implementation of the VEP. If you haven't registered for the VEP, you should do so here before even heading towards the border. Cars that cross the border without any proof of having registered for their VEP can be fined upwards of RM$300. Once you have registered for the VEP, the Malaysian Road Transport Department (JPJ) will contact you via email to head down to one of their collection centres to have your RFID tag installed. Here's a complete guide on the VEP process. The VEP RFID tag will cost RM$10.
Touch 'n Go Card – Basically the Malaysian equivalent of our ERP Cashcard, this is an essential payment mode for tolls and parking in Malaysia. If you don't already have one, the cards can only be purchased if you enter Malaysia through the Tuas Immigration Checkpoint at a kiosk just before the Malaysian Immigration Building.
Malaysian SIM Card –The three major telcos in Malaysia are Celcom, Digi and U-mobile and there are numerous kiosks within town centres where you can purchase their SIM cards. Here's where you can find the stores for U mobile and DIGI. If you already have a Malaysian SIM card that isn't expired, top-up coupons are available at certain petrol stations along the North-South Highway. Alternatively, there are numerous data roaming plans by local telcos with pretty decent rates. Here's a detailed guide on Singapore's data roaming plans.
Insurance – Having an adequate insurance coverage will do wonders by giving you a peace of mind on your holiday. NTUC Income's Drivo car insurance provides comprehensive coverage for both driver and passengers in the event of an accident. The policy will also connect you with 24 hour emergency services and road assistance when needed. Additionally, having travel insurance, such as Income's FlexiTravel Hourly Insurance, will help to ensure that you can stay protected against losses due to food poisoning, robbery and more. With travel insurance by the hour, you can go on your trip with a peace of mind.
Car maintenance – Before heading out, make sure to do a thorough check on your car's fluids, tires, tools, etc. Better yet, bring it in to your mechanic and get a professional to look over your car if you haven't done it in a while.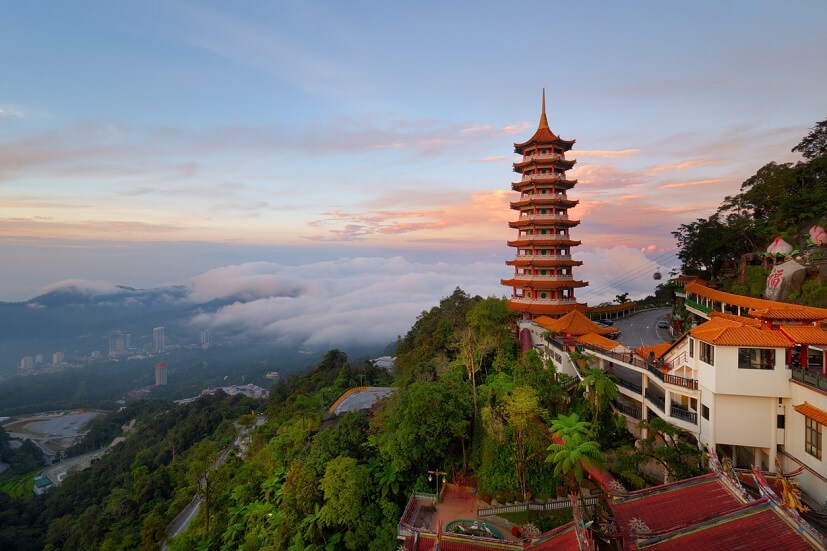 Genting is another popular Malaysian destination among Singaporeans.
Driving in Malaysia
Driving in other countries is vastly different from driving here in Singapore. While it might be daunting, just smile and always be courteous, and more often than not, you'll be surprised at how generous and helpful strangers can be.

Driving etiquette – While cutting people off and being cut off when lane changing in Singapore is the norm, it's best to adopt good driving etiquette when driving overseas. If you've driven enough in Malaysia, you'll be surprised to learn that most Malaysian drivers are pretty considerate. Indicate right when you're in the fast lane on the NSH, and more often than not, the Malaysian driver will let you pass. And if he/she does, make sure to give a wave to show your appreciation.

Speed limits – The posted speed limits on the NSH is 110kmh but most local drivers go way above that. Speed demons have been known to clock in excess of 250kmh on the NSH. If you're in the fast lane, check your mirror every few seconds to make sure no one is coming up fast from behind. If you do see someone approaching at high speed, do the decent thing – signal left and give way at the earliest opportunity. There are no winners in a high speed collision.

Parking – When choosing a parking spot, be sure to park in a well-lit area or at least not far from other cars. If you're parking anywhere overnight, it's smart to take a few more precautions. Invest in a steering lock made of solid steel and disconnect your battery if you're leaving your car parked for a long time (e.g. heading to Tioman Island). Criminals are typically looking for easy targets, so do anything to make your care a less enticing mark.

It's also important to plan your route carefully, so that you don't drive for more hours than you can handle. Make sure to take your car's range into account when planning this and take frequent fuel stops, instead of waiting for the 'fuel low' warning light to come on.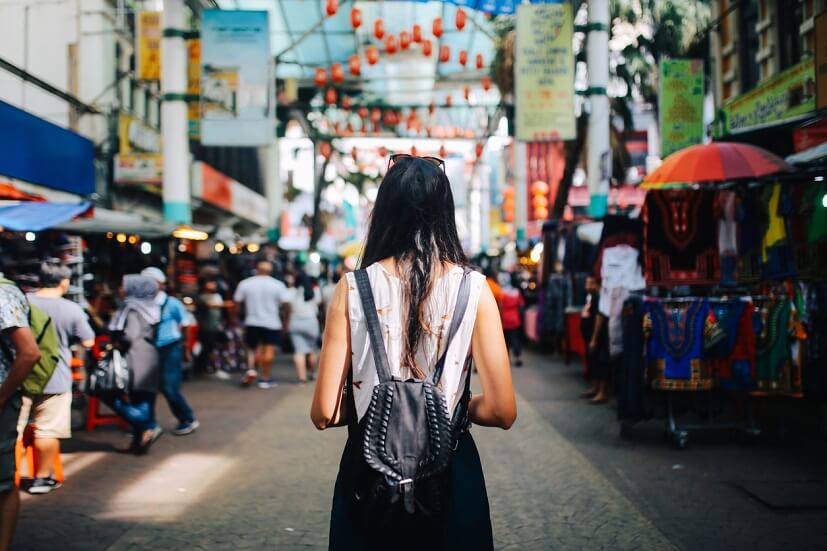 With the right prep, a Malaysian road trip could be your next adventure.
What to do if you're involved in an accident?
Stay calm and assess yourself and your passengers to see if anyone is injured. If someone is injured, make sure their injuries are not life-threatening. If they are, call one of the emergency numbers listed below. Take note of all the injuries suffered by all parties and take photos if possible. If there are no injuries, drive the vehicles to the road shoulder after taking photos of the accident.
Call your insurance company for assistance. For drivers insured with NTUC Income's Drivo Car Insurance, the 24-hour hotline number is +603 7965 3865.
DO NOT move either vehicle (if the accident involved another party) until photos have been taken of the accident. Take as many as you can and try to capture both close up photos of the vehicles as well as the whole scene. Include road markings if they help to prove your case. Make sure to include the number plates of all vehicles involved in the accident.
Secure your dash camera footage by ejecting the memory card or turning the power off if you're going to be driving your car after the accident.
Exchange particulars (Full name, NRIC no., Contact number, Home address and name of insurer) with all parties involved in the accident. If you had an accident with a Malaysian car, make sure to take a photo of the owner's driving license and road tax sticker as an added measure of identification.
There have been a recent spate of scammers working with rogue workshops causing an accident in order to con unsuspecting drivers to pay exorbitant amounts for towing services or car repair. Some even go as far as to hold your car ransom until they are paid. Gullible Singaporeans tend to be easy targets. DO NOT under any circumstances let your car be towed by a random tow truck or one that you don't recognise as this might complicate your insurance claim later.
Take note of these emergency numbers while in Malaysia:
Police and Ambulance: 999
Fire brigade: 994
Accidents: 991
St John's Ambulance: 03-9285-1576
NTUC Income emergency hotline: +603 7965 3865
Road trips can be a great way to see and experience a country, but we can't stress enough how important it is to be prepared for any emergency. Make sure insure with a good insurance plan, like Income's DrivoTM Car Insurance, so that you're covered in case of a traumatic accident especially when you're overseas.

With the proper preparations and safety precautions, a road trip in Malaysia (or any other country) can be an enjoyable and memorable experience and you will soon discover why so many Singaporeans have made that trip.
This article is meant purely for informational purposes and should not be relied upon as financial advice. The precise terms, conditions and exclusions of any Income products mentioned are specified in their respective policy contracts. For customised advice to suit your specific needs, consult an Income insurance advisor. This advertisement has not been reviewed by the Monetary Authority of Singapore. ​
These policies are protected under the Policy Owners' Protection Scheme which is administered by the Singapore Deposit Insurance Corporation (SDIC). Coverage for your policy is automatic and no further action is required from you. For more information on the types of benefits that are covered under the scheme as well as the limits of coverage, where applicable, please contact Income or visit the GIA/LIA or SDIC websites (www.gia.org.sg or www.lia.org.sg or www.sdic.org. sg).