4 Things to Do Before Renovating Your HDB Resale Flat
When buying a resale flat, it's likely you'll need to renovate it, whether due to the age of the property or its style. From the bare needs to having all your desires met when you move into your home, here's a broad list of items you'll need to check off before renovating your resale flat.
Identify the Necessary Fixes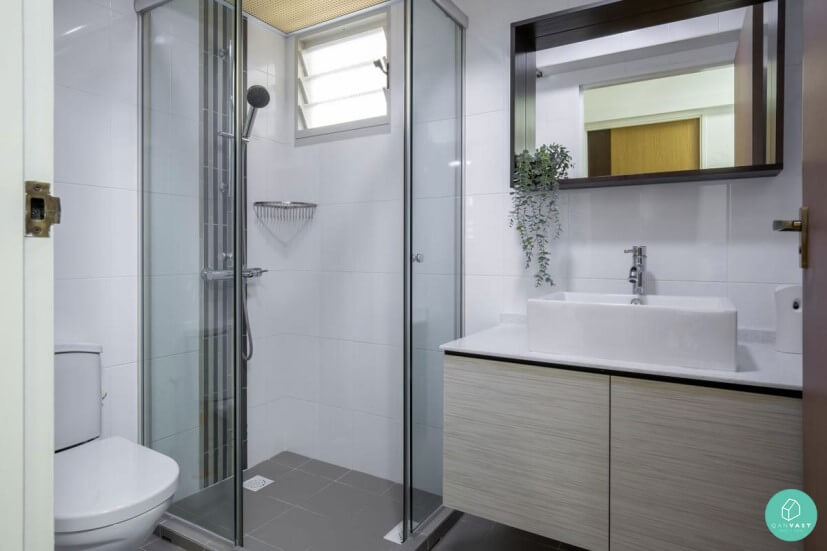 Source: Qanvast

When buying an old unit, it's important to check the state of the place, so you can fix anything that needs fixing before you do the place up and move in. Generally, besides the structural integrity of the apartment, it's important to check your plumbing, electrical and for pests.

Check that your plumbing is in good shape by doing a simple test:
Take a reading of your water meter.
Turn off all the taps in the house.
Check the water meter again several hours later.
If the reading went up, you'll know there's a broken pipe.

You'll then need to look for water damage/seepage. Look for peeling paint or wallpaper, patches of discolouration, or a musty smell in the room. Also listen for dripping sounds and keep an eye on the water bill to see if there are undetected issues.

If there are wooden built-ins, flooring or doorways, examine nooks and crannies for signs of termite/bedbug activity. If in doubt, hire a pest control specialist to do an inspection. It's best to nip such issues in the bud, before you move in.

Electrical is another important area. Flip all switches and consult a licensed electrician if any are faulty.
Figure Out What Upgrades You'd Like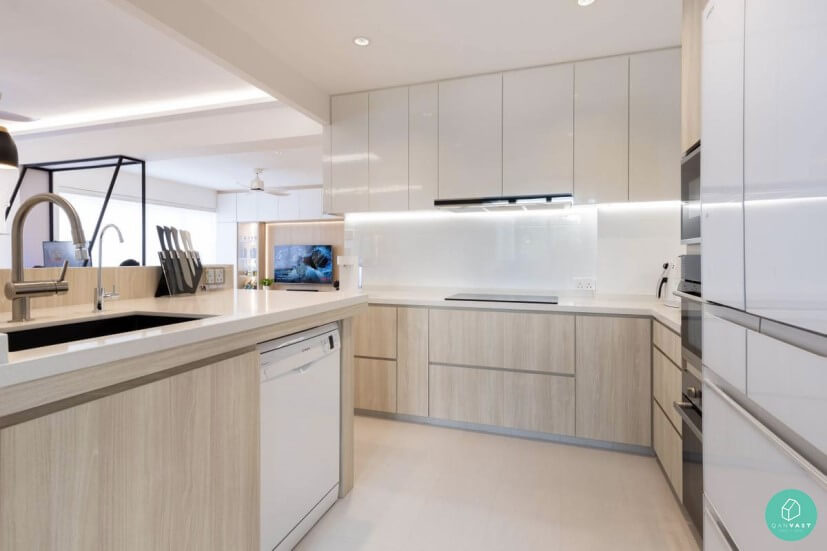 Source: Qanvast

If you're buying a resale flat, design and style aside, chances are that any built-ins, utilities and fixtures will be outdated. Not only may they look old, they may not be as efficient or smart as current day options.
Reviewing your Electrical & Lighting
Take a look at where the current power outlets, switches and light points are in the house and decide if you need to make any changes to the electrical plan. Not only can you shift the position of lights, switches and outlets, you can also add more of them wherever it makes sense for you.

For instance, if you have a lot of countertop appliances in your kitchen, you may want to add a couple of power outlets along the counter top backsplash.

Another good consideration is whether you should switch to more energy-efficient options (like CFPs or LEDs) and/or smart lights (that can be controlled via smart home apps).
Aircons & False Ceilings
Though the unit may come with air-conditioning units, check their energy efficiency and quietness. If there are quieter, energy-saving models within your budget, you might consider switching them out for savings on your utilities.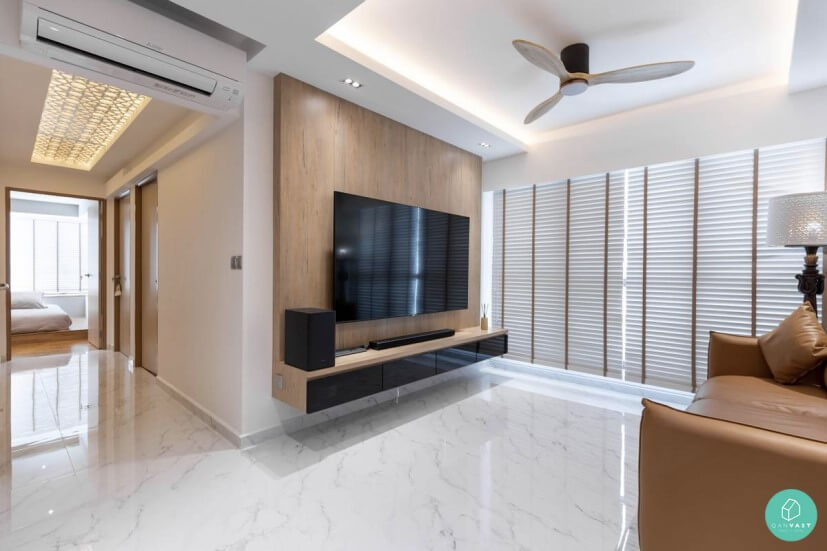 Source: Qanvast

With aircon units often comes pipes and trunking. If it's within your budget, you might want to put in a false ceiling to help conceal this, or piggy back the trunking on existing ceiling beams your unit may have.
List Any Other Must-Haves 
What other built-ins and fixtures would make your home feel more like yours?

Are you someone who like to host big dinner parties, where an open kitchen with an island would serve as a handy buffet area? Do you have a dog, for whom vinyl flooring may be too slippery? If you have elderly or young family members, what safety features might you need to put in for them?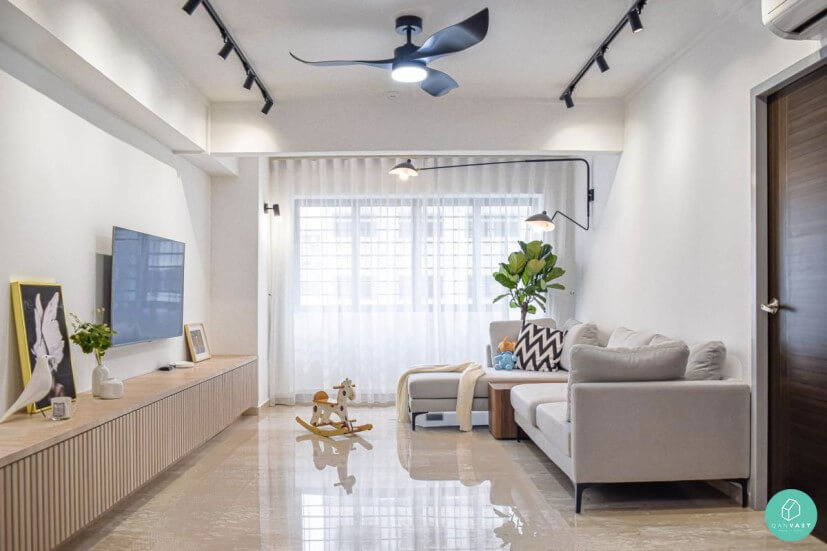 Source: Qanvast

We all live different lifestyles, so it's important to think carefully about how you'll use your space and what built-ins you'll need. Try thinking about how you use your current space on a day-to-day basis, and identity what you like and what you don't like about it. From there, develop a list of requirements your new home should fulfil.
Budget Realistically (and Stick To It)
Tempting though it may be to go all out on your renovation, it's important to go into it with a budget in mind.
Average Renovation Cost
HDB Flat
BTO
Resale
3-room
$38,350 - $44,000
$40,000 - $55,000
4-room
$43,000 - $45,000
$45,000 - $52,000
5-room
$45,000 - $52,000
$59,000 - $79,000
While it's true that resale flat renovations tend to cost more than BTO renovations, there are always ways to help keep your renovation costs manageable.

If you're not sure with how much money you have to play with, tabulate you and your partner's joint cash savings. From that, you'll want to subtract an emergency fund of 3-6 months' pay for each of you and any large payments you know you'll have to make in the year (eg. annual insurance premiums or any other loan repayments). What you'll be left with is how much money you have available. You can then decide how much of that you want to spend on renovating your new home. (If you're moving into your first home, make sure to also buffer some money for purchasing new appliance and furniture, which can also add up.)

Of course, a large part of how much your reno will cost you is also down to your style and the amount of work you'll require to be done. Try out Qanvast's renovation calculator for a rough gauge on how much it'll cost to renovate your unit based on the type of renovation works you require.
Protect the Home You Create
After all the inspections, the planning, (the spending!) and finally, the renovation, don't leave your new sanctuary unprotected.

No matter how meticulous you've been in redoing your resale flat, you never know when an old pipe might burst. Cover yourself from the costs of dealing with such problems with a good home insurance plan, like Income's Enhanced Home Insurance. With protection for the building, your home contents and your renovations, the plan protects you against fire, bust pipes, theft and more, for ultimate peace of mind at home.
This article is meant purely for informational purposes and should not be relied upon as financial advice. The precise terms, conditions and exclusions of any Income products mentioned are specified in their respective policy contracts. For customised advice to suit your specific needs, consult an Income insurance advisor. This advertisement has not been reviewed by the Monetary Authority of Singapore. ​
These policies are protected under the Policy Owners' Protection Scheme which is administered by the Singapore Deposit Insurance Corporation (SDIC). Coverage for your policy is automatic and no further action is required from you. For more information on the types of benefits that are covered under the scheme as well as the limits of coverage, where applicable, please contact Income or visit the GIA/LIA or SDIC websites (www.gia.org.sg or www.lia.org.sg or www.sdic.org. sg).