What Insurance Plans You Need At Each Stage Of Life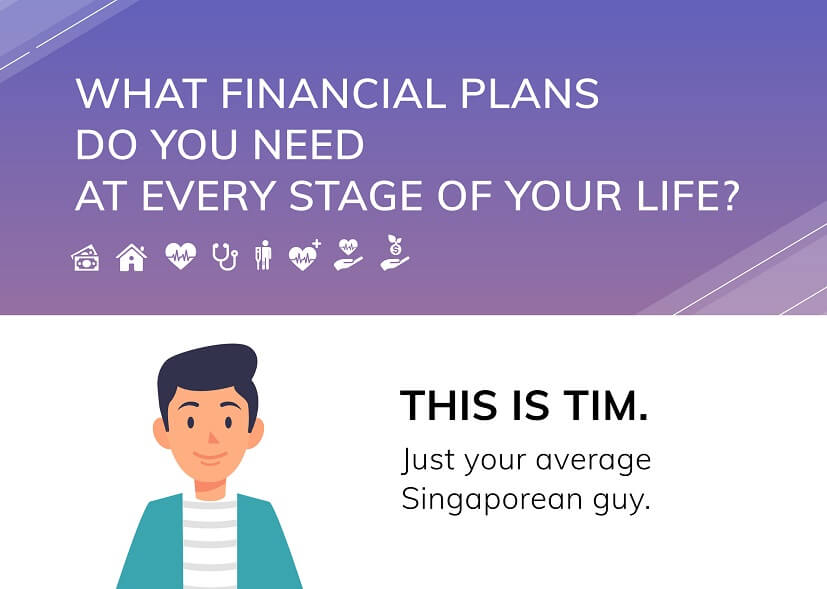 Have you ever thought about how your life story will play out? Amidst the joy, tears and rich life experiences, you will pass milestones at certain points in your life that signal a new stage.

At each new stage in the story of your life, having a good financial plan with the right products sets you up for success.

Let's follow Tim on his life journey to see how his financial plans evolve as he ages.
Age 25: Tim graduates and gets his first job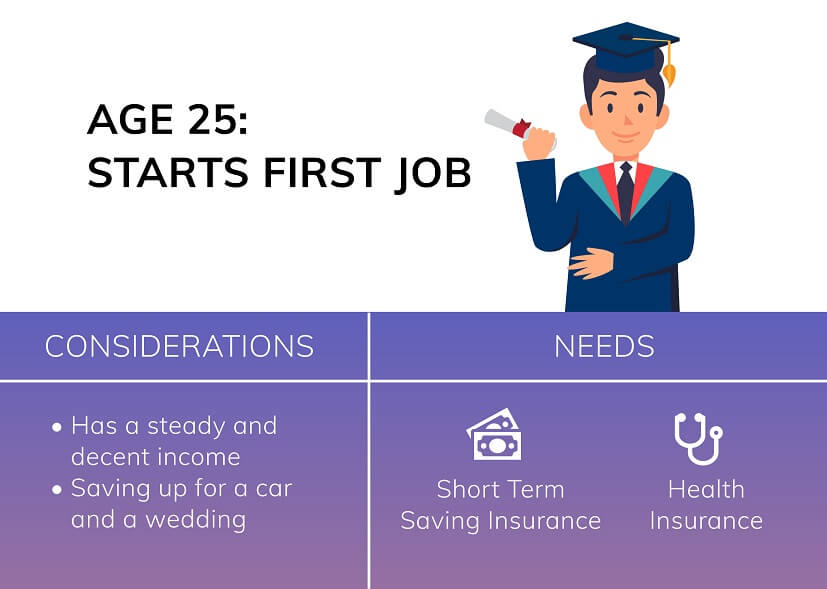 Tim has just graduated from university with a business degree, and thanks to his hard work, he has landed a job at the advertising agency he interned with during his final year.

Working in his first job is challenging but rewarding. As the newest employee on the team, Tim has a lot to learn, and the long hours sometimes push him to his limits, but he is determined not to give up.

One thing is for sure, though, he is definitely enjoying earning a decent salary for the first time in his life.

With his steady paycheck, Tim has a few goals for the near future

The first is to buy a car. He has always dreamed of being able to go for night drives with the windows rolled down and music blasting from the speakers. Driving to work would also cut his morning commute in half.

His second goal is to plan for his wedding with Joanne, his girlfriend whom he has been dating since his uni days. Tim has been wondering how to propose to her, but he wants to first make sure that he's able to afford a wedding.
What Tim needs:
As Tim has a few short-term savings goals to achieve within the next few years, he can use a short-term savings plan to help him stash cash away regularly and accumulate the funds he needs.

Now that he is a working adult and no longer depends on his parents, Tim should also think about getting health insurance (if he doesn't already have any) so that he will be confident about being able to afford medical care come what may.
Age 30: Tim gets married and moves into his new home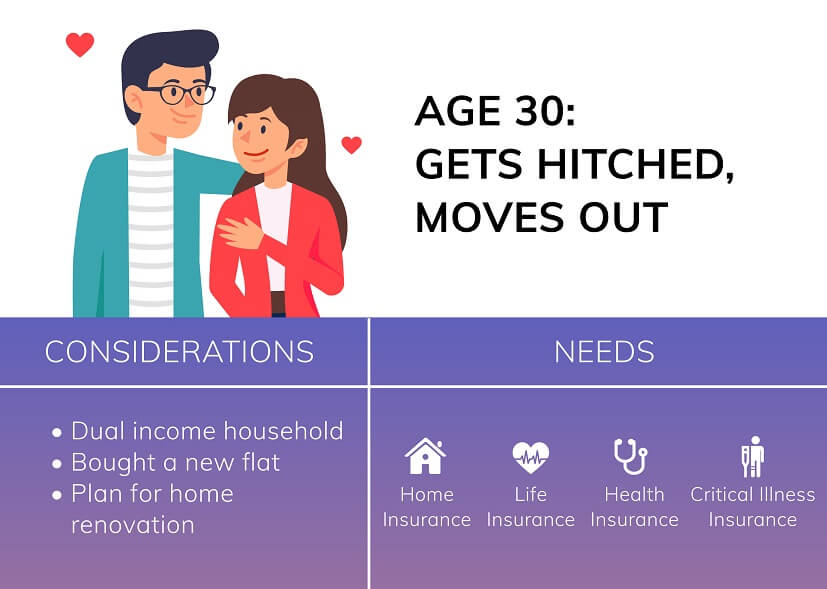 Truth be told, Tim's twenties were quite challenging as he struggled to learn the ropes and gain a foothold in the advertising industry. But now, at the age of 30 and with 5 years of experience under his belt, Tim feels surer of himself. In fact, he just got promoted and got a decent pay raise.

Buying a home was a bit daunting for Tim, but thanks to his CPF savings and HDB grants, it was not as tough as he thought it would be. As part of a dual income couple, it also helps that he gets to split the expenses with Joanne.

Now, he and Joanne are planning to renovate their new flat to turn it into their dream home. As a film buff, Tim really wants to install a home cinema system in the living room!
What Tim and Joanne need:
To protect their new home, Tim and Joanne can look into getting home insurance. This will ensure that their brand new renovations as well as the contents of their home, such as their new cinema system, are protected from accidents, theft and more.

Tim and Joanne should also ensure they are adequately covered by protection plans. While they are both in good health right now, they need the assurance that they will be financially protected if something happens to one of them.

While Tim already has a health insurance policy, Joanne does not have one, so it is high time she gets her own. With a private health insurance plan, they'll be covered for inpatient and outpatient hospital treatment, as well as any emergency surgical treatment.

Another type of protection plan Tim and Joanne can benefit from is life insurance. Life insurance will offer the couple financial support and replace lost income if one of them is unable to work due to death or permanent and total disability.

Critical illness insurance is also ideal for Tim and Joanne right now. If one of them gets diagnosed with a critical illness or dread disease like lung cancer or colon cancer, he or she will receive a lump sum payment that will help the couple focus on treatment instead of worry about their finances.
Age 32: Tim and Joanne start a family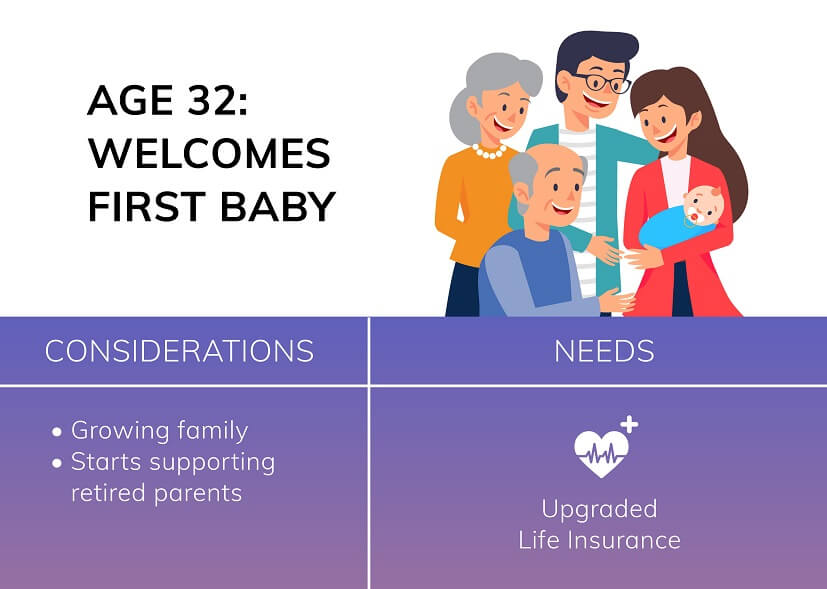 Tim has not been sleeping much lately, but he could not be happier. That's because he and Joanne recently become parents to baby Ansel. Tim has been playing the guitar to Ansel in the evenings and is fascinated by how the tiny baby responds to the music.

Now that he is a father, Tim definitely feels like his responsibilities have multiplied. He realises that the most important thing to him is making sure Ansel and Joanne have a life filled with happiness and security, no matter what happens.

Tim and Joanne are also financially supporting their respective sets of parents, who recently retired. Tim gives his parents a monthly allowance, which adds to his financial responsibilities, but when his mum cooks his favourite dishes at their weekly dinners he couldn't be happier.
What Tim and Joanne need:
To protect Ansel and each other, Tim and Joanne can rely on life insurance plans that ensure that, in the event that either of them dies or becomes totally disabled, Ansel, the remaining spouse and their elderly parents will have a financial cushion. While they both bought life insurance when they first got married, they can consider beefing up their life insurance protection now that they are parents with greater responsibilities

They can choose between whole life insurance, which will cover them their entire lives, or term life insurance, which will last for a certain period, such as until Ansel is financially independent.
Age 38: Tim and Joanne plan for retirement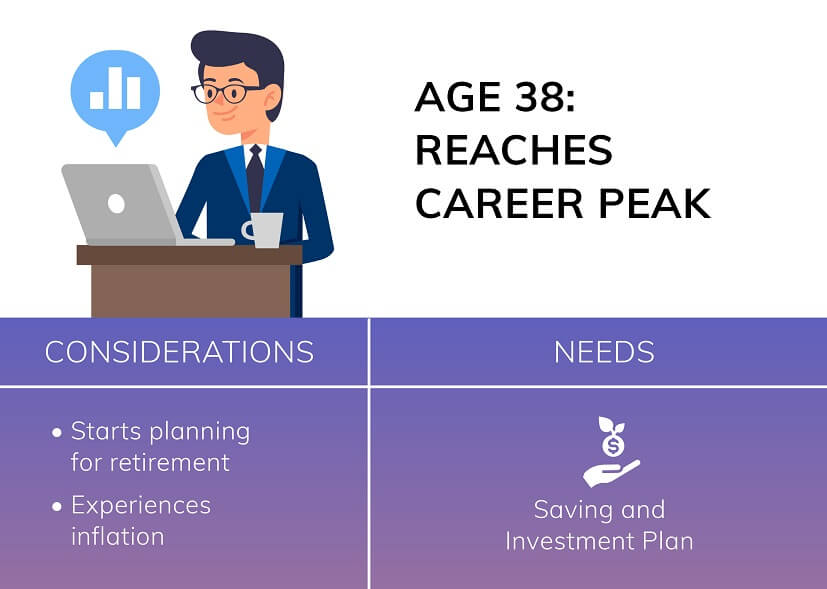 Tim is now at the height of his career as an advertising professional, while Joanne is a sought-after computer engineer. They both enjoy their jobs and there are definitely perks to being industry experts, but they are also looking forward to retirement.

They are, however, concerned about the rising cost of living and sometimes wonder if they will be able to retire comfortably while maintaining their current standard of living. Though their expenses are relatively contained, since they only have one child, they do like to dine at nice restaurants from time to time and go on occasional overseas holidays, and they'd like to be able to continue to do so when they retire.

Tim and Joanne also wish to prepare adequately for their retirement so Ansel will not be forced to support them financially when he grows up. This will allow him to avoid being sandwiched between his parents and his kids, giving him the freedom to raise his kids and live his life as he wishes.
What Tim and Joanne need:
Now that preparing for retirement is a key concern, Tim and Joanne can consider growing their wealth using a savings and investment plan that offers the potential for high returns and the flexibility to choose their desired retirement age. With certain products, they can choose between receiving regular income over, say, 20 years or a lump sum payout, which they can apportion accordingly to fund their retirement. These plans also offer protection so that they can enjoy additional peace of mind while saving up for their retirement, on top of what their life insurance provides.
Age 65: Tim and Joanne retire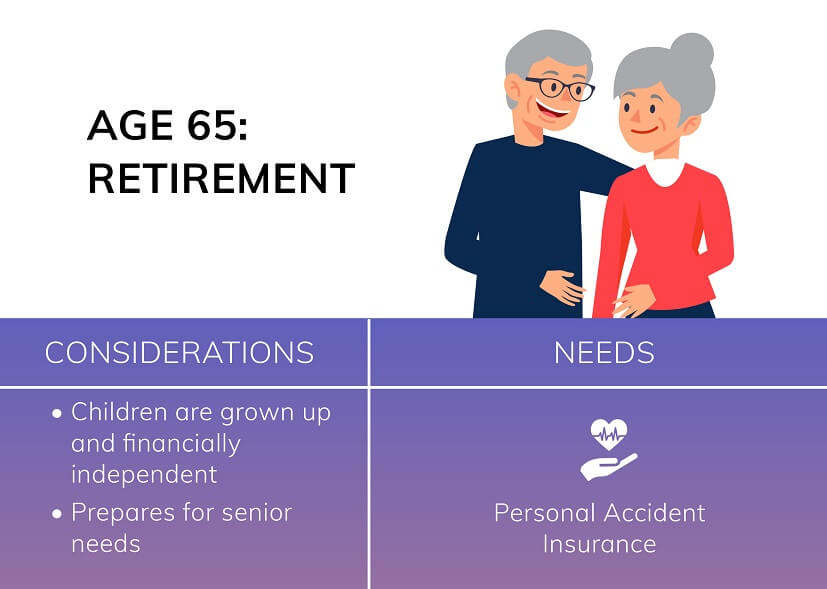 The past few decades of Tim's life have been colourful. He's risen through the ranks to become one of Singapore's most celebrated advertising gurus. Joanne, too, has had a fruitful career. Both feel that they have worked hard and are ready to retire.

Tim and Joanne have also seen Ansel grow up to become a confident young man who is now fulfilling his childhood dream of becoming a marine biologist.

Now that Ansel is no longer financially dependent on Tim and Joanne, they can retire with peace of mind. Thankfully, they started planning for retirement decades ago, and so have a comfortable retirement income.
What Tim and Joanne need:
As Tim and Joanne age, they might want to consider senior specific plans that can cover them for accidental death and permanent disability, as well as medical, home-care and caregiving expenses if they get into an accident. While both of them are still healthy, they'd like to have the peace of mind that they'll be taken care of no matter what happens.
__

Not sure what insurance you need at your age? Speak to an Income advisor to find out about your insurance needs at any stage in your life. There's no way to know what the future has in store for you, but with the right help and planning, you can give yourself the best shot at writing a beautiful life story.
This article is meant purely for informational purposes and should not be relied upon as financial advice. The precise terms, conditions and exclusions of any Income products mentioned are specified in their respective policy contracts. For customised advice to suit your specific needs, consult an Income insurance advisor. This advertisement has not been reviewed by the Monetary Authority of Singapore. ​
These policies are protected under the Policy Owners' Protection Scheme which is administered by the Singapore Deposit Insurance Corporation (SDIC). Coverage for your policy is automatic and no further action is required from you. For more information on the types of benefits that are covered under the scheme as well as the limits of coverage, where applicable, please contact Income or visit the GIA/LIA or SDIC websites (www.gia.org.sg or www.lia.org.sg or www.sdic.org. sg).