How Singaporean Millennials Spend & Save – Giving Back
By Sandra Fan, 07 December 2019
1045
If there is one concern among millennials in Singapore, it's having enough money to meet their basic needs.

In a 2018 study, more than half of the respondents (aged between 25 and 34 years) said that they could not afford healthcare, retirement, and unplanned emergencies.

Debra Tan, a 26-year-old freelance music teacher who earns $4,000-$4,200/month, identifies with this. We spoke to her and two others on how they spend their money.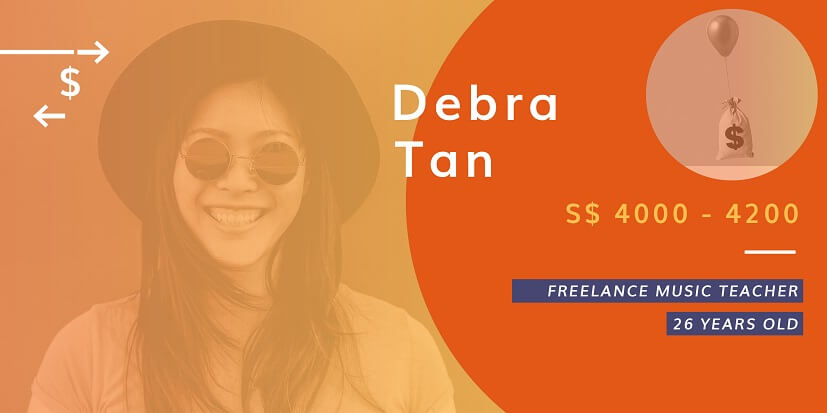 Little to spend on

Among the three we interviewed, Tan earns the most but spends the least.

Her personal essentials amount to about only $550 a month, which includes $90 for transport, $30 dollars on hair and skin care products, and another $30 on her handphone bill. The remaining amount (10% of that month's salary) is her monthly tithe to her local church.

Beyond this, Tan gives her parents $600 a month to pay for the household groceries and bills.

Additionally, she gives them $625 every month to pay for her insurance and savings plans. She does not know what plans she has, as these were bought by her parents, but she knows she pays about $210 every month for the insurance plans and the rest goes into her endowment.

This leaves her with $2,225-$2,425 in disposable income every month.

A self-confessed introvert, she spends $200 eating out with her friends. They mostly go to restaurants that cost her $20 to $30 per meal. Her other non-essential purchases cost her about $20 a month, though this could go up to $200 for good deals she finds at sales.

So on average, Tan saves about $2,005-$2,225 a month, at least half her salary and much more than the recommended 20%.

Twice a year, she draws from it to take a holiday. Usually, she takes one trip within Asia, which would cost her roughly $1,000 to $1,500 and another trip further away, to places like Australia or Europe, where she spends roughly $2,000.

"I'm happy to go wherever I have visited", Tan says. "I don't spend on anything in particular when I'm overseas. I just take in whatever the country has to offer", she adds.

Tan says she would like to visit a country faraway soon such as the US. But then, she'll probably only have one long trip that year due to the cost.


A freelancer's fear

Despite earning a respectable amount, Tan says she was really worried about her potential financial situation when she first started to freelance at the beginning of 2018.

Her main concern was whether she would be able to make ends meet, she said, as she had less than five students when she began. Any lesson they cancelled meant doing with less money for that week.

As her student base grew in the second half of 2018, Tan's concerns were gradually assuaged.

She is thankful that her family's financial situation is secure. Her mother is a housewife while her dad works as an engineer. They managed to pay for her four-year music college in London so that she is loan-free.

Frugal by nature

Tan insists that she's not intentionally running a tight ship. She just doesn't have a need to spend her money since she has no colleagues and she does not socialise much as well. Given that her work is homebased, she usually has her meals at home during the weekdays.

She is also not a fan of subscription services since there are already free sources of entertainment such as YouTube and social media which are good enough for her, she says.

As for preparing for her future, Tan is thinking of creating a larger nest egg for herself, although her personality means that she will only gun for low-risk investments such as the Singapore Savings Bond. "The safer the better", she remarked with a chuckle.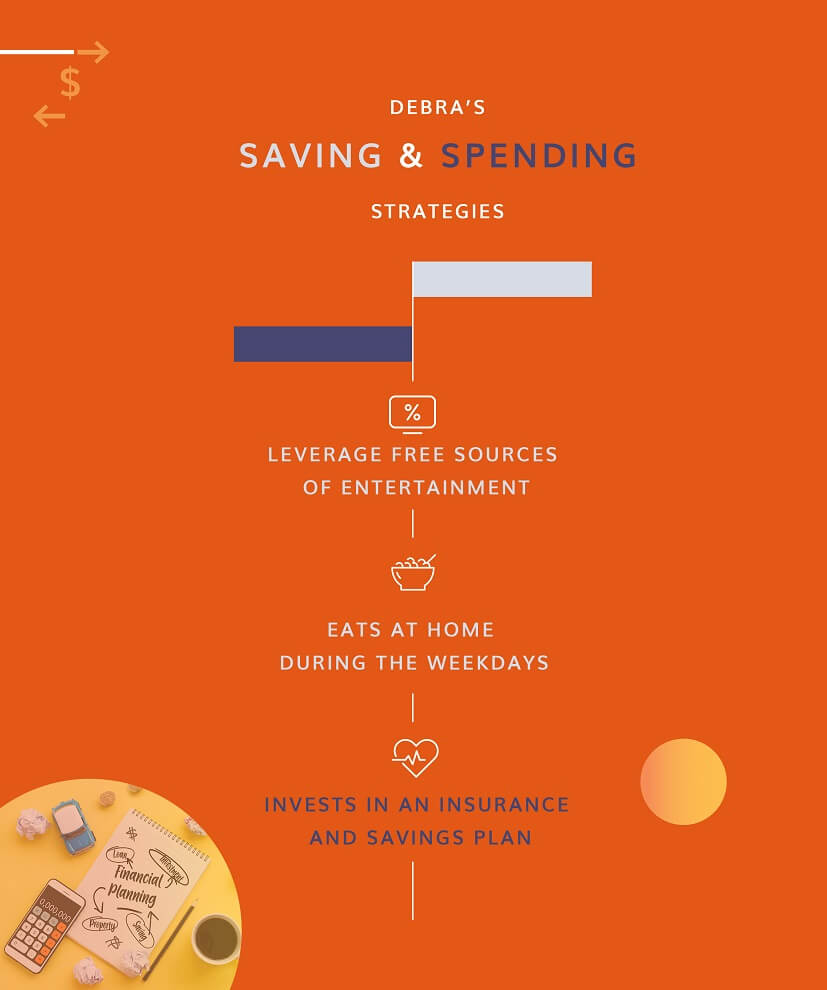 Giving back

Now that her income has stabilised and will only keep growing, Tan says she is looking into portioning out a sum of her money of "a few hundred dollars every year" to give to charity.

"I'm in a privileged position to give, and I think helping the disadvantaged should be natural for people who are able to", she said. Tan is keen on social affairs in Singapore. She, like most of the Singaporean millennials, is interested in social causes and believes that giving back and helping others are important.
___

If you, like Debra, want to learn how to best invest your money and yet have enough to give back to society, why not speak to an Income advisor.


*Pseudonyms were used in this article.
Important Notes:
This article is meant purely for informational purposes and should not be relied upon as financial advice. The precise terms, conditions and exclusions of any Income products mentioned are specified in their respective policy contracts. For customised advice to suit your specific needs, consult an Income insurance advisor.

This advertisement has not been reviewed by the Monetary Authority of Singapore.
"