How Singaporean Millennials Spend & Save – Struggling To Be Prudent
By Sandra Fan, 07 December 2019
579
Millennials have long had to bear with a bad reputation – the strawberry generation, snowflakes, narcis-sists. You name it, they've been called it.

27-year-old Brandon Leong isn't particularly fond of the name-calling, not just because it stereotypes, but because it hits close to home – he really does love his coffee and brunches.

Leong is a content writer at a local financial advisory firm who earns $3,000 every month. We interviewed him and two others on how millennials living in Singapore save and spend.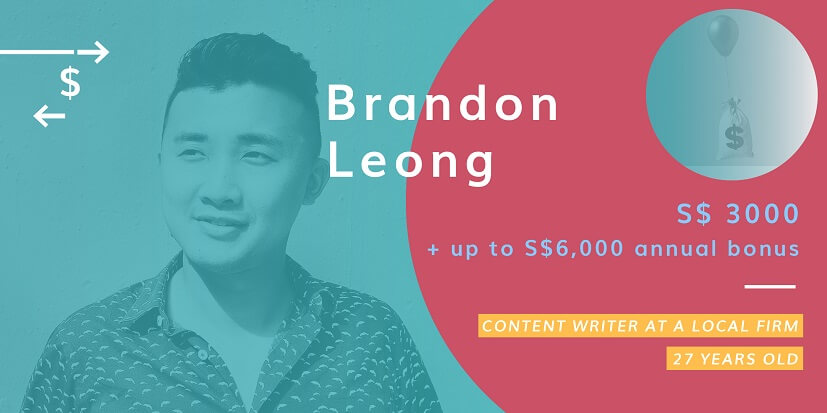 After deducting $600 for his CPF, Leong spends $650 on basic necessities.

This includes $30 for his handphone bill, $220 on transport – he averages two private hire rides per week – and $100 goes to his meals at work. Most of the time he spends about $5 on a plate of mixed vegetable rice. But he sometimes indulges in a sandwich or a fast food meal along the Orchard Road stretch where he works.

The last $300 goes to tithing at his church. He knows that it is a lot of money but is an important monthly ritual for him.

Additionally, he hands over $1,000 to his parents every month. $400 covers his portion of the household bills and groceries, another $400 goes to his savings plan, and the last $200 is an allowance he gives to his parents.

Mates over money, pleasure over penny-pinching

Of the $750 he has left, he estimates about $400 of that is burnt eating out with friends. He spends about $20 to $30 per meal, and he meets his friends about three times a week. It is a costly habit, but "there's no choice if you want to hang out," he shrugs.

He uses up another $200 every month on non-essentials, be it books, vinyl records or entertainment sub subscriptions like Netflix. That leaves him with $150 left in the bank to build up his emergency fund.

As for his bonuses, which add up to $6,000 a year, he saves only one-third. The rest goes to his twice-yearly holidays.

Each trip costs about $2,000 including airfare, accommodation, and other expenses. The self-professed "comfort seeker" usually goes to a city in Japan or Australia for his vacations and spends a week there.

"I want to relax when I'm on holiday where I can have good food and I don't have to worry about my safety," he says about his preference over trips to countries in Southeast Asia.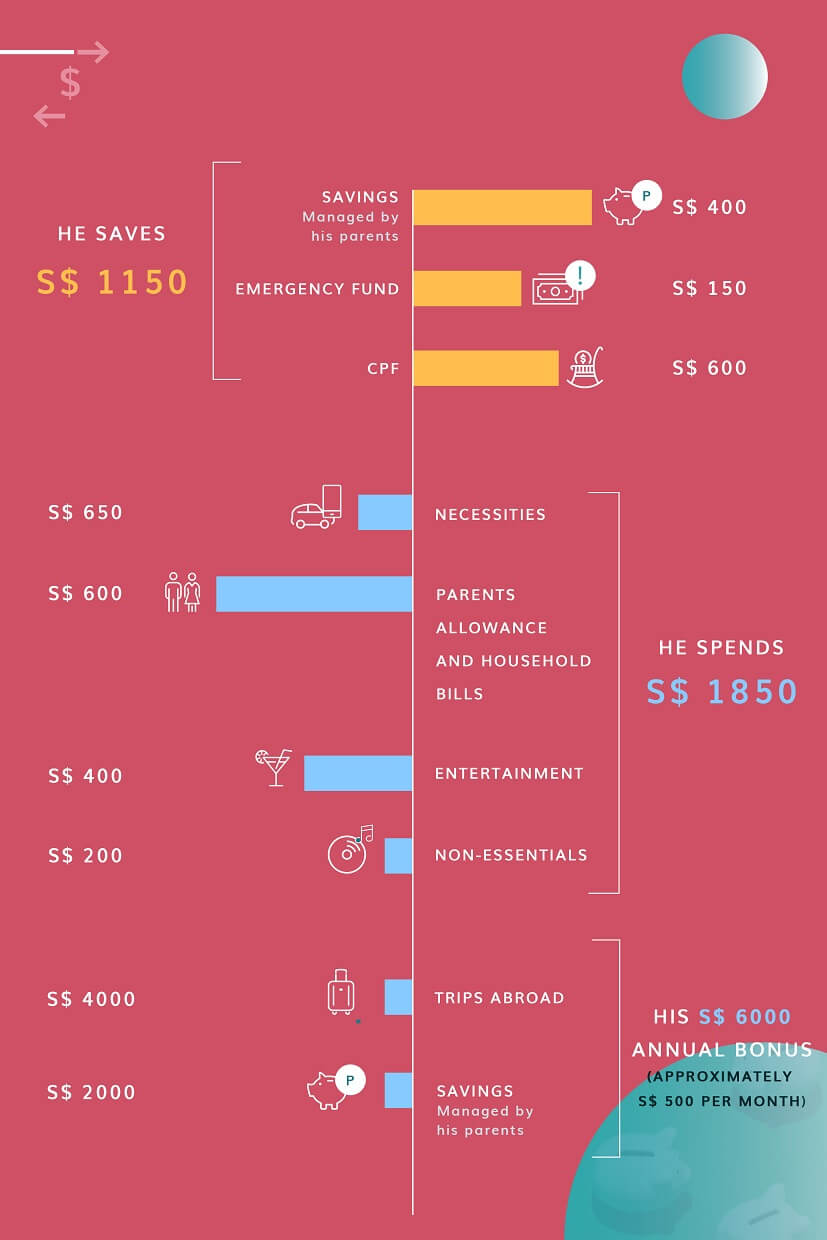 Spending beyond his means

"I know with my current income I've loosened the purse strings a little too much. But it's hard when after a long week of work, you just want to relax in a cafe or binge-watch a drama series," Leong says with a sigh. "And I genuinely enjoy my time with my friends. I won't give that up even if it means spending more."

Does he think he can start being less indulgent though? He ponders for a bit. "Maybe with my friends I should suggest going for walks or eating at hawker centres instead. I have to start being firm with them and with myself," he says, perking up.

Leong also knows he needs to be more careful with his habits if he wants to get married and have his own house in the future. He was mostly banking on a promotion in the next "two to three years" to up his sav-ings game, he says, but perhaps some judicious financial planning is vital too.

'Adulting'

For a start, he should take ownership of where his savings go, Leong admits. He reveals sheepishly that his parents take care of his finances on his behalf.

Whether it's the $400 every month or $2,000 from his bonuses, Leong just transfers the money to them, trusting that his parents have parked the money in the best savings plan they found.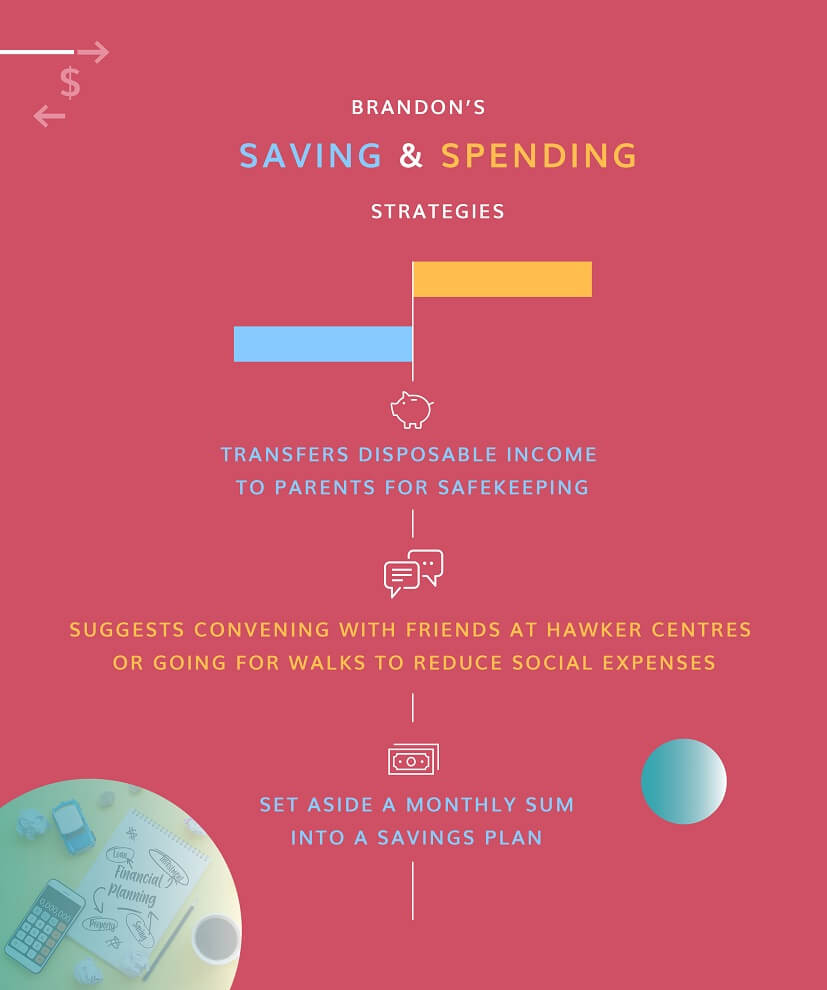 Leong also doesn't pay for any of the insurance plans he has. His accident and hospitalisation plan is cov-ered by his company, while his integrated shield plan is paid for by his parents.

But if he wants to be more disciplined with his wallet, Leong understands that he needs to know how much he actually has to plot out a new budget.

Towards the end of the interview, Leong takes a long and deep breath. He declares: "It's time to grow up."
___

If like Leong, you are struggling to build your personal balance sheet while still enjoying what life brings, we at Income are always here to listen and help. If you need advice on how you can live a worry-free life and still be there for your friends and family, chat with our advisers online at Advisor Connect for help on finding the perfect savings plan.


*Pseudonyms were used in this article.
Important Notes:
This article is meant purely for informational purposes and should not be relied upon as financial advice. The precise terms, conditions and exclusions of any Income products mentioned are specified in their respective policy contracts. For customised advice to suit your specific needs, consult an Income insurance advisor.

This advertisement has not been reviewed by the Monetary Authority of Singapore.
"