How Are Singaporeans Planning For Retirement?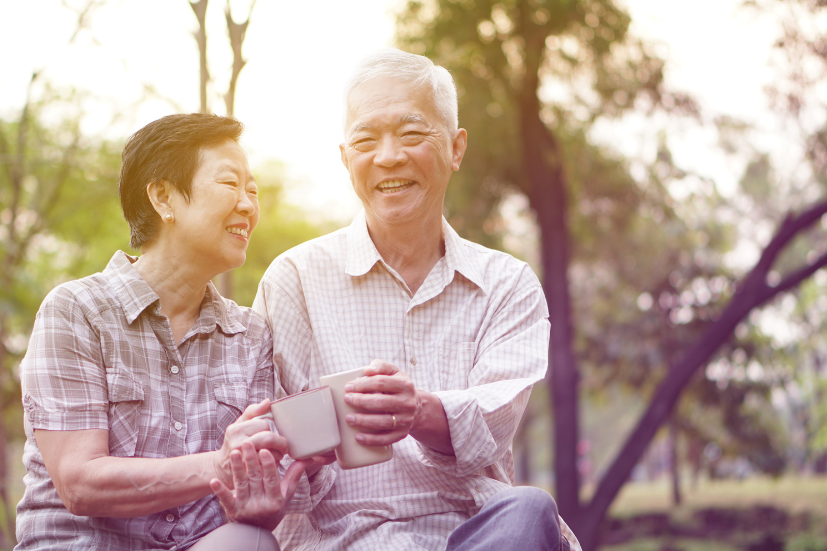 You're never too young to start saving for retirement, so how are you planning for yours? It's best to start your retirement planning as soon as you enter the working world, but the simple truth is, not everyone does so.

We spoke to some Singaporeans and got their thoughts on retirement as well as what they're doing to prepare for it.
Lessons From Retired Parents
Wee Kee, a 44-year-old marketing professional, has been planning for his retirement since he started working. He has an idea of what retirement is like, from his father's experience.

"My parents were from very modest backgrounds, they grew up poor. My father worked day and night as a taxi driver and, like a traditional family man, he would pass his earnings to my mother to allocate for expenses," he explains. "They prioritised savings over spending, accumulated enough for their children's education and for what would become their retirement nest egg."

Wee Kee continues: "My dad still stays in the same corner three-room HDB flat he bought 44 years ago and takes buses everywhere. He does his own housework and cooks simple meals. He has simple joys and keeps his regular expenses low."

He says that he does have some retired relatives who live "fairly modestly" and have children who can help them should there be a need, although he admits that he doesn't know the true extent of it. He does help his own father in some situations too, such as paying for meals out with him and when they go on holidays together.

"When I bought my home, I told my father that I couldn't continue giving him a regular allowance as I have to manage the heavy mortgage payments," he says. "He understood. It also helps that he has a stock portfolio which I have oversight for, that he can tap on should he need it."



Generating An Income For Retirement
For Wee Kee, retirement planning has largely been concentrated on capital growth through stock investing.

"It's only recently that I put more thought into other schemes available as the stock market sagged. I check back every year or two to see if I'm still on track," he explains.

Among others preparing for their retirement, insurance savings plans and investments seem to be growing in popularity as sources of passive income.

At 47, Zerlina Sim has explored a diverse range of options, including insurance products and real estate, among others. For her, retirement planning is all about "establishing investments that give me either a rental payout each month or a recurring regular interest."

Besides purchasing investment properties both here and overseas, Zerlina has term and whole life insurance, as well as investment-linked insurance products, which provide annual payouts, in her retirement planning portfolio.

But When To Retire?
It's important to have a retirement plan so you have the funds to do whatever it is you wish to, when you finally make the decision to retire.

For Zerlina, her children are a key consideration in when she sees herself retiring – she doesn't see herself retirement until her youngest turns 21 at least.

In the meantime, she's taking steps to make sure she's mentally and physically prepared for retirement as well.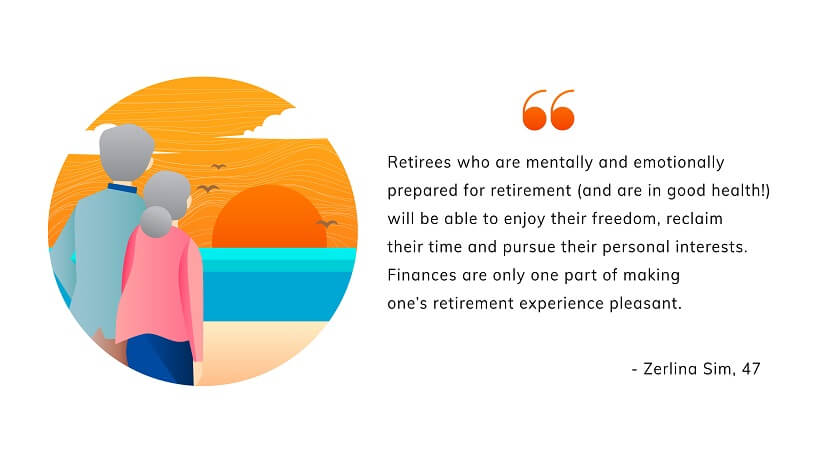 Lawyer Maria Tan, 50, and her husband have invested in products and properties and have started to set aside money for their retirement in order to be comfortable later in life. They have a 10-year-old daughter and therefore want to be sure they have enough for her education too.

She plans to retire around the age of 65 although they both intend to continue to be engaged in consultancy work, to have monthly expenses covered. "So, when we say 'retire comfortably', it means we do not worry about big-ticket items and our child's education," she explains.

As for Wee Kee, he thinks 65 is a good age to retire, as "any younger and you get mentally bored, and any older, you don't get enough time to tick off your bucket list". He doesn't intend to retire per se, but instead shift focus to do work he's passionate about. He hopes to have paid off his mortgage by then, so that he has more leeway to do more of what he likes to do.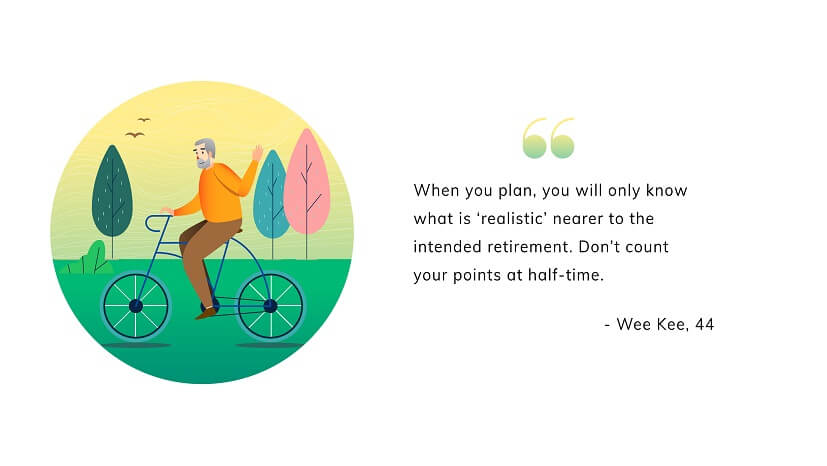 Being financially independent in your retirement years is a goal for many so take the right steps in order to achieve this. Speak to an advisor online for guidance on how best to achieve your retirement goals.



Important Notes:
This article is meant purely for informational purposes and should not be relied upon as financial advice. The precise terms, conditions and exclusions of any Income products mentioned are specified in their respective policy contracts. For customised advice to suit your specific needs, consult an Income insurance advisor.

This advertisement has not been reviewed by the Monetary Authority of Singapore.