19 January 2023

SINGAPORE, 11 Jan 2023 –
Income Insurance Ltd (Income), one of Singapore's leading composite insurers, has doubled down on amplifying its purpose of putting "people first" in its latest marketing campaigns. "People first" is not just a marketing amplification of a purpose but is mirrored in Income's ethos, from the way its advisors treat their customers to the designing of product benefits. This helps Income create stronger product narratives that resonate with customers and has driven continuous revenue growth for the brand.
Income's three latest campaigns amplify the products and services that embody this value of "Putting people first" in an emphatic yet empathetic manner.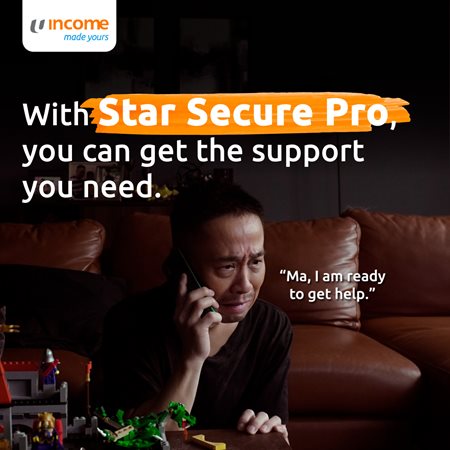 Star Secure Pro is a life insurance product that provides mental wellness benefits for customers, which is uncommon in the category of insurance typically focused only on post-death and critical illness benefits. It acknowledges the growing awareness and understanding of the importance of achieving mental well-being. As part of the campaign, Income spoke to individuals with "major depression" and uncovered a common theme that the only time that mental health could be openly acknowledged was after the loss of a loved one.
In turn, it triggered the central thought behind the campaign which is to not neglect mental illness that can be triggered by the loss of a loved. The
commercial
was a hard-hitting one, showcasing a father who had lost his son. It broached sensitivities surrounding mental illnesses with the father picking up the phone to get help – conveying a message that mental conditions can occur to anyone, and support is available.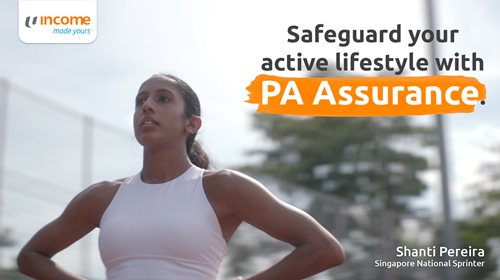 Income's PA Assurance is a product crafted for today's generation of millennials and Gen Z who pursue an active lifestyle, with its coverage of sports related injuries. The campaign focused on this specific benefit, with the theme of "Turning your setbacks into comebacks". Centered around the theme of resilience, the campaign was headlined by Singapore National Sprinter and SEA Games Gold Medallist, Shanti Pereira, with inspiring footage of her overcoming injuries to continue competing and pursing her career as a professional athlete.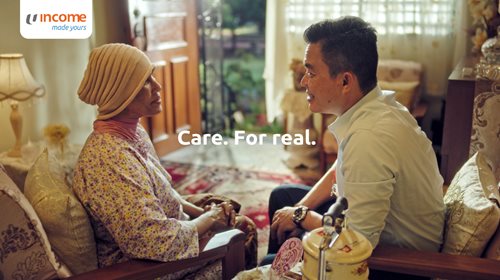 The third was the "
Real Care
" campaign, which highlights how Income puts "people first" in action through tangible acts of "real care" in a time when care is increasingly a text message or an emoji. The
commercial
featured Income's acts of Real Care through initiatives such as
Orange Force
, a road-side assistance service for motor insurance customers,
Silver Protect
, a term life insurance which covers seniors up to 84 years old for cancer as well as the continuous acts of Income's advisors
"showing up" when customers really need it
.
Income's commitment to "putting people first" has been at the cornerstone of its existence since 1970. From being formed to make insurance accessible to all Singaporeans to recent times, where Income provided Covid support schemes that benefited more than 50,000 customers, its values are reflected in the brand's behaviour. This translates into social impact, with Income observing the highest brand association amongst other insurers, tied to empowering those in need by way of products and initiatives, as revealed in the latest Social Impact survey. On the business front, Income has the highest market share in General Insurance and continues to grow the company's base of more than one million customers.
Being "People First" doesn't just stop at Income's marketing efforts. It is an organisation-wide commitment, signalled with the recent change in the Chief Marketing Officer's (CMO) title to Chief Customer Officer (CCO). The change is an acknowledgment of the CMO's broadened remit which encompasses marketing but also expands to customer centricity, which now includes customer data ownership and customer experience.
Dhiren Amin, whose title has expanded from CMO to Chief Customer Officer, Income,
said: "Purpose and product benefits are sometimes at odds in marketing but we are glad to be able to marry both in speaking to people's needs. Income has always placed people at the forefront, from our value-friendly products and services that put people first, to our mission of having their best interests at heart – fulfilling their financial needs, making insurance simple and championing causes that matter to them. This vision of "people first" is what makes Income socially relevant and financially successful. It allows the brand to differentiate itself, while allowing it to tangibly address important social issues, utilising creative storytelling to evoke emotions and inspire action. It is our reason to exist and our reason to succeed, which is a good place to be."