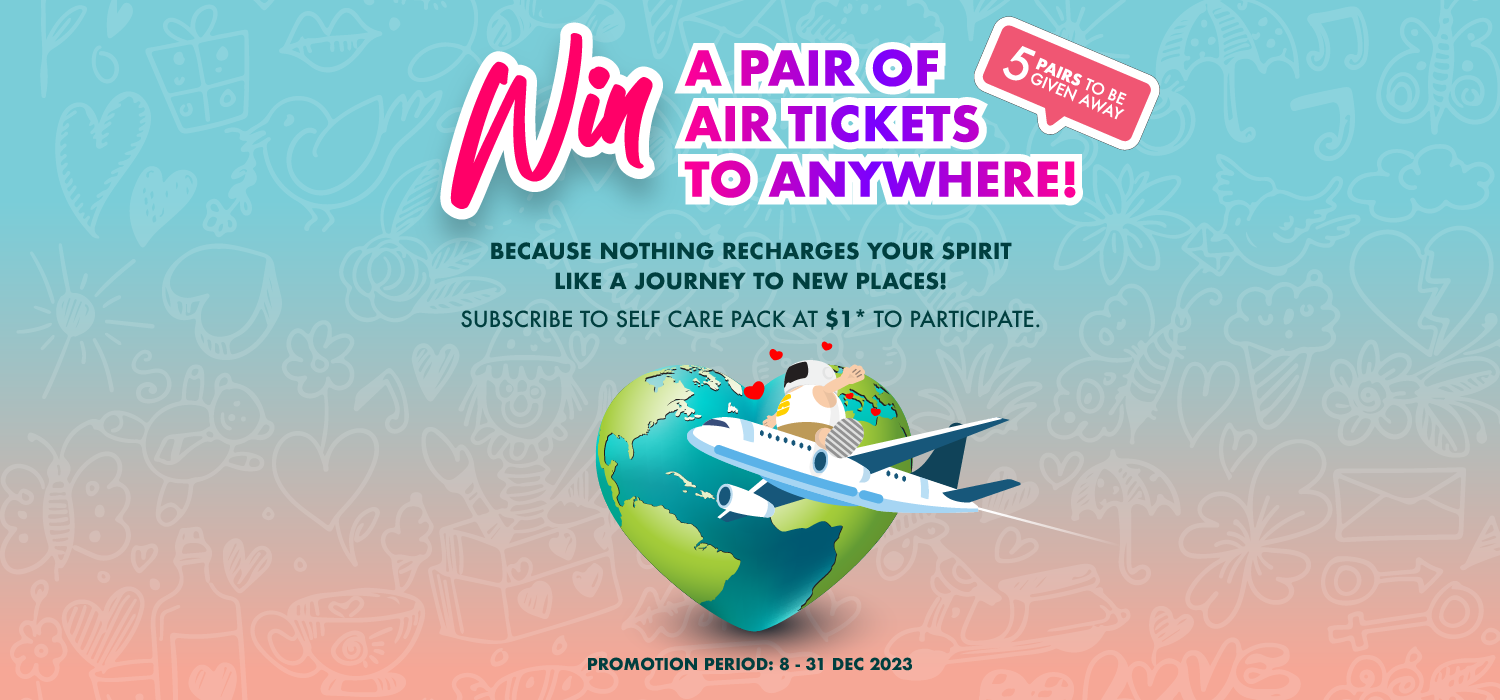 Win a pair of air tickets to anywhere*!

Because nothing recharges your spirit like a journey to new places! Catch the next flight and escape from the hustle and bustle of everyday life to reset your mind, body, and soul. Discover the joy of self-care through wanderlust and adventure.

From now till 31 December 2023, enjoy SNACK Self Care Pack at just $1/Month for your first month (U.P. $9.90/Month) and stand a chance to win a pair of flight ticket to anywhere worth $8,000 per pair. Up to 5 pairs of air tickets to be won!
*Terms and conditions apply, click here to view


How to participate?

Subscribe to SNACK Self Care Pack from now till 31 Dec 2023.
You will be automatically entered into a lucky draw.
Total of 5 pairs of flight tickets worth $8,000 to be won.
Lucky draw results will be annouced by 6 March 2024.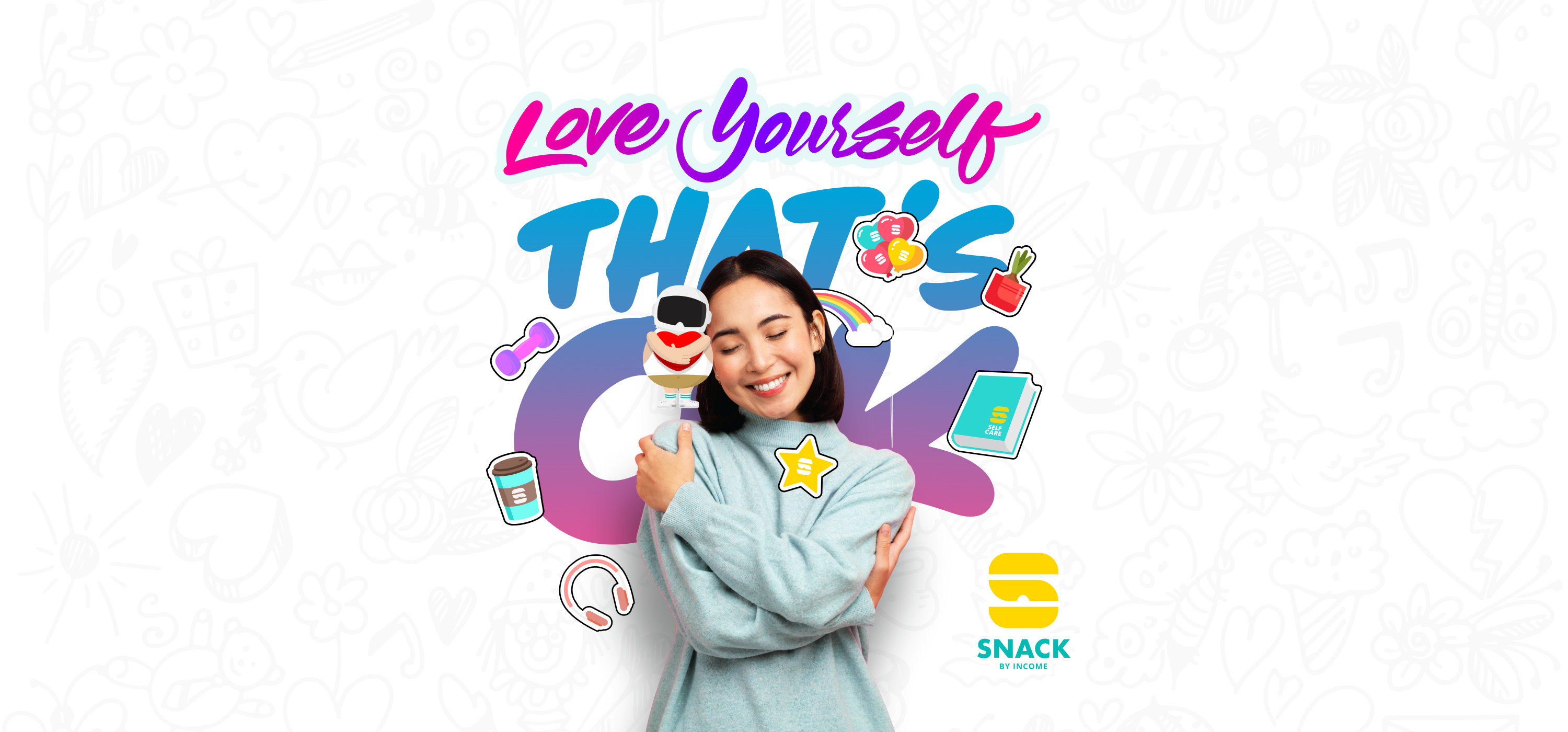 Self Care Pack supports your mental wellness journey

Bubble baths are great and all, but true self care goes a little deeper than that. Take time to care for your mental well-being with our new Self Care Pack with coverage for psychiatric consultation and psychotherapy.


What is Self Care Pack?

Self Care Pack is all about taking care of yourself emotionally and holistically. The pack includes insurance coverage for your mental well-being so you'll be financially empowered to seek professional help when you need it. And, it's so affordable.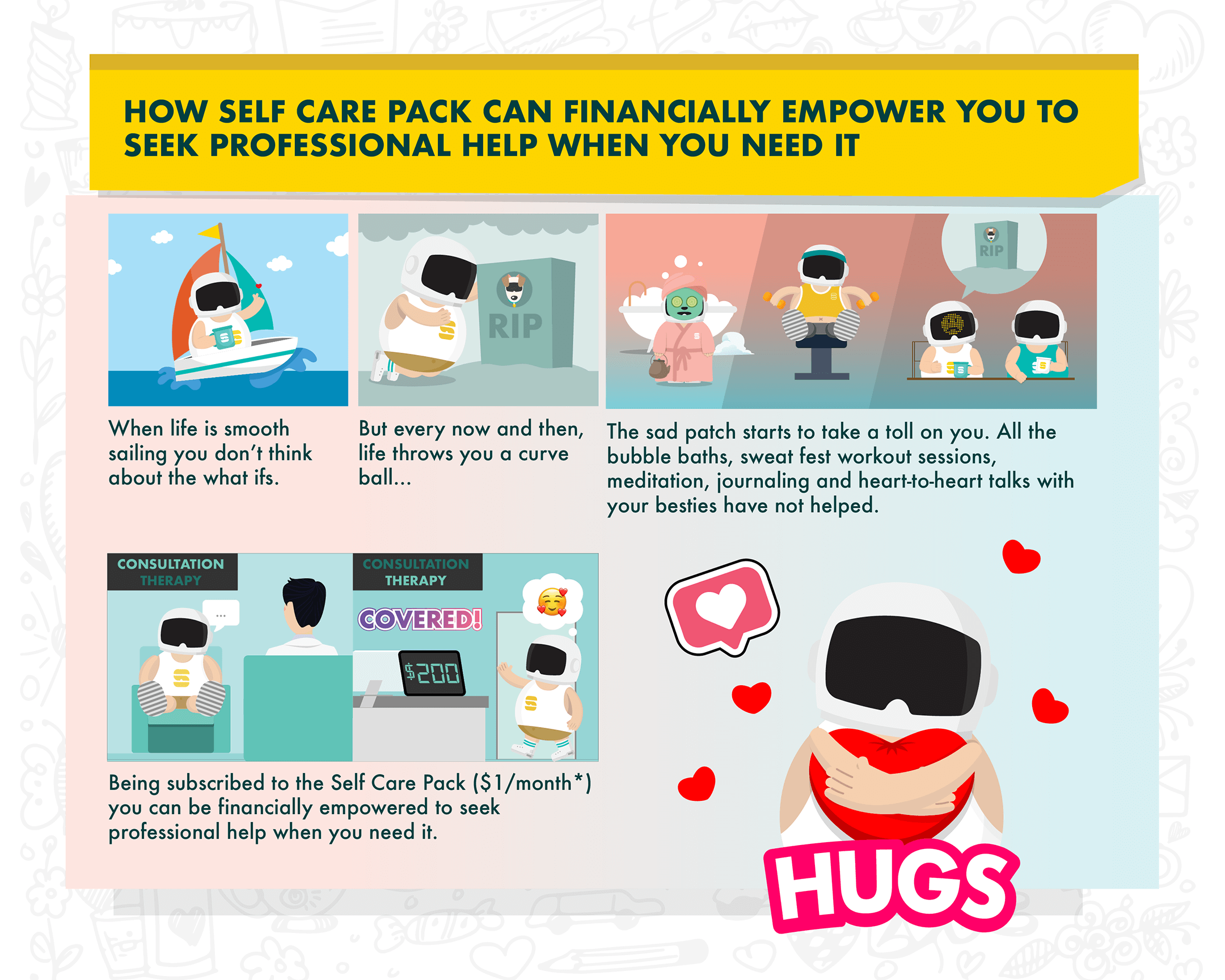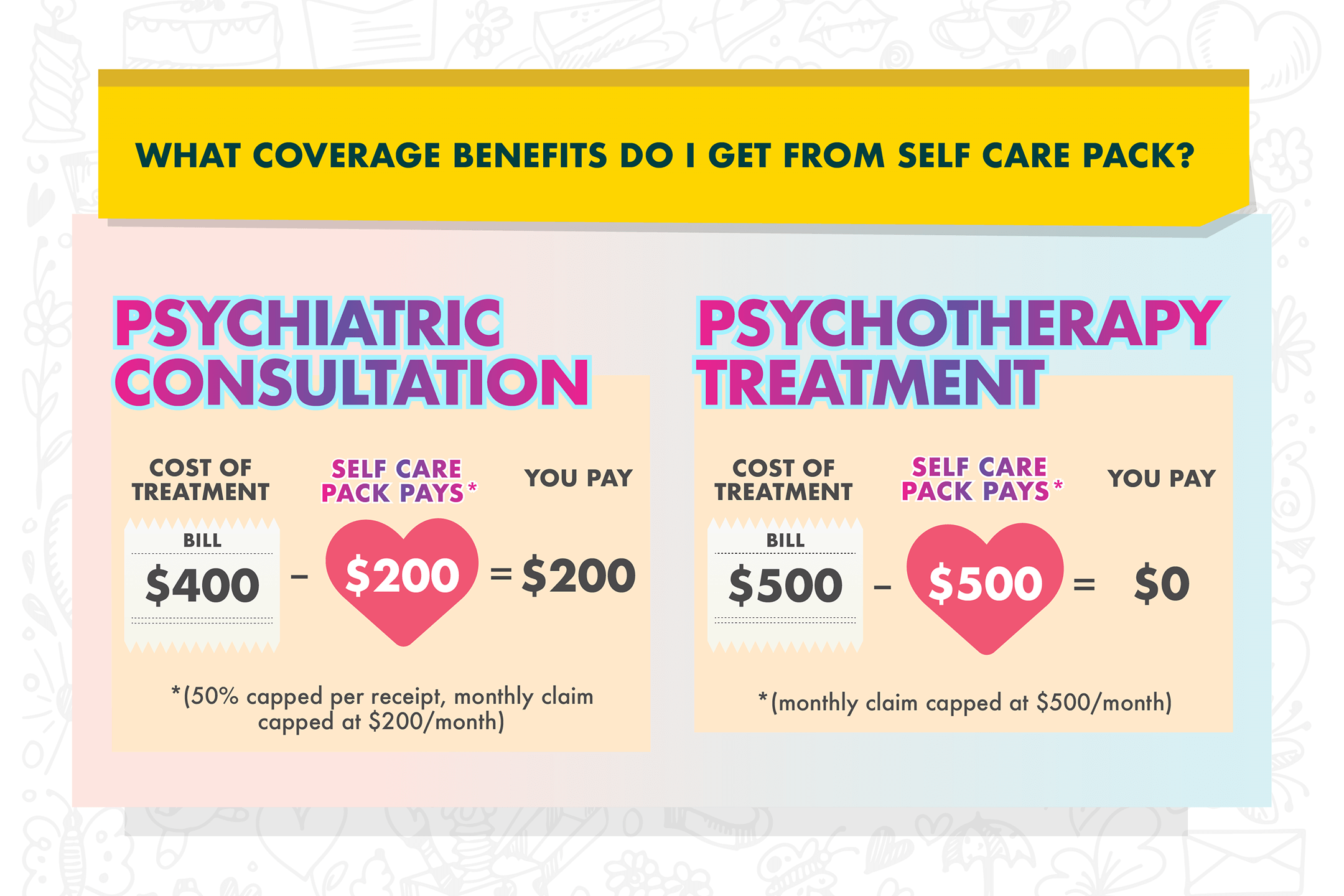 Self Care Pack Benefits
Psychiatric consultation coverage
Coverage of up to $200/month, capped at 50% per receipt
Psychotherapy coverage
Coverage of up to $500/month
Double Cashback from SNACK Reward Merchants
Get 20% Cashback from Ritual Gym
Get 20% Cacshback from iJooz
Get 20% Cashback from Heart Spring Spa
You can find the usual terms, conditions and exclusions of this plan in the policy contract. All our products are developed to benefit our customers but not all may be suitable for your specific needs. This product may not be suitable for you if you are unsure about which type of product or how much coverage to buy as no financial advice is provided during the purchase process. In such a case, we strongly encourage you to seek advice from a qualified insurance adviser who will be able to advise you on a suitable product. Otherwise, you may end up buying a plan that does not meet your expectations or needs. As a result, you may not be able to afford the insurance premiums or get the insurance protection you want. If you find that this plan is not suitable after purchasing it, you may terminate it within the free-look period and obtain a refund of insurance premiums paid. We may recover from you any expense incurred in underwriting this plan. This policy is protected under the Policy Owners' Protection Scheme which is administered by the Singapore Deposit Insurance Corporation (SDIC). Coverage for your policy is automatic and no further action is required from you. For more information on the types of benefits that are covered under the scheme as well as the limits of coverage, where applicable, please contact Income or visit the GIA/LIA or SDIC web-sites (www.gia.org.sg or www.lia.org.sg or www.sdic.org.sg). This advertisement has not been reviewed by the Monetary Authority of Singapore.
Information is correct as at 08 December 2023.