How to make retirement more comfortable in your 50s
By Shu Rin Hoe, 18 September 2018
8425
Singaporeans are living longer. According to a recent
article
in The Straits Times, life expectancy for males in Singapore is now about 80 years (up from 59 in 1960); and females, 85 (up from 63). And with medical advancements and better quality of living, more people will live even longer in years to come.
At the age of 50, you may start realising that your standard Central Provision Funds (CPF) contributions and savings may not give you your ideal retirement income. Mandatory CPF contributions at about 37% for those aged 55 and below and 26% for those over 55 may seem substantial. However, due to factors such as choice of lifestyle, rising living and medical expenses due to inflation and financial commitments (i.e. outstanding mortgage loans), some people underestimate the income they need for retirement.
So, what can you do to improve your retirement planning? Here are some suggestions.
1. Contribute more to your CPF
Did you know? After you turn 55, your CPF accounts can earn up to 6% interest per annum* - that's higher than any interest rate for savings accounts and timed deposit accounts with banks currently! Plus, you can also enjoy tax reliefs of up to
S$7,000 per calendar year
when you make
cash top-ups
. When you turn 50 years old, your personal contribution rates for your Special Account (SA) and Ordinary Account (OA) will automatically be reduced to 11.5% and 15% respectively. However, you can choose to maintain your prior contribution rates by making a voluntary contribution (VC). This way, you'll be earning more interest than you would if you were to put your cash into a bank account. Do note that there is a cap for VC – it's the difference between the CPF Annual Limit of $37,740 and the amount of mandatory contributions (MC) made for the calendar year. Excess VC will be refunded without interest.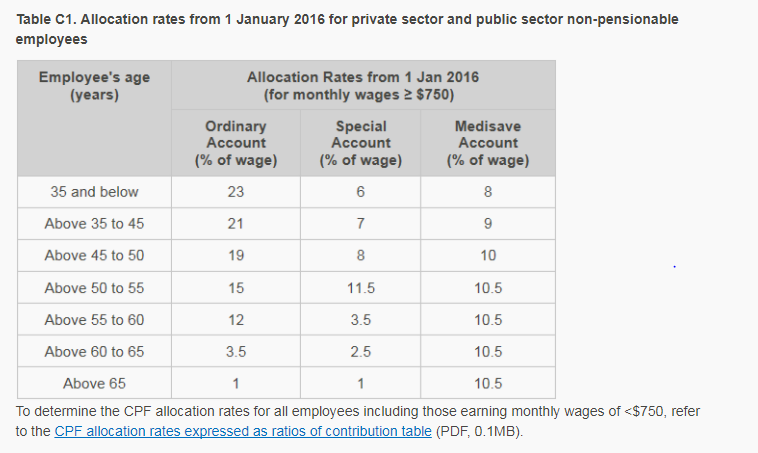 Source: https://www.cpf.gov.sg/Employers/EmployerGuides/employer-guides/paying-cpf-contributions/cpf-contribution-and-allocation-rates
2. Continue to look for opportunities to grow your wealth
As you start to embark on your retirement journey, you may find yourself transitioning to more conservative investments such as fixed deposits. While fixed deposits are stable and of lower risk, they usually offer returns that are lower than inflation. Therefore, you should look into other available products to ensure that you have adequate funds to meet your expectations and needs. One option is to get an insurance savings plan that also provides coverage against unforeseen circumstances such as Income's
Gro Goal Saver
. Gro Goal Saver allows you to build up your savings by paying for only three years to enjoy a maturity benefit in just 10 years with the Gro Goal Saver Privilege. With the short maturity period of 10 years, the earlier you start, the earlier you enjoy the fruits of your financial prudence. If you start at age 50, you'll be able to reap the maturity benefit at age 60 – when you're still in great health to pursue your dreams of travel or pursue your dream hobby. What's more, you get peace of mind with protection against death and total and permanent disability (TPD) before age 70), as you can purchase your plan
online
at your own convenience.
Always make sure you read up and understand the risks, suitability and terms and conditions of a financial product before making a purchase. You can also check the credibility of the provider of a financial product at
ACRA
and
Investor Alert List
on the Monetary Authority of Singapore's website.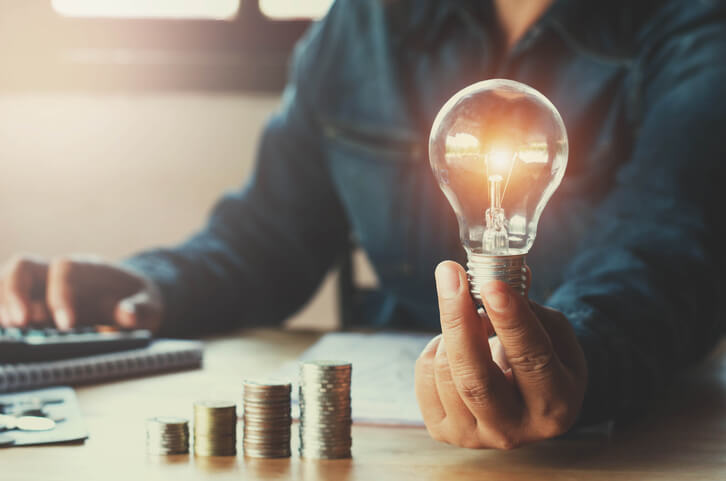 3. Preserve and accumulate your wealth Consider having two pools of funds for retirement:
Wealth Preservation (WP) and Wealth Accumulation (WA). WP investments comprise 'safe' investments that offer some form of guaranteed returns and can provide a useful buffer against market volatility. One example of a "safe" investment could be your CPF savings. You can also consider saving now through a savings plan like
Gro Retire Ease
, easily available
online
, which allows you to enjoy a regular stream of income from your preferred payout age. Plus, you get additional peace of mind in the event of disability. In contrast, WA investments involve higher returns, but also higher risks. The decision on the proportion of investment for each category depends on individual circumstances, and how much risk the individual is prepared to take at each stage of his or her working life. If you're looking for greater stability, consider balancing your exposure between different asset groups. In the long run, this can potentially help to generate greater risk-adjusted returns. If you are not familiar with such knowledge, investing in a multi-asset fund may be a good option, as it takes care of both asset allocation and asset rebalancing. See how this proportion may change in the infographic below.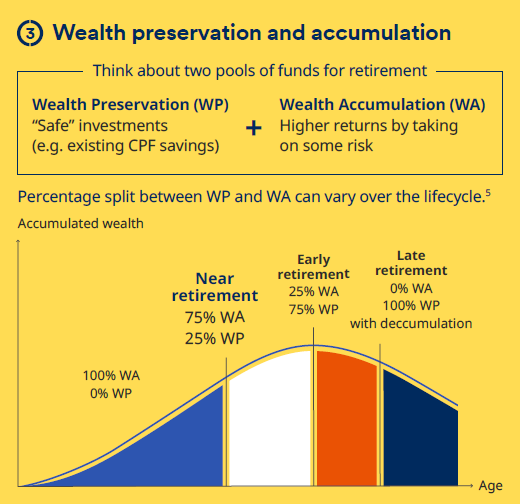 4. Delay Retirement
Hitting your retirement age doesn't mean you have to retire! If you are one of those who enjoys your job, and can and want to continue working for a few more years, why not? You'll be able to fill your time, and continue building your nest egg for an even more comfortable retirement lifestyle. This also means you can continue to invest, which will also bring along more monetary returns. Today, companies have to offer five more years of work to those turning 62. This means you can work until 67 (only if you want to and are physically able to). At this "
Re-Employment Age
", your responsibilities and salary may change. Under this scheme, you will be offered contract period of one to five years. With this delayed retirement, you will have a greater capacity to invest, and keep investing for a longer period of time – and eventually, enjoy a comfortable retirement when you really want to.
Want to start planning for a comfortable retirement from today? Find a plan that can help you achieve your financial goals with our digital advisor,
askSage
, or
connect with an advisor
to discuss your goals.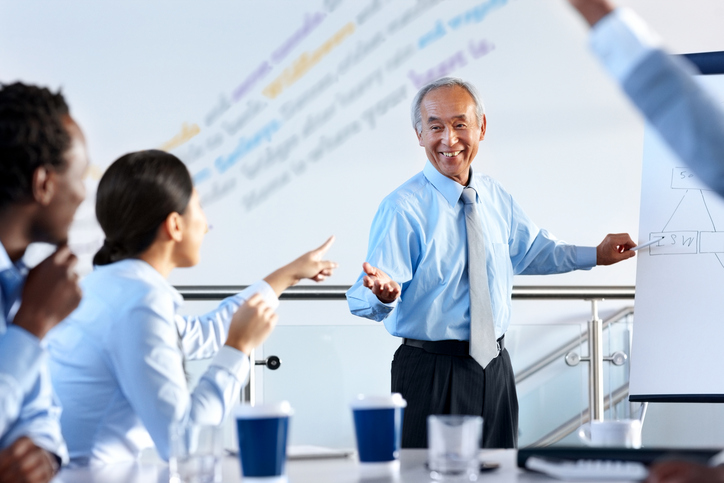 *CPF savings in OA earn up to 3.5% p.a while savings in SA, Medisave, Retirement Accounts (RA) earn up to 5% p.a. These rates include an extra 1% interest paid on first $60K of the combined balances (up to $20K from OA). CPF members aged 55 and above will earn an additional 1% interest on the first $30K of their combined balances. This is paid over and above the current 1% extra interest that is earned on the first $60K of their combined balances (up to $20K from OA).

This advertisement has not been reviewed by the Monetary Authority of Singapore.
Important Notes:
This article is meant purely for informational purposes and should not be relied upon as financial advice. The precise terms, conditions and exclusions of any Income products mentioned are specified in their respective policy contracts. For customised advice to suit your specific needs, consult an Income insurance advisor.

This advertisement has not been reviewed by the Monetary Authority of Singapore.