16 September 2021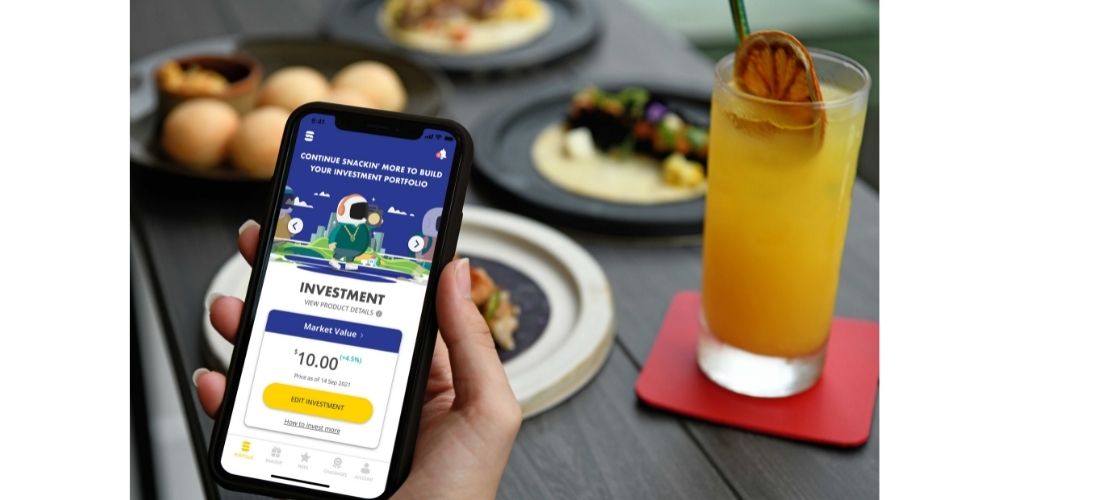 Singapore, 16 September 2021 -
NTUC Income (Income) today launched the industry's first micro investment-linked plan (ILP) on the
SNACK by Income
mobile app. Known as
SNACK Investment
, it adopts a stackable approach that allows consumers to build their investment portfolios with bite-sized premiums while providing insurance coverage as they go about their daily lives. It is designed for those who are keen and eligible to invest but have not done so due to high barriers of entry, as well as those who are looking for options to diversify their investment portfolios.
SNACK Investment
is a novel approach to conventional ILPs, lowering the barriers to entry for investments by pegging the minimum premium at $1. It also provides withdrawal flexibility at no additional fees and accidental death coverage with the sum assured pegged at 105% of the net premiums paid.
SNACK Investment
is a self-serve ILP that gives users flexibility to decide on the premiums they wish to invest, adjust their premiums on the SNACK app, as well as withdraw their investment amount anytime they want.
Users can create an account quickly and easily on the SNACK app, link their desired micro-premium (ranging from $1 to $10) to their selected lifestyle activities such as grocery shopping, taking public transport or even topping up petrol and start to build their investment portfolio and purchase units of the fund at the start of each week.
Peter Tay, Chief Digital Officer, Income
said, "
The current economic climate has made consumers more aware of the need to
explore alternative ways to expand their sources of income.
A recent survey revealed that 88% of young adults are considering investing in at least one investment product in the next year, and an offering like SNACK Investment – an industry-first micro investment-linked plan for digital-first consumers - is extremely timely. Consumers can now build up their investment portfolio seamlessly and almost invisibly via their lifestyle activities."
"Consumers are usually attracted to conventional ILPs because of their higher projected returns and the promise of diversification due to the underlying funds. While they are keen to start investing early, we understand from research interviews that often, they must wait till they have more disposable income to hit the minimum investment amount. With SNACK Investment, we are breaking down the conventional approach to purchasing an ILP by keeping the benefits that consumers desire, while at the same time increasing accessibility and lowering the minimum initial investment amount to just a dollar. When customers have bigger risk appetites or have more liquidity in future, they can also supplement and further diversify their portfolio with conventional ILPs."
Investments made easy
SNACK Investment
allows users to build their investment portfolio at their own pace and utilises the concept of dollar cost averaging where the user buys into the fund in a periodic basis to cushion the impact of volatility in the market. With
SNACK Investment
, users can look forward to:
Convenience – Users can set up an account on the SNACK app by using their MyInfo and link their Visa credit or debit card to the account to get started on their SNACK Investment journey in a matter of minutes. They will then build up their investment portfolio just by going about their daily activities.
User-friendly interface – The opt-in process is easy on the SNACK app, which is designed to be lifestyle-centric, and the customer knowledge assessment and risk profiling questionnaire are made simple and easy to understand, for consumers to determine their risk appetite and eligibility for enrolment into SNACK Investment. There are also no additional fees charged, and what the user sees on the SNACK app is what they get.
Flexibility – Users can link micro-premiums from as low as $1 and up to $10 to their selected lifestyle activities to stack their investment amounts, that will be invested in their selected fund at the start of each week. At launch, Asian Income Fund is available on SNACK Investment. More fund options will be made available on SNACK Investment in the coming months.
Control - Users can adjust their premium contribution amount easily using the SNACK app. They can also set a weekly cap on the accumulated investment amount. There is also an option to auto-invest where users who select this option can automatically invest up to their preferred capped amount even if they do not complete any lifestyle activities linked to the purchase of their investments that week. Moreover, they can also withdraw their entire portfolio anytime they desire.
In the coming months,
SNACK Investment
will be expanded to allow greater flexibility to customers with the ability to customise their portfolio through fund switching and partial withdrawal. With the new
SNACK Investment
offering, it gives an added dimension to how Income can expand its partnership with existing and new lifestyle partners to make financial planning more accessible.