03 October 2023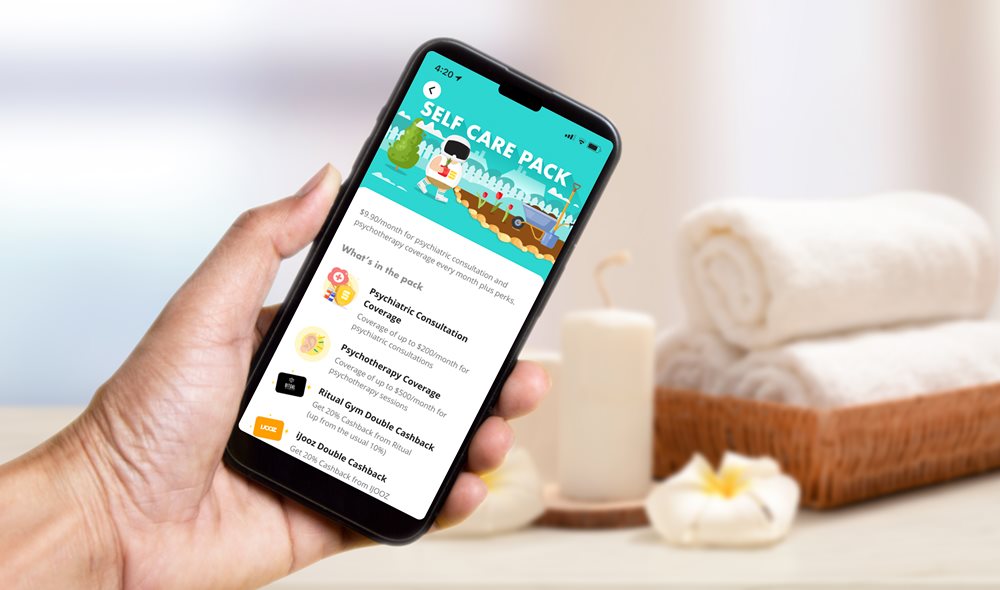 SINGAPORE, 3 October 2023 –
Income Insurance Limited (Income Insurance) today launched the industry's first standalone mental wellness insurance plan, the
"SNACK Self Care Pack".
Available as a monthly subscription plan on the SNACK by Income mobile app at S$9.90 with coverage not subjected to inpatient hospitalisation or post-hospitalisation conditions, it allows subscribers greater access to psychiatric consultations and psychotherapy sessions.
The launch of the
"SNACK Self Care Pack"
comes shortly after Income Insurance introduced
Star Secure Pro
, which offers additional protection for five mental health conditions - Major Depressive Disorder, Obsessive Compulsive Disorder, Schizophrenia, Bipolar Disorder and Tourette Syndrome.
The latest
National Population Health Survey
by the Ministry of Health (MOH) revealed that while there is an increased prevalence of poor mental health from 13.4% in 2020 to 17.0% in 2022, more people in Singapore were willing to seek help from health professionals in 2022 (56.6%) compared to 2019 (47.8%).
"Despite greater awareness and increased conversations around mental health issues today, stigma, misconceptions, and financial barriers can deter individuals from getting prompt and appropriate help. In a recent study that Income Insurance conducted last year amongst 1,000 respondents, the top two reasons that respondents cited for being reluctant to seek professional help was the cost of treatment and uncertainty around the seriousness of the condition to seek professional help. This is despite 70% of the respondents were found to have a good understanding of various mental health conditions,"
said Peter Tay, Chief Digital Officer, Income Insurance.
"We saw the need to plug this gap by offering greater accessibility to professional help for mental health issues and to encourage subscribers to take a more active stance in seeking treatment early via a new and flexible subscription proposition on the SNACK mobile app. The "SNACK Self Care Pack" complements existing outreach efforts and support measures by the government and relevant advocacy groups as we do our part to strengthen our nation's resilience as a whole. This is important as an improvement in resilience helps enhance the well-being of Singaporeans according to the
Singapore Resilience Study
that Income Insurance launched recently, "
added Peter Tay
.
How SNACK Self Care Pack works
Designed as an 'active recovery and preventive' solution to support mental well-being and encourage early treatment, subscribers of the
"SNACK Self Care Pack"
can get coverage of
up to $200 a month for psychiatric consultation
as well as
coverage of up to $500 a month for psychotherapy sessions
. Subscriber will need to be recommended by a psychiatrist to undergo psychotherapy to claim for psychotherapy sessions. For subscribers with existing mental conditions and are currently seeing a psychiatrist, they will not be eligible for claim within 12 months unless the coverage is for a diagnosis of a different condition.
With a
flexible monthly payment subscription model,
users can start and pause the
"SNACK Self Care Pack"
any time and claims can be easily made via the SNACK mobile app. Specifically designed as a monthly subscription model,
"SNACK Self Care Pack"
aims to support consultations and treatments that subscribers may require on a regular basis.
Subscribers can also
enjoy 'cashback' from lifestyle and wellness merchants
such as iJooz, Ritual Gym and Heart Spring Spa under the SNACK Rewards programme which they can convert 'cashback' to complimentary micro-insurance coverage or micro-investment credits to build their insurance portfolio.
SNACK
by Income Insurance is a lifestyle-embedded micro-insurance and investment proposition that allows users to invisibly stack micro-insurance and investment seamlessly by going about various lifestyle activities such as dining out, taking public transport, watching a movie or going for a jog.
Since the launch of SNACK in June 2020, SNACK has evolved into a fin-lifestyle app, integrating both new insurance business models from stackable lifestyle-embedded micro-insurance and investment to subscription models as well as traditional products such as travel, home and pet insurance to meet the needs of today's digital-first consumers.
Mr Tay added,
"With SNACK, we have a unique proposition that has enabled us to serve untapped market segments and the opportunities are ample for us to continue drawing inspirations from consumers' lifestyles to drive innovation to create an all-in-one app for their lifestyle and insurance needs,"
added Mr Tay.
For more information, visit
https://www.snackbyincome.sg/
or download the SNACK app from the App Store or Google Play Store.