22 August 2023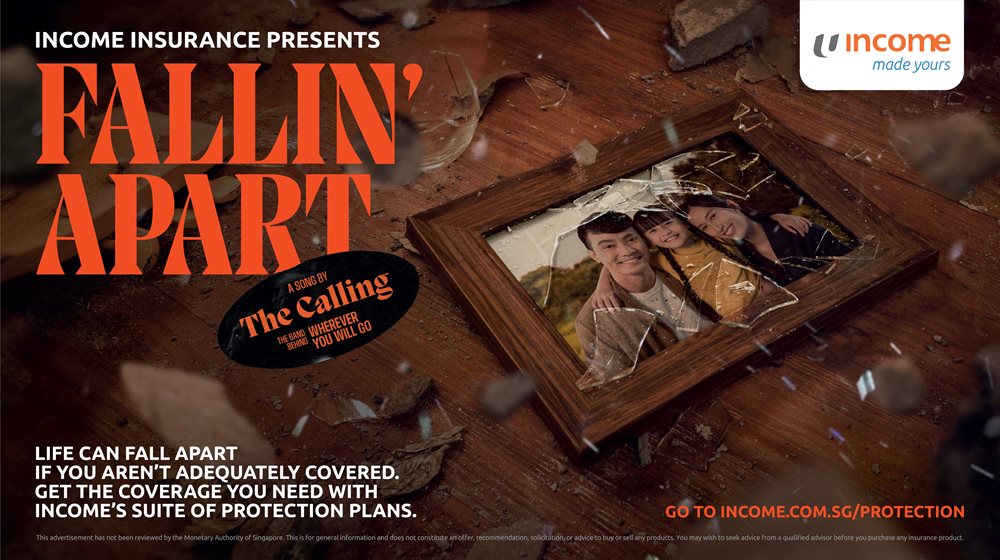 SINGAPORE, 22 August 2023
– Income Insurance has released 'Fallin' Apart', a brand new single and music video in collaboration with rock band, The Calling, to raise awareness about protection gaps amongst Singaporeans, which have been overlooked.
According to the Life Insurance Association
, a 20% mortality protection gap and 80% critical illness (CI) protection gap exist in Singapore, signalling that Singaporeans are under insured for death and critical illnesses.
The Calling, famed for their global hit, 'Wherever You will Go', the Number One Song of the Decade (2000 – 2009) by Billboard Magazine, wrote and performed 'Fallin' Apart', and the music video is available on
YouTube
. The collaboration with Income Insurance marks the band's first in Asia.
An emotive rock anthem that captures the enduring resilience and courage to pick oneself up after being served life's unexpected curve ball, 'Fallin' Apart' sheds light on the upheaval of emotions and stress that come with life's challenges such as unexpected health issues and their compounded uncertainties when one is inadequately protected during such tough times.
Stella Tan, VP & Head of Brand & Segment Marketing, Income Insurance, comments: "
As a brand that puts people first, we want to raise awareness and realization amongst Singaporeans on the importance and urgency of having adequate protection to be prepared for unforeseen circumstances that can hit anytime. Through the emotive music video and powerful song by The Calling, we hope to open conversations and encourage more people to proactively assess their protection gaps and better plan for their future."
Lead Singer of The Calling, Alex Band, said:
It has been really cool working with Income Insurance and for this new song to be heard by everyone in Singapore. As we were writing the song, I personally drew from times in my life that were falling apart and how I got through them. Music is such a powerful universal connector to everyone. We all know what it feels like to go through something traumatic or life-altering, where we feel our life is falling apart, but yet strive to pick ourselves back up. We wanted the song to be sentimental and carry through a sense of hope at the end."
In support of the campaign to raise awareness about protection gaps, local talents such as music duo Jack and Rai, Micappella and Tyen Rasif will also be creating and recording their own renditions of the song. Through their own creative interpretations of "Fallin' Apart", these influencers hope to encourage the public to be more proactive in planning for their future.
Call for the Public to submit their own rendition of 'Fallin' Apart'
Income Insurance is also rallying members of the public to submit their own renditions of 'Fallin' Apart', alongside stories on some of their own life challenges and how they got through it, in a
'Fallin' Apart Cover Contest'
from 1 September to 15 October 2023. Participants will need to record themselves singing the cover version of 'Fallin' Apart' and post the recording on their social media platforms (Facebook, Instagram or Tik Tok) and hashtag #FallinApart and #IncomePresentsFallinApart. The top three best entries will be selected, and winners can win up to $3,000.
This latest release of the new single 'Fallin' Apart' marks Income Insurance's first foray into music as part of its unique and differentiated approach in communication to raise awareness of the need for insurance. It follows the recent launch of an 18-minute long horror film, '
TRAPPED'
in collaboration with Singapore film director Kelvin Tong earlier this year, to promote Income Insurance's Enhanced Travel Insurance with COVID-19 coverage.
More details can be found on
www.income.com.sg/protection