29 March 2023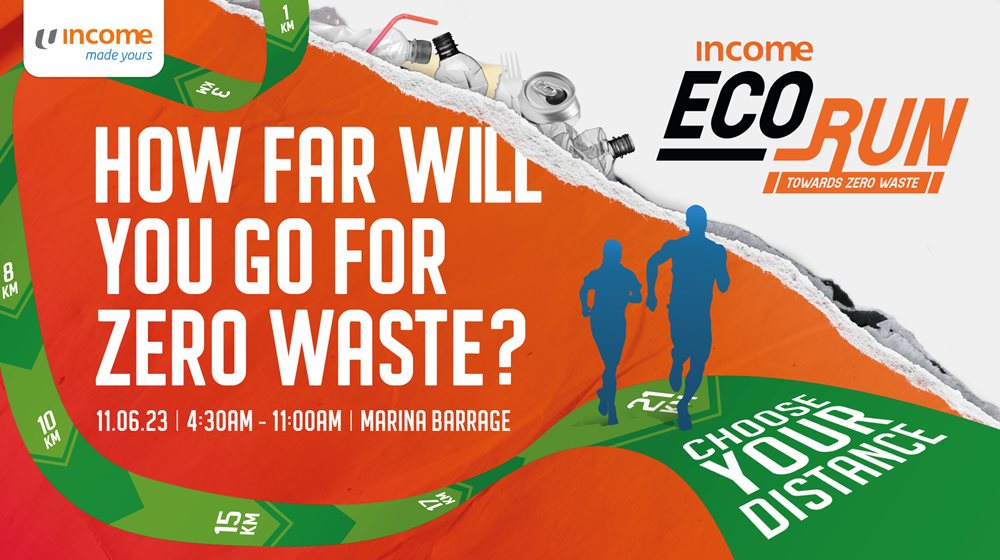 Singapore, Wednesday 29 March 2023
- How far will you go for a Zero Waste lifestyle? That's the challenge this year's Income Eco Run (IER) is posing to Singaporeans with a single run category where they can choose the distance they wish to run. As part of its efforts to advocate a Zero Waste lifestyle, Income Insurance Limited (Income Insurance) will donate one dollar (S$1) for every kilometre (1 km) clocked at the IER to the Singapore Environment Council (SEC) in support of the Zero Waste cause.
In tying in with World Environment Day, the IER, which will take place on Sunday, 11 June 2023, is targeting to attract 5,000 runners with a new one-of-its-kind physical mass run format, where participants are encouraged to show their support for a Zero Waste lifestyle by running their preferred distance.
Customised run routes to provide greater flexibility and inclusion
To facilitate this, the IER has customised a run route that offers seven exit points, between 3 km and 21.1 km, to allow participants the flexibility in clocking their distance-of-choice. This means that participants can choose to run to and u-turn at either the 1.5km, 2.5 km or 5 km distance markers and complete their run of 3km, 5 km and 10 km back at the IER village respectively.
For those who are gearing up for longer distances, they can either complete the full 21.1 km run back at the event village or choose to end their run at the designated exit points located at either the 9km, 12 km, 15 km or 18 km mark along the run route where they will have access to public transport.
By building wheelchair-friendly ramps at targeted run routes, IER aims to promote even greater inclusivity when championing Zero Waste.
Starting at the Marina Barrage, participants can look forward to running past iconic landmarks such as Gardens by The Bay, the Keppel Marina East Desalination Plant, ArtScience Museum and the National Stadium, among others.
Mr Andrew Yeo, CEO, Income Insurance, said,
"We have set a target to achieve net zero green-house emissions by 2050 and we are working towards a practical business-wide decarbonisation roadmap. This ambition is aligned to the nation's and thus, the onus is also on us to bring Singaporeans along this journey to secure our sustainable future. In our own ways, we can act now and play a part in reducing the long-term devastating impacts on our environment by leading a Zero Waste lifestyle. Income has been championing the Zero Waste cause via the Income Eco Run since 2017 and we are looking forward to continuing such public advocacy for climate resilience again with a new and more accessible event format that encourages participation."
"Our aim is to raise public awareness and action through deliberate steps that we are taking to cut back waste and make IER a carbon-neutral event. We aim to be exemplary and hopefully, pave the way for future events in Singapore,"
added Mr Yeo.
Pushing boundaries on waste management at mass runs
In this regard, Income will be pushing the boundaries on waste management at the IER and taking actions that are unprecedented at a mass run in Singapore. For example, participants are encouraged to run in their own orange t-shirts or past Income Eco Run race t-shirts to promote reusing and recycling of existing clothes, while reducing the production of the IER 2023 event t-shirt, which is manufactured using recycled materials and made available only as an opt-in purchase.
The IER will also be reducing the event's running bib size by at least 30% to minimise material wastage. Additionally, all participants will be given a light and handy reusable hydration cup on event day to reduce the disposal of single-use paper cups. The hydration stations along the race routes will still provide cups in the event runners lose or drop their reusable cups on their runs, and for the first time, IER will be using naturally compostable cups at its hydration stations.
IER will also do away with giving out commemorative medals. Instead, all participants will receive e-certificates in recognition of their participation and they can check whether they have achieved their personal-best timings on the event website if they have successfully clocked out at the run's designated exit points.
Ms Jen Teo, Executive Director of SEC, said, "Globally, there is an increasing sense of urgency to transition from education and awareness into climate action. Leading a sustainable lifestyle is fundamental to taking responsible actions. Hence, we are proud to come onboard as IER's charity partner to further the Zero Waste cause. As a long-time partner of the run, we are heartened to find again in Income a like-minded eco champion after a three-year hiatus. With its new event format, the IER now makes a meaningful Sunday activity with family members and friends of all ages. We hope that the dollar matching by Income Insurance for every kilometre that IER participants clocked will spur our communities to join the cause and contribute proactively to Singapore's accelerated climate aspirations."
Additionally, Zero Waste SG has also joined the IER as a green partner and will be working with Income Insurance and SEC to further drive the Zero Waste agenda.
International Day of Zero Waste (30 March): Rallying Singaporeans to go the extra mile
Income Insurance will mark the launch of the IER with the observation of the inaugural International Day of Zero Waste on 30 March 2023, which has been marked by the UN General Assembly to officially recognise the importance of Zero Waste initiatives worldwide.
As part of this, Income Insurance would like to invite the public to run their distance-of-choice on that day. Participants simply have to download any of the recommended GPS tracking apps: Strava, Garmin, Runkeeper, MapMyRun, Runtastic or Nike Run Club and submit their screenshot that reflects the date (showing 30 March) and time, distance and time clocked, and route to
info@incomeecorun.com.sg
by 31 March. The first 100 persons who submit qualifying photos will receive an exclusive S$10 discount code to sign up for the Income Eco Run taking place on 11 June 2023.
Income Insurance will also match S$1 for every kilometre clocked based on the public's submissions of their run distances on 30 March and this dollar matching will be added to the total donation that Income will be making to the SEC based on the total distance clocked by participants post IER.
Registration for the IER is now open at
http://www.income.com.sg/ecorun
with early bird registration fees starting from S$35 for adults and S$20 for children.