01 August 2019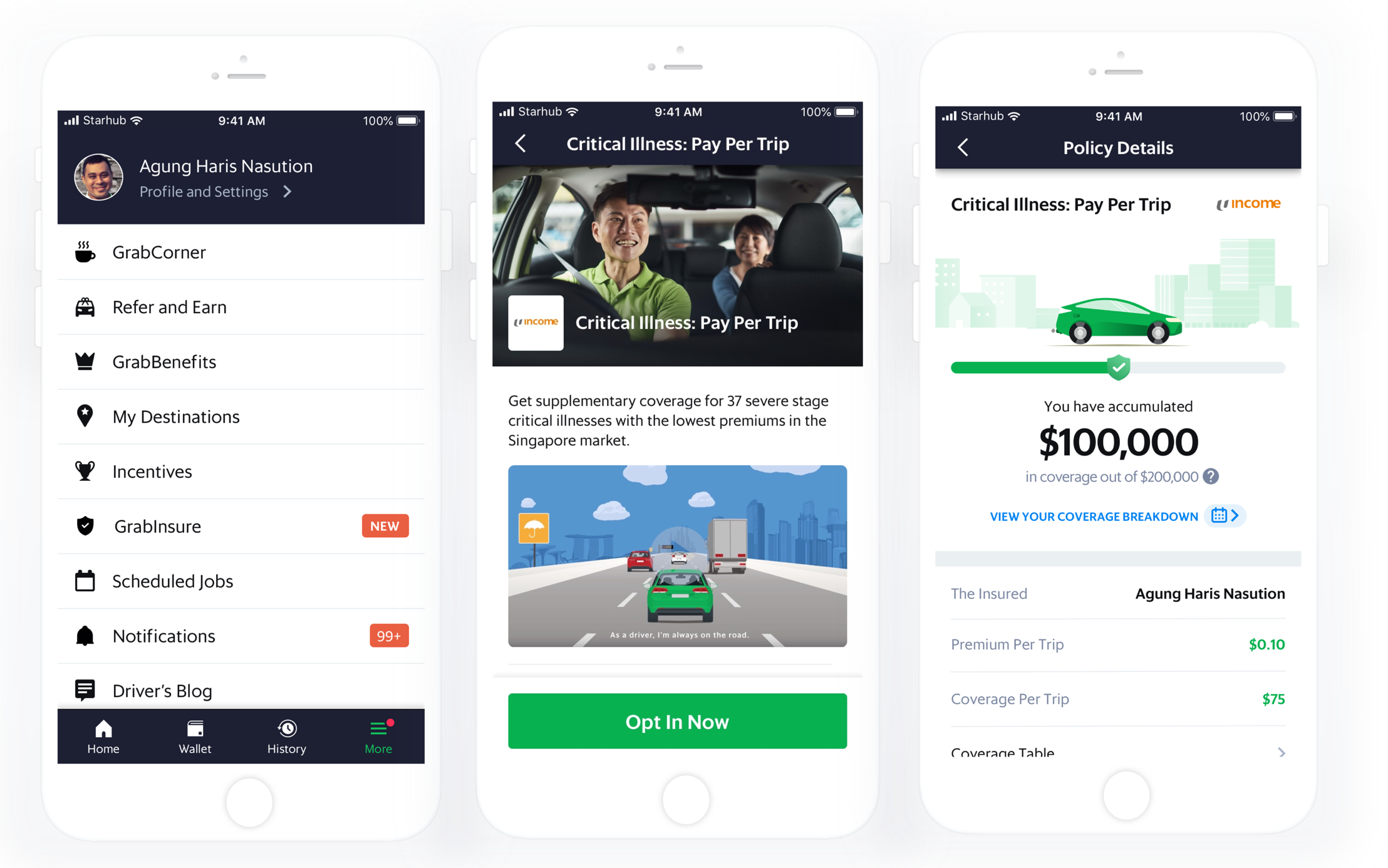 SINGAPORE, 1 August 2019
– Grab's insurance arm, GrabInsure and NTUC Income (Income), jointly unveiled Southeast Asia's first micro-insurance plan,
Critical Illness: Pay Per Trip ("CIPPT")
, in Singapore today. Specially designed to help Grab driver-partners better protect themselves against critical illnesses, CIPPT offers a unique and flexible pay-per-trip micro premium and accumulative coverage proposition. The driver-partners can choose to pay between S$0.10 and S$0.50 in premium for a fixed sum assured, and accumulate the corresponding insurance coverage with each trip they complete. They can conveniently subscribe to the plan via the Grab driver-partner app and with each completed trip, have the CIPPT premiums automatically deducted from their in-app cash wallet. The new plan will be rolled out to all Grab driver-partners progressively from today.
Today, Singaporeans are living longer, with an average life expectancy of 84.8 years, but may be spending over 10 years in ill health. According to the Life Insurance Association Singapore's Protection Gap Study, only 20% of economically active individuals in Singapore are covered for their critical Illnesses.
"We care deeply for our driver-partners and are constantly looking at how we can better support them. We know many of them worry about falling ill, and the corresponding medical costs. They see the value of insurance protection but are hindered by a lack of affordable options that give them the flexibility in premium payment and coverage. Some of them are also discouraged by the application processes of insurance plans, " said
Yee Wee Tang, Country Head of Grab Singapore. "
GrabInsure's latest product, CIPPT, is created to address these specific concerns. Together with NTUC Income, we want to ensure that our driver-partners have easy access to an insurance plan that is affordable, convenient to apply and cater to their need for flexible cash flows. With this, our driver-partners can enjoy better peace of mind and be better protected."
Peter Tay, Income's Chief Digital Officer, who heads the company's Digital Transformation Office,
described the launch of CIPPT as an industry game-changer.
He said, "We are constantly exploring ways to reimagine insurance by way of product offerings and access. This micro-insurance proposition for critical illness protection is ground-breaking in the way in which it is purchased and where protection is rendered. The option to stack insurance coverage by paying premiums at micro-quantum is an innovative way to offer Grab driver-partners critical illness protection without incurring a substantial outlay from their monthly income. This approach resonates with people who prefer to have flexible cash flows to see to other financial commitments but yet at the same time, want to benefit from insurance protection."
"We are excited to have brought this unique insurance offering to Grab driver-partners. More significantly, we are looking forward to scale the proposition of micro-insurance and to build a suite of novel products for diverse customers. In this way, we look to extend accessibility of insurance to people in Singapore by redefining the way in which people pay for and get insurance protection," Peter added.
CIPPT is also the latest digital insurance product offered by GrabInsure, after the launch of Personal Accident Plus (PA+) and Prolonged Medical Leave Plus (PML+) insurance plans in April 2019. A digital insurance marketplace set up by the joint venture between Grab and ZhongAn Technologies Insurance International, GrabInsure is committed to providing the underserved with convenient and customised solutions leveraging on Grab's unparalleled customer insights. The products demonstrate GrabInsure's ability to disrupt the traditional insurance industry by partnering with the best-in-class insurers like NTUC Income to solve customers' pain points.
How does CIPPT work?
CIPPT is a critical illness insurance plan that provides Grab driver-partners the option to pay for premiums on a per trip basis. Unlike typical insurance plans that call for a commitment to a fixed premium amount over a set period, CIPPT offers greater flexibility on cash flows to maintain the plan. For as low as S$0.10 per trip completed, Grab driver-partners can accumulate insurance coverage of a Sum Assured of up to S$200,000for 360 days, in the event that the insured is diagnosed with a critical illness covered under the plan.
The plan is available to all Grab driver-partners who are 18 to 75 years of age. To sign up, driver-partners simply need to apply and choose from three premium rates (S$0.10, S$0.30 and S$0.50 per trip) on the Grab's driver app. The premium deducted will then convert to the corresponding amount of coverage earned per trip. With every ride the driver-partners complete, Grab will deduct the chosen premium rate via the in-app cash wallet, payable to Income.
The plan enables driver-partners to retain a level of flexibility and maintain their accrued coverage on a rolling 360-day period. Driver-partners will stay protected by the accumulated coverage across the 360 days on a rolling basis, even if they choose to take a break from driving. There is no minimum trip requirement per day and they can work anytime.
Joseph Goh, a Grab's driver-partner
shared: "The critical illness insurance plan is attractive to driver-partners. For us, cash flow is often tight and we worry about high medical costs when a major illnesses were to strike. This insurance plan is straightforward and suits my needs as I can pay my premiums on a per trip basis. With no additional trip targets, it takes the stress and financial worries off my family if unexpected health issues occur."
GrabInsure and Income are also in discussion to explore the possibility of extending the scheme to family members of driver-partners in the near future.
"Grab offers the most comprehensive driver welfare and benefits programme in Singapore, which includes scholarships and bursaries for our driver-partners' children, health and dental benefits, MediSave co-contribution, mobile phone plan discounts, and more. While we have set the standards for driver-partner welfare for the industry, we believe more can be done to empower the success of our driver-partners. We will continue to listen closely to the feedback from our driver-partners and innovate to introduce improved benefits for our driver-partners, their families, and to support our larger Grab community," added Wee Tang.
For more information, visit
https://www.grab.com/sg/driver/insure/critical-illness/