A Sales Management Associate Programme unlike any other.
Accelerate your knowledge and skills to become an effective sales professional.
Learn more about the business processes of insurance and recruitment through job appreciation opportunities.
Get direct access and exclusive mentorship from the management team.
Earn as you learn. Get started on the SMA programme while you study for licencing exams.
Here's how the Sales Management Associate Programme works.

Learn the skills to get started
Candidates will take their licensing papers, fully paid for by Income, to obtain their insurance and representative licence.
Candidates will then undergo a sales training programme at Income's training centre and induction branches.
Candidates will be provided with product and skills training and learn how to serve customers based on their needs and requirements.
Candidates will experience front-end and back-end insurance design sessions to develop a holistic understanding about insurance and gain deeper insights into insurance, from product development and underwriting and insurance claims.

Garner on-ground experience and exposure
Candidates will put their training to use as they join Income's Retail Financial Services and obtain hands-on experience serving customers at Income branches.
Further sales and soft skills training will be provided, in addition to the exclusive mentorship programme. Mentors will provide guidance to applicants on the opportunities that they can pursue in their career path.

Develop a rewarding career
Upon completion of the course, candidates will decide their career path based on what best suits their talent and aspiration.
Candidates can choose to either join:

Income's Agency Force
Income's Retail Financial Services sector at the branches
NTUC Income's Financial Advisory firm Infinitum.

The following career options will be made available to them:

Specialist role – Financial consultant or client advisor
Management path – Sales manager or centre manager
Here's an overview of the selection process.
Screening

Candidates will be screened for us to determine if you are a good match for the programme.

Panel interview

Shortlisted candidates will be invited for panel interview sessions.

Offer

Selected candidates will be offered the SMA role with us.
Develop a fulfilling career with us.
The SMA programme exposes you to many opportunities within Income's sales channels. Depending on your interest, aptitude and strengths, you can further develop your career along a specialist or management track. Choose one that best suits your talents and aspirations.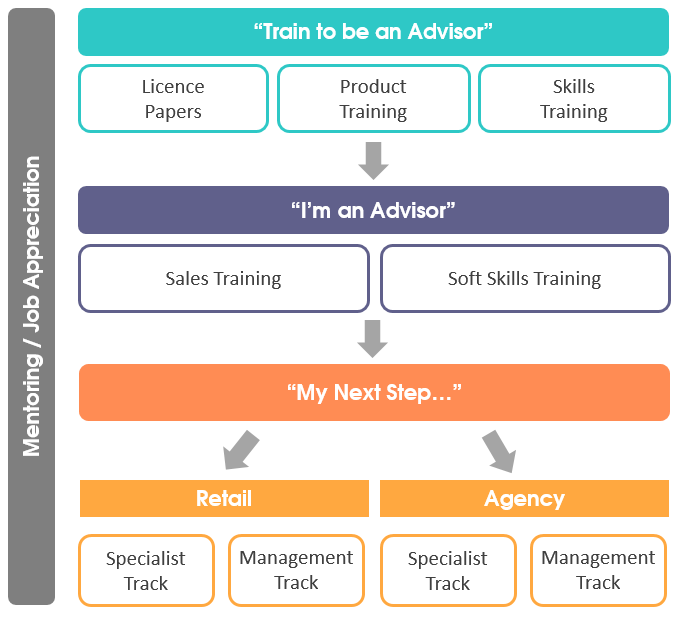 Hear from our current SMAs
Having previous experience in financial advisory during my university days, I am able to sharpen and hone my craft through the training provided by the SMA programme. What I thought is unique is being personally mentored by the senior management team which has allowed me to gain a much better perspective into the world for insurance, with deeper knowledge in the development and processes of the insurance industry, an area that many advisors may not have access to. Furthermore, as Income is currently the only insurer that offers a flexible career proposition, the SMA programme provides me with job security and allows me to explore the different career opportunities that I can pursue.
Jackson Soh, a fresh graduate from the Singapore Institute of Management (SIM)
Being new to the insurance industry, the SMA programme gives me the assurance of being a well-thought-out programme that provides a holistic experience which allows me to earn as I learn. The programme has introduced me to various aspects of the business, and the one-on-one mentorship provides great guidance that has inspired me to want to learn more. In addition, I like that it also gives me job and financial security with a good remuneration from the day I join the programme, while learning the ropes of the industry.
Kimberly Kong, a fresh graduate from the Singapore Management University (SMU)