Here's what you can expect from our Graduate Trainee Programme.
Two career tracks for you to develop and progress within the company depending on your degree, interest and aptitude.
Mentorship by senior management leaders in the organisation and on-the-job training within your selected area of specialisation.
Cross-disciplinary trainings and exposure to various aspects of the business to hone your skills for a successful career.
Here's how Graduate Trainee Programme works.
At the start of the programme, you will get to select your area of specialisation within the organisation.
During the first 12 months, you will go through a customisable rotation programme.
The rotations will help you develop core competencies and gain in-depth knowledge on various business functions that are relevant for your final placement.
You will also work with key stakeholders and fellow Graduate Trainees on organisation-wide projects.
In the 2nd year of the programme, you will be landing in the selected division to continue with the rest of your development.
A new and exciting Graduate Trainee Programme is coming soon. Applications will open in July 2020.
Here's how our selection process works.
Shortlisted candidates will be invited to take part in a systematic assessment process as outlined below:
Pre-Screening

Candidates will first have to go through a preliminary screening for us to determine if you are a good match for the programme.

Psychometric assessment

Shortlisted candidates will take an online personality assessment for us to understand your behavioural styles and motivations. You will also be assessed on your numerical and verbal reasoning abilities.

Panel interview

In the second phase of assessment, you will be invited to our office for a panel interview with a senior business leader, HR manager, and a senior Graduate Trainee.

Final assessment

You will be assigned into groups and handed a business case. Within a set timing, your group will discuss and formulate your proposal to the business case. You will then do a group presentation to a panel formed by senior management.
Learn how your career can develop with us.
At Income, there are two career tracks available for you to develop and progress within the company depending on your degree, interest and aptitude. You can develop a career in the specialist track or general management track. Choose the one that best suits your talents and aspirations.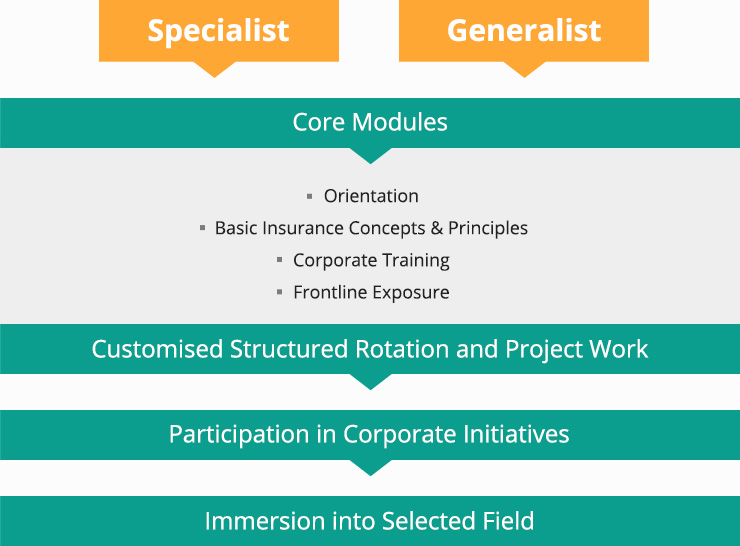 Specialist Career Track: Actuarial, Compliance, Finance, Information Management, Investment and Risk Management.
Generalist Career Track: Corporate Office, Customer Engagement, Distribution, General Insurance, Life & Health Operations and Marketing.
Hear from our previous Graduate Trainees.
Income's Graduate Trainee (GT) is a holistic programme that provides numerous opportunities to learn and grow within the organization. Prior to joining the Digital Business team, I was posted to the IT and Product Marketing teams. This was especially useful in helping me gain insights into data management and infrastructure within the company.
Shaun Au Yong, Digital Business, Graduate Trainee Batch 2018
I enjoyed my 12-month programme as I'm empowered to take charge of my learning and development needs, while I consider my career path at Income. My job rotations to business functions such as Acturial, Investment Risk Analytics and Investment Compliance were well planned and structured. The experience and insights value-added to my current role in the Risk Management team. The high quality of the Graduate Trainee Programme signals that Income cares about not just employees' career development but their personal growth too.
Vicky Phua, Risk Management, Graduate Trainee Batch 2016
The Income Graduate Trainee Programme (GTP) is the ultimate kick-off in your career, providing an optimal learning experience that develops you in more aspects than any other entry-level job would. Right from the get-go, you get to take ownership of your own projects with the proper guidance of high calibre professionals. Having gone through three rotations – strategic communications, digital transformation, and digital marketing – all within a year have allowed me to build a broad professional network, leverage on my strengths and work on my weaknesses. It's a programme full of young spirit, with an emphasis on learning by doing, thinking to create and implementing to innovate.
Tan May Chin, Strategic Communications, Graduate Trainee Batch 2017
As a Graduate Trainee (GT), I am empowered to drive various projects and see ideas come into life. Income's dedication to grooming young talents is reflected in how each GT is assigned a career mentor and provided the resources, knowledge and expertise to enable successful project execution. If you're an inquisitive individual who's driven by challenges and powered by a winning mindset, the GTP is a programme you should join!
Xu Zhiwen, Digital Transformation Office, Graduate Trainee Batch 2018