Here's what you can expect with our
12-week internship programme.
Pick up the knowledge and skills necessary for success as you work on the ongoing projects of the department that you are assigned to.
Learn more about the fundamentals of insurance through trainings conducted by our in-house experts.
Network and learn from the management team as you work together in groups.
Income's Summer Internship Programme is now open for applications! You may look out for available opportunities here.
What can you expect from this internship?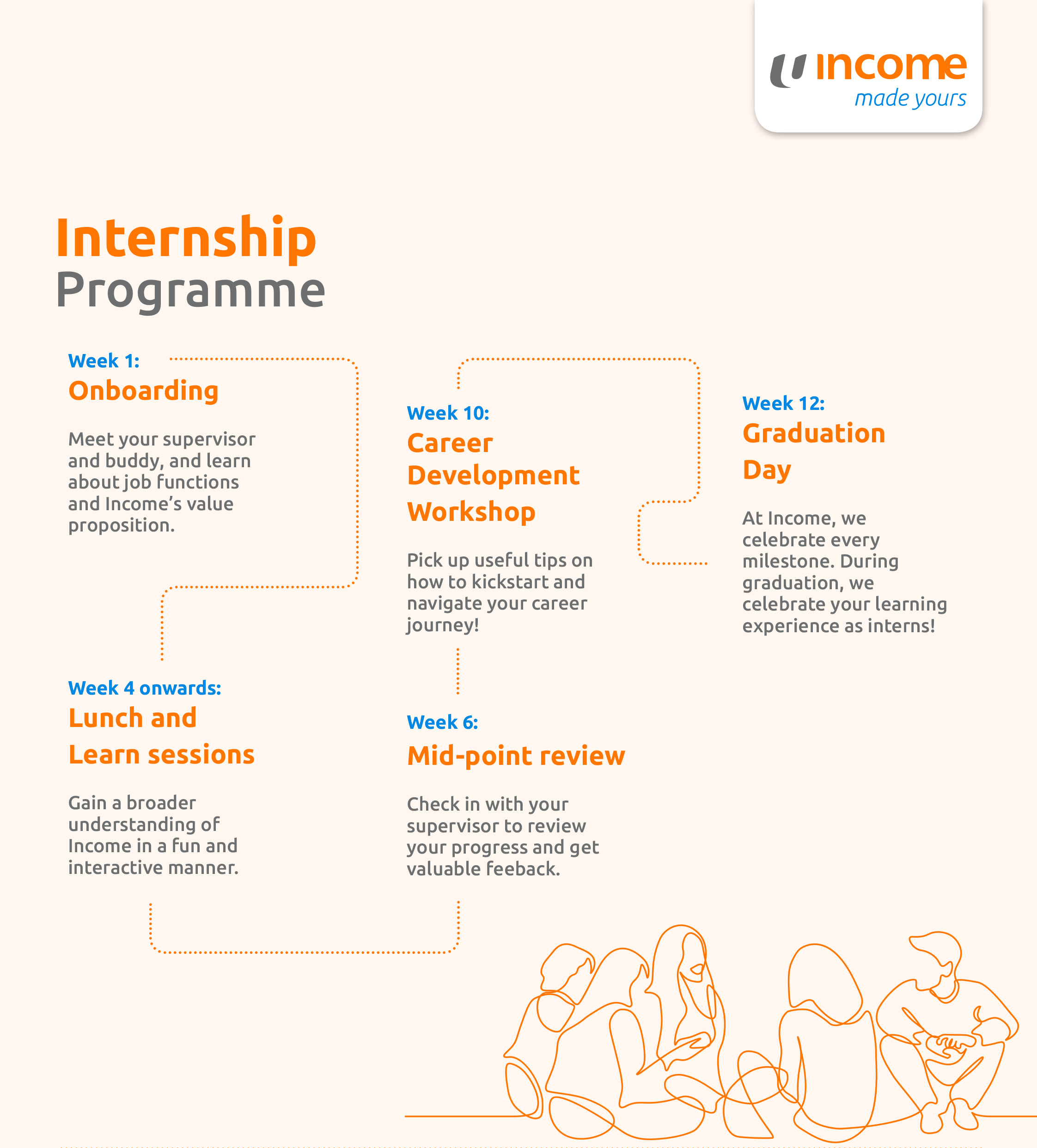 Learn how you can join us.
1. Discover available opportunities
Visit your school's career portal or career centre to get updates on our latest internship openings


2. Apply for an internship
Send us your resume and we will assess your application.


3. Attend the panel interviews
Shortlisted candidates will be invited to our office for panel interview sessions.


4. Await the interview results
All interviewees will be notified of the outcome of their interviews.


5. Accept our internship offer
Selected candidates will be offered an internship with us. All you need to do now is accept!
Hear from our previous interns.
How was your experience at Income?
"I learned the importance of staying agile. Whenever my team faced challenges, they always manage to pivot quickly and approach it differently to achieve a better outcome."
- Jovee Aw, HR Intern
"I learned to have a keen eye for details, especially while executing test scenarios. All details had to be checked thoroughly to ensure issues are detectedand resolved quickly."
- Jenny Jian, Business Excellence Intern
"I learnt to always be adaptive and improvise based on different situations we encounter. Teamwork also plays a critical role in bringing forth new perspectives when problem-solving."
- Mohamed Al-Janzeer, IT Intern