Dengue in Singapore 2023: Protecting Yourself From The Aedes Mosquito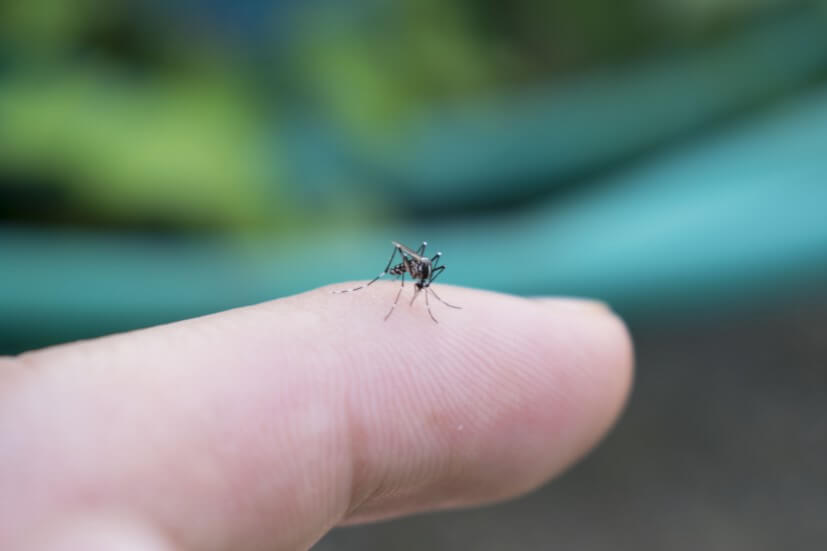 While the world struggles to recover from COVID-19 pandemic, another virus has been increasingly prominent in local news: dengue.

As dengue is endemic in Singapore, it's important to familiarise yourself with the disease, its symptoms, and what you can do to prevent it. Refer to latest dengue situation here.
What is dengue?
Dengue is a mosquito-borne virus, transmitted by the bite of an Aedes mosquito infected with the virus. The Aedes aegypti mosquito is the main vector that causes dengue. However, dengue outbreaks have also been attributed to Aedes albopictus, Aedes polynesiensis, and several species of the Aedes scutellaris complex.

There are four dengue stereotypes: DENV-1, DENV-2, DENV-3, and DENV-4. DENV-2 was previously the predominant stereotype in Singapore. The one that's detected in most of the dengue clusters is DENV-3, which has reemerged after three decades. This is concerning as it also means that a large portion of Singaporeans has lower immunity to the virus, making them more susceptible to infection.
What are the symptoms of dengue?
Dengue symptoms typically begin 4 to 6 days after infection and can last up to 10 days. They can be mild or severe, and can be confused with other illnesses due that also cause fever, body aches, pains, and a rash. Dengue symptoms may include:
Sudden high fever
Nausea and/or vomiting
Severe headaches
Skin rash
Fatigue
Bleeding (e.g. nosebleeds, bleeding gums, etc.)
Dengue, COVID-19, and Common Cold Symptoms Compared
Dengue symptoms can be easily confused with other diseases, which is concerning especially in the midst of the COVID-19 pandemic. However, there are a few ways we can distinguish dengue from COVID-19 and the common flu:
Fever
Dengue fever is much higher than fever associated with COVID-19. On average, dengue fever can range from 40 to 41 °C, whereas fever that comes with COVID-19 can range from 37.5 to 39 °C. Fever from a common cold, on the other hand, can range from 37.7 to 38.8 °C.
Headaches
Headaches rarely accompany COVID-19. However, with dengue, severe headaches are almost always present, with pain concentrated around or behind your eyeballs. With the common cold, headaches tend to be milder.
Dry cough
One of the most common symptoms associated with COVID-19 is the presence of dry cough. Cough is also one of the most common symptoms associated with the common flu. However, it is not a symptom of dengue.
Skin rash
With dengue, patients usually develop a skin rash about 2 to 5 days after the onset of fever. You may also get a skin rash with COVID-19, but it is quite uncommon. It is also not commonly associated with the common flu.
Mild bleeding
Among the three viral infections, dengue is the only one that can cause bleeding, for instance from the gums or nose. This symptom is not known to be caused by COVID-19 nor the common flu.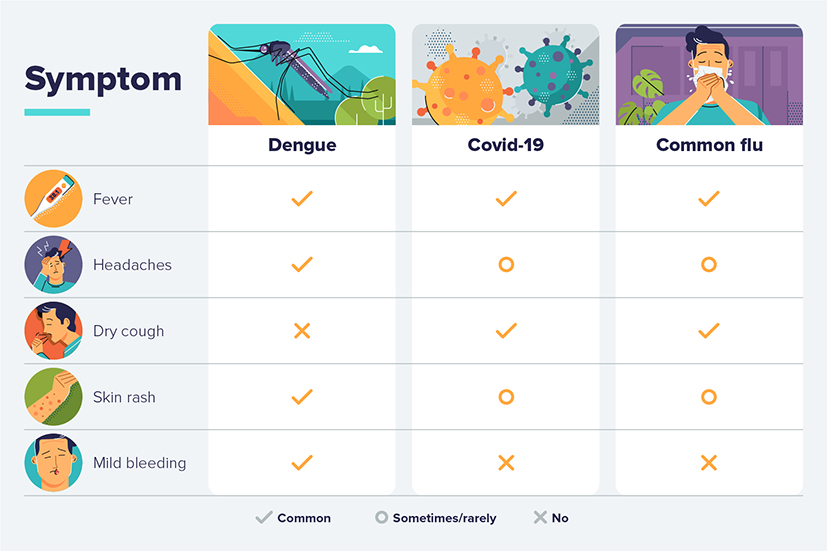 As long as you're experiencing any of the above symptoms, it's always best to visit your GP for medical advice.
Dengue treatment in Singapore
If you suspect you have dengue, it is imperative that you seek medical attention as soon as you can.

Fever is the most common symptom of dengue and is often persistent, lasting anywhere between 2-7 days. In most cases, dengue fever is relatively mild and can be diagnosed by a general practitioner at a clinic. If a doctor suspects you have dengue, they may recommend a blood test to confirm it. A big drop in platelet count is often the case with dengue and will require hospitalisation.

However, according to MOH, there is no specific treatment for dengue. Treatment for dengue is supportive and is meant to manage the symptoms that come with the disease such as fever, muscle aches, and pains. In more severe cases, like dengue hemorrhagic fever and dengue shock syndrome, you may need to be hospitalised for more aggressive treatment including blood transfusions, depending on the severity of your condition.
Dengue insurance in Singapore
The good news is that insurance coverage for dengue exists to help you shoulder the costs that come with treatment of dengue. Income's PA Assurance with Infectious Disease cover offers protection against accident-related injuries and 21 infectious diseases — including dengue.

There are 4 plans to choose from: Plan 1, Plan 2, Plan 3, and Plan 4. The basic tier Plan 1, offers the following benefits:
$100,000 death benefit for infectious disease cover
$2,000 for medical expenses for infectious disease cover
$100 daily hospital income for infectious disease cover
Priced from $219.03 per year (just $18.25 per month), you receive the added peace of mind. You also get 40% off your child's premiums by insuring them under the same policy as yourself or your spouse.

Or if you're looking for a more pocket-friendly option, consider PA Secure. At $68.63 a year, the plan covers 7 infectious diseases including Dengue Fever.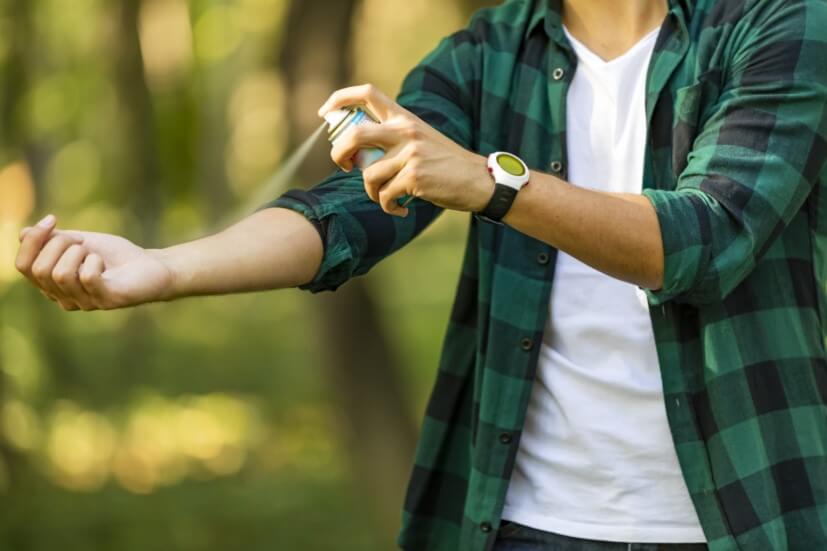 How to prevent dengue
As the old adage goes, prevention is better than cure. There are many ways you can help prevent the spread of dengue and all it takes are a few adjustments to your home and lifestyle:
Get rid of stagnant water at home because that's where mosquitoes prefer to breed. Make sure you change water in vases or bowls every other day.
Regularly spray incesticide in dark corners of your home, like under the bed, behind curtains, and behind the sofa.
Keep your doors and windows closed, or ensure that any screen doors/window panels are free of damage/big holes.
Use mosquito nets over your bed to protect yourself while sleeping.
Wear light-coloured long-sleeved shirts and trousers when you go outside.
Use mosquito repellant sprays for extra protection.
You can also check NEA's Dengue Cluster Map to check the alert level for your estate.
Conclusion
While we're hyper-vigilant about COVD-19's safety measures, it's important not to lose sight of other big health threats here in Singapore. With dengue outbreak already at historical highs and cases expected to rise in the second half of the year, it is necessary to take the extra steps to protect yourself and your family.
This article is meant purely for informational purposes and should not be relied upon as financial advice. The precise terms, conditions and exclusions of any Income products mentioned are specified in their respective policy contracts. For customised advice to suit your specific needs, consult an Income insurance advisor. This advertisement has not been reviewed by the Monetary Authority of Singapore.