Sheril's mother is the sole breadwinner of the family and works 12-hour shifts to raise her three children. As she comes home late every night, 19-year-old Sheril takes on the responsibility to help her mother with household chores and to care for her siblings as she juggles school and working part-time as a tutor at the same time to supplement her family's expenses.

Despite her challenging circumstances, Sheril remains bubbly and optimistic. "My favourite chores are anything to do with clothes – washing, hanging, ironing and folding! I love to listen to music while doing my chores," Sheril quipped. "I also have high expectations of myself and I set realistic goals. Everyday, I set a task list for myself and through sheer discipline, I ensure that I complete what needs to be done, even if it means sleeping only 2 to 5 hours a day. It's the way my mum raised me – we don't sleep until we finish our work!"

Sheril recalled how their financial situation was so dire at times that the family had to skip dinner. Otherwise, they would have a simple meals at home consisting of rice and eggs, made tasty with their family's favourite sambal. "We sometimes fill our stomachs with watermelon as it makes us feel full longer!"

Sheril is a third-year Business Management student at Nanyang Polytechnic. She shared how the financial bursary from the Income OrangeAid Future Development Programme relieved her family's financial burden partially. "Being awarded the bursary means that my mom has lesser worries for other household bills. It feels good to be able to support my mother!" Sheril said.

The Income OrangeAid financial literacy workshops also helped Sheril better understand the importance of planning for the future. "I'm glad to be an Income OrangeAid Future Development Programme awardee as it has helped me gain more confidence. I am now more active in school activities and have even discovered a potential career path in teaching!" she exclaimed excitedly .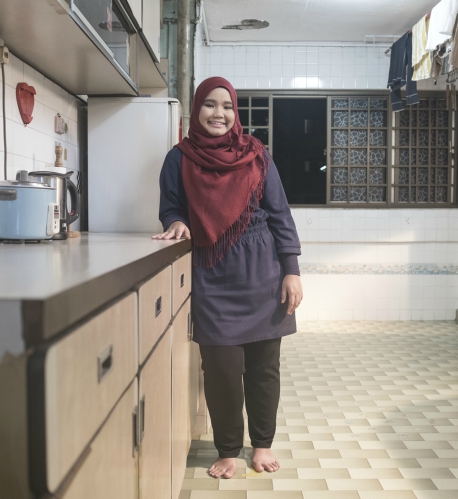 Amongst 400 Income OrangeAid Future Development Programme awardees, 92 percent of them feel that they have gained more confidence in achieving personal success after attending the personal and career development workshops. Sheril is amongst these awardees who have benefited from the Programme which also offers a bursary award. Currently, Sheril is looking forward to her upcoming internship at Singapore Aero Engine Services Ltd.
HELP SOMEONE LIKE SHERIL NOW
---