When you know what is important, you will find ways and means to make it work. That is why A'Fowsh Flora didn't buckle when life threw her an unexpected curveball at 18 years old.

Then, the ITE College Central student shuttled back and forth across the Causeway three times a week to accompany her father, who was Malaysian, for kidney dialysis treatment.

While her mother worked long shifts to support the family, Flora took care of her two younger siblings, in addition to doing household chores and working multiple part-time jobs to supplement the family's income.

Asked if she had ever thought of giving up, the cheerful teenager hesitated and let on: "At one point, I was ready to withdraw from school and even gave my lecturer my withdrawal letter."

Fortunately for Flora, her lecturer did not accept her request to drop out of school. Instead, upon finding out about her dire financial situation, he recommended her for the Income OrangeAid Future Development Programme.

The financial aid that Flora received from the programme meant that she worked lesser part-time and had more time for her studies. Flora has since successfully secured a place in Ngee Ann Polytechnic. Flora's resourcefulness also helps her stretch every dollar that her family has. Here's how she tackled her family's utilities bill.

Flora scheduled the family's use of the bathroom, monitor gas usage, and limited the use of electricity in the house when possible. She switched to energy-saving light bulbs and turned down the water pressure at home to limit water supply to make her family members more conscious about optimising their water consumption. Her efforts paid off and she reduced their monthly utility bill from $300 to around $170! "Even though it can be troublesome, every little saving counts!" Flora said.

Looking back, Flora is grateful for the help she received from Income OrangeAid. "There will always be challenges that we face, whether at home, in school, at work or even in relationships. Be practical, be responsible and press on, knowing that things will eventually get better."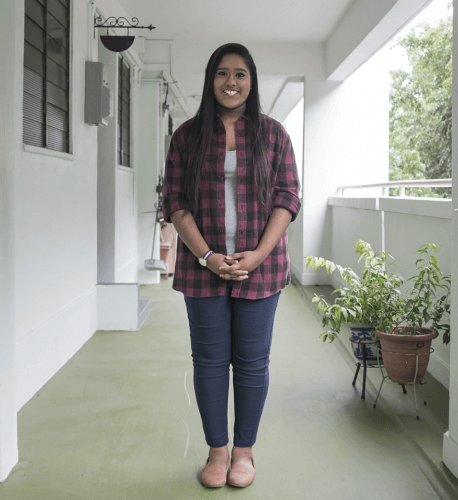 Flora is one of 400 awardees of the Income OrangeAid Future Development Programme (FDP). On top of financial aid, the FDP offers awardees basic financial literacy training and personal career coaching, as well as, access to internships and part-time positions at Income and other NTUC Social Enterprises. She graduated from ITE Central in 2017 with a NITEC certificate in Business Services and is now working part-time while waiting to start her part-time Diploma course in Business Administration at Ngee Ann Polytechnic. Flora is looking forward to pursue a career as a Mother Tongue teacher so that, she too, can give back to the community.
HELP SOMEONE LIKE FLORA NOW
---