3 Conversations to have before moving along each stage with your significant other.
By Juliet Huang, 02 February 2018
17322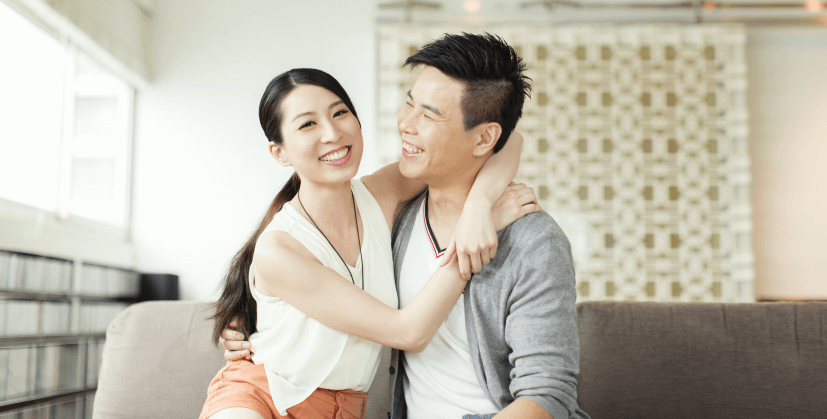 Going "steady" – How do you know he / she is the one?
In the first 6 months of romance, your hormones call the shots and everything about your relationship is perfect. But it's important to keep your eyes open and find out where your differences are before you pursue your relationship further.

You'll need to discuss your goals and dreams in life as they can give you a peek into the personality of your partner. If you're one of the lucky ones and your goals = their goals, it is still important to talk about how you want to achieve those goals. Talking about what you want to achieve in life and how you plan to achieve it, gives your partner a heads-up on the sort of lifestyle they can expect to lead with you, and more importantly, the kind of person they strive to become.

Views of the family also differ for everyone - you'll need to know your partner is on the same page about settling down and starting a family. What about children? Children are also another crucial conversation topic. Your parents may drop hints about their potential grandchildren, and you may also feel that children are necessary for a marriage. But, your partner may want children much later after marriage, or even not want children at all. It's important to communicate about your desires to have children, and even the number of children you want to have. Communicating and thinking about the lifestyle you want your family to have will help you plan ahead for the future. It may senseless to bring these up if you've only been dating for awhile, but if you are both inclined towards marriage, such conversations will help you find out your long-term compatibility. In fact, don't let the figure scare you; there are many savings plans out there that will help you to get a head start if you start planning early.
Before getting married – What if we have different expectations for big ticket items?
Settling down with someone does not mean giving up on your own dreams for good. In fact, by communicating your lifestyle values, you can actually figure out the steps to take in order to help achieve your personal needs and wants, whilst still achieving relationship goals together. As the relationship progresses, do consider the type of expenses at each milestone and decide how you want to save or splurge together.

Wedding
The very first question you might have thought of is, "How much is the wedding going to cost?" It's no secret that weddings can be expensive in Singapore, regardless of ethnicity. In our Asian culture, there is also that idea of 'face value' that factor into the grandness of the wedding. For many families, a wedding is not just about two people in love; it's also about your parents' wishes. You might have got the stamp of approval from your families, but checking in to talk about expectations from both sides of the families can help to mitigate any future tension.

Of course, there are couples who have done away with long, grandiose weddings and kept it to a simple affair with family and friends. Before you plunge headlong into planning for the wedding, a good chat can help manage both your expectations. The cost of tying the knot can be manageable with savvy planning and budgeting skills!

Housing
Wedding aside, as a couple, it's crucial to decide on the type of lifestyle you want for your family, and if you can afford it in the long-term. Be realistic about the type of housing you can afford together, and it doesn't hurt to also discuss about renovation costs. Remember the previous point about priorities? Your partner may prefer spending on a beautiful, spacious public housing in a suburban area over a smaller condominium unit in an exclusive district. Working out how much you intend to spend helps you to find the right schemes to work towards building your nest egg together.

Although this may seem daunting, it doesn't mean that when you plan to have a family, you give up on your own dreams. If this stage of relationships still feel far away, forward planning with savings plans can help you get ready for bigger expenses. That way, you can still achieve your own dreams, be it starting your own company or climbing up the career ladder, and still plan for the future when you are ready to start your own family!

After you get married - Everyday life: How do you split the bills?
When you are first in the heady throes of romance, one half of the couple may want to foot the entire bill to show their sincerity. But that is not sustainable, as a long-term relationship requires both of you to be the same page on your spending. Rather than ignore the issue and have petty squabbles about who should pay for more, or simmering quietly when your other half never offers to pay, being frank about your salaries and disposable income is a conversation you cannot avoid after you've been dating for awhile. If you've been communicating openly about your financial priorities, it should be clear to see if you share the same values when it comes to spending money. Couples actually do save more as their combined incomes, as well as the economies of scale in sharing one house, means that any financial decision made can be cost worthy in the long run. What happens if your partner clearly earns more than you? Well, it depends on how comfortable your partner is with any arrangement. After all, relationships are all about mutual give and take; not all exchanges between a couple have to be monetary in nature. Perhaps one person is better at bringing back the bread-and-butter, whereas the other is better at domestic duties. Talking about your own strengths and weaknesses will help you to play up to your own strengths in the relationship.

Does a couple have to put their incomes together, or should separate accounts be kept? It need not be an either/or method; you can keep your own accounts separate, but set up a joint account for joint expenses. With discipline, both of you can decide on the amount to save monthly. Whichever way you choose, it is not set in stone and couples should be communicable to change their approach accordingly.
Fear less with adequate planning
It may seem scary to try to peer into the crystal ball and think about all these difficult conversations when you meet someone, and think about how your relationship should progress. The good thing is that with preparation, these conversations can become easier.

It all starts with yourself - by knowing yourself well, you are armed with the ability to hold these conversations meaningfully with your partner.

In addition to knowing yourself, good personal financial planning allows you to fear less about the uncertainties of your needs. There are a variety of plans available to help you start managing these future expenses. Not sure where to start? Consult an Income advisor to see which plans can help you achieve your goals. With many plans now available online, starting your financial planning journey is easier than ever.

Ultimately, it's about compromise - When you finally meet someone who you feel can be the right person for you, learning more about his/her dreams, goals, and expectations for the future can help you suss out long-term compatibility, and sets a strong foundation for both of you to plan your life together. Learning where to compromise, and anticipating problems will help you to worry less about the future - a little planning goes a long way in making this come true.

Important Notes:
This article is meant purely for informational purposes and should not be relied upon as financial advice. The precise terms, conditions and exclusions of any Income products mentioned are specified in their respective policy contracts. For customised advice to suit your specific needs, consult an Income insurance advisor.

This advertisement has not been reviewed by the Monetary Authority of Singapore.