Living Your Retirement Life
By Fullerton Fund Management, 19 September 2018
6568
You have worked hard all your life. You are looking forward to enjoying your retirement. What do you envision your retirement to be like? The lifestyle of seniors or retirees are different these days. They no longer just sit at coffee shops drinking kopi or teh, or play chess at gardens. They have active, interesting lifestyles and passions. Many are even starting a journey to fulfil their dreams.
With growing affluence, medical advancement and growing awareness of health and fitness, your retirement could be a time to live your dreams and do the things you have always wanted to do when you were younger. You could possibly have many more years to live your dream lifestyle than you think.

Source: World Health Organisation 2017,
Average longevity is 80 and 86 years for men and women respectively. Do you have relatives or friends who are older than the average longevity age? Definitely!
You will find that the probability of living beyond 85/90 years is much higher than you think. You are likely to live longer than what statistics show.
Statistics show that life expectancy (or longevity) is only an average. The older you are, the more likely you would live longer.

Source: Fullerton Fund Management, data as at Jun 2017
There are many factors that are increasing life expectancy. Besides medical advancement, a different perspective to aging and a more active lifestyle are contributing factors, just to name a few.
Besides living longer, many of us harbour the dream of retiring early. When we retire, we want to enjoy life and do the things we didn't have the time to or were unable to afford when we were young.
Singapore's rapidly aging population means that by 2030, the nation will join 33 others as a "super-aged" country, where one in five people are aged 65 or older.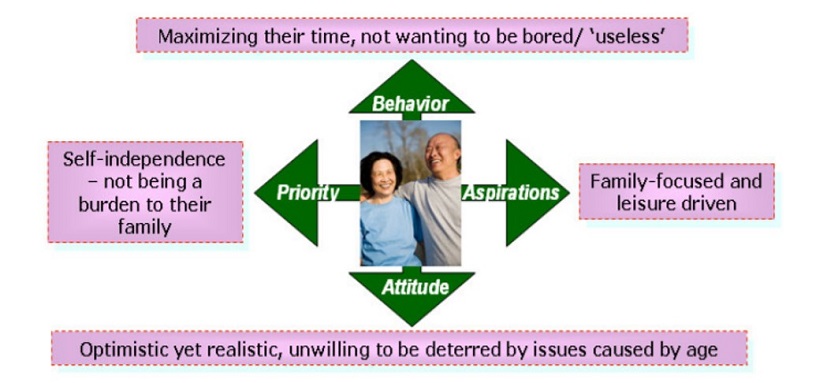 Source: Understanding Singapore's Baby Boomers by Council of 3rd Age
Based on a study commissioned by Council of 3rd Age, "Understanding Singapore's Baby Boomers", our Boomers remain a group of independent, optimistic and active people. Life is perceived as a continuum with many hoping to increasingly spend less time at work, to pursue their own interests as well as to spend time with their family.
As we enter our 3rd age, it is important to maintain a positive mindset to achieve overall well-being. After all, life is about cherishing each moment and living it to the fullest.
Are you financially prepared to live much longer than expected? Are you financially prepared for a comfortable lifestyle and to fulfil your dreams?
With more retirement years to enjoy our life, we need to ensure that we have sufficient retirement funds. It pays to start investing early and make our money work harder than we work. It would be even better to enjoy a steady stream of income while our investments continue to grow.
Find out how your investment can enjoy growth with income – visit Income's
Advisor Connect
to speak to your financial planner now!
Important Notes:
This article is meant purely for informational purposes and should not be relied upon as financial advice. The precise terms, conditions and exclusions of any Income products mentioned are specified in their respective policy contracts. For customised advice to suit your specific needs, consult an Income insurance advisor.

This advertisement has not been reviewed by the Monetary Authority of Singapore.