5 Interior Designs To Avoid For Your First HDB Flat
By Jx Tan, 03 January 2018
3326
In this article, I invited Aloysius Lian, an architect, to provide practical advice on how to design your first flat and some common mistakes to avoid. As an added bonus, you will also get a peak into his Scandinavian style HDB five room resale flat in Bedok!
Let's start with an introduction of Aloysius: He is the Principal of Lian Architects (Singapore) and co-founder of Parametric Design Workshop. In ten years of practice, he has completed a wide range of projects, focusing on bespoke hospitality (Hotel Fort Canning) and immersive public spaces (Singapore Zoo's Hunting Dog Exhibit). He is married and lives with his wife as well a 5-year old daughter.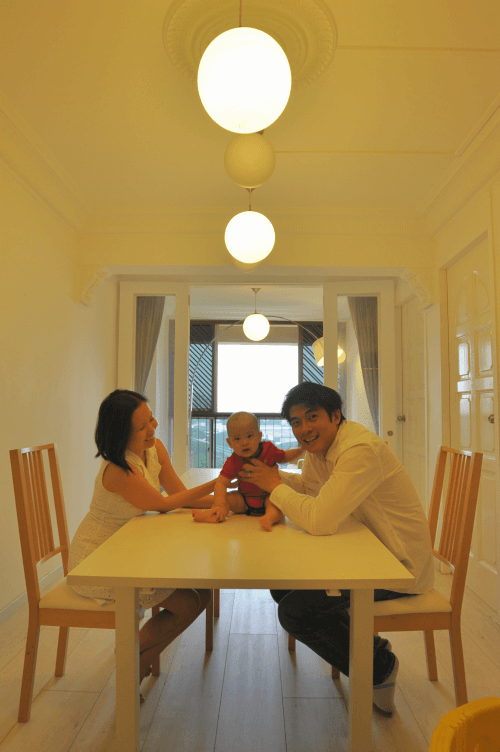 Aloysius began by listing some common challenges facing first time flat owners and based on these challenges, proposed 5 interior designs to avoid for your first flat:
Fact: You, like most young couples, have little spare time to do house maintenance as both of you are working. This will get worse when you have children.
(1)
Avoid white surfaces, especially horizontal surfaces:
White looks brighter but you can achieve the same effect with neutral pastels. Dust, dirt and grime become really obvious with white. If your family and friends are visiting, this means a frantic clean-up job the night before!
(2)
Use concealed lighting selectively:
Concealed lights adds sophistication to a space but adds to maintenance work. Changing a bulb can become more complex if you need to unscrew something before getting to it. You also need to pray hard that there are no wiring issues as these are usually nightmares to fix.
(3)
Wallpaper in moderation:
Wallpaper adds character but there are two issues with wallpaper. The first issue is wear and tear so you have to touch up peeling wallpaper after some time. Another issue is that tastes may change over time. If you have two twin girls staying together, the teddy bear wallpaper they loved when they were 5 years old will look so "kiddish" when they are 16 years old.
Fact: You are going to live in smaller spaces due to shrinking floor areas of newer flats. Therefore, it is important to design versatile and multi-purpose spaces.
(4)
Consider alternatives to hacking and built-in furniture:
Rather than hack to get a bigger room, consider movable wall panels or sliding doors to demarcate rooms, to allow flexibility such as keeping your baby's cot within your line of sight. Likewise, built-in wardrooms for all bedrooms eats up space in a smaller flat. Instead, you may wish to consider using horizontal wood panels as shelves and tap wall areas for storage and bookshelves.
Fact: You may have to sell your flat after minimum occupancy period of 5 years. This is due to childcare requirements, job change or to buy a bigger property. Therefore, you have to consider whether your interior design impacts the value of flat.
(5)
Showing individual character is good but don't go overboard:
Any interior design will showcase aspects of the owners' character and makes a space look unique. But don't do it if your interior design deducts from the future value of your property. Aloysius recalled seeing a resale flat that had bright yellow floor files. This was a turn-off for potential buyers as they would need to spend additional money to remove and replace these tiles.
How would Aloysius re-design his flat in retrospect?
As his wife wanted a homely feel instead of a sleek modern feel, Aloysius went with a Scandinavian approach that involve white walls, timber flooring, rustic wood furnishings and white linens. Since Aloysius chose mostly white finishes, he now has to devote two hours every week to scrubbing. In retrospect, he would have chosen neutral finishes instead!
Planning for your first flat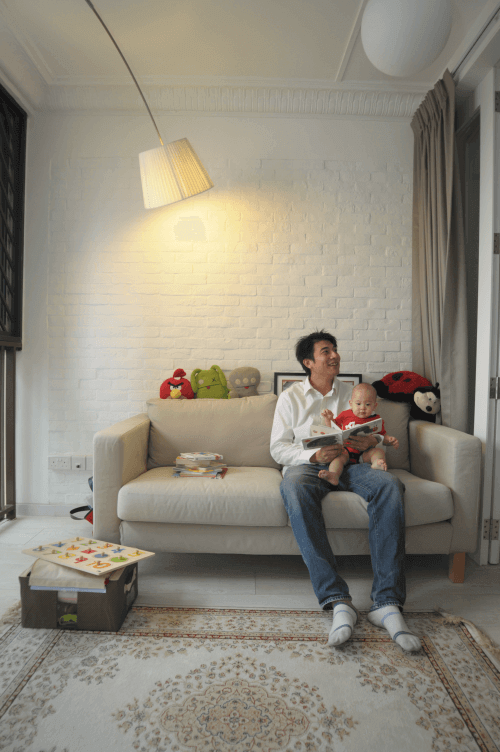 Aloysius estimated it cost about $50,000 to renovate his flat since it was a resale unit that was over 30 years old. He also had to spend more to buy his flat as it was in a mature estate. Therefore, careful financial planning was essential.
Both Aloysius and his wife saved a proportion of their salaries every month when they were preparing to get married. After the birth of their daughter, he bought insurance policies for every family member. When planning for your first flat, you may wish to consider saving through an insurance savings plan. For example, Income's
Gro Sure Saver
is a flexible savings plan that allows you to save and enjoy guaranteed yearly cash benefits from the end of the 2nd policy year onwards, while offering insurance protection. In particular, these guaranteed cash benefits can be withdrawn to help pay for one-off expenses like wedding and flat renovation while forming part of your longer term investment portfolio.
In conclusion, when you are planning for your first home, it pays to get professional advice from someone like
Aloysius
so you can make informed decisions about your home's design, and to look for good financial planning advice so you can ensure your interior design goals can become reality. If you're not sure what plans would suit your savings goals best, try chatting with an
Income Advisor
. This will help you to learn what are the options available, avoid common mistakes and make a better informed decision!

Important Notes:
This article is meant purely for informational purposes and should not be relied upon as financial advice. The precise terms, conditions and exclusions of any Income products mentioned are specified in their respective policy contracts. For customised advice to suit your specific needs, consult an Income insurance advisor.

This advertisement has not been reviewed by the Monetary Authority of Singapore.