Eco-travelling in Ubud, Indonesia
By Marisse Reyes, 27 September 2017
1297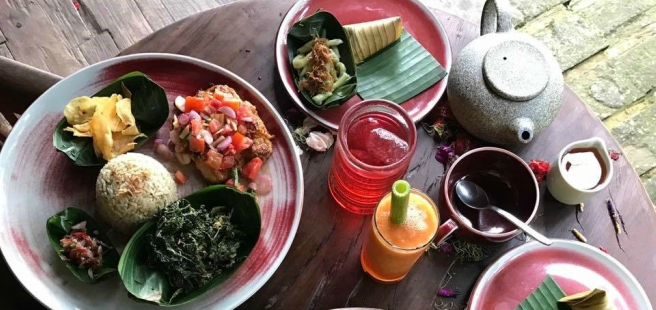 One of Asia's leading hubs for sustainability is the small town of Ubud, located in the heart of Bali. This lush rainforest is a beautiful juxtaposition of ancient tradition mixed with forward-thinking green living. Here's where to stay, play, eat and learn when in Ubud for a getaway that's mindful of Mother Nature.
---
Pack
Much of the eco ethos is about leaving nothing behind but footprints. Being aware of your environmental impact can be a daunting task for anyone. But small actions still count and making changes such as traveling with your cosmetics in refillable containers and bringing your own refillable water bottle can ensure that you leave no waste behind. Extra points for using organic and biodegradable products like
Dr. Bronner's
and
Green People toothpaste
as they can be absorbed back into the soil and water systems. Towing a s
olar phone charger
and
reusable bags made from organic cotton
is also a good idea. Another thing that you would want to have during your trip is a peace of mind – Income's Travel Insurance provides you a peace of mind with coverage for loss of any items that you have eco consciously packed for your trip.
Stay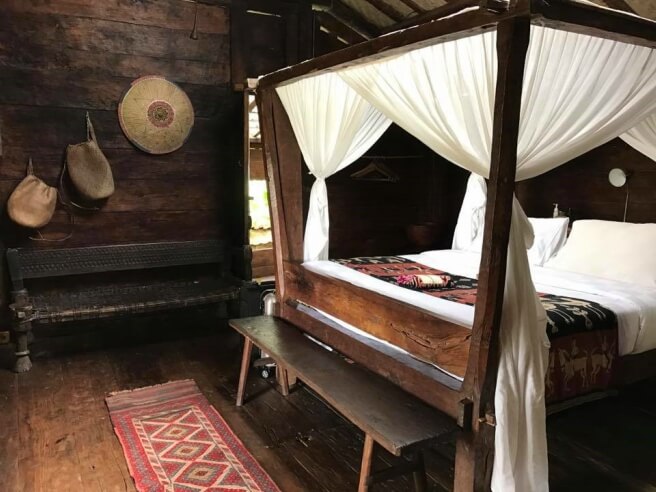 Kuno House
Photo by: Capturethewonder, #travelmadedifferent community
Gilding Ubud's raw beauty is almost a crime, making rustic Robinson Crusoe-type accommodation all the more fitting. One of Ubud's pioneers of green living, John Hardy, runs boutique eco-friendly hotel, Bambu Indah which is built on a ridge overlooking the Ayung River. The grounds house beautiful and expansive structures such as traditional long houses and tree houses built from bamboo and magical spring water pools complete with playful details like swinging ropes and mini wooden boats. The rooms here are just as unique as the grounds; villas are made from salvaged Javanese bridal houses and the newer lodging are graceful bamboo structures. It's all about sustainable living at Bambu Indah, with permaculture food gardens sprinkled throughout and waste water being absorbed back into the earth. But it's not just Bambu Indah that's going green, Swasti Eco Cottages, near the famed Monkey Forest, goes the environmentally conscious route by building with recycled wood from Java and growing organic food on-site.
Eat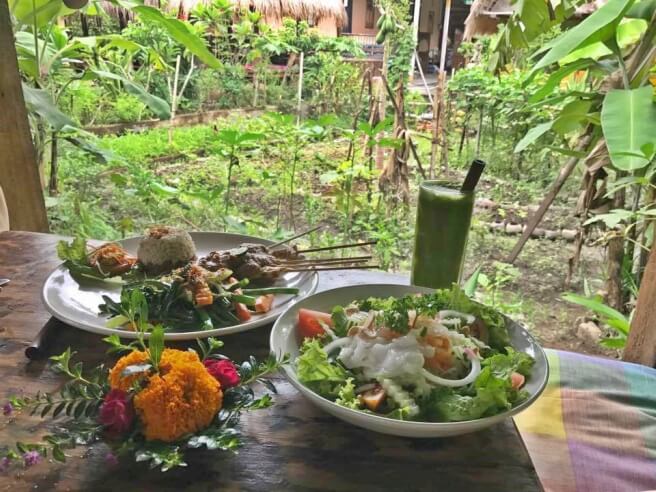 Organic and veggie-forward food is king in Ubud, perhaps because wellness has taken root in this part of Bali in a big way. So it's not a surprise that organic and permaculture farming has become a large part of the food culture here. Open for over a decade is
Kafe
, one of Jalan Hanoman's most popular haunts. Served at this double storey cafe is a menu of nutritious options such as raw, vegan and gluten-free foods made from organic local produce.
Moksa
, on the other hand, serves strictly plant-based foods made from produce grown in their own permaculture gardens.
Sari Organik
, another organic food favourite, now has three locations around Ubud. If you're up for local fare with an organic and healthy twist, this is where you should head to. Also check out
Bambu Indah's Dapoer
and
Clear Cafe
.
Play
In Ubud, there's a multitude of environmentally-friendly activities you can partake in.
Bali Dacha
, located a stone's throw from Ubud, is a hidden gem where you can stay and have a spa day by the river. Owned by an eccentric Russian couple, Bali Dacha's spa includes a Russian sauna, spring water fed plunge pools and massage rooms. The entire complex is built with sustainable materials like bamboo and natural stones. If you're up for a little exploration, sign up for one of
GREENBIKE'
s biking tours where you'll get the chance to explore coffee plantations, rice fields and volcanoes. But if you're looking to do a little good while you're in town, help tackle Ubud's increasing trash problem by starting off your day with a
Trash Walk
lead by John Hardy. On this quick walk, you'll scour around ditches, rivers and forests for litter. It's truly an alternative way to explore Ubud's unforgettable landscapes.
Learn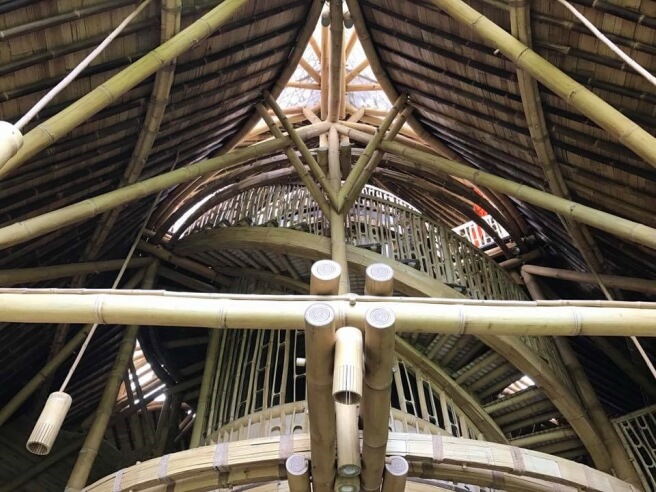 If you've been inspired by your green travels in Ubud and want to take some green living back home with you, there are plenty of workshops and classes you can attend in Ubud. At
Balinese Farm Cooking School
you'll learn how to create delectable organic Balinese dishes using produce from their own farm. If you want to learn more about traditional Indonesian textiles and dying with natural dyes, sign up for a
Natural Dye Batik Class at Threads of Life.
Green School's permaculture farm,
Kul Kul Farm
, not only grows amazing organic food but they also provide permaculture classes and host sustainability workshops like
Ibuku's
bamboo building course.
What ever you're looking to get out of your trip to Bali, the Land of the Gods will usually give it to you. For inspiration on living a greener existence complete with organic eats and sustainable living tips and tricks, Ubud is certainly the place to visit. The key is to start small and incorporate just a little of Ubud's green magic in your day-to-day life.
Important Notes:
This article is meant purely for informational purposes and should not be relied upon as financial advice. The precise terms, conditions and exclusions of any Income products mentioned are specified in their respective policy contracts. For customised advice to suit your specific needs, consult an Income insurance advisor.