Your Guide to Ang Bao Giving this CNY 2021
By Shu Rin Hoe, 20 January 2021
3225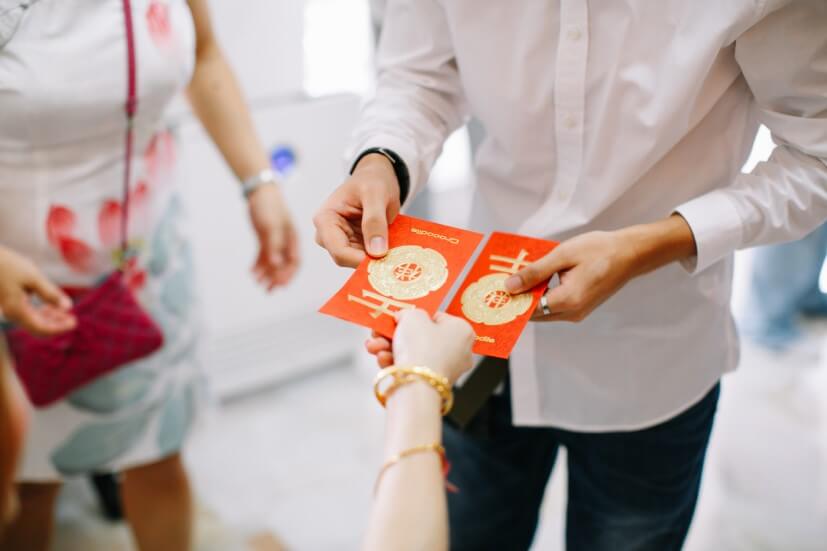 Ah, ang baos. Those money-laden red packets that many of us grew up being excited about every Chinese New Year. It's a Chinese custom for married couples to give out ang baos as a symbol of good luck, happiness and well-wishes to elders, children, and single adults during this festive occasion. Many of you are likely to be familiar with the concept of red packets, but if you're a newlywed, or out of touch on CNY customs, here's our guide to ang bao rates, best practices, means of giving due to safe management practices for COVID-19 and more.

Note: The rates and tips suggested in this guide are only meant to be a starting point of reference – they're not hard-and-fast rules. Remember, it's not the money, but the well-wishes behind the ang bao that is key!

2021 Ang Bao Rates: What's A Good Amount To Give?
While there are no strict rules to follow, several factors can help you decide on just how much to give.

One of it is hierarchy – specifically, the relationship between you and the recipient of your red packet. The most generous ang baos are usually given to those closest to you, for example your grandparents, parents, siblings and children.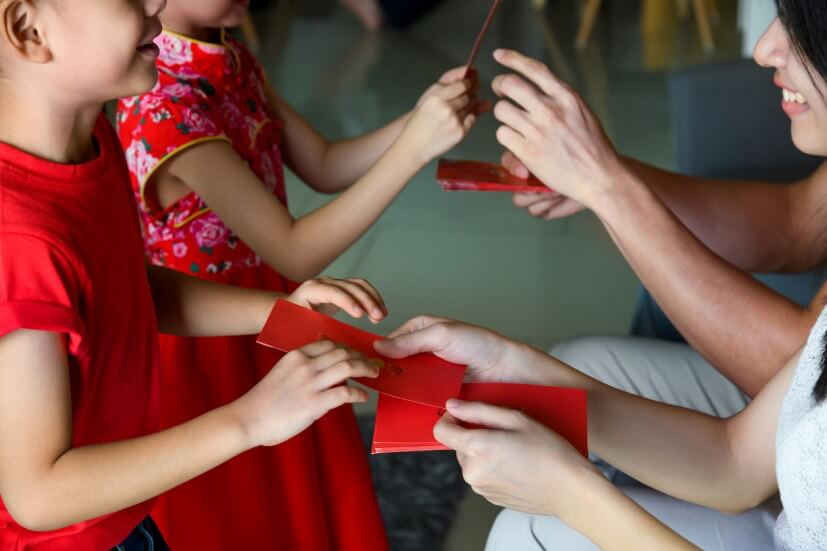 This is followed by other relatives, friends, and children of acquaintances. You may also find yourself giving ang baos to people you are unrelated to, but who you have a friendly relationship with, for example service staff you see regularly or your neighbours' children.

Auspiciousness also comes into play, and it's got a lot to do with numbers and lucky/unlucky connotations attached to them.

For example, ang bao amounts are usually given in even numbers – some believe that even numbers symbolise wholesomeness and completeness in life, and some say that good luck comes in pairs. Typically, the numbers 6 and 8 are preferred because they mean luck and prosperity in dialect, respectively. There's one exception to the "even number" belief – try to avoid any amount with 4 because the number is considered a symbol of bad luck as it means "death" in Chinese.

Here's a guide to how much you can give: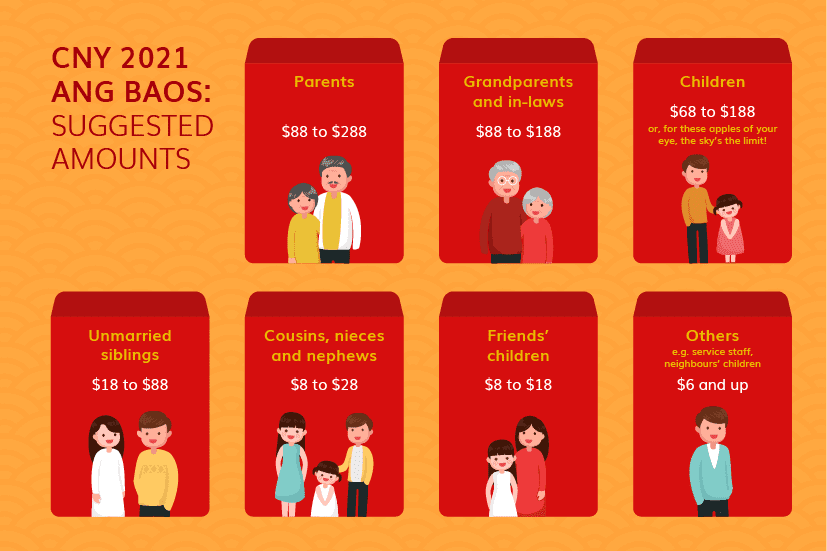 Preparing your Ang Baos
As with celebratory occasions, you'll want things to go as smoothly as possible, so it's important to start your CNY ang bao prep early.

It's become a custom to use new bank notes in your ang baos, with people queueing up at their bank or specially appointed CNY ATMs to withdraw new notes in the days leading up to CNY.

This year's notes exchange, however, will be different because of Singapore's fight against COVID-19. Some banks are offering pre-order services for new bank notes, some require customers to make appointments in advance, and one bank allows its customers to withdraw fresh bank notes at its pop-up automated-teller machines (ATM) without making reservations.

Some banks may also have additional guidelines, such as collecting within a set amount of days from reserving an appointment, so be sure to check your banks' respective websites for a smooth exchange experience.

For your easy reference, we've put together a consolidated list on a where and how to get new bank notes this Chinese New Year.

Bank

When To Make Appointment

When to Collect

Allocation Limit

Withdrawing New Notes Via ATM

DBS / POSB

18 Jan to 5 Feb

25 Jan to 10 Feb

(Excludes Saturday and Sunday)

$2,000 per order

Yes, at 40 POSB pop-up ATMs across 20 community clubs

- 25 Jan to 10 Feb 2021 (10am to 10pm)

- 11 Feb 2021 (10am to 1pm)

(Specific packages available, three withdrawals per customer)

OCBC

18 Jan to 16 Feb

25 Jan to 10 Feb

$1,200 per customer

No

UOB

18 Jan to 5 Feb

Jan 25 to 10 Feb

(Excluding Sundays)

$1,200 per customer


No

Standard Chartered

18 Jan to 24 Jan

25 Jan to 10 Feb

Depends on denomination requested. Capped at $3,000.

No

Maybank

18 Jan 18 to 5 Feb

25 Jan to 10 Feb

LNY Fortune Bundle: 30 pieces of S$10 notes and 100 pieces of S$2 notes

Up to two bundles per customer

No
Note: Customers aged 60 and above or clients with special needs can visit the banks to exchange bank notes without prior reservation.

Once you have your cash, block out a good two or three hours in the days leading up to CNY to prepare your ang baos. If your family is especially large, it might be useful to prepare a spreadsheet you can refer to each year, which can also serve to help you track how much you're spending on ang baos each CNY.

It's also a good idea, especially for ang baos of higher value, to write down your recipients' names (and well-wishes too, if you like) on the packet itself, to ensure you hand it to the right person.

Lastly, you may also want to prepare some extra ang baos, usually with smaller amounts, for any children or other random individuals you may meet unexpectedly. Also bring with you extra empty ang baos and new notes, just in case there's an elderly aunt or relative you forgot to prepare an ang bao for.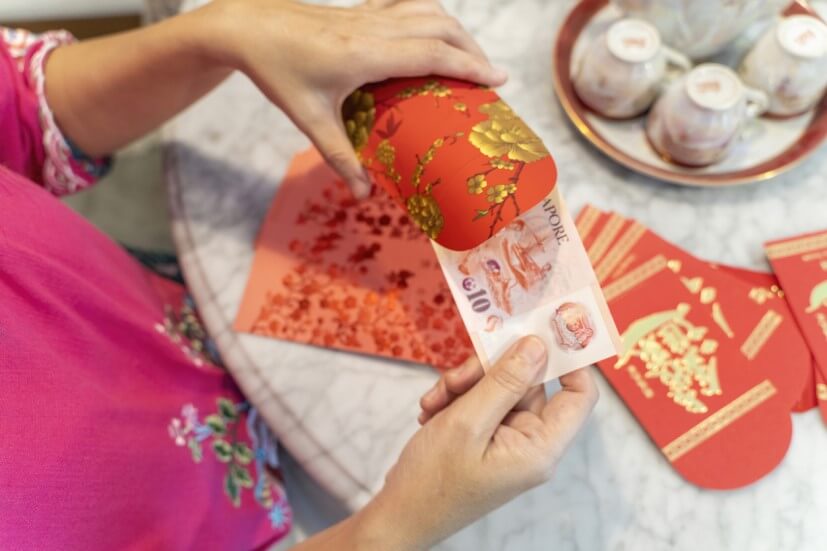 Going Digital
With the current Phase 3 restrictions, many of us will not see all the relatives and friends we normally do for CNY. Here's a solution to consider: digital ang baos. The concept of e-red packets was introduced a few years ago, but this may just be the year where it becomes, well, a red-hot option. It's convenient, fast, and most importantly, secure – just try out the Digital Gifts options on the PayLah! or PayNow applications.

Happy New Year, and Don't Sweat it!
Chinese New Year is a happy occasion and as much as we may worry about giving out generous ang baos, remember that at its heart, CNY is about celebrating a new year with your family and loved ones.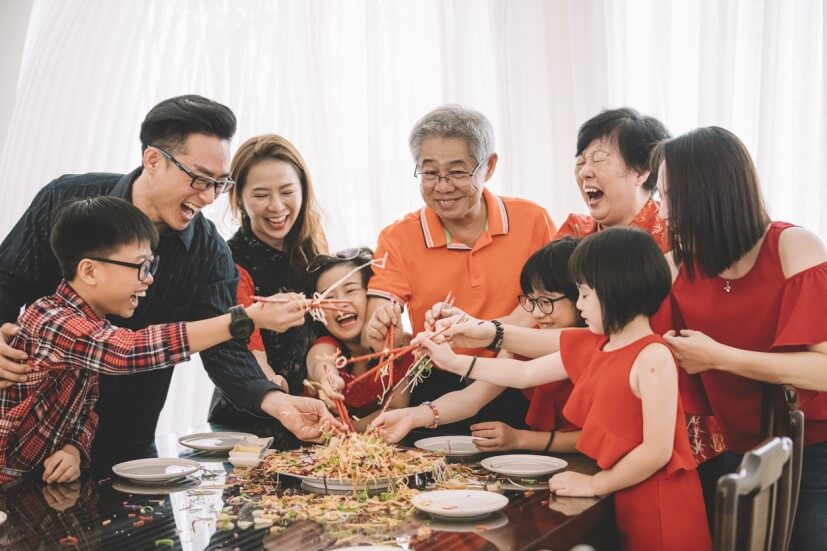 In the current economic situation, it's important not to over-stretch your finances. If you're newlyweds or a young family especially, keep in mind the importance of saving up for the big expenses you'll soon have coming your way. Those who love you will understand.

If you need help with organising your finances, chat with a financial advisor online. Whether it's saving up for your child's university fund or creating your retirement plan, we're here to help.

Here's wishing you and your family a happy and prosperous new year!


Important Note:
This article is meant purely for informational purposes and should not be relied upon as financial advice. The precise terms, conditions and exclusions of any Income products mentioned are specified in their respective policy contracts. For customised advice to suit your specific needs, consult an Income insurance advisor.